FIRE PIT COLLECTIVE
Ask Alan at the U.S. Open, Thursday Edition: Rory's potential windfall, ugly shirts and future LIV defectors
Editor's Note: This article first appeared in Fire Pit Collective, a Golf Digest content partner.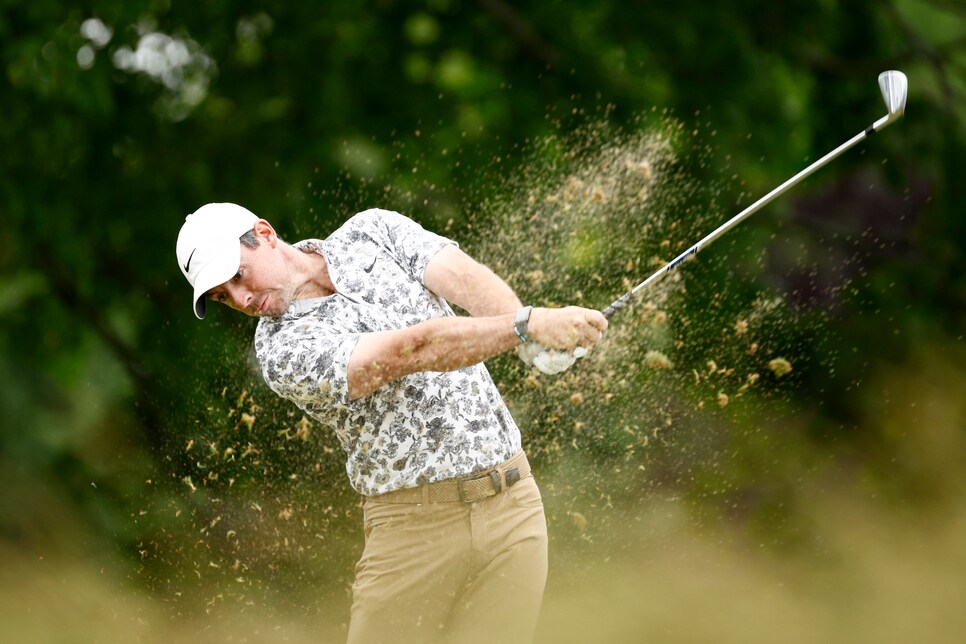 Are the Saudis pumping more oil today in anticipation of signing David Lingmerth to a huge deal? @HofSpillane
I love Twitter. I love the Internet. You people complete me. I mean, this is the funniest thing I've read all day. Yes, in a weird way, the U.S. Open is now an audition for LIV Golf, because a guy like Lingmerth was probably not on Greg Norman's radar, but if he finishes tied for third here, who knows, maybe he can earn a payday that dwarfs his U.S. Open earnings? So yes, the rigs outside of Riyadh are probably humming.
Are you crazy, man? Have you seen this golf course? Yes, it was overcast and cooler today, so The Country Club stayed a little softer. But as with many majors, it will get harder every day. If you offered Rory McIlroy 3 under after 72 holes, he would take it in a heartbeat. I still think even par might be the winning score, unless something really crazy happens, like a huge rainstorm to soften it up. Even then, no way they get to 10 under.
Who wore the ugliest shirt in the morning wave? So many contenders. @RobMatre
I feel like Nike Golf is trolling us. Phil Knight must be laughing somewhere, saying to his designers, "Guys, what is the ugliest shirt we can come up with and make them wear? Like I want it super ugly. Give me your worst ideas." It just never fails. Not just the shirts—Brooks' hats continue to defy belief.
Is it me, or is a well-conditioned Golden Age golf course the best canvas for golf? @laz_versalles
It's not you. There's just something so pure about this place. I love a wild, wooly links course like you get at the Open Championship, but The Country Club is so pleasing to the eye. The twisty fairways and the way the dark green rough blends into the golden heather, and the movement of the greens and the raggedy bunkers … this is golf heaven. I can't believe The Country Club has not hosted an Open since the '80s and we'll probably not get another one in our lifetimes, because this place is absolute purity.
What is a modern course that you want to host the U.S. Open and why? @derrickq42
This week in the press room I'm sitting next to Geoff Shackelford, the dean of neo-architecture scribes. Yes, it's a bad beat, but we talked about this. My choice is Sand Hills, which is an absolutely spectacular golf course that ushered in this new age of modern minimalism. But is in the middle of nowhere Nebraska and there is no infrastructure, so it's probably not realistic. Geoff went with Friar's Head on Long Island, around the corner from Shinnecock. Phenomenal golf course, I endorse it, and it has a great clubhouse for hosting a big event and a decent amount infrastructure. So those are our two choices.
When Rory wins, will his endorsements dwarf what the LIV guys got up front? Is there a more marketable player in golf right now? @FakePoulter
Rory is the man of the moment. And if he wins this, it sets up the whole second act of his career. He was the phenom, he was lost in the wilderness, now he's the moral compass of golf. And he's never stopped being intensely likable—I literally don't know anyone who doesn't like Rory McIlroy. As he has emerged as this great ambassador and spokesman, anecdotally, the PGA Tour is trying to funnel all kinds of business to Rory as a thank you for his advocacy. So if you're RBC and you dump Dustin Johnson, well, Jay Monahan is no doubt calling their CEO and saying, "Hey, why don't you hook up Rory." So, yes, if Rory can get across the line here, sky's the limit on the endorsement income.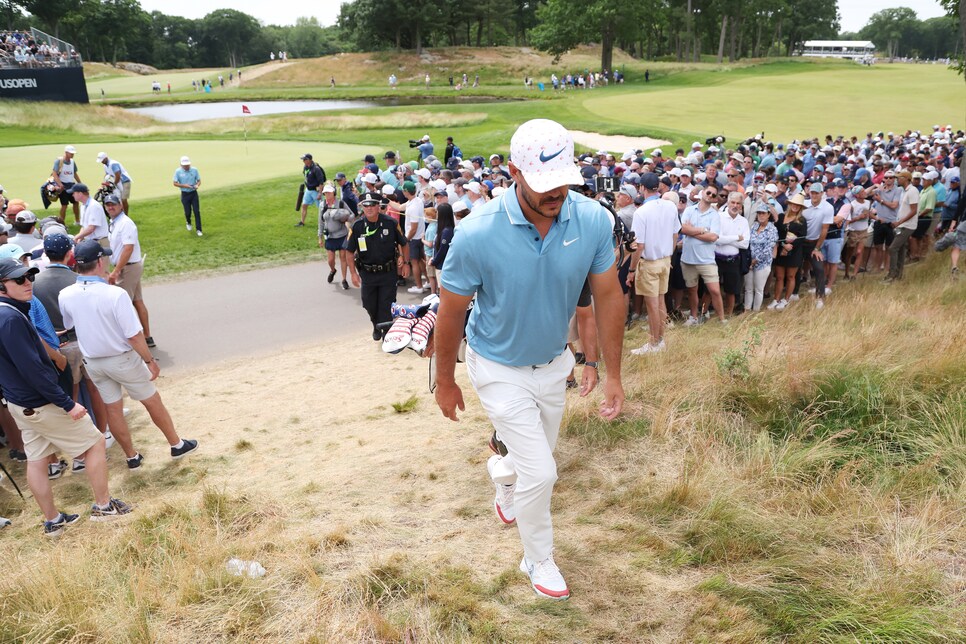 Do any top 50 players announce they're headed to LIV on Monday? @MGallagher1977
Yeah, I think there's going to be this slow drip leading to the event in Oregon two weeks from now. And, according to the rumor mill here in Brookline, Brooks Koepka may jump, Xander Schauffele, Patrick Cantlay, Joaquin Niemann … There's a lot of names in play. You have all the golf agents here, all the golf media, the gossip is flying fast and furious. There's no doubt more guys are going to LIV, it's just a question of who and how many. Prepare yourself for more news breaks.
Give me your most uncomfortable Hall of Fame candidates, meaning the least deserving current players who have a legit chance to get in. @ZachZola1
Well, that's easy: Martin Kaymer. He has won two majors, he got to No. 1 in the World Ranking, he won a Players … and then he fell off the face of the earth amost a decade ago. He has better credentials than some of the guys who are already in the Hall, but peaking in your late 20s and then just disappearing … it's a tough look.
So do you fancy yourself as more of a writer or multimedia content producer these days? @MikeScanlan
All I ever wanted was to be a sportswriter. Jim Murray was my hero growing up, I used to read him in the L.A. Times. I only have ever wanted to type, but those days are over. I mean, if that's all you're doing, you're a dinosaur. You're Steve DiMeglio. (And I love Steve DiMeglio.) Now, there's tremendous pressure to engage with not only readers but also the listeners and the viewers. And I take that seriously. So I guess I have to be called a multimedia content producer, as tacky as that sounds.
I adore the look of this whole place, but No. 10 is particularly visually spectacular. I love the quirkiness, the weirdness, the blindness. It looks like someone stepped off Mayflower and laid out that hole and it hasn't changed since. I mean, it's from a different era, it's from a different century. And I just think it's such a cool hole. It's probably a little too small of a green, a little too shallow for long irons or three woods. It's more designed for a wedge, but that's okay. I love it.
Do you think all the recent opportunities for Rory to flex his eloquence and thoughtfulness, in addition to all the subsequent cooing praise, have juiced his ego enough to bring back his inner alpha? @bijornyesterday
I actually asked Rory exactly that in his press conference today, but it was not so wordy and awkward. Anyway, he kind of dismissed it, saying, "I haven't held a major championship trophy in eight years. That's really my motivation." I believe that's true, but I do think that inside Rory is enjoying getting stroked, metaphorically. He takes this role seriously. He's become the moral compass of the sport. He's become its conscience, he's become its greatest ambassador. And I think that's inspiring him, knowing that all eyes are on him. He wants to deliver and he wants his clubs to do some talking as well.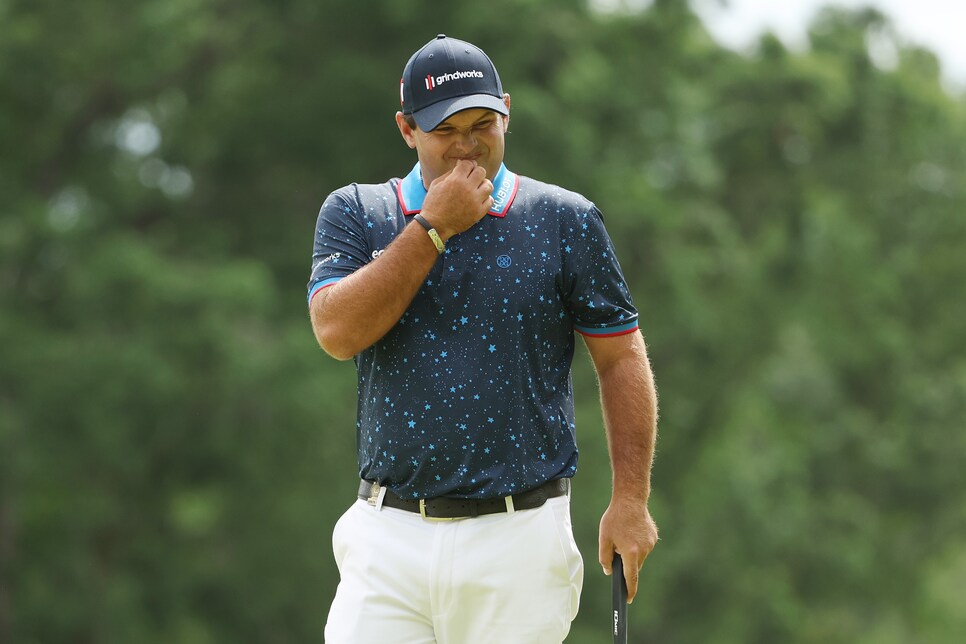 Do you think Patrick Reed should have been given the 2:42 tee time just to see the reaction from Justine? @reagle_c
That would've been absolutely epic, and I think it would be fun to explain to Justine that there's no shotgun start here at the U.S. Open, unlike the LIV Tour. Yeah, it's amazing how Justine Reed is one of the 10 or 12 most interesting people in golf, even though no one's ever heard her speak, and her hold on Golf Twitter is second to none. So yeah, the USGA definitely missed an opportunity there.
Great question. We're inclined to give Rory the benefit of the doubt because otherwise he's such an exemplary citizen. When you always are mopey and grumpy and in a bad state of mind and putting out bad mojo like Sergio, then yeah, you're going to get criticized. Rory always says and does the right things, he exudes class, so when he has a few slip-ups that show his passion, we almost enjoy that. So yes, there is a double-standard, but it has been earned.
What were the best LIV related heckles you heard from the crowd today? @RDeCards
It's been a bummer how little creativity has been on display. Someone yelled at DJ, "Get that cash!" And stuff like that. Boston, try harder. I mean, the term Massholes exists for a reason, so bring it. (I'm kidding. Sort of.)
Is the USGA rooting harder for their U.S. Am champ Piot or career amateur Hagestad storyline? @CGolfBook
Oh, definitely Hagestad. I mean, the USGA put themselves in a very awkward position by letting Piot take the money but retain his exemption as the amateur champ. So he's turned pro, he's gone over to the Saudis, but he's playing as the U.S. Amateur champ. That's awkward. And him winning would be a little bit of a nightmare for the USGA, I think. So Hagestad, even though he's very much embedded on the cocktail circuit, and a place like The Country Club barely meets his standard as far as exclusivity, and he's not exactly a man of the people, I think the USGA would be much more comfortable if he were to win because he in fact is still an amateur, unlike the U.S. Amateur champion.