U.S. Open
U.S. Open 2022: The Phil Mickelson haters were few but they were loud and proud on Thursday at Brookline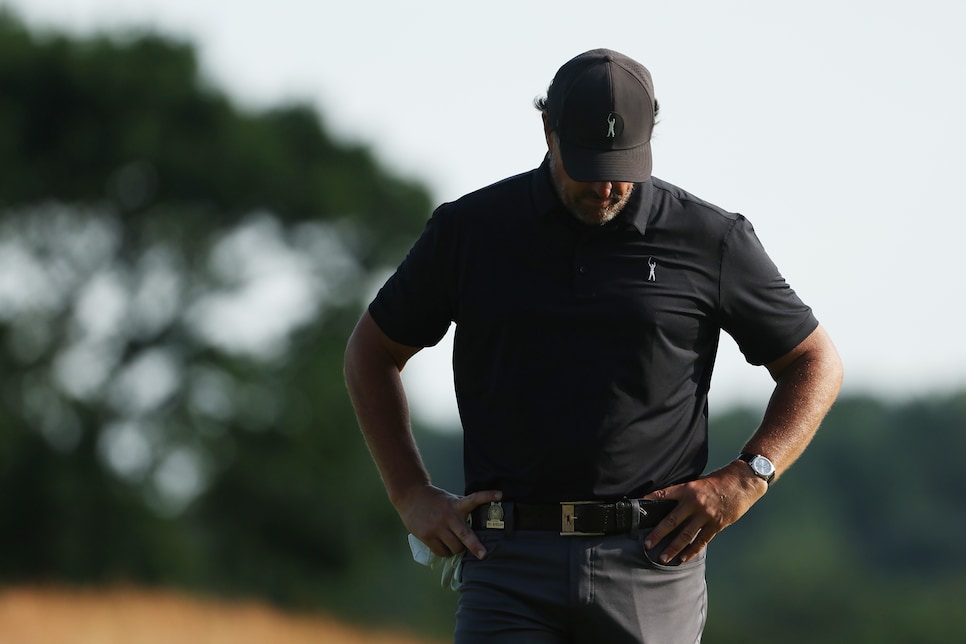 Phil Mickelson reacts on the 14th green during round one of the 122nd U.S. Open Championship.
Patrick Smith
BROOKLINE, Mass. — Heckling at golf tournaments (non-Ryder Cup division) is reserved for only the most controversial of characters. Phil Mickelson would qualify as controversial in every conceivable way, even before he took on the PGA Tour and defected to the Saudi-backed LIV Golf series. But none of his past off- or on-course transgressions ever earned him so much as a lighthearted jeer on the golf course. For the last 20 years and then some, he has been among the most beloved players in the sport.
Surely, though, not even Lefty would be able to escape a handful of heckles this week in Bahhhstan, a city of sports fans who live to sip on some ice-cold haterade. Even Big Papi couldn't avoid a boo or two after an 0-for-5-with-three-strikeouts night at Fenway during his prime.
Then again, this was the man's 52nd birthday, and this is the U.S. Open, which has caused him the most pain over the course of his three-decade career. Judging by the response to the announcement of his name at 1:47 p.m. on the first tee at The Country Club on Thursday, it was clear the Phil faithful were quick to forgive, forget, and back the six-time major champion as he began his chase for one of the few trophies that has eluded him.
Amidst "Happy birthday Phil!" and "the calves are looking great!" and the "we still love you in Boston Lefty!", though, were a small but vocal minority of dissenters who clearly have kept up on their golf news recently. The first extremely Boston-sounding "YA SELLOUT!!" came just right of the first fairway, one of the few Mickelson hit in his opening round. The next taunt, which may have also doubled as words of encouragement, came left of the fourth fairway. "Greed is good Phil! Greed is good!"
Up to that point, Mickelson appeared to be fully engaged, despite making two bogeys over his first three holes. He got his first solid look for birdie at No. 4, a downhill right-to-left slider that caught the lip but would not fall. At the drivable fifth, he hit one of his way-off-liners that led to a third bogey. His Kiawah like pre-shot process was yielding Centurion-like results, but the Bostonians still opted for a positive-vibes-only approach.
Then, somewhat stunningly, came a real, live "boooo" in Mickelson's direction as he strolled to the par-3 sixth tee. A man in his mid-30s, donned in his Celtics gear in advance of Game 6 of the NBA Finals, shouted "We hate you Phil!"
"I'm surprised more people aren't doing what I'm doing," said the lone boo-er when asked for his opinion on the LIV drama. "I thought he'd get booed out of the place, to be honest with you."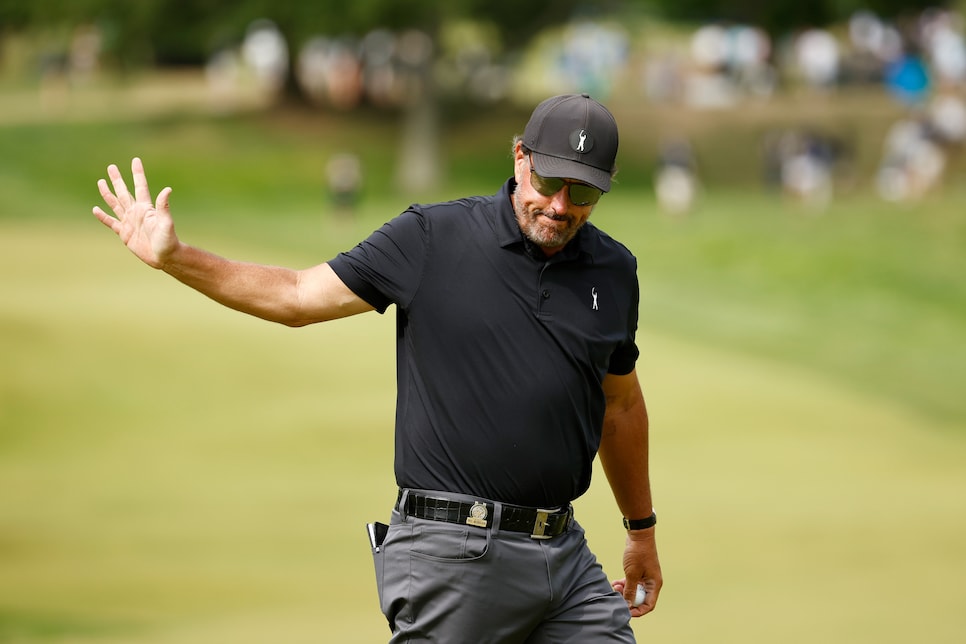 Phil Mickelson waves on the ninth green during round one of the 122nd U.S. Open Championship.
Jared C. Tilton
This particular heckler, who did not reveal his name, then offered a similar refrain to one from many of Mickelson's social-media critics: just say you went for the money.
"I love the PGA Tour and I just hate the way he's handled this whole thing," the man said. "Just say you're doing it for the money. I don't even care about the other guys like DJ [Dustin Johnson], whoever else. Phil's the one who is trying to take down the PGA Tour."
The heckler didn't stick around for more, missing out on Mickelson's four-putt double bogey from 16 feet at the sixth green. One can't help but assume he would have taken some sick pleasure in his latest U.S. Open gaffe.
Mickelson attempted to steady the ship from there, making three straight pars before his next bogey at the par-4 10th. Finally, a birdie dropped at No. 11 to a mass of cheers. Once they quieted, boo-er No. 2 let Mickelson know he was "dead to him."
"You blocked me on Twitter Phil!" shouted 26-year-old Tyler Currie. "I was just telling the truth."
"He just completely backstabbed the tour," Currie added when we caught up with him. "The tour that was so incredibly good to him for 20-plus years, and he's completely tainted his legacy. It hurts to see as a big golf fan, it's a mockery. And the excuses he has for it besides money are just complete and utter BS. It just hurts to see. I was a big Phil fan, I was pumped when he won at Kiawah. I don't know what he has going on financially and whatnot, it can't be great, but it's sad. I can see why DJ or even Sergio [Garcia] are doing it. ... but Phil, I don't think had any reason to do it. The tour would have taken care of him if he was really in that dire need."
Currie's articulate thoughts on the Phil-to-LIV matter were quite the juxaposition with the next catcaller, who was positioned in one of the hospitality tents off 14 fairway and was clearly overserved. It was hard to make out what the guy was actually screaming, but it was gutteral, veins were popping out of his head and it had something to do with Mickelson's famous calves, which this particular dude did not care for.
From there, Mickelson's afternoon felt more like a funeral procession than a golf round—fitting, given the all-black attire he was sporting. His final score of eight-over 78 has him positioned in a tie for 144th, 12 shots off the lead of Adam Hadwin and just five shots shy of dead last. Barring a WD, he'll go through the motions again on Friday and likely miss his third U.S. Open cut in his last six appearances. Then, he'll get a week off before heading to Pumpkin Ridge in Portland for the first U.S.-based LIV event at the end of the month. There, hecklers and dissenters need not apply.