SAN DIEGO — Dustin Johnson has been so good for so long that when he suffers a few months of poor play it feels like a crisis. From 2015-20 alone he put together a Hall of Fame career, winning a Masters and U.S. Open (at Oakmont!) and 14 other tournaments (including five WGCs). But so far this year, the 37-year-old, has as many last-minute WDs as top-10s (two) and nary a victory. He's missed the cut in the year's first two majors. He claims to be battling a balky knee but lost a little credibility on that front when, in the wake of one of his withdrawals, social-media videos surfaced of him doing flips off the second deck of his mega-boat. As he heads into a U.S. Open on a brutish golf course tailor-made for his talents, it is fair to ask what the heck is going on with the World No. 1?
"It's just like small little mistakes that you shouldn't make," Johnson says of his mini-swoon. In a vague allusion to his mysterious WDs, he adds, "So, yeah, sometimes it takes a little bit of time away and kind of clearing my head, and definitely it helps."
Johnson was once golf's most extravagant underachievers but forever altered the trajectory of his career with a monk-like dedication to exercise and clean-eating, to say nothing of dialing in his wedge game. (After further reviewing the social media posts of his fiancé Paulina Gretzky, perhaps monk-like is not the best description.) Johnson's inner circle insists he is working as hard as ever but there are allusions to "distractions" which appears to be code word for the mega-wedding Gretzky is now pulling together after seven years of betrothal.
Johnson and his team have also been saying yes to a few more business opportunities in the wake of last year's victory at the Masters, when DJ smashed the tournament scoring record shared previously by Tiger Woods and Jordan Spieth. That five-stroke blowout was the sixth time since the start of 2017 that Johnson has won by at least that many strokes, cementing his standing as the game's most dominant force.
Last week at the Palmetto Championship at Congaree, Johnson took the opening-round lead with a 65 that included some of the most overpowering driving of a career built on the long ball. All was right in the world, or so it seemed, until some head-scratching mistakes, including a 3-iron nearly slipping out of his hand on the 36th hole, which led to a momentum-shifting double bogey. Johnson looked a little lost over the weekend as he stumbled to a tie for 10th that included a triple bogey on Sunday. Afterward, a flummoxed Johnson said, "I didn't feel like I played that bad. It was just, if I could get a bad break, I did. It felt like all day, every shot that I had was in between clubs. It was just a weird round." And yet it was his first top-10 on the PGA Tour since February.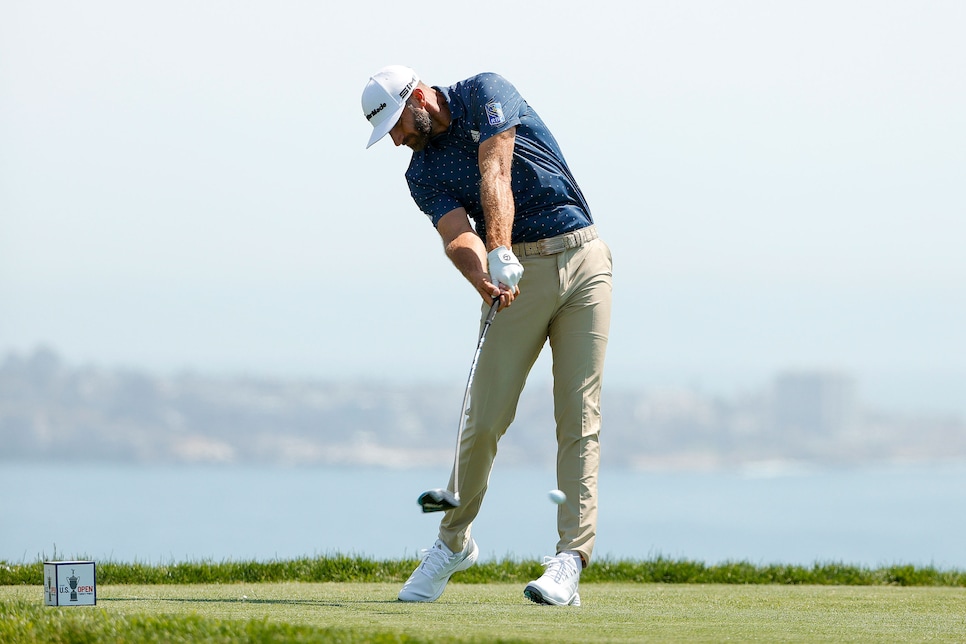 Dustin Johnson hits his tee shot on the fourth hole during a practice round prior to the start of the 2021 U.S. Open.
Ezra Shaw
Wednesday at Torrey Pines was a reminder of who Johnson is, as he was presented with the Mark McCormack Award for having spent the most weeks in 2020 atop the World Ranking (19). Johnson has now been No. 1 for more than two years in total, the third longest reign since the ranking debuted in 1986, behind only Woods and Greg Norman.
Form is temporary but class is permanent, and Johnson still carries himself with the quiet confidence of a man who knows his best golf is better than that of any other player on the planet. "If I can drive it well, I feel like I'm going to have a really good week," he said on Wednesday. "Fairways are pretty narrow. The course is long, like I was saying, and if I can hit the driver good, yeah, I like my chances."
Doesn't sound like somebody who is all that worried about the state of his game. Maybe we shouldn't be either.