A good night's sleep
U.S. Open 2021: Bryson DeChambeau's most recent swing change came to him in his sleep. We should all be so lucky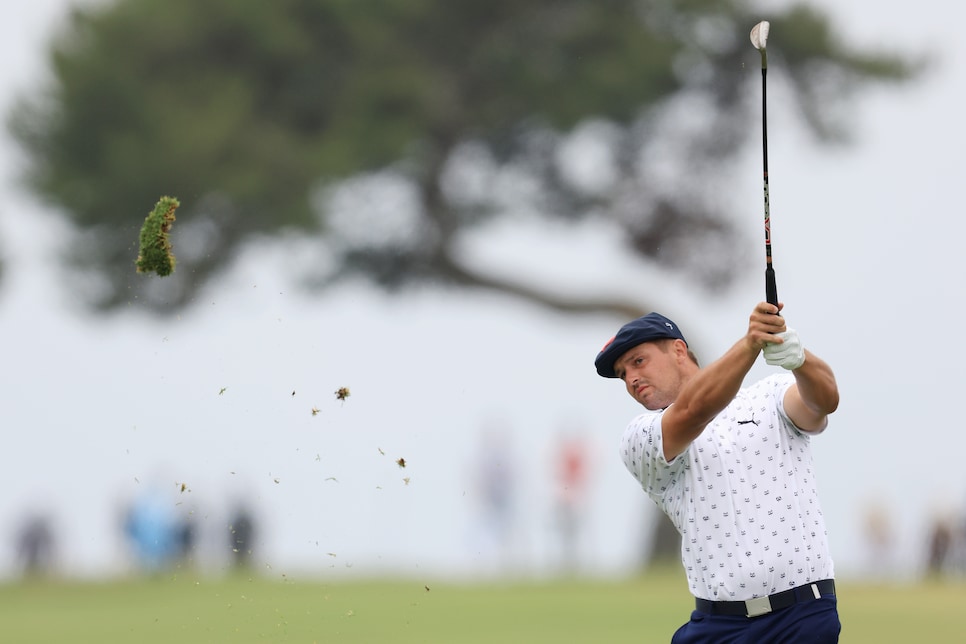 That Bryson DeChambeau spent Thursday night grinding in near darkness at the Torrey Pines range is not unusual. Well, it might still be unusual, just not for him.
It's also not all that noteworthy that DeChambeau showed up on Friday morning equipped with a new swing thought that led to a two-under par 69, pushing him into contention halfway through the U.S. Open.
No, the weird part is where DeChambeau found his inspiration—not, it turns out, during his nighttime range session. But later, he said. Sometime in his sleep.
"I was sleeping and it came to me in the middle of the night, woke up and I was like, 'Hmm, I'm going to try this,'" DeChambeau said. "I went out, and my intuition is pretty good, so I went out and tried it, and it worked."
The specifics of the change are almost immaterial—the golfer said it was about keeping his right wrist bent longer through impact with the driver, allowing him to stabilize the face—but the way he arrived at it is quintessential DeChambeau. Following an opening 73, which also featured another on-camera exchange with rival Brooks Koepka, the defending U.S. Open champion retired to the Torrey range and hit balls until about 9:20 p.m. local time. He eventually gave up when he couldn't see where the ball was going, and after dinner, said he still wouldn't talk to anyone else because he was still preoccupied with his swing.
When he went to bed, he still didn't have an answer. Then he woke up and he did.
Which is all to say that sometimes the secret isn't in the dirt, as Ben Hogan once claimed. Sometimes it's between whatever high-thread-count sheets DeChambeau is sleeping in this week.
"I've got to take some time and sit back and try and understand and listen to my intuition because I wasn't … I was just trying a bunch of different things, and I just got fed up with it," he explained. "I said, 'Let's go back, sit back and just think of what has got you here and what makes you feel comfortable.'"
MORE U.S. OPEN 2021 STORIES FROM GOLF DIGEST: