Amateurs
U.S. Open 2021: Breaking down the 9 amateurs competing at Torrey Pines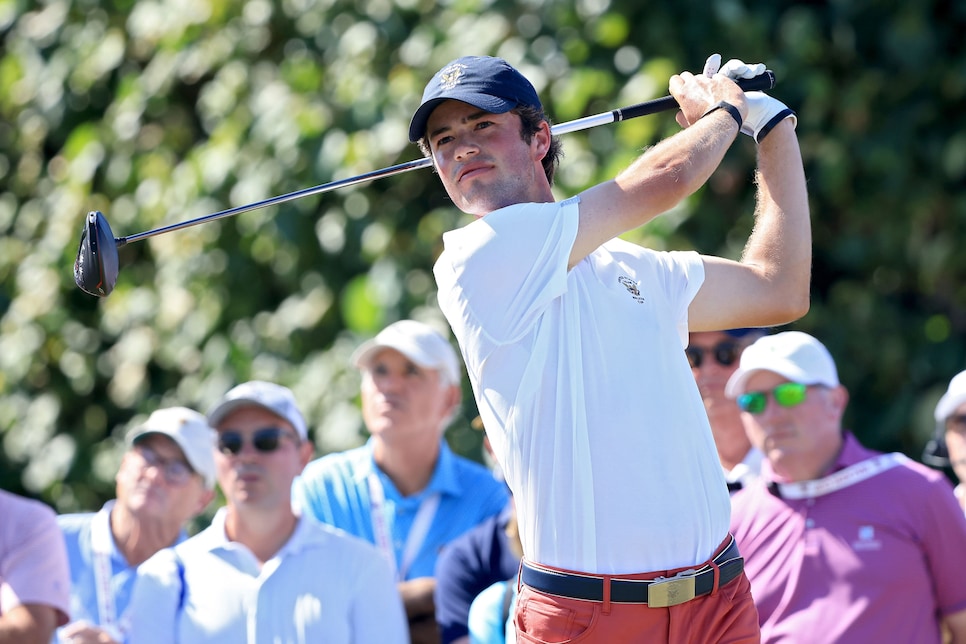 Cole Hammer plays his tee shot on the third hole during Sunday singles at last month's Walker Cup.
Sam Greenwood/R&A
Is there such a thing as a "veteran" amateur golfer? Particularly if said "veteran" is still enrolled in college? If so, Cole Hammer might consider applying for a trademark on the label, given the unique résumé he's put together in recent years.
A rising senior at the University of Texas and a two-time U.S. Walker Cup team member, Hammer is one of nine amateurs competing this week at Torrey Pines for the 121st U.S. Open. It is the third time the 21-year-old from Houston will be playing in the national championship, the other two coming in 2015 and 2020. As my colleague, Daniel Rapaport, previously noted, if it feels like Hammer has been playing amateur golf for a while, it's because at that first U.S. Open appearance at Chambers Bay he was just 15 years old.
Since then, Hammer has practically experienced a full career arc. He rose to the No. 1 ranked amateur in the world in 2019, but saw his results tumble late that year and in 2020 as he worked on tweaking his swing. He's now back among the elite, going 3-0-1 for the victorious American team at the Walker Cup at Seminole Golf Club last month.
After a disappointing finish to his 2021 college season at the NCAA Championship—the Longhorns failed to advance to match play—Hammer announced he'd be returning to play his senior year next fall. The decision was made easier by the fact that the entire UT team is returning, and that they'll be motivated for one more shot at a NCAA title. Hammer, too, wants to wrap up his business degree. And by staying amateur, he can compete next month in the Open Championship thanks to an exemption he'd earned into the canceled 2020 tournament by virtue of his No. 1 amateur ranking.
Being a "veteran," Hammer is hopeful that his previous experiences will help him accomplish something he hadn't in his first two U.S. Open appearances: make the cut. In the race for low amateur honors, Hammer's odds are better than in years past, if for no other reason than there are so few amateurs in the field this week. The nine who are competing are the fewest since 2012.
You have to go back to 2007 for the last time an amateur did not make the cut at a U.S. Open.
Here is our breakdown of the players and their chances of making it to the weekend and vying for low-amateur honors. To sort and manage the group, we've created categories of confidence, 3 signifying most confident to make the cut, down to 1 being the least confident (Players are listed in order from most confident inside each of the three categories).
Confidence Level 3
Pierceson Coody, 21, Plano, Texas
Cole Hammer, 21, Houston, Texas
Matthias Schmid, 23, Germany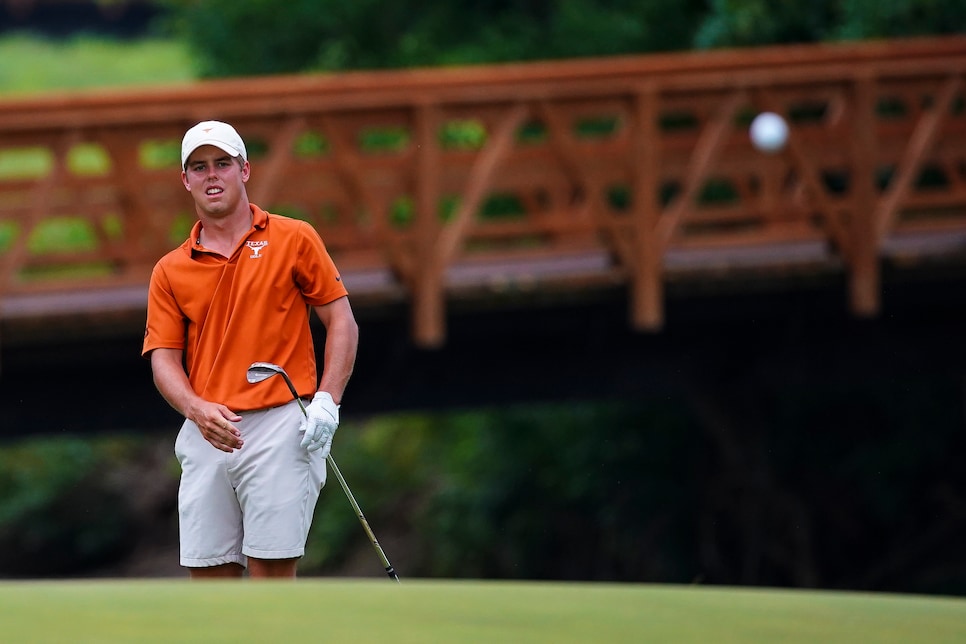 Pierceson Coody joins his Texas teammate, Cole Hammer, as one of the elite college players in the running for low amateur honors this week.
Jack Dempsey
Coody, a teammate of Hammer's at Texas and grandson of Masters champion Charles Coody, also played on the victorious U.S. Walker Cup team and won the Western Amateur last summer. Appears to be over a stomach bug that forced him to miss the NCAA postseason. … Hammer already has a USGA title to his credit, having teamed with Garrett Barber to take the 2018 U.S. Amateur Four-Ball. Won the Western and Azalea Amateur titles that year too and played for the U.S. in the World Amateur Team Championship. He actually was the first alternate in U.S. Open Final qualifying in Columbus but earned a spot into the field at Torrey Pines when Mikko Korhonen. … Schmid made the most of the COVID-impacted 2020 season by winning the 2020 European Amateur, which earned him a spot to play in next month's Open Championship at Royal St. George's.
Confidence Level 2
Andrew Kozan, 22, West Palm Beach, Fla.
Joe Highsmith, 21, Lakewood, Wash.
Joe Long, 24, England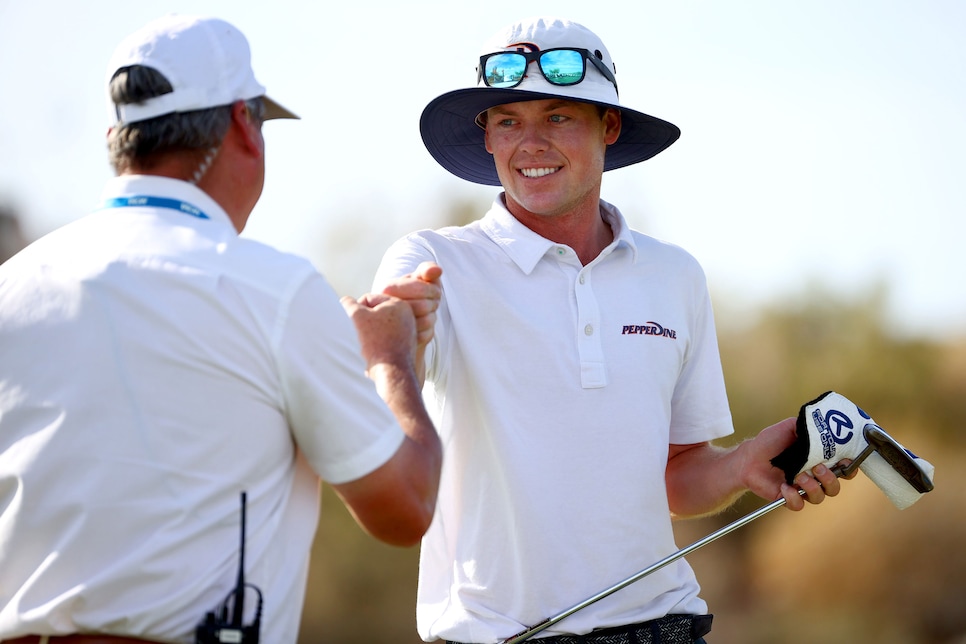 Joe Highsmith celebrates after clinching his match in the NCAA finals and helping Pepperdine win the 2021 national title.
Jamie Schwaberow
Kozan just finished his senior year at Auburn, where he posted three top-10 finishes. He and his family belong to The Bear's Club in Jupiter, Fla., which is where he finished second in Final Qualifying to earn his spot at Torrey Pines. … Highsmith, a lefty, is coming off an impressive junior season at Pepperdine, where he had seven top-10 finishes and helped lead the team to an NCAA title, going 3-0 in match play. … Long, the reigning British Amateur winner, is missing the chance to defend his title this week by playing at Torrey Pines. He played in the Masters, missing the cut, and will compete in next month's Open Championship.
Confidence Level 1
Charles "Ollie" Osborne, 21, Reno, Nev.
Spencer Ralston, 23, Gainesville, Ga.
Matthew Sharpstene, 22, Asheville, N.C.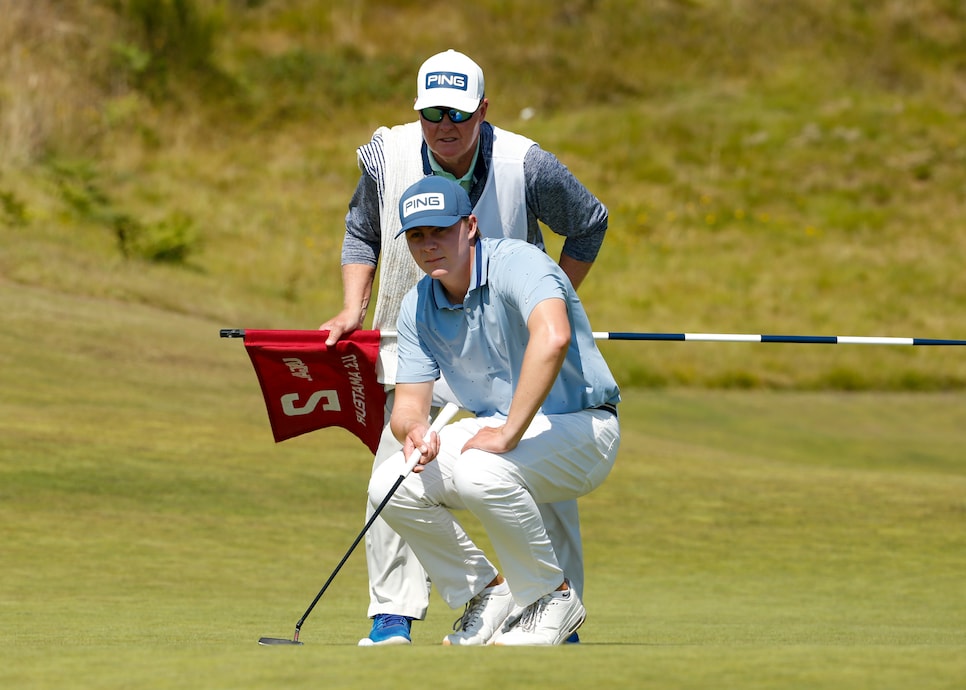 Ollie Osborne during his runner-up week at last summer's U.S. Amateur.
Steven Gibbons
This is the second major that Osborn, a rising junior at SMU, gets to play in thanks to his runner-up finish at last August's U.S. Amateur at Bandon Dunes; he missed the cut at the Masters in April. He also has Monday qualified for a PGA Tour event, getting into the Barracuda Championship in 2019. … A fifth-year senior at the University of Georgia this spring, Ralston played in 50 of 51 tournaments he was eligible for during his time in Athens, finishing runner-up at the SEC Championship in April. He won the 2019 Players Amateur and was a quarterfinalist later that year at the U.S. Amateur at Pinehurst. … Sharpstene reached the semifinals of the U.S. Amateur last August and tied for medalist honors in Final Qualifying at Dallas Athletic Club.