News
U.S. Open 2020 live scores: Bryson DeChambeau shoots 67 to win the U.S. Open by six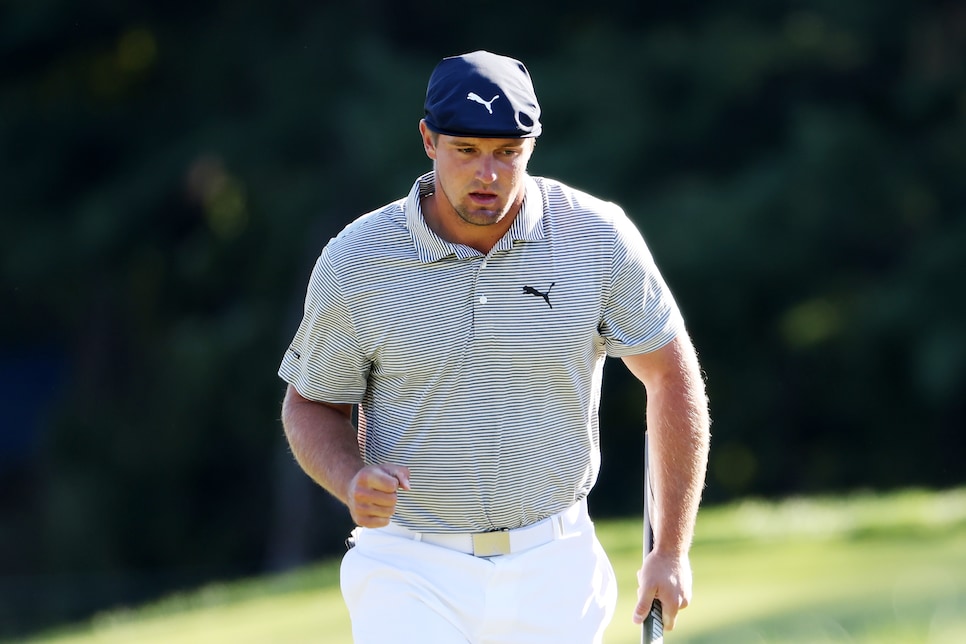 Sunday at the U.S. Open—it's one of the best days of the year for golf fans. This year is no different, even though it's very different. This 120th U.S. Open is being held in September; there are no fans; and despite narrow fairways and thick rough, two of the longest hitters in golf, Matthew Wolff and Bryson DeChambeau, have distanced themselves thus far at Winged Foot.
(Scroll down for the latest updates)
Among the biggest storylines of the day will be how this traditional U.S. Open layout continues to play, and whether the top of the leader board can continue to keep up their stellar play despite hitting fairways. As our Joel Beall pointed out in his must-read piece from yesterday, Bryson and Wolff—in the final group teeing off at 1:30 p.m.—combined to hit five fairways on Saturday. It's the same story with the rest of the leaders—Louis Oosthuizen (-1, four back starting the day) hit just five fairways on Sunday; Xander Schauffele (even par, five back to start) hit just three. This isn't your grandfather's U.S. Open, but guess what: This new generation of golfer has trained to generate extreme speed and are skilled enough to control their shots. What is being rewarded is the skill these players are exhibiting for controlling their approaches from the thick rough off these Winged Foot fairways.
What you can't debate is that Sunday at Winged Foot will be thrilling, regardless of whether you think the wrong skills are being rewarded, or whether you love watching these guys bomb and gouge at this traditional U.S. Open venue. We're here to capture all the action and important shots all afternoon—thanks for joining, and make sure to refresh your screen for the latest coverage!
5:55 p.m.: Surprise, surprise, Bryson DeChambeau missed the 18th fairway and it doesn't even matter. After hitting one just short of the green, he chipped one all the way to the back and used the slope to roll it back toward the pin, about six feet above the hole. Aaaaand BANG. He curls it in and raises both arms. What a performance. A final-round 67 gave him a 72-hole total of six-under 274, enough to beat Matthew Wolff by six. DeChambeau is the 2020 U.S Open champion.
5:47 p.m.: After missing the green at 17, Bryson got a very favorable ruling to go from the rough to the fringe. Another par. He leads by six with one to play. Up at the 18th green, Louis Oosthuizen seals his solo third finish with a par. This will mark his sixth ... SIXTH ... finish of third or better in a major championship.
5:34 p.m.: Rough finish for Harris English, who doubled the 72nd to post a three-over 73. Still, an incredibly gutsy round after losing his ball in the rough on the first hole of the day and making double. Two doubles and he still eeked out a 73, which should get him a T-3, his best U.S. Open finish. These guys all want to win, but English should be very proud of that performance.
5:29 p.m.: As Kevin Garnett once famously screamed, "ANYTHING IS POSSIBOOOOO." Apologies to KG, but it's basically impossible for Wolff to come back now. He just double-bogeyed the 16th, completing his final-round implosion. Bryson made par, and now leads by six.
5:19 p.m.: Welp, if Wolff's U.S. Open dreams weren't dead yet, DeChambeau just crushed them for good on the 16th tee. Bryson uncorked a 365 yard drive that left him with 138 to the hole. From there, he pulled his approach a bit but found the putting surface. Wolff, meanwhile, is falling apart. After missing the fairway right he then pulled his approach into the left trees. Might be time to break out the Vince Carter "It's over" GIF.
5:10 p.m.: Wolff misses the fairway on 15, chases one up to the front of the green and then hits a beautiful chip four feet past the hole. Then he gets the tricky, downhill putt to drop for par. But that ain't gonna cut it right now. DeChambeau found the fairway and the green and took his two-putt par to keep a four-shot lead. Wolff needs birdies, and a bogey or two from Bryson, to have any chance.
4:52 p.m.: Despite the wayward drives, both DeChambeau and Wolff get to the green in three and will have putting opportunities for par. Wolff finishes 14 with a tap-in bogey after the par putt pushes to the left. Bryson buries his putt to take a four-shot lead with four to play.
4:39 p.m.: Wolff doesn't have enough speed for a birdie opportunity on No. 13. He'll two-putt and end up with par. Bryson matches Wolff with a par of his own as his ball catches the edge of the cup and sneaks in. Bryson's doing what he needs to do right now.
4:32 p.m.: Matthew Wolff's first shot on the par 3 13th hole hangs onto the green. Nice break there. Both in the final pairing get to the green.
The broadcast has been to discuss Bryson as if it's a foregone conclusion that he'll win the U.S. Open. Wondering what this means for golf... There's still plenty of time left at Winged Foot.
4:23 p.m.: Not an easy putt, but Matthew Wolff misses a chance for birdie on No. 12. Announcers begin discussing the downsides of his youth. Never a good sign on the back-nine. He does sink a massive par putt, however, to keep himself in contention. DeChambeau plays it safe on a long putt and heads into the final six holes with a three-shot lead.
4:13 p.m.: Another massive tee shot from Bryson DeChambeau, and now he got a really nice bounce to go along with it. Bryson's tee shot at the par-5 12th looked to be headed toward the rough, but the mound pushed it back in the fairway.
Matthew Wolff's tee shot wasn't as lucky ... his ball found the rough off the tee. Wolff just layed up about 120 yards short for his third, after Bryson's fairway wood sailed way right at 12.
4:06 p.m.: This is now Bryson DeChambeau's tourney to lose. The Incredible Bulk just rolled in a 12-footer from just off the green—after a massive 320-yard tee shot at the par-4 11th hole, nearly reaching the green—to move to 6-under par. Matthew Wolff scrambled for his par, but he's now three back of Bryson and running out of holes.
3:57 p.m.: Bryson DeChambeau found the green with his tee shot, and though his first putt came a good four feet shy, he rolls in his par putt to remain at 5-under. Wolff missed his 10-footer above the hole for par and makes bogey—that drops the youngster back to 3-under, now two back of Bryson.
3:52 p.m.: Matthew Wolff's second shot at the par-3 10th was unbelievably good. His ball got unlucky to hang up in the rough just above the left greenside bunker. The 21-year-old had to stand in the sand while his ball floated in the thick rough above him. He gripped nearly all the way down on the shaft and played a creative shot off the back mound to 10 feet.
3:44 p.m.: INCREDIBLE ... Bryson DeChambeau drains the 37-footer with perfect pace for eagle at the par-5 ninth hole. And not to be outdone, Matthew Wolff follows suit, holing his 10-footer for eagle to remain one back of Bryson.
Bryson and Wolff aren't showing any signs of slowing down ... what an incredible way to play this 556-yard par-5 ninth. So much grit from both guys.
3:36 p.m.: How about these two drives from the leaders at the par-5 ninth? Bryson DeChambeau hit his tee shot 374 yards and got outdrove by 14 yards!
Bryson and Wolff both hit driver-pitching wedge into this 556-yard par-5 ninth hole. Seems unfathomable ... that's how explosive these two guys are.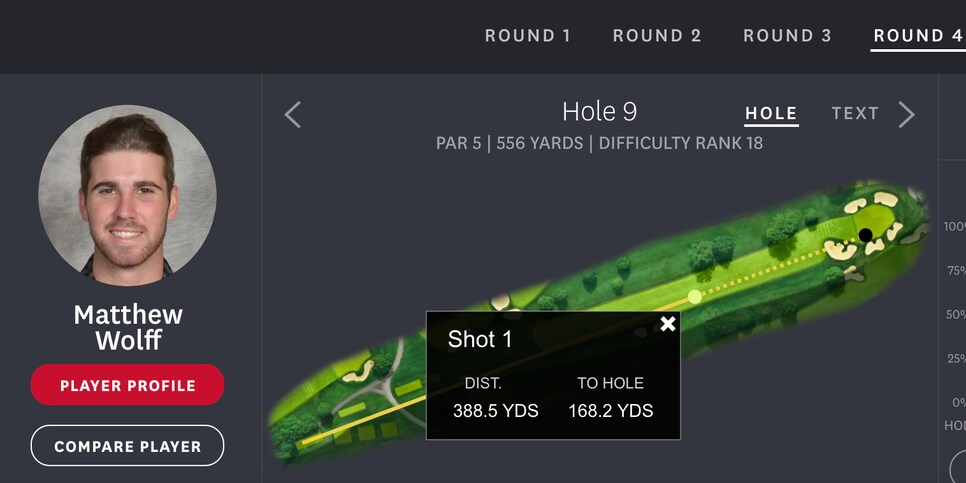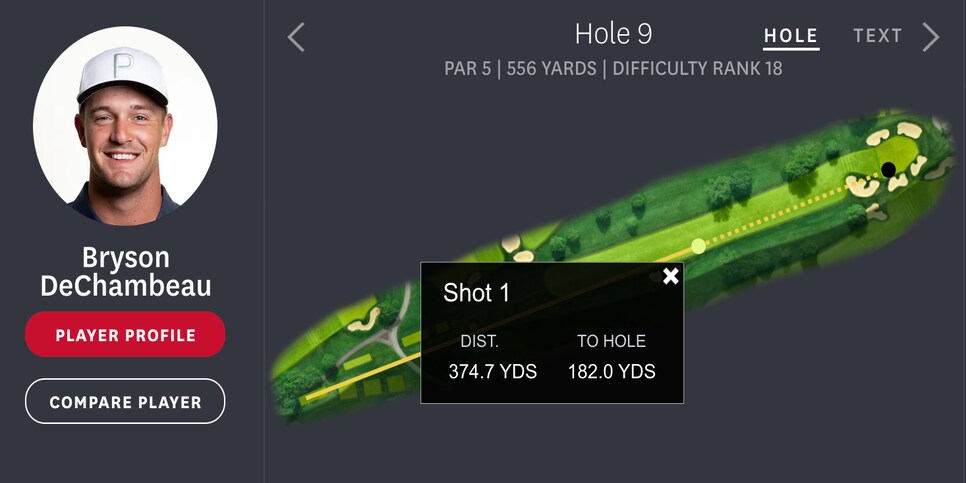 3:30 p.m.: Our two leaders have moved back just a bit at the eighth. Bryson and Wolff were both out of position off the tee and it ending up costing them. Both bombers have been so good at those touch shots around the green, but they each drop a shot. Bryson leads by one (-3) over Wolff—and now all of a sudden these other players are absolutely in this championship.
3:22 p.m.: Wolff missed the fairway way right at the eighth, but found some trampled down grass. From there he was able to put one on the front of the green. Great spot. DeChambeau, on the other hand, blasted one out of the rough and it rolled over the back of the green. Oosthuizen was in a similar spot earlier and couldn't save par. Going to be very tough.
Meanwhile, Xander Schauffele just went birdie-birdie to finish off a front-nine 35. He's at even par, four back (potentially just three back in a moment).
3:11 p.m.: Two good pars for Wolff and DeChambeau at the seventh. Plodding along. Bryson still up by 1. As for Oosty, he goes over the green with his approach on the eighth, leaving himself with an impossible up down. Bogey for the South African, dropping him back to even par, four off the lead.
3:02 p.m.: Nice two-putt par for Oosty at No. 7 (technically a one-putt since he was off the back of the green). Wolff and DeChambeau take their two-putt pars as well at No. 6. Feels like a three-horse race right now, though there are some serious lurkers at plus two, inlcuding Viktor Hovland, who made birdie at the ninth. Harris English, who made double at No. 1, has played even par golf since, and is also at two over. Xander Schauffele was two over, but he just rolled in a long birdie putt at the difficult par-4 eighth to get to one over. Huge with the par-5 ninth coming up. He could get back to even.
2:56 p.m.: Louis Oosthuizen actually only had about six feet for birdie at the sixth, and he holed it to get back to even on the day, one under for the championship. DeChambeau and Wolff both found thick rough off the tee at No. 6, and they each hacked one onto the front of the green. Two medium-sized birdie looks coming up for the leaders.
2:45 p.m.: Wolff is quickly learning that the whole missing fairways might not play as much on Sunday at Winged Foot. He's now made two bogeys in his last three holes, dropping him to three under. DeChambeau, who also missed the fairway, chased one up to the front left edge of the green and put his 90-foot birdie putt to seven feet, then poured in the par putt. So, so clutch. He now leads by one.
Up ahead at the sixth, Louis Oosthuizen hits a solid drive just in the right rough next to the green. But his second was a poor chip, and he'll have about 12 feet for birdie to join Wolff and DeChambeau in red figures.
2:31 p.m.: What a turn of events at No. 4. Matthew Wolff lips out a long birdie effort and settles for par to stay at four under. Moments later, Bryson DeChambeau rolls in his birdie putt to tie for the lead. IT. IS. ON.
2:21 p.m.: Oosthuizen will drop a shot on No. 4. He's back to even. Not a single player is under par today. Winged Foot definitely showed up on Sunday.
2:14 p.m.: And Matthew Wolff will drop a shot there down to 4-under after a missed par opportunity. Still, that's a nice save by Wolff after his first shot. Could've been much worse there. Bryson is just one shot back now.
2:11 p.m.: "Fabulous shot." Matthew Wolff makes up for the wayward tee shot and gets it to the green after a gorgeous chip shot. Bryson follows that up with a fantastic shot of his own getting it out of the rough right around the hole. The crowd, sitting right outside of the course, gets a chance to applaud after both shots. Good for them...
2:07 p.m.: Teeing off on No. 3, Bryson hits it a bit too far into the deep rough, but stays straight. Wolff follows that up with a hook shot. Went way left. DeChambeau is definitely in the better spot here. Oosthuizen is still lurking. Just four shots back of Wolff and is even par for the day.
1:57 p.m.: McIlroy bogeys No. 4 after two wedges from the middle of the fairway and a botched par attempt. Rory will now drop to +3. Slowly taking himself out of contention. He has a new kid, at least. Not sure if you knew about that.
On the second hole, DeChambeau and Wolff both get birdie attempts. Bryson barely touches the ball and it takes its time rolling over to the right of the hole. He'll get an easy par attempt. Wolff also gets the ball right around the cup with a strong putt and will clean up for par. Both should start even over the first two holes.
1:48 p.m.: The stat getting the most attention Saturday from Winged Foot was that Bryson and Wolff combined to hit five fairways. Guess what ... they've hit their first two fairways to start, so they've almost surpassed that total. Two glorious tee shots from Bryson and Wolff at No. 2.
1:46 p.m.: Toughhh miss for Bryson DeChambeau at the first hole. He played the hole so brilliantly—leaving himself with an eight-footer for birdie, but he pulls his birdie effort which doesn't even hit the cup. That's two pars for our leaders to start with Wolff two-putting from 13 feet.
1:44 p.m.: Harris English! What a way to recover from his double bogey at the first hole ... he just holed his bunker shot at the front greenside bunker—for the first birdie of the day at No. 2—to move back to 1-over and six back of Matthew Wolff's lead. Good for Harris English ... the announcers have it right—a lot of people will be rooting for him after that tough break and the lost ball in the rough to start.
1:37 p.m.: The first hole has claimed another victim. Hideki Matsuyama, playing his third from in the front of the green, had his ball roll back to him. And he nearly did the same with his fourth. Hideki failed to convert the bogey putt, so he's the latest player near the top of the leader board to walk away with a double bogey. That puts him +2 and seven back of Wolff.
Louis Oosthuizen, in the same group, converts a strong 13-footer for par to remain four back of Wolff's lead.
1:31 p.m.: Our youngest final pairing at a U.S. Open in decades is now on the course. Matthew Wolff (-5) and Bryson DeChambeau (-4) both find the fairway at the first hole. We've seen good shots from players in the fairway at No. 1 (besides Rory, who just made double from the middle of the fairway), so we'll predict that one of these guys will make a birdie to start their rounds.
We also saw Matthew Wolff talking on the phone at the first hole just minutes before he was on the tee. Hilarious ... you know somebody will ask who he was talking to. But he was smiling and looking pretty loose, which is actually how he's looked all week.
1:28 p.m.: The second-to-last group is now on the course—two of the best ball-strikers and great swings in golf: Louis Oosthuizen (-1) and Hideki Matsuyama. Hideki finds the rough with his tee shot, which we've seen makes this first hole so difficult. The Japanese star hit a fine second shot to just in front of the green, so he'll have a chance to get up and down.
1:24 p.m.: English walks away with a double bogey, which was actually pretty sporty after a nice bunker shot. English moves back to 2-over and seven back of Matthew Wolff's lead.
1:17 p.m.: Harris English's final round is off to a nightmare start. He pulled his te shot left on the first fairway, and the rough is so thick over there, nobody could find it. There was a full-on search party to find English's ball, but the permitted three minutes were exhausted and nobody was able to find English's ball. English started the day even par ... and he won't walk off the first hole that way. English will head back to the tee to hit his third shot...
Even Bubba Watson and his caddie Ted Scott, playing the ninth hole that is adjacent to No. 1, tried to help the former Georgia Bulldog out. English is set to make a HUGE number at the first ... he found the rough with his third shot from the tee, and now his fourth rolls in the front bunker. Really rough...
1:12 p.m.: Zach Johnson's chopping it up at the first hole, and Rory McIlroy is now right there with him. Rory used putter off the green, and JUST missed the ridge to get level with the hole location, and the ball rolled all the way back to nearly where Rory played his third shot from. A rough start for this group ... Rory misses his five-footer for bogey to walk away with a double bogey. That's from the middle of the first fairway. Now Rory's +3 and eight back of Matthew Wolff...
1:02 p.m.: We couldn't have two more opposite players paired together in the fourth-to-last group of the final round: Zach Johnson (+2) and Rory McIlroy (+1). ZJ's off to a rough start at the first hole ... snap hooking his tee shot way left. He was so far left with tree trouble, the two-time major champ elected to play down the ninth fairway with his second shot. A couple of guests have played Winged Foot West's first hole a similar way ... and we talk with some experience there.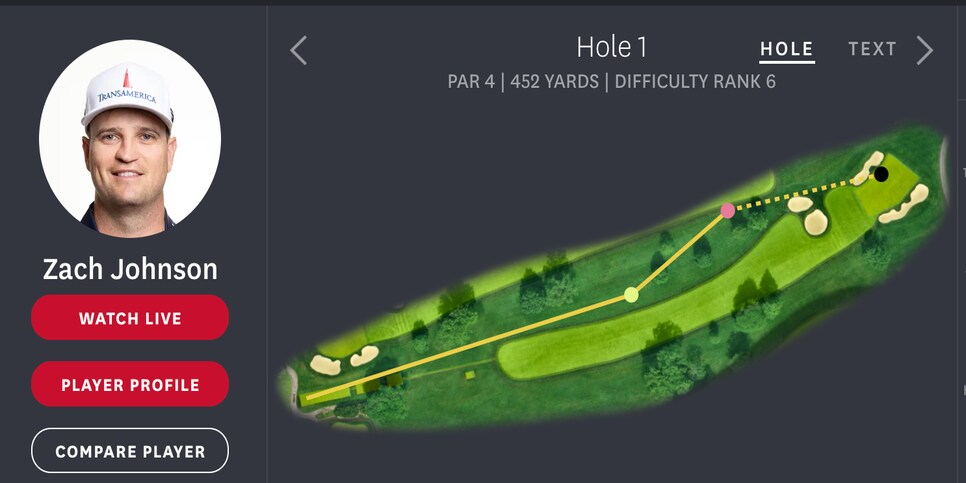 12:56 p.m.: Rory Sabbatini just wrapped up his final round at Winged Foot, and his final score was significant for an unfortunate situation for him. Look at this stat from Justin Ray ... which embodies how much tougher Winged Foot played after that first round.
One of those big numbers came Sunday ... as we were treated to this really precarious position Sabbatini found himself at the extremely undulating 15th hole.
12:40 p.m.: Patrick Reed gives that early birdie back with a bogey at the second hole. The 2018 Masters champion moves back to 3-over for the tourney.
12:27 p.m..: Two of the early leaders in this championship—Patrick Reed and Justin Thomas—are now on the course. P-Reed hit a lovely shot at the first hole to within 4 feet and buried the putt to move to 2-over, which is seven back of Matthew Wolff's lead. We've seen a number of shots tight to that pin position at No. 1—that will be a rare birdie opportunity to take advantage of for our leaders, too.
12:16 p.m.: Some great footage of Bryson DeChambeau hitting the range last night by NBC. The crew showed a time lapse of Bryson hitting balls in 45-degree weather up until 8:15 p.m., for about an hour. Thankfully the Winged Foot staff was able to llight up the range for Bryson, as sun down was about 7 p.m. in the New York area. We'll see if that work pays off for Bryson today, who starts one back of his playing competitor Matthew Wolff.
12:05 p.m.: NBC coverage starts by showing a Jason Day putt—who's 13-over for the week. For anyone complaining that Winged Foot isn't playing difficult enough ... A) give some credit to those atop the leader board for how they've separated themselves from the rest of the field and B) just wait until today ... there are still just two rounds under-par—now Erik Van Rooyen of South African and Lucas Herbert.
11:50 a.m.: Nearly 38 of the 60 players in this fields are now on the course, and there are just two under-par rounds currently: Aussies Cameron Smith and Lucas Herbert. Winged Foot's playing tough once again on Sunday—it will require truly special playing to card a four- or five-under par here today.
So does that mean we can rule out everyone at 1-over par? We wouldn't. If Matthew Wolff and Bryson DeChambeau struggle, that will let some of the players a couple groups back have a chance. Here's a look at how the leader board stands heading into Sunday.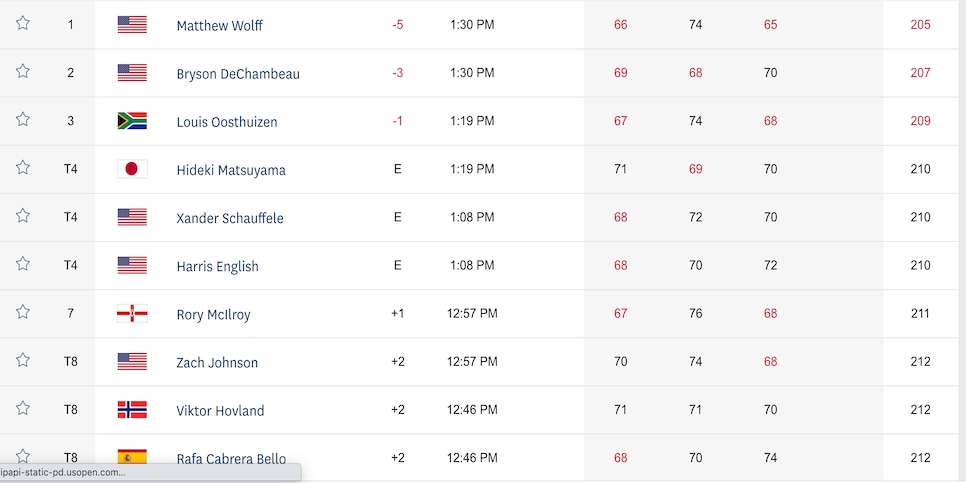 Per stat guru Justin Ray, Rory is going to need a really, really special round—plus a lot of help—to come back from that 1-over mark. This stat puts it in perspective.
11:31 a.m.: We haven't seen many low scores and highlights this morning. It's clear that the greens are shinier and even firmer and perhaps faster than the first couple of days. And look at these final-round pin positions that the USGA has come up with.
We love where the pin is at No. 6—that will be accessible to the longest hitters out here. A true risk/reward hole.