News
U.S. Open 2018: Phil Mickelson wasn't defiant or contrite on Sunday. He was simply Phil Mickelson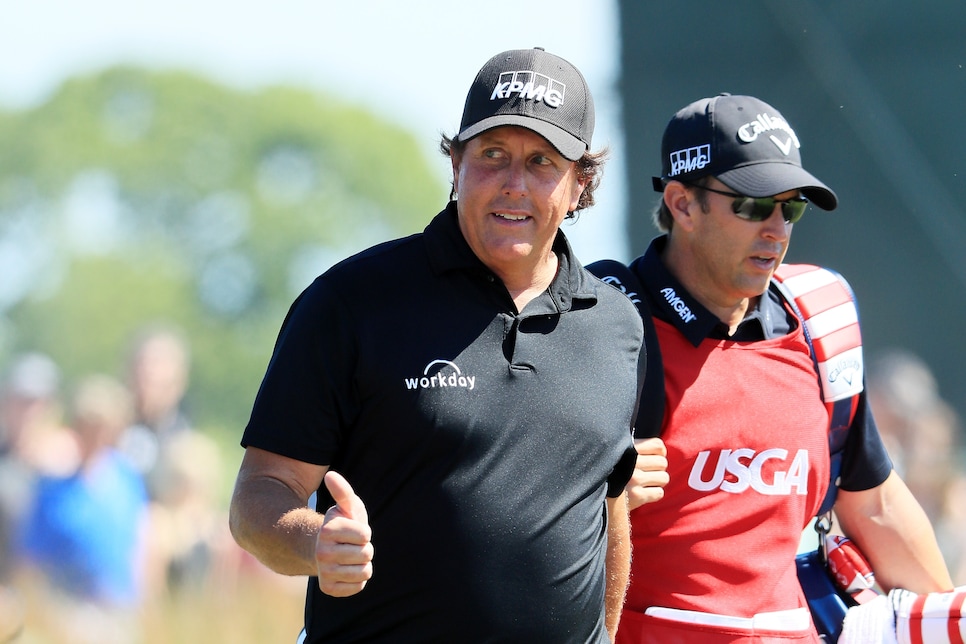 SOUTHAMPTON, N.Y.—There was a palpable, nervous energy at Shinnecock on Sunday morning. An atmosphere mostly fueled by Saturday's "Oh no, not again" setup, sure, but also one inflamed by the actions of Phil Mickelson. The newly-minted 48-year-old's hockey swipe at a moving ball continued to be the talk of the tournament 24 hours later, for it is an emotional and layered conversation. There remains skepticism on the USGA's enforcement of the rules, so much so that the governing body issued another statement Sunday morning, to say nothing of the shots fired at Mickelson's integrity and hubris. And like all spirited debates, there are conspiracy theories; a volunteer on the range said with all sincerity, "Phil wanted to get disqualified. He had enough of this. He knows what he was doing."
But above all else, there is wonderment. Which is why a bigger-than-usual Sunday morning crowd engulfed the first tee, waiting in excitement and uncertainty to see Mickelson, golf's greatest showman, and the circus he brought to town. How would their ringleader react to the fire he incited? Would he be contrite? Defiant? Spin the situation in such a way that would make PR directors blush?
Nope. Phil Mickelson did what Phil Mickelson does best. He was, simply, Phil Mickelson.
Forever a ham, he was especially saccharine on his walk to the first tee. He went out of his way to shake people's hands, greeting each with, "Hi, my name is Phil." He laughed and joked with the crowd. To the annoyance of those around him, one fan aggressively implored Mickelson to rub his Daffy Duck hat for good luck. While painful to hear, Mickelson replied, "Ok, alright, what the heck," with a smile, and the crowd cheered. Mickelson was going out of his way to disarm the awkwardness, conveying a "Controversy? What controversy?" manner.
A manner that didn't end on the first hole. Mickelson hit the crowds with thumbs-up and hat tips and smiles throughout his final tour of Shinnecock.
And then there was the 13th hole, site of yesterday's, ahem, incident. Facing a testy five-footer, Mickelson rolled his putt in for par, a six-shot swing from Saturday. The five-time major winner celebrated like he finally captured that elusive leg of his Grand Slam pursuit.
His critics would call it the act of a charlatan. His fans would say he was being an entertainer. Part of the Phil Mickelson Experience is not knowing which is right.
What's not in doubt is where the fans reside on this spectrum. At every corner he was greeted like he had liberated Long Island from English rule, with cheers and roars and "We still love you Phil!" screams.
Still. That's the operative word. Through issues inside the ropes and out, the gallery has never wavered in their affection for Phil. And though this area loves them some Lefty, so does Florida and Texas and California and Mexico and Scotland and everywhere golf is played. If his reputation truly has taken a hit in the last day, you wouldn't know it from the crowd.
Mickelson didn't talk to the media afterwards, the second time in four days he blew past the podium. Given his circumstances, not unexpected, although he asserted Friday he would never purposefully avoid reporters. Apparently he didn't see the 20 or so waiting for him outside the scoring tent.
That he didn't talk is not a story. He didn't need to. Mickelson's performance this week, in every sense, did enough talking.