News
U.S. Open 2018: The one thing the USGA promised wouldn't happen again happened again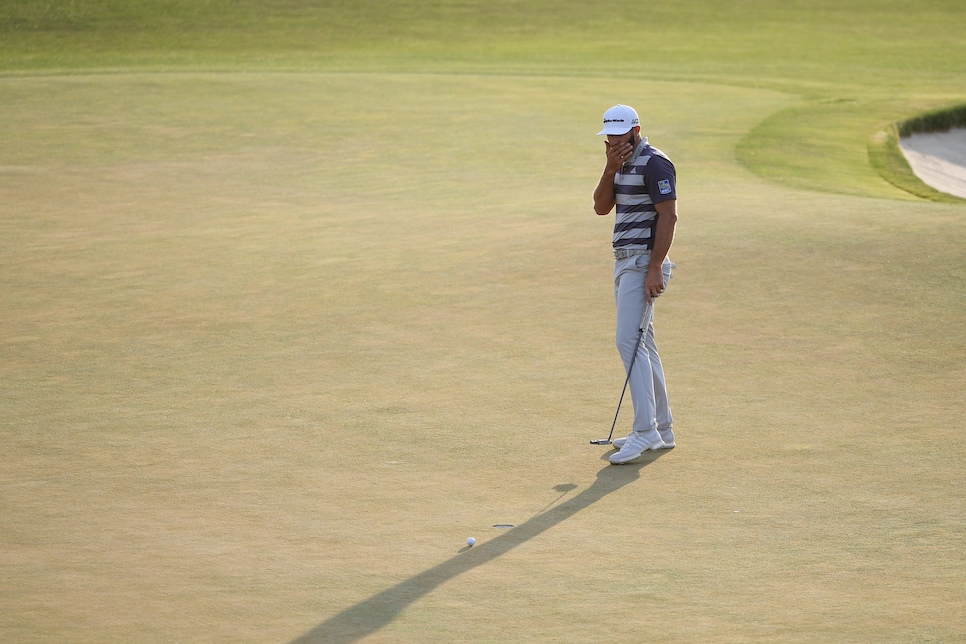 SOUTHAMPTON, N.Y. — Shinnecock Hills is an old-school course. On Saturday, it was Old Testament.
That's what some sadists—excuse me, traditionalists—want out of the U.S. Open. The world's best, made to look like the average hack, where "good bogey" is said in seriousness and the score board's painted black. When "test" is used ad nauseum, because it epitomizes the course in every sense of the word. In that vein, the Open's third round was certainly that.
But it was also filled with approaches that were good until they weren't. Pins in spots usually seen in superintendent's revenge outings, their severity amplified from a misjudged forecast. Putts rolled off greens, with one putt forcibly, and unbelievably, stopped from doing so. A set-up that translated to 19 players firing 78 or higher, with the final two groups finishing a collective 31-over par. A set-up that led one of the more well-mannered and well-respected players to cry, "They've lost the course."
On Saturday, the USGA's biggest mistake, the one they've spent years profusely apologizing for and promising wouldn't happen again...happened again.
If that sounds harsh, know it's an admission from the governing body.
"We want the U.S. Open to be tough, but this afternoon was too tough," said Mike Davis, CEO of the USGA. "It was a tale of two courses. Their were some aspects of this set-up that well-hit shots were not rewarded but penalized.
"Frankly, we just missed it with the wind. The greens got fast. The firmness was OK but the speed was too much."
Give Davis credit. He was under no obligation to join the broadcast, or make his way to the media center, and explain the conceivably inconceivable. The USGA is often accused of believing their decisions are beyond reproach, but Davis' mea cupla proved otherwise.
But it was a mistake, one this tournament simply couldn't make. It prompted Zach Johnson, a veteran who's the antithesis of a lightning rod, to be damagingly frank when asked about Saturday's conditions.
"We're not on the edge. I thought we could be on the edge, but we've surpassed it," Johnson said in an interview with Sky Sports. "It's pretty much gone, especially the latter part of the day for us. It's pretty much shot. It's really unfortunate, because in my opinion, some of the best land and certainly one of the best venues in all of golf, especially in this county, is Shinnecock Hills. It's as good as it gets.
"Unfortunately, they've lost the golf course. I feel for the membership, because I know many of them. I feel for the spectators because they are seeing pure carnage -- unless that's what they want. And I feel for the USGA because I don't think this was their intent.
"But when you think of the things that happened in the past, you have to err on the side of caution. And that wasn't done today."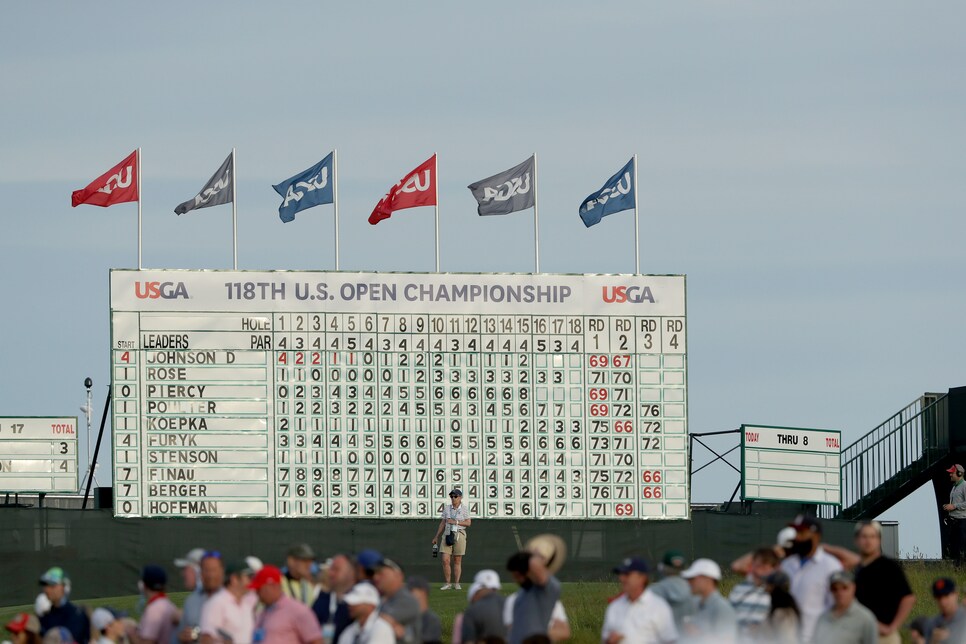 A statement incriminating on its own. But Johnson—who, all things considered, didn't face the brunt of Shinnecock thanks to an early-morning tee time—was far from alone in this assessment. When asked about the greens, Brooks Koepka replied, "I hope they're good enough to play on tomorrow." On Twitter, Wesley Bryan wondered, "Why can't we decide our U.S. Open champion on a legitimately set up golf course?" Justin Rose tried his damnedest to be nice.
"I want to answer it diplomatically because I've never seen a golf course change that quickly," Rose said. "I feel like it was on the line. Some of the pin placements were over the line...on greens that were less than perfect." If this golf thing doesn't work out, Rose would make for a hell of a politician.
Even Dustin Johnson, a man impervious to chaos, conceded things got out of hand.
"I felt like the speeds were a little inconsistent," the world No. 1 said. "I don't mind it being fast. I don't mind it being tough. But, you know, I felt like they were just a little inconsistent. Some greens were extremely fast, and some I felt like were slow. So I felt like it was tough to get a good beat on the speed today."
The 15th green drew considerable ire, as players watched their balls ejected quicker than a high school senior caught sneaking booze into prom. It proved to be the highest scoring hole on the day, with just three birdies carded against 33 bogeys or worse.
"I watched Tyrell Hatton hit a bunker shot that had a lot of spin, landed, kind of was trickling, barely moving past the hole and the next thing you know his ball is off the green," said Patrick Reed. "My ball, of course, went and rested right next to his."
Davis and his team acknowledged the pin placement was too harsh. "The hole location was where you were seeing well-played shots that weren't rewarded but punished," he said.
Hard to pass golf's ultimate "test" when the question can't be answered.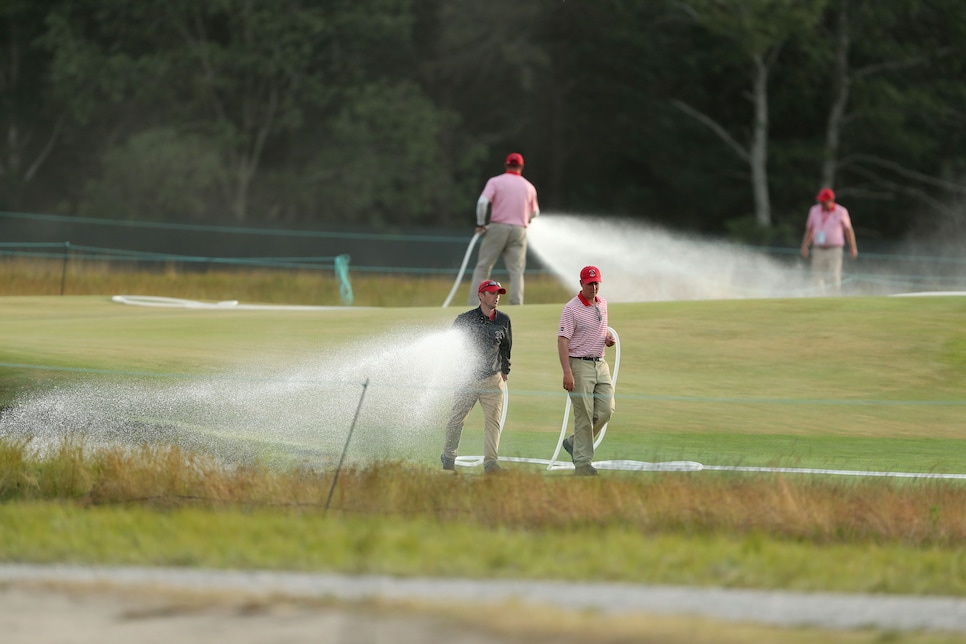 For the record, what transpired Saturday afternoon was nowhere near the trainwreck in 2004. Play was never suspended, and jobs won't be lost for this configuration. "The balls could be held," Davis implored, regarding second shots. "If you watched, even at the end, the balls were holding. It simply was a speed issue with the wind."
And what the USGA does is not easy, particularly coming off a U.S. Open at Erin Hills that resembled your average rank-and-file tour event.
"I think it's a very difficult job to find the line of testing the best players to the greatest degree and then making it carnival golf," Phil Mickelson said on Monday. "I think it's a very fine line, and it's not a job I would want. And I know that the USGA is doing the best they can to find that line, and a lot of times they do, and sometimes they cross over it, but it's not an easy job. It's easy for all of us to criticize."
It is easy to criticize. Doesn't mean it's not warranted. The Masters, Open Championship and PGA Championship don't have these issues on a recurring basis. Why the U.S. Open does is a point of great wonder, and consternation.
Davis asserted that word was passed down to the maintenance crews Saturday night to water the property, doing their best to avoid more hoopla in the final round.
"The message was loud and clear. Let's slow the course down tonight," Davis said. "We do believe we are going to have a great Father's Day finale."
Perhaps, but the damage is done. In a year when they couldn't afford it, another U.S. Open has been shrouded in controversy.