News
U.S. Open 2018: Brooks Koepka wins U.S. Open, repeats as champion after shooting closing 68 at Shinnecock Hills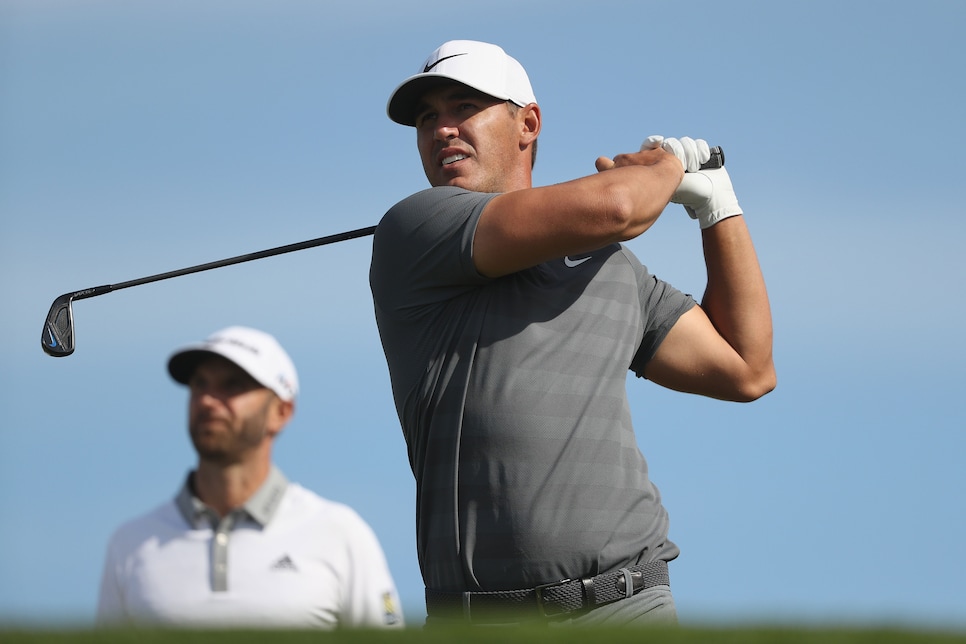 Brooks Koepka had already showed he could win a U.S. Open when the scoring was easy, conquering the field at Erin Hills in 2017 with a winning 16-under score. But could he claim this major title on a "traditional" Open course, where aggressive play could leave you shaking your head and mumbling to yourself?
The 28-year-old proved he's got that gear, too, grinding out a two-under 68 at vaunted Shinnecock Hills on Sunday to become the first player to win the USGA's marquee championship in back-to-back years since Curtis Strange in 1988-'89, the third since World War II (along with Ben Hogan in 1950-'51) and the seventh overall.
"It hasn't sunk in yet," said Koepka, in grabbing his second major title and third career PGA Tour victory. "I don't think I could have dreamt this, to go back to back. It's truly special."
To win with a one-over-par 281 total, Koepka had to hold off his good friend Dustin Johnson, with whom he shared the lead at three over par entering the final round along with Daniel Berger and Tony Finau. None of the trio, however, were able to put much pressure on the defending champion, DJ shooting an even-par 70 to finish in third, Finau posting a 72 to finish fifth and Berger shooting a 73 to finish tied for sixth.
Instead, it was a player who had posted a score nearly three hours earlier who was lurking in Koepka's mind. Tommy Fleetwood on Sunday became just the sixth player to shoot a 63 in the U.S. Open, the Englishman making eight birdies to one bogey to get into the clubhouse at two-over 282. But a missed seven-footer for birdie on the 18th hole that would have made him the first to post 62 become the stroke that kept him out of a playoff.
"I honestly never really felt I was out of it," said Fleetwood, who started the round six strokes off the lead but confident, having finished T-4 in the championship a year earlier. "I just needed a good start."
And that's what he got, making birdies on four of his first seven holes to pick up momentum. After a bogey on the ninth hole, Fleetwood rode a hot putter to four straight birdies on the 12th to 15th holes.
Koepka was on the eighth hole when Fleetwood finished, sitting at one over par and knowing he had to stay there or go lower to outpace the Englishman. Koepka then played the final 10 holes in even par, making several clutch par saves, and then a breathing-room birdie on the par-5 16th that allowed him to bogey the last hole but still win by one stroke and claim the $2.16 million first prize.
That there was a 63 out there, or a winning 68, showed that the golfers didn't have to play scared on Sunday at Shinnecock—a fear just the night before. With the third-round scoring average winding up at 75.33 on a windier than expected day, USGA officials faced the wrath of upset players wondering if the championship was about to run off the rails. Of course the last thing the governing body wanted was a repeat of Saturday's surprisingly tough conditions, lest it have a repeat of the Sunday nightmare at Shinnecock in 2004. And so Mike Davis and the set-up team placed several hole locations toward the center of greens, willing to have a course that yielded birdies rather than bellyaching.
In the end, the unexpected final twosome of Finau and Berger couldn't take advantage of opportunities they created with their Saturday 66s. Berger bogeyed three of his first six holes. Finau struggled early only to find his swing midway through the round, but it was too little too late.
Most surprisingly, Johnson couldn't capitalize on a day where scores could be had. The World No. 1, winner of the U.S. Open in 2016 at Oakmont, had held a share of or the outright lead for the first three rounds at Shinnecock Hills but didn't have his putter working on Sunday, missing four birdie and par putts from inside seven feet. After a 69-67 start, in which he took 26 and 27 putts, respectively, Johnson needed 38 putts for third-round 77 (the highest of his career) and then 35 final-round putts.
Another major winner also tried to have something to say about the outcome on Sunday. Masters champion Patrick Reed birdied four of his first five holes and five of his first seven to grab a share of the lead at one point with Koepka. But a trio of bogeys on the ninth, 11th and 12th holes put an end to the dream of a calendar year Grand Slam, Reed posting a two-under 68 to finish three strokes back in solo fourth place.
Ultimately, Koepka took advantage of the more generous fairways the USGA offered this year at Shinnecock compared to the last time the championship was held there in 2004. Koepka was second in driving distance for the week but just T-55 in fairways hit (36 of 56/64 percent) compared to Fleetwood ranking first (48 of 56/86 percent). But Koepka ranked fourth in greens in regulation. And when he needed to perform in the clutch on or around the greens, he did.
Case in point: the par-3 11th hole. Koepka overcooked his tee shot, the ball bounced over the tiny green into gnarly fescue. Given how tricky the second shot was, with the green running away from Koepka, he decided the best play was to go long and into a front bunker. From there, he got up-and-down, rolling in a 10-foot bogey putt to remain out front.
On the par-4 12th, there was another short-game moment, Koepka short-siding himself when his approach missed the green but making a six-foot par save. And then on the par-4 14th, after Koepka's drive found the heavy rough and forced him to wedge back to the fairway, he hit a wedge from 67 yards to eight feet and rolled in the par save.
Making Koepka's repeat win all the more impressive was the fact that he missed three months this season—including the Masters—while trying to recover from a partially-torn tendon in his left wrist. It was only at the Zurich Classic in late April that he returned to action. In five starts he made four cuts, including a runner-up finish at the Fort Worth Invitational.
"I don't feel like there is anybody out there with more confidence than me," Koepka said during the week at Shinnecock.
It seemed like a fairly large boast, but the man who now will jump to No. 4 in the World Ranking proved it was more than hyperbole. It was his winning formula.