News
U.S. Open 2018: Even in falling short, Patrick Reed continues remarkable major championship turnaround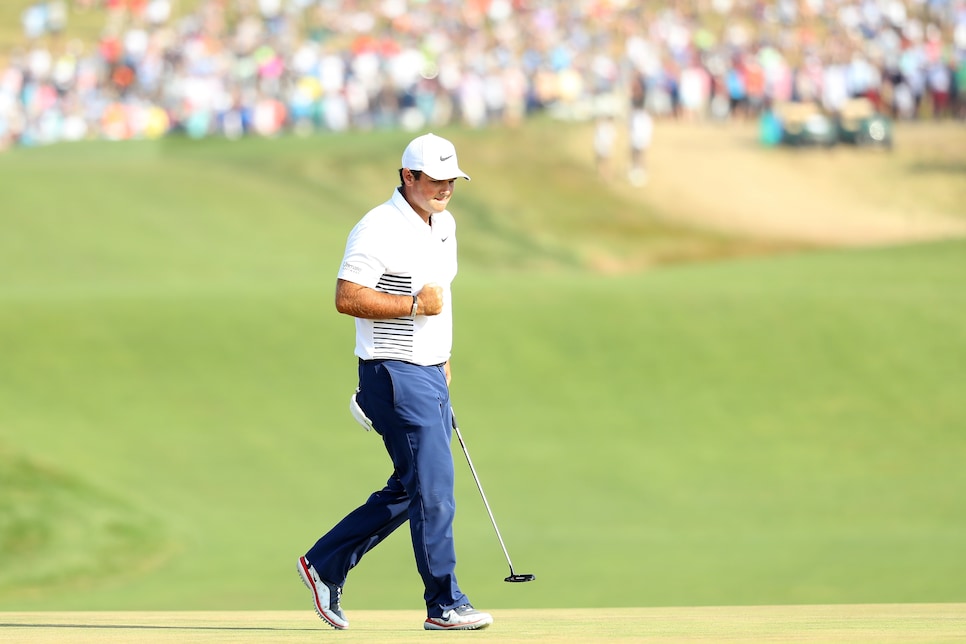 SOUTHAMPTON, N.Y. — He was the only player who could have won the calendar year Grand Slam in 2018. Yet there wasn't much spoken about Masters champion Patrick Reed heading into Shinnecock Hills. He was so under the radar, that when the 27-year-old Houston resident jumped into contention at the U.S. Open on Sunday, it felt as if he blind-sided us all.
Oh, yeah, Patrick Reed is in the field, too.
In the end, Reed could not sustain the early run in which he made four birdies in his first five holes, five in his first seven and grabbed a share of the lead. But with a two-under 68, he did finish in solo fourth place, an impressive showing if no other reason than few gave him any shot at pulling it off.
"Honestly, through the first 11 holes, I didn't really feel like I missed a golf shot," Reed said.
Never mind that everything Reed accomplished before his Augusta National victory should have told us that this was a big-time player, one that was worthy of mention amongst the top players in the game. In a span of four years, Reed racked up four PGA Tour victories and compiled a record of 6-1-2 in the Ryder Cup, becoming an American hero in the process. It was an unbelievable stretch of golf deserving of praise. But it's never enough.
In a sports universe where LeBron James' legacy is called into question because he's "only" won three NBA titles, nothing is ever enough.
In golf, you're measured by your results in major championships. Brooks Koepka has just one other PGA Tour victory, but his back-to-back U.S. Open titles have already elevated his status in the game. Prior to the 2017 PGA Championship, even with his impressive run between 2013 and 2016, Reed was weighted down by the reputation that he didn't show up during the four weeks it mattered most.
To be fair, that opinion had some validity. In his first 15 major starts, Reed missed five cuts and failed to register a single top-10. No matter how much crowd-shushing Captain America did in the Ryder Cup, he couldn't quiet the whispers that he simply disappeared on the big stage as an individual. A lackluster start to the 2017 season didn't help either, as he registered just one top 10 before June.
In less than a calendar year, however, Reed has changed that narrative, beginning at the 2017 PGA Championship at Quail Hollow, where he entered the final round five shots back of leader Kevin Kisner. Reed got to within one of Justin Thomas' lead late on Sunday until a bogey at the 72nd hole gave him a four-under 67, two shots out of a playoff. Still, it was a T-2 finish, by far his best major result, and a major step forward.
Eight months later, Reed put on the green jacket following a gutsy final-round performance that was enough to hold off charges from Rickie Fowler and Jordan Spieth, two players who had every patron at Augusta in their corner.
Come Sunday on Long Island, Reed threatened to claim the second leg of the Grand Slam, beginning his round with an all-out assault on Shinnecock's much more receptive greens and kinder hole locations. He opened birdie, birdie, birdie, and added another at the par-5 fifth, draining and 18-footer that led to a Ryder Cup-esque fist pump and gritting of his teeth. It was on.
At the par-3 seventh, Reed trickled in a downhill, 12-foot, left-to-right slider that gave him a share of the lead. Now he had the New York crowd behind him, and even after making a bogey at the ninth to turn in four-under 31, he was still just one off Koepka's lead. After a par at the 10th, Reed overcooked his tee shot at the tricky par-3 11th, then hit the pin on his chip shot from an impossible spot, likely saving him from double bogey. Even after two dropped shots in three holes, Reed felt locked in.
"I was hitting my lines," Reed said. "And, you know, just happened to be that I hit the ball a lot farther than I think I do, because step up on 11, and it's 160-something yards, and I'm hitting 85 percent pitching wedges and flying the green. So it's hard to think I need to hit gap wedge there, but you just can't put yourself in that spot.
"It happens. You just have to learn from it."
The run appeared to end at the 12th when Reed missed the fairway and had to hack it back out. Hoping to advance it just 40 yards, his ball came out hotter than it did, finding a sandy area in the fescue, leading to another bogey.
Reed showed resolve, just missing birdie at 13, getting up-and-down for par at 14, and then banging in a 14-footer for birdie at the 15th, which proved to be his last. A bogey at the 18th gave him a two-under 68, good enough for solo fourth. As he made his way to sign his card, Reed was noticeably dejected, but was still able to put the week in perspective afterwards.
"Of course it's disappointing, but at the same time—finish second, tied for second at PGA last year, won Augusta," he said. "Then I think I'll finish in the top five here. To finish in the top 10 my last three majors, and to have a chance to really win all three of them and to close one off, it means a lot."
Reed's quest for the calendar-year Grand Slam is over, but he knew it would have been a long shot anyway.
"Honestly, to me, that was really the last thing on my mind. It was go out, play some solid golf, try to post a number and see if you can get the job done. … I had a chance. I definitely had a chance. Just too many missed putts, and at the end of the day, just needed to hit the ball a little closer."
Maybe that was the key all along, that despite the self-belief Reed displayed in his pre-Masters career, the only person he needed to prove he could get it done in majors was himself. He's done that three times in his last three tries, and there should be no reason to expect anything less going forward.