News
Masters 2018: Patrick Reed's real problem might be that people just don't know him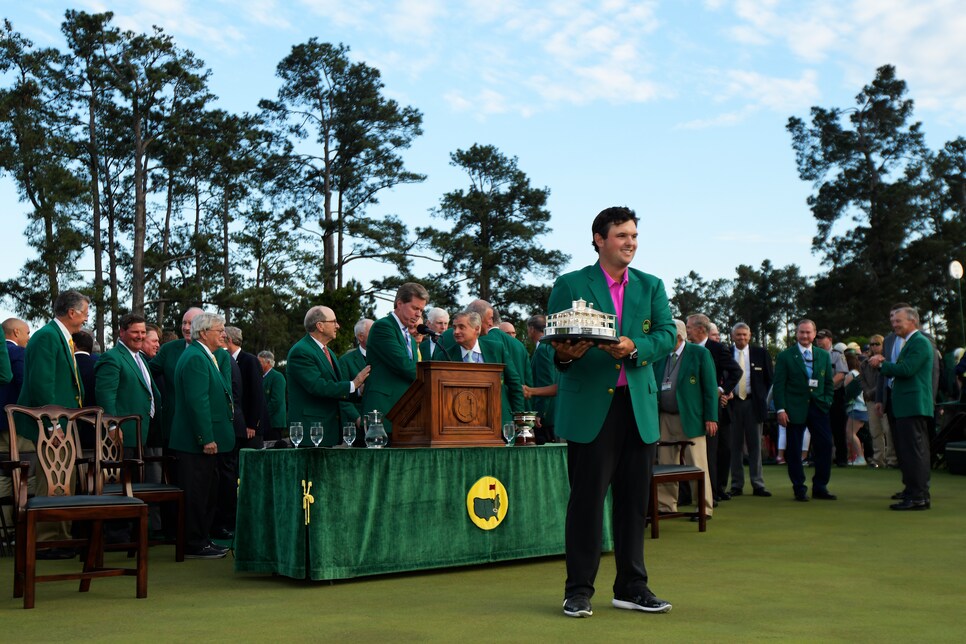 Shortly after he had shaken hands with Patrick Reed on the 18th green at Hazeltine National on the final day of the 2016 Ryder Cup, Rory McIlroy was still just a little bit in shock. He knew he had been part of what might have been the most electrifying singles match in Ryder Cup history. He knew he had thrown just about everything he had at Reed and it hadn't been quite enough, Reed rolling in a birdie putt on 18 to win, 1 up. At one point, McIlroy had birdied four holes in a row—and lost ground.
"If he ever finds that level somewhere other than the Ryder Cup with any regularity he'll win four, five majors," McIlroy said. "I'm not sure I've ever seen anything quite like the way he putted under pressure today. If he can take the emotion he brings to this event and bring to a Sunday at a major …" He paused and shook his head. "It'll be a sight to see."
Unfortunately for McIlroy, he got to see it up close on Sunday at Augusta. This wasn't the screaming, hollering, fist-pumping, Captain America of the Ryder Cup. It was a never blinking when others were charging at him Patrick Reed.
McIlroy's putter betrayed him on Masters Sunday, but Reed's Ryder Cup teammates, Rickie Fowler and Jordan Spieth, both made serious back-nine runs at Reed. He didn't flinch. He birdied 14 when Spieth pulled even with him; he caught a break every champion needs on 17, hitting the hole with a going-too-fast putt en route to an up-and-down par and then calmly holed the kind of Augusta National 3½-footer that has done in many players, to clinch his victory on 18.
It wasn't long after Reed put on the green jacket that the moaning about his victory began. People wanted Fowler to finally win a major or Spieth to add a second green jacket or McIlroy to finish off the Grand Slam. Reed's checkered past: being tossed from the team at the University of Georgia and being highly unpopular even while leading Augusta State to two national titles, was again front and center.
Fowler has a smile that makes women melt; Spieth and McIlroy are both the boy next door. Phil Mickelson has become golf's Yoda, the wise old man who knows all. Anytime Tiger Woods is criticized, his media defenders howl in pain—as does his legion of fans.
Reed? He's the chunky guy who smiles only on occasion and has a reputation for being flinty and withdrawn. "I do keep my ear buds in most of the time when I'm on the range, so I get it," he said a couple of years ago. "Guys usually know I'm working, so they don't come up to chat."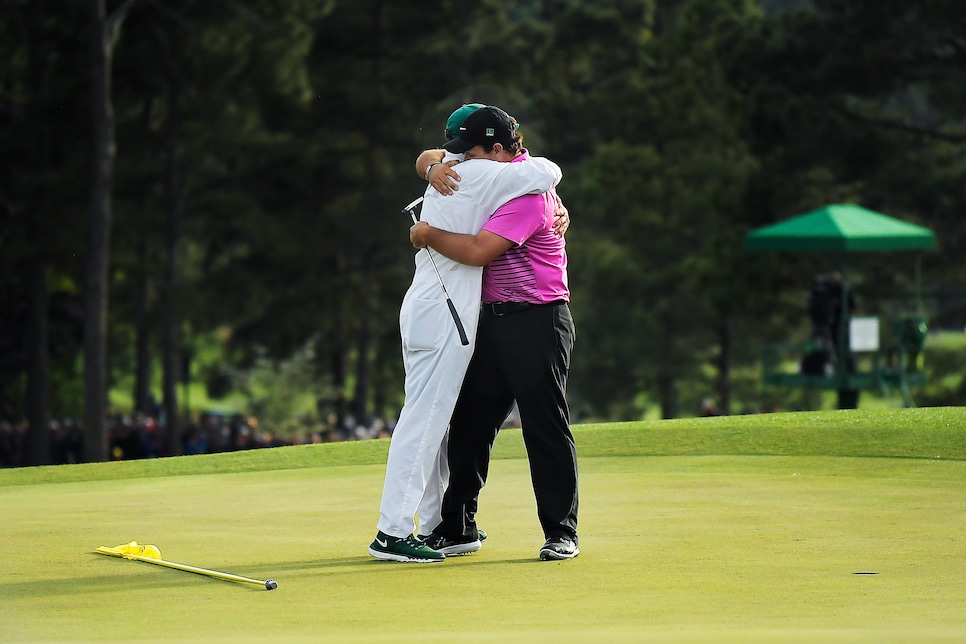 The range is pro golf's sports bar—especially in the afternoon after players have finished for the day. Almost everyone not named Vijay Singh is there to get in some work, but also to swap stories and tell jokes. No one defined the afternoon range better than 1988 PGA champion Jeff Sluman.
"Slu needs three hours to hit one bucket of balls," his close friend Billy Andrade once said. "The rest of us just need two hours."
Reed doesn't need that much time. When he goes to the range he goes there to work. He has a playlist of one song: "Radioactive," by Imagine Dragons, that he listens to over and over again as he works.
He arrived on tour with the baggage from Georgia and Augusta State dragging behind him and with the earbuds firmly in place during Happy Hour on the range. He dug his public-relations hole a little deeper in March 2014 when, after winning a WGC event at Doral, he said he believed he was one of the five best players in the world.
At that moment—having won three times in eight months—he probably WAS one of the five best players in the world, regardless of what the flawed Official World Rankings said. But golf people aren't comfortable with anyone who thinks or speaks outside the box. When you win, you're supposed to thank the sponsors and the volunteers, talk about how grateful you are to your "team," and if you want to give all or some of the glory to God, that's OK, too.
Reed didn't do that. He stood up at age 24 and said, "Hey, I think I can play with anyone."
There was a lot of chuckling in the locker room—and in media rooms—when he didn't play as well the next few months. The laughter died quickly when he was one of the few American bright spots in the embarrassing loss for Tom Watson's team at Gleneagles.
On Saturday night back in 2014, during the American team meeting which ultimately drew the battle lines between Mickelson and Watson, Mickelson got up and talked about each of his 11 teammates. When he got to Reed he looked at him and said, "Patrick, we need to know you better."
When he recounted that story, Reed said, "Phil was right. I've tried to take that to heart, to be more available to the guys I play with out here."
Reed became a Ryder Cup icon after teaming with Spieth at Hazeltine to go 3-1 before his historic win over McIlroy, which put the Americans firmly in control on Sunday.
He finally played well in a major last August, finishing T-2 at the PGA Championship behind Justin Thomas. Prior to that, he'd never finished better than T-12 in a major. Sunday was the first time in five trips to Augusta that he'd finished better than T-22.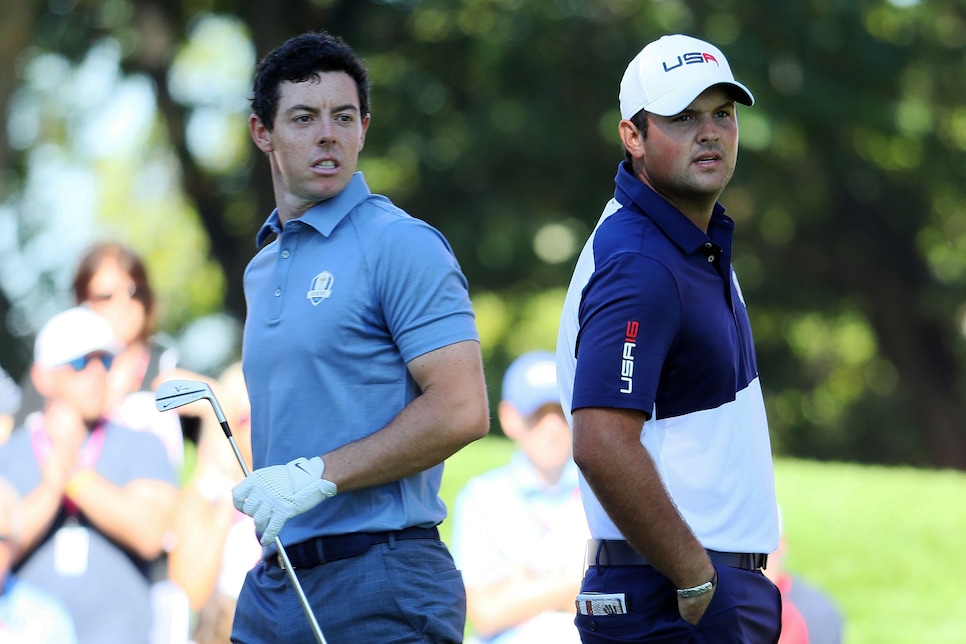 Andrew Redington/Getty Images
McIlroy, who is always aware of what other players are doing, wondered in the past if perhaps Reed played too often, not building to the majors the way other top players do. Reed played 29 times on the PGA Tour a year ago, in addition to a number of overseas events—a typical year for him.
"I do like to play," Reed said. "A couple years ago I skipped Greensboro to be rested for the playoffs. Drove me nuts. I'm sitting at home watching guys play on a golf course where I won [2013] and I'm not playing. I know when my kids are older and in school and can't travel anymore, I'm going to play less. So, for now, I play as much as I can."
He played five weeks in a row before not playing Houston, meaning (for him) he was well-rested coming to Augusta. Even without hearing screams of, "USA," every time he made a putt, he had the week of his life, hanging on, even with Fowler and Spieth playing superbly on Sunday. It might not have been a popular victory, but it was a well-deserved one.
One person happy to see Reed win was Tim West, who does sponsor hospitality for 25 tournaments a year on tour. West's job means he has to ask players to take time to come speak to sponsors during the week—even when they're not being paid to do it.
"All I ask out of guys is be straight with me," West always says. "If you don't want to do it, just say no. But if you do say yes, don't stand me up with some weak excuse. Which, by the way, happens all the time. But never with Patrick. He looks you right in the eye, says yes or no right away and never backs away from a commitment. There is no BS in the man. Out here, that's refreshing."
Reed will never be one of golf's sunshine boys—Fowler, Spieth, Thomas—always saying and doing the right thing. In fact, he often refers to Spieth as, "the golden boy." But he'll always be respected for his talent and his grit. If he someday lets more people get to know him better, he'll probably be better-liked.
"He's a good guy," said Bubba Watson, who has gotten to know him. "He's honest as the day is long. And he'll always have your back if you're his friend. Can't ask for more than that."
And now, Reed has a green jacket to wear on his back.