About this time of year, I start re-watching "The Patriot." There's this scene where the Americans are in a battle against the British and retreating. At which point Mel Gibson's character retrieves an American flag, turns toward the British and charges headlong into them. The other colonists, seeing this, turn and follow. It totally turns the tide. That's the spirit I try to play with in Ryder Cup. It's far from life or death, but I think pride, determination and passion can take you a long way.
THE OKLAHOMA CITY THUNDER were beating Golden State in an NBA playoff game when one of the commentators said something like, "Now is the time for the Thunder to close them out. They have to keep the pressure on, because if the Warriors make a comeback and the crowd gets into it, things will get a lot tougher for OKC." That's exactly how I felt when Henrik Stenson and I were all square going into the seventh hole of our Sunday singles match two years ago. When Henrik made a 20-footer for birdie on the seventh hole, the crowd went nuts. I had a 10-footer to tie that I felt I just had to make. When I poured it in, that's when I made the "Shhh!" gesture at the gallery. It didn't quiet them—they booed like crazy. I then turned to my fellow American supporters and screamed as loudly as l could, "Come on!" That putt kept the momentum on my side. Every single hole after that, as I walked down the fairway, the crowds were yelling, "Shhh!" Eventually, I took down Henrik on the 18th hole, won my singles match and closed out my Ryder Cup record 3-0-1. It was one of the greatest achievements I've ever had. There's nothing more exciting in golf than playing for your country and being a part of the Ryder Cup team.
THE BOOING came with the territory. I thought it was fantastic. The crowds at Gleneagles were phenomenal. Maybe it's the history of the Ryder Cup and the fans' love of competition, but the intensity went way beyond anything I'd ever experienced. They knew unbelievably small details about our players and put them to songs and chants. The whole time, I never heard a single four-letter word or any sign of disrespect. On the first tee of my match against Henrik, they were calling out, "Patrick, did you work on your putting?" They were referencing a two-footer I'd missed the day before. I came right back with, "How about your guy? Did he practice his putting?" One of our opponents had missed a short one on the same hole. The fans just ate that up. Then they chanted, "Let's see you dance"—they did that to players on both teams—and when I refused, they jeered in a totally good way.
AT GLENEAGLES, Jordan Spieth and I were one tough team. That two-footer I missed came in Saturday's alternate-shot match when Jordan and I played Martin Kaymer and Justin Rose. It happened on the 16th hole, and it was pivotal because Jordan and I wound up halving that match. When it was over, I apologized to Jordan for missing the short one. "Are you serious?" he said. He then proceeded to say that he'd hit some bad shots that cost us, too. He reminded me that in team play, it always takes two.
JORDAN AND I partnered in two four-ball matches and an alternate-shot match. Right away, we adopted a strategy of trying to beat each other on every hole. Sure, we're teammates, but as golfers we're also naturally competitive. I figured if Jordan and I tried to outplay each other, it would make it very difficult for the other teams to beat the two of us together. It was a great strategy. We'd make two or three crummy pars in a row, and on the next tee, I'd whisper to Jordan, "Hey, bud, I'm beating you on this hole." He'd answer, "Oh, yeah? We'll see about that." Challenging each other made us both play better. We won both four-ball matches and tied the alternate shot.
CALL ME OBLIVIOUS, but I had no clue there about the heat going on between Tom Watson and Phil Mickelson. As I sat there watching the confrontation at the press conference, I decided that none of the drama matters. It all comes down to playing good golf. Regardless of who the captain is, who you partner with or when, if you don't play well, you're not going to win. As the pain of that defeat sank in, the solution—simply playing better—seemed obvious to me.
THERE WERE SOME HILARIOUS MOMENTS and touching ones. The sight of a shirtless Bubba Watson in a skirt—excuse me, kilt—is something you can't unsee, though I'm not sure I want to. The table-tennis matches were fun to watch and a great distraction from the heat of competition. The biggest surprise to me was Steve Stricker, one of the assistant captains. He gave a heartfelt speech on what the Ryder Cup meant to him that had a lot of us tearing up. The details, I won't reveal. I'm a big believer in sanctity of the team room.
'If you're bleeding red, white and blue, let it show.'
I'VE WORN RED SHIRTS FOREVER, my way of channeling the power of Tiger Woods. Add some blue, white and preferably stripes to the ensemble, and the energy gets even stronger. It doesn't take a team event to stir up my patriotism. Since I played on that Ryder Cup team, I've carried a red, white and blue yardage book. It's getting a little worn now, and I'm trying to find a duplicate. Any time I can feed off my national pride, I'll do it.
ON SUNDAY of the 2014 WGC Tournament at Doral, I was in the final group out. I'm warming up on the range, which is completely empty, when suddenly I feel this huge crowd coming, including camera crews. And here comes Tiger, who is only three shots back. The spectators are watching his every move. Where does he decide to hit? Directly behind me. Talk about intimidating, but I played it cool. There we are, the only two guys on the range, wearing basically the same thing— Tiger's signature Sunday red, with black pants. He knew he was my hero, but this time I came out the winner in Sunday red. And I broke Tiger's record of being the youngest World Golf Champion ever.
LET'S NOT FORGET the most underrated color: black. Black makes you look thinner, and every color you put next to it pops. It's an edgy, serious color for powerful, intense people. In a business meeting, who would you take more seriously, the person in a white suit or the person in black?
PLAYERS TODAY are every bit as patriotic as players of the past. Some guys are less demonstrative about it, which is fine. Not everyone has that type of personality. One thing I'd encourage my teammates to do, though, is not deliberately keep a lid on it. Don't be shy. If you're bleeding red, white and blue, let it show. If someone gets offended by an ordinary display of patriotism, that's a "them" problem, not a "you" problem.
I DIDN'T KNOW how I'd react when I saw our flag and heard the national anthem at the opening ceremony at Gleneagles. Would I get a lump in my throat? Would my eyes tear up? As it turned out, when they broke into the "Star-Spangled Banner," I got chills. Up and down my arms and legs. Across the sides of my face, on my neck, everywhere. It was new territory for me. I only hoped that excitement would translate into good golf the next day.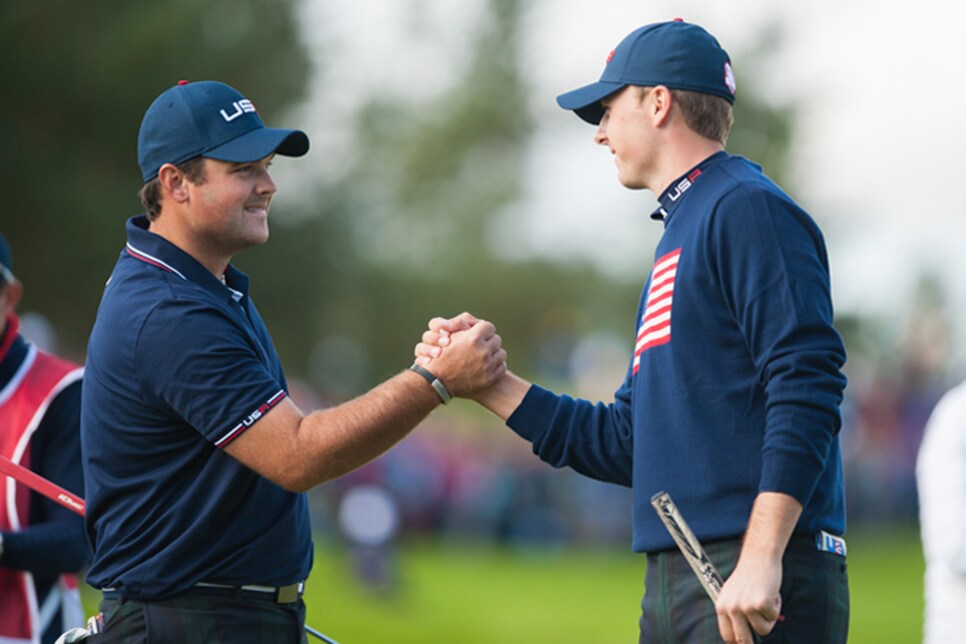 Megan Blank/The PGA of America via Getty Images
AT HOME IN THE WOODLANDS, I have a full-on man cave. I call it a man cave because it has a theater room, pool table, golf simulator, the works. But really, it's a family room. We were on the road 38 weeks last year, so when we come home, I love to hang out at our house, get in the pool, grill and spend some quality time with my beautiful wife, Justine, and our daughter, Windsor-Wells, who is 2, and our family. We love watching sports, college and professional. I'm a huge Notre Dame football fan, and my wife is an LSU Tiger, so we're big into sports. A perfect day for us is just hanging out, grilling and playing with our daughter and watching her grow up.
I ADMIT, I wear cowboy boots pretty much everywhere I go. Once you get a pair of cowboy boots broken in they're as comfortable as a pair of socks. I have more pairs of boots than I do tennis shoes. I'll dash out to grab takeout, and I'll find myself in a T-shirt, sweatpants and my boots. Cowboy boots are a Texas thing.
GIVE ME A 250-YARD CARRY over water with a tournament and a million bucks on the line, and I might gamble. But a casino? No thanks. Justine and I went to a casino in New Orleans awhile back, and by some miracle we won $250 right when we walked in. We proceeded to make it last the next three hours, making $10 bets here and there to make sure we came out ahead. The lack of control watching the roulette wheel spin and the dice tumble freaked me out. We didn't drink anything, either. We have to be a casino's worst nightmare.
'I'd whisper to Jordan, "Hey, bud, I'm beating you on this hole." He'd answer, "Oh, yeah? We'll see about that." '
THE GOLF GODS don't owe me anything. My goal is to give them fewer opportunities to determine my fate. If I keep it out of the trees, the outcome is less in their hands.
MY FIRST TOUR WIN, at the 2013 Wyndham, made me superstitious. Since then, I've only played balls with the number 3. I always have exactly 12 balls in my bag. I mark my ball tails-side up with a 1927 quarter. I carry exactly six tees in my pocket, and if I start breaking them, I have to get down to zero tees before I reload a fresh six. These were all things I did that week, and I can't help trying to recapture that mojo every time I tee it up. Even when I'm not playing well, I figure that if I'm loyal to the superstition, it'll eventually pay me back. It's crazy, but it's how a lot of golfers think.
FOOD IS A MATTER OF PERSPECTIVE. At Perry's Steakhouse at The Woodlands, there's a bone-in steak called the Tomahawk Ribeye. It's enormous, and it tempts me to order it. When I feel deserving, I give in and order it. At that point the Tomahawk thinks it has won. But when it comes to the table, I think, I'll show this steak who's boss. At that point, it becomes "Man vs. Food," and in this, the man wins.
I DREAM VERY LITTLE when I'm sleeping and a ton when I'm awake. I still do the practice-green thing of having a putt to win the Masters, the announcers whispering in the background in their dramatic way, a huge gallery there, the whole thing. I've never missed one of those putts, mainly because I make sure it's a two-footer, so winning is a bygone conclusion. Positive reinforcement, you know.
AJGA [American Junior Golf Association] Canon Cup, 2006. The best juniors in the nation, East against West. I'm 15 years old, and it's the biggest team thing I'd ever seen. There were a lot of good players, including Rickie Fowler, Bud Cauley, Kyle Stanley and Peter Uihlein. In my final-day singles match I drew Kyle, who was and is a fantastic player. He was older and heading off to college. Kyle was having a tough week, with only two of his matches going past the 13th hole. So when it's announced I'm playing him, our team starts chanting, "Get to 13 . . . get to 13." Stirring things up, you know. When I beat Kyle on the 14th hole, the reaction from my teammates was so much fun to experience. Our team lost, but it really instilled a love for team play.
IT ALSO INSTILLED a love for junior golf and a desire to pay it forward. The Insperity Invitational AJGA Junior Championship hosted by Patrick Reed, held every year at The Woodlands tournament course, is one of my proudest achievements. It's in June, in the heart of the season, and seeing those kids competing and pursuing the same dreams I had as a kid is what it's all about. If you want to feel good inside, do something for juniors.
WHEN OUR AUGUSTA STATE team won the NCAA Championship my sophomore year in 2010, it was a huge upset. We beat Oklahoma State, a perennial powerhouse, so it was a big deal. Augusta, even though it hosts the Masters, is actually sort of a small community. We got a police escort back into town—not even a Masters champion gets that. As big as that was, 2011 was even bigger. We kept advancing, and in the final we went up against the University of Georgia, which I attended my freshman year. At the time, I never had a team match I wanted to win more, as Augusta State winning national championships back to back would be huge. Josh Gregory, our coach at Augusta State, was worried about me getting too hyped up. I get excited, no doubt about that, but when Josh walked up to me before my anchor match, before he could say anything, I said, "Don't worry, I got this." I won on the 17th hole. That was the moment when I knew that at the end of the game, I wanted the ball in my hands.
LAST YEAR I WAS GONE almost 10 months, a nice chunk of that playing the European Tour. Dubai, Shanghai, Hong Kong, Switzerland, all over the world. While I was playing in the BMW Masters in Shanghai, I was really starting to get homesick and missed my family and the comforts of being at home. After the first round of the tournament, Justine and a friend of ours, Phillip Costa, formulated a plan. There's a Morton's Steakhouse in Shanghai, and they had them send over a meal to be cooked in the kitchen at the Crowne Plaza, where we were staying. Justine phoned my caddie, Kessler, to make sure that we didn't go out to eat after the round. I came back to the room to find this incredible spread. Ribeye steak, shrimp Alexander, mac and cheese, the works. For one night, we felt like we were back in Texas.
WHEN MOMENTUM is going against a team, you'll hear players say stuff like "Let's suck it up" and "We gotta grind it out." I don't think that's the answer. In golf, I like to think, One putt. It's incredible how a single long putt going in, or one spectacular shot, can change everything. Comebacks don't happen all at once. Focus on doing one good thing, and there's a great chance it'll happen.
'Comebacks don't happen all at once. Focus on doing one good thing, and there's a great chance it'll happen.'
FOR SEVERAL YEARS as a teenager, I'd spend three days a month at Hank Haney's golf ranch in Texas, practicing and taking lessons. It's the winters there I remember most. Hank's ranch has these converted horse stalls with mats and a heater. I'd get there at 7:30 in the morning on snowy days, turn on the heater and hit until noon. I'd go inside, eat a cheeseburger, then resume hitting until dark. You know those huge pails of balls the size of laundry baskets? I'd go through four of those a day. I'd get these world-class blisters on the fourth finger of both hands. I wore out a ton of gloves, went through boxes of medical tape, went through a lot of pain. I felt like I was paying a price. I don't think you can hit as many balls as I did without getting to be pretty good.
I'VE NEVER HAD THE FEELING of I've got it now. At the 2014 Humana, I opened 63-63-63, on three courses. I was 27 under par, a 54-hole PGA Tour record. Lying in bed after one of those rounds, all I could think was how I left five shots out there. I was not pleased. There's no such thing as perfect in this game. I know that the fun part is trying, even while knowing I'll never get there.
AT SOME POINT IN MY CAREER, I hope it comes down to me. I want to be in the deciding match on the final day. I want it all on my shoulders. I want that pressure—the whole country depending on me—and everything that goes with it. I've wanted that my whole life. Whether I'm put in that position is another matter, but I feel I can get the job done.