News
U.S. Open 2018 live blog: Brooks Koepka hangs on to win second straight U.S. Open title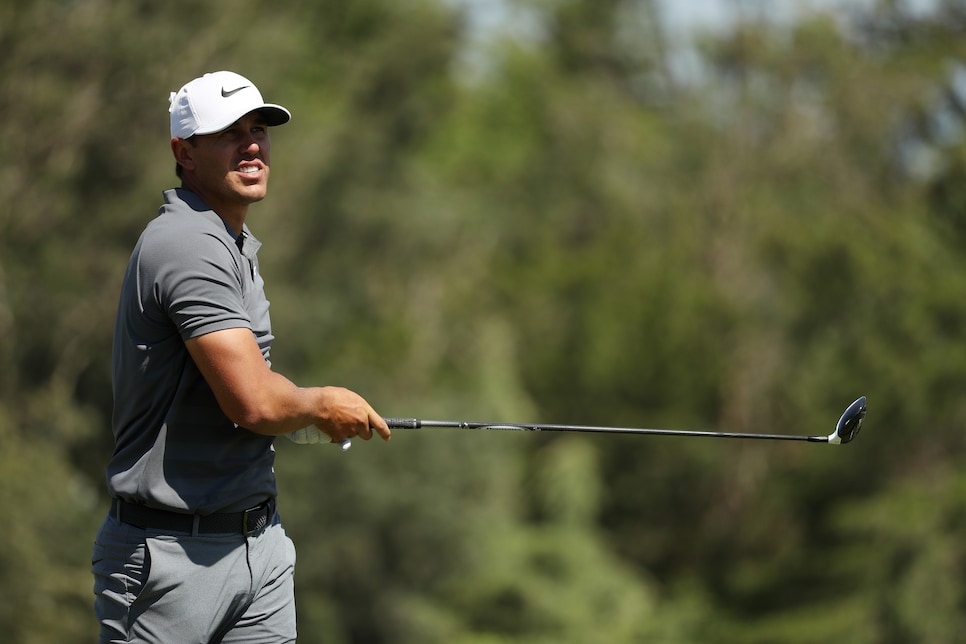 OK, everyone take a deep breath. Saturday was as wild of a round at a major championship as we can recall, but there's still one more day at the 2018 U.S. Open. And Shinnecock Hills is still playing pretty tough. Although, maybe not quite as tough on Sunday. Rickie Fowler has already posted 65, the low round of the tournament and a 19(!)-shot improvement from his disastrous Saturday (Congrats to all those who bet the under on 65.5 for low score). That being said, there aren't many other red numbers out there as we approach the final tee time of Daniel Berger and Tony Finau at 2:24 p.m. ET. Keep it right here for all the latest scores, news, Phil Mickelson takes and complaints about the USGA! Should be a fun Father's Day! (All times ET.)
6:27 p.m.: And that's it! Brooks Koepka is your 2018 U.S. Open champ! And fittingly, he wraps up the win with a bogey. Koepka becomes the seventh golfer to win the tournament in back-to-back years and the first since Curtis Strange in 1988 and 1989. Incredibly (Although, of course, you never know what would have happened) that Tommy Fleetwood missed birdie putt on 18 winds up being the difference. Wow. What a crazy week. Congrats to Koepka -- and congrats to everyone else on there not being any final-round rules controversies!
6:24 p.m.: Koepka plays a smart, well-judged pitch that settles about 10 feet left of the hole. He'll have two putts from there to be U.S. Open champ. This is over, folks.
6:20 p.m.: Oh, boy. Koepka yanks his second shot on 18 off the grandstand! Getting up-and-down will be a challenge, but he only needs bogey to win. . .
6:15 p.m.: Koepka selects driver on No. 18 and. . . finds the fairway down the right side. Whoever is engraving the trophy can start getting to work.
6:12 p.m.: Winning a U.S. Open is never easy, but Brooks' Koepka's closest pursuers aren't doing much to make it any more difficult. After Reed's three-putt on his final hole, Johnson three-putts 17, and Tony Finau hits a poor approach on the par-5 16th and settles for par. Koepka heads to the 18th tee with a two-shot lead over a man who finished his round two-and-a-half hours ago.
6:04 p.m.: Reed's last gasp from about 50 feet misses wide left. It was a valiant effort by the reigning Masters champ, but no one will win the calendar Grand Slam this year. Again. Meanwhile, Johnson hits a subpar shot on the par-3 17th after Koepka hits another solid iron to about 25 feet. Koepka is about 95 percent to win this thing at this point.
6:00 p.m.: Needing a birdie on 18, Reed finds the fairway, but his approach shot comes up a bit short and it funnels down to the front of the green. He'll need to make a bomb if he has any chance.
5:56 p.m.: Nineteen feet, one inch is the official length of DJ's birdie attempt and it never has a chance. He taps in for par and waits for Koepka's close birdie putt of inside four feet. . . BANG! Brooks Koepka is now two holes away from winning a second straight U.S. Open title.
5:53 p.m.: Koepka and Johnson lay up to similar yardages on the par-5 16th, but they don't wind up similar distances to the hole after their approaches. DJ does OK, hitting it to about 20 feet, but Brooks hits a laser to four feet past the pin. That could wind up being the winning shot. Meanwhile, Finau gives himself a 10-footer for birdie on No. 15 and. . . misses. He remains at three over.
5:38 p.m.: Needing to make a move in a hurry, Dustin Johnson rips a perfect drive on 15 and then goes pin-seeking for his second. The bold play works as he leaves himself a seven-footer for birdie that he makes to keep his hopes of a second major title alive. Meanwhile, Koepka's two-putt par keeps him one shot in front of Fleetwood and two shots clear of Johnson and Reed. Oh, and throw Tony Finau into that mix after he makes a rare birdie at No. 14 -- and a tap-in one at that -- to get back to three over where he started the day. Exciting stuff!
5:25 p.m.: What a par save for Brooks Koepka on No. 14. After finding the deep rough right, he hacked out to the fairway, hit it to 10 feet and rolled in the putt. Meanwhile, Dustin Johnson three-putted from the back of the green. He's now in huge trouble needing to make up two shots on the final four holes to catch Fleetwood.
5:21 p.m.: Patrick Reed rams in a 15-footer for birdie on No. 15 and suddenly he's right back in the mix with Koepka struggling on No. 14. At 3 over, Reed trails Fleetwood by one and Koepka by two for the moment.
5:10 p.m.: The chasers dodge a huge bullet as Brooks Koepka misses a 10-foot birdie putt on No. 13. He makes the four-foot comebacker to remain at one over, one ahead of Tommy Fleetwood. Playing partner DJ remains his closest pursuer on the course at three over after a great two-putt par from off the front of the green.
5:06 p.m.: After two solid shots by Tony Finau on No. 12, he three-putts for a costly bogey. Finau drops back to four over, three back of Brooks Koepka. With Fleetwood in the clubhouse at two over that means Finau, Reed and Berger (all at four over) will need to shoot at least two under the rest of the way. No easy task on Shinnecock's closing stretch.
4:58 p.m.: Another hole, another chance for DJ to cut into Brooks' lead that slips away. Johnson misses a great chance at birdie on No. 12 and then Koepka converts another tough up-and-down for par. Meanwhile, Tommy Fleetwood has his feet up somewhere watching these guys sweat it out. Just don't get too comfortable, Tommy. It's not a Monday playoff anymore!
4:53 p.m.: Tony Finau makes a rare birdie on the difficult par-3 11th to get back to even for the day and three over for the tournament. Playing partner Daniel Berger could have joined him, but he misses a great chance from inside of 10 feet. Meanwhile, Patrick Reed has really cooled off after birdieing five of his first seven holes. Bogeys at 9, 11 and 12 have him back to four over, three behind Brooks Koepka.
4:44 p.m.: The bad news for Brooks Koepka? He just made bogey on No. 11. The good news? It could have been much, much worse. After finding the rough long, Koepka hacked out across the green and into a deep bunker. He hit a decent third shot and made a 15-footer for bogey. Meanwhile, playing partner Dustin Johnson hit the green, but three-putted. So instead of a two- or even three-shot swing, Koepka kepts his two-shot edge over DJ and a one-shot lead over Fleetwood. Like Jordan Spieth at Birkdale's 13th last year, this could wind up being the bogey that wins the Open for Koepka.
4:31 p.m.: Brooks Koepka begins his back nine with a birdie to take his lead back to two shots.
Meanwhile, you may have noticed we haven't talked about the final group in awhile. . . Well, they're not totally out of it, especially Finau who just made a third birdie in five holes at No. 9 to get back to +4. But that score now trails by four.
4:25 p.m.: Reed catches a break when his pitch from behind the 11th green hits the pin and caroms to 15 feet. But he misses the par putt for his second bogey in three holes to drop two shots behind Koepka.
4:15 p.m.:__ Brooks Koepka makes the turn at one over, one shot ahead of playing partner Dustin Johnson, Patrick Reed and Tommy Fleetwood. Koepka shot a two-under 33 on his front nine, while DJ goes out in 34 after just missing a 20-foot birdie putt on No. 9. Reed is in danger of dropping another shot on No. 11 after missing the par-3's small target long.
4:01 p.m.: "The putt, I actually started it on line. It was a little bit slower than I thought," Fleetwood said in a post-round interview on Fox. "I knew what it was for. . . If I could go back, I'd give it a bit more pace or a bit more line." Don't sweat it, Tommy. It was a heck of a round.
3:59 p.m.: Scratch that. Reed is no longer tied for the lead after three-putting on No. 9 for his first bogey of the day. Still, an outgoing 31 on a Sunday at the U.S. Open is pretty special. His chance for the calendar Grand Slam is alive and well.
3:58 p.m.: After missing from inside 3 feet for par on No. 7, Dustin Johnson responds by rolling in a 12-footer for birdie on No. 8 to get back to two over. DJ is tied with Fleetwood, one behind Koepka and Reed.
3:48 p.m.: That sound you just heard is Johnny Miller letting out a huge sigh of relief after Fleetwood misses his attempt at history. Still, he taps in for a 63 to tie the U.S. Open record and match Miller's final-round score from the 1973 U.S. Open. Miller won that major -- his first -- coming from six shots behind. Fleetwood now has a long wait to see if he can accomplish the exact same thing. Fleetwood hit 13 of 14 fairways and 16 of 18 greens. Decent stats.
3:44 p.m.: Tommy Fleetwood hits a sweeping, uphill approach from 196 yards to about eight feet on No. 18. Wow! He'll have a great putt at 62!
3:40 p.m.: By the way, these are the shoes Patrick Reed is wearing today:
3:37 p.m.: With a 63 (or better) in his sights, Tommy Fleetwood misses birdie putts from inside 20 feet on both 16 and 17. Pipes a drive down 18, though, and should be the clubhouse leader by a mile when he finishes his round.
3:31 p.m.: Reed absolutely rips a driver on the par-4 8th. Paul Azinger says, "He looks like he could walk through fire right now." We get your point, Paul, but he's no Matt Parziale.
3:29 p.m.: SHHHHHHHHHHHH! Reed rolls in another birdie on No. 7, this time from 12 feet, for his fifth birdie in seven holes. He's still one behind Brooks Koepka, who birdied the par-5 5th to get to even par. After a week of seeing the world's best golfers struggle, we've got an all-out shootout at Shinnecock on Sunday!
3:27 p.m.: With a par on No. 18, Matt Parziale, the most famous firefighter in the world, shares low amateur honors with Luis Gagne at 16 under. What a story.
3:15 p.m.: The birdies are flying, but not in the third-to-last group of Henrik Stenson and Justin Rose. Both fail to take advantage of the par-5 5th with Stenson making par despite being just short of the green in two, and Rose making a disastrous bogey following a double at No. 4. These two Ryder Cup partners need to make a move quickly.
3:10 p.m.: TOMMY FLEETWOOD IS A FLAMETHROWER! The Brit sinks a 30-foot birdie bomb on No. 15 to move to seven under on the round! If he pars in, that's a 63! More importantly, he's now just one off the lead after a fourth consecutive birdies. Yes, this is still the U.S. Open.
3:03 p.m.: Captain America keeps the pedal to the medal by draining a 20-footer for birdie on the par-5 5th. That's four birdies in five holes to start this final round. He's now in solo second, one behind Brooks Koepka.
2:56 p.m.: After grinding his way around Shinnecock on Saturday, Justin Rose's poor ball-striking finally catches up with him on No. 4. After missing the green short, Rose makes double bogey to fall five behind Koepka. Meanwhile, Fleetwood continues to move in the other direction, birdieing No. 14 to get to six under on his round and into a share of second. The Brit has a realistic chance to match Johnny Miller's final-round 63 at the 1973 U.S. Open. Wow.
2:46 p.m.: DJ misses a golden opportunity for birdie, but Brooks doesn't. His second straight birdie gives him a quick two-shot lead as he tries to become the first player since Curtis Strange in 1988-1989 to win back-to-back U.S. Opens. Not bad for a guy who has only played a handful of tournaments this season since returning from a wrist injury.
2:41 p.m.: From a juicy lie in the rough on No. 3, Dustin Johnson hits a remarkable running shot that winds up about six feet from the hole. Playing partner Brooks Koepka hits his approach even closer. Guys, this is supposed to be a tough par 4.
2:39 p.m.: Reed finally cools down with a par on No. 4 after he misses an eight-footer that would have given him four consecutive birdies to start. Call off the 52 Watch.
2:33 p.m.: The action is ramping up early here. Daniel Berger misses a five-footer for birdie on No. 1. Moments later, Brooks Koepka roles in a birdie on the beastly par 3.5-second to grab the solo lead. For now.
2:28 p.m.: OMG PATRICK REED IS GOING TO SHOOT THE GREATEST ROUND IN GOLF HISTORY! The reigning Masters champ makes a third consecutive birdie to begin his final round to tie for the lead!
2:26 p.m.: Daniel Berger and Tony Finau -- arguably the most unlikely final-round pairing in golf history considering Saturday's position -- begin their final rounds with, you guessed it, irons to the fairway. This is the first time either young star has played in the last group of a major on Sunday, let alone either contended at one. Should be interesting.
2:14 p.m.: The past two U.S. Open champs and workout buddies, Dustin Johnson and Brooks Koepka, start their final round with irons to the first fairway in the second-to-last group. You get the feeling that no matter how they play, they'll be spotting for each other at the gym tomorrow morning.
2:12 p.m.: Patrick Reed birdies the first two holes to get within one of the lead. Could the REED SLAM really be happening?!
That's probably a bit premature -- and so is putting Patrick on 59 watch -- but this is pretty impressive.
1:55 p.m.: After missing his first green of the day on the ninth hole, Tommy Fleetwood can't avoid making his first bogey. Still, an opening 32 has him on the first page of the leader board, just three shots back. And as we saw on Saturday, if you can post a number early, you never know. . .
1:51 p.m.: Patrick Reed begins his final round with an iron into the fairway on No. 1. At just three shots off the pace, Reed has a legit chance of capturing the first two legs of the Grand Slam, something his Ryder Cup partner Jordan Spieth did three years ago. And poor Jordan will never hear the end of it at this year's Ryder Cup if Patrick pulls it off.
1:30 p.m.: Another hole, another birdie for Tommy Fleetwood, who moves to four over through seven holes and to within two shots of the lead. Who says Shinnecock Hills is hard?
1:20 p.m.: Tony Finau tells Fox's Curtis Strange that being in the final group on Sunday "never crossed his mind" during his Saturday round. Same here, Tony. Same here.
1:16 p.m.: Tommy Fleetwood is another taking advantage of calm Sunday conditions. After a disappointing 78 that caused him to tumble off the leader board, the Brit sticks one on No. 6 to about three feet. A third early birdie vaults him back into the top 10 and within three shots of the lead.
1:05 p.m.: Rickie Fowler wasn't the only player to experience a little redemption on Sunday. Following his meltdown/debacle/farce on No. 13 yesterday, Phil Mickelson made par on the hole today. And celebrated like he'd won the U.S. Open:
Mickelson played with Fowler and shot one under to cap a wild week of 77-69-81-69. He'll try to complete the career Grand Slam again at Pebble Beach next year.