News
U.S. Open 2018: Golf's leading man takes another stumble on the game's biggest stage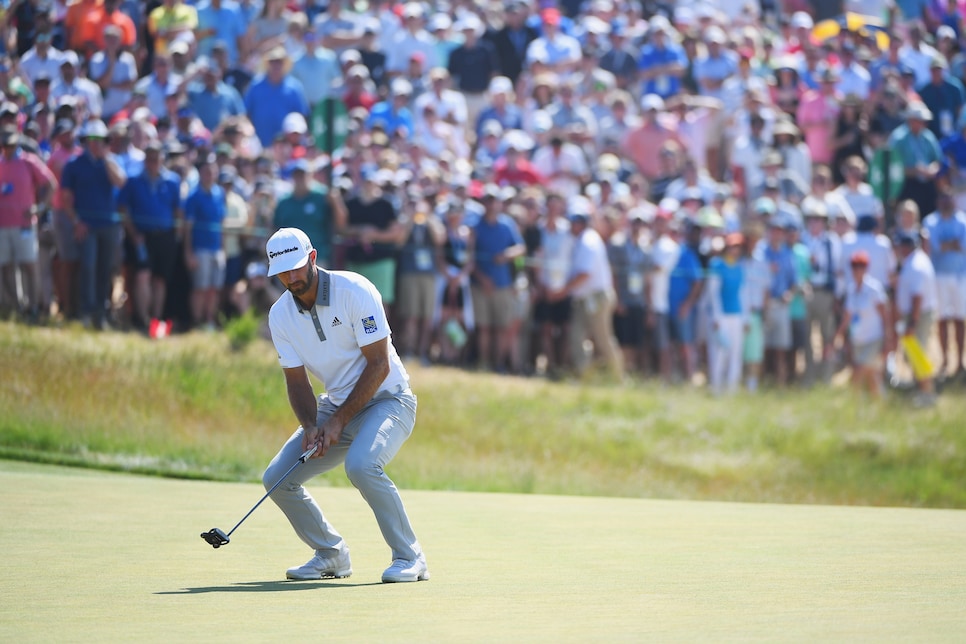 SOUTHAMPTON, N.Y. — He is a synergy of dispassion and swagger, Dustin Johnson, golf's version of Dirty Harry. At least that's the imagery often evoked. Outwardly, it checks out, his 6'4" stature, stoic gait and stare similar to the iconic Clint Eastwood character. But it's a comparison that doesn't hold up. Because Dirty Harry always came out on top.
Johnson is the World No. 1, recapturing his throne last week with a walk-off eagle that reverberated from Memphis to Montauk. Through two days at Shinnecock Hills, the 33-year-old's rule over his sovereignty fortified, dissecting the Long Island property while his fellow players stumbled. Yet Johnson is leaving Southampton not with a trophy but ribeye, trying to reduce the swelling of another "What If …" major championship punch. Delivered off the hands of his pal and protege Brooks Koepka, no less.
You could argue it was self-inflicted, in more ways than one. Johnson's putter, the one that propelled him to a four-shot advantage after 36 holes (eight strokes gained on the field), suddenly stopped talking to him. Changed phone numbers, in fact. That he finished two shots behind Koepka despite a losing a whopping 10 shots to him on the greens over the weekend is astonishing.
Then there's Johnson's tutelage. In-their-prime athletes are not viewed as mentors, but Johnson's played a pivotal role in Koepka's emergence. They are good friends, living down the block from each other in West Palm Beach. They are gym buddies, socialize together, serve as the other's sounding board. In an interview with Golf Digest, Koepka said Johnson has a "huge heart." It was DJ that called Koepka before the final round at Erin Hills, the then-reigning champ offering advice to the man about to take his crown.
"Keep doing what you're doing," were Johnson's words, according to Koepka. "Stay patient. Hang in there, it'll happen. You're gonna win the thing." Koepka listened, using Johnson's blue print—bomb ball, birdie ball, try to smile—to lap the field by four.
"Brooks is in the mold of Dustin Johnson," Billy Horschel said at Erin Hills. "There's not much that affects him. Nothing affects DJ. Maybe Brooks is one level up, in the sense of maybe a tiny thing affects him but not much at all."
It was a defining win for Koepka, the much-prized prospect finally hitting pay dirt. But Koepka was not Johnson's equal. The '17 Open was only Koepka's second American victory; Johnson had won three times that spring. In the ensuing year, the dynamic was never challenged: Dustin racked up three more Ws while Koepka missed four months battling injury.
At Shinnecock, however, the student became the master.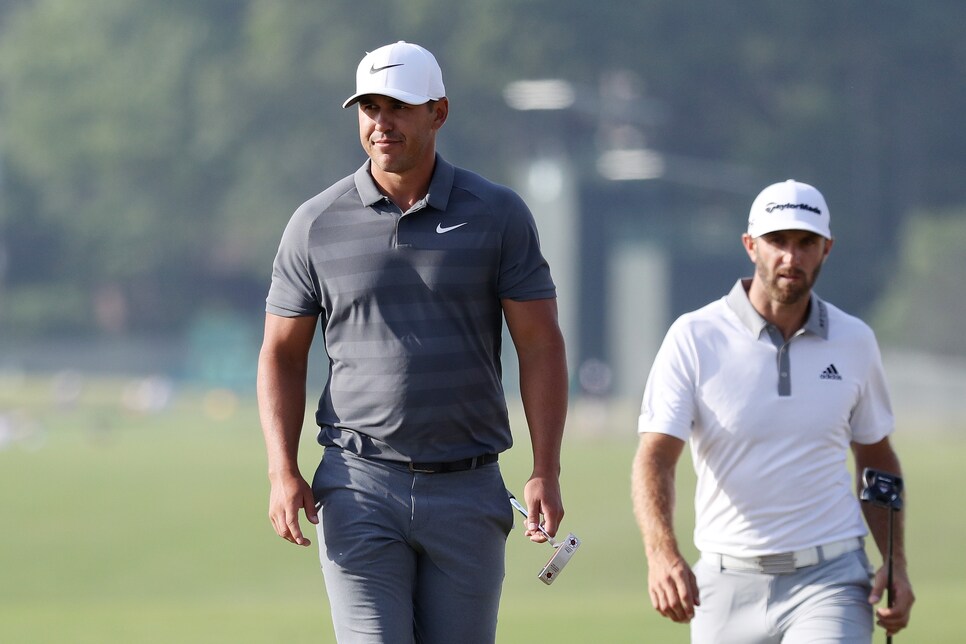 The two played together on Sunday afternoon, tied for the lead at three over. Johnson dodged an early haymaker when Koepka missed a 10-footer for 3 at the first, but felt the blunt force of Brooks' birdie barrage, with Koepka racking up red on three of the next four holes. Johnson had a few birdies of his own at the fifth and eighth, with a bogey at seven in between. Another birdie from Koepka on the 10th brought the lead to two.
Though the fight would last another eight holes, the deciding blow was delivered on the par-3 11th. Koepka sailed his tee shot towards the Sunrise Highway, flying the green and finding the fescue. From the gorse, his second shot out hot, screaming past the green and into a bunker. Johnson, safely on the dance floor with a 30-foot birdie look, was ready to pounce.
Except Koepka made a sand save for one of those "good bogeys" you only hear about at the U.S. Open, and Johnson's birdie try came up five feet short. As for the par attempt … didn't come close. Brooks added an up-and-down, this time from 70 yards, for good measure at the 14th. Coupled with another Johnson three-putt, the lead moved to three, and gave the engraver the green light.
For his part, Koepka seemed to relish Johnson's company. "I think it was enjoyable playing with him. We didn't really speak too much," Koepka said. "He was busy grinding his tail off and I was busy grinding mine. We're extremely close. I love the guy to death. It would have been fun to duel it out with him coming down the end, having to make some putts. It was a fun round. I did enjoy it."
What Johnson thought, we don't know. He didn't stop for the media, offering only a congratulatory message to Koepka on Twitter.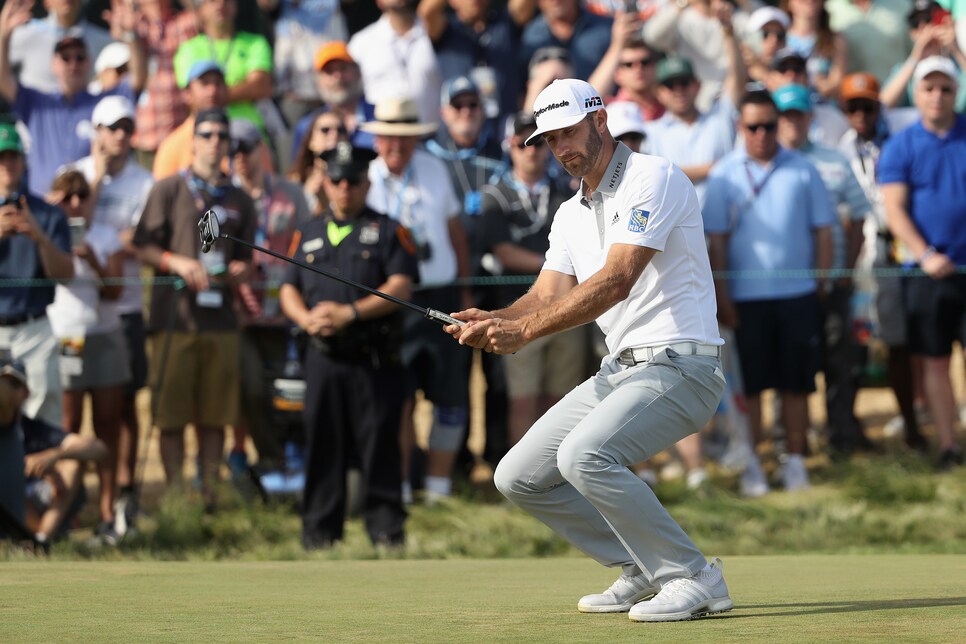 In the upcoming days, we will unpack what this means for Koepka. The cat is a prizefighter, finishing T-11 nine times in his last 10 majors. His lack of other wins will come up, but the elite are evaluated by majors and majors only. When the lights are the brightest, Koepka plays his best.
What this means for Johnson is slightly more complicated.
He ultimately finished third at Shinnecock, his 15th career top-10 in a major and eighth in his last 13 tries. The U.S. Open has been especially prosperous, as he boasts four top 5s in the last five years.
However, mentioned above, players of his caliber are not judged by silver and bronze medals. It's not particularly fair, viewing one's career through a four-tournament prism, especially when the body of work in the other 40-something weeks is so grand. Moreover, the difficulty of capturing a major cannot be overstated. A mere rewind to Saturday's proceedings will speak to that.
Conversely, as Tiger and Phil and Rory and Jordan will attest, it is the reality. And the new reality is Brooks Koepka, Johnson's friend and five-year junior, who has three tour-sanctioned wins to Johnson's 19...has more majors than him.
When he bounced back from the infamous penalty at Oakmont, it was Johnson's "Dirty Harry" demeanor that was credited for keeping him cool. That win was supposed to end his recurring major nightmares, seen at Pebble and St. Andrews and Chambers, make them a thing of the past. He was no longer the second or third billed actor. He was one of golf's new leading men.
Turns out, protagonists have problems, too.
There's a story, possibly apocryphal, regarding Eastwood, that he had a contract clause outlining his character would never lose a fight. Which is fine; you ensure that in a screenplay. But major championships, the game's highest theater, follows no script. In golf, Dirty Harry occasionally, often it seems, comes up short.