The Buzz
The Buzz on Brooks Koepka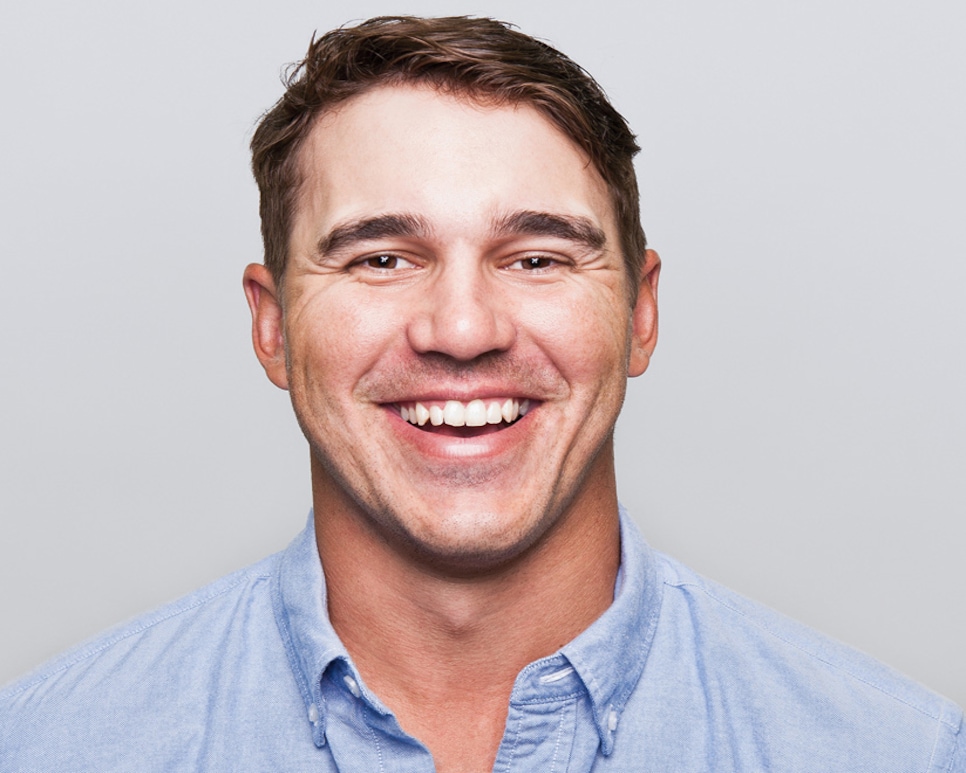 Photo by Patrick James Miller
Brooks Koepka has decided he's ready for his close-up. It seems overdue. At 25, Koepka is not only prominent among the leading 20-somethings who are taking over golf, he possesses a differentiating supercharger: Only he and Tony Finau reached 129 miles per hour in clubhead speed in PGA Tour events last year.
Koepka can temper his power with a knack—honed on pro circuits in Europe—for creatively varying the force and flight of his iron shots. After winning four times on the Old World's developmental Challenge Tour (by a total of 23 strokes), he achieved breakthrough wins in Turkey on the European Tour and last February at the Waste Management Phoenix Open. On his way to reaching 12th in the world, the native of South Florida demonstrated explosiveness (leading the PGA Tour in percentage of eagles) and grit (leading in percentage of putts made from four to eight feet).
All of which might be subordinate to the visceral response informed witnesses have had to his ball-striking. Consider this from Steve Williams to Golf Digest after he caddied for Adam Scott in a practice round with Koepka at the 2014 Open at Hoylake: "Once in a great while, a player comes along who hits a golf ball the way it was meant to be hit. Powerful, piercing, the perfect trajectory. Of the young players out there, one I've seen has that special ball flight: Brooks Koepka. ... I haven't seen a ball flight like that since Tiger, and before that, Johnny Miller."
It doesn't hurt that Koepka is Hollywood handsome. A stout but lean 195 pounds on a six-foot frame, he walks with the distinctive shoulder roll of an elite team-sport athlete, possessing the big-jawed, heavy-lidded looks that evoke a young Josh Brolin.
But thus far, Koepka has remained mostly a cult favorite, especially of the website nolayingup.com, which notes how often he has been ignored on telecasts when in contention. His last name (pronounced Kepp-ka)—which first-tee announcers have tripped over and fans have butchered with variations like "Cupcake" and "Kaopectate"—hasn't helped. In terms of accomplishments getting mainstream attention, he has been what the British call a "nearly man."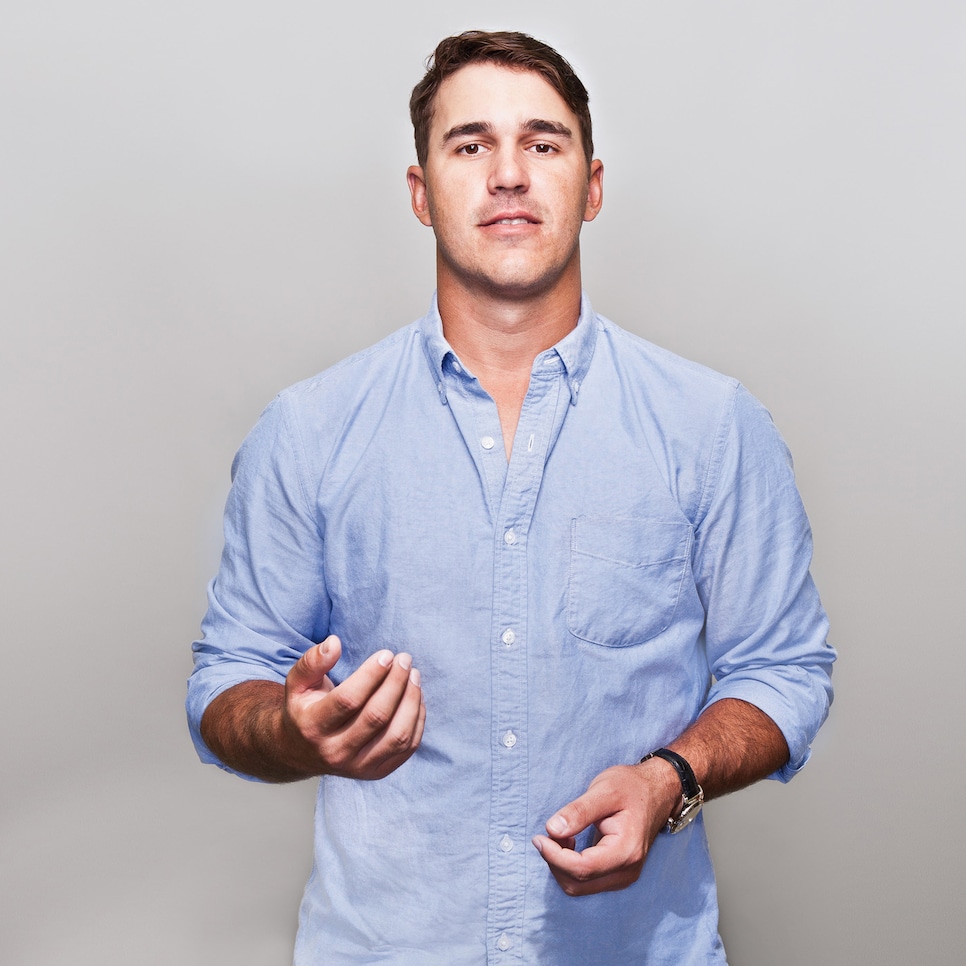 Photo by Patrick James Miller
Koepka was not a national junior star, or highly recruited out of high school. At Florida State, he was a three-time All-American but didn't win a tournament until his senior year. Passed over for the Walker Cup, he turned pro and missed out at the same Q school as Jordan Spieth. Koepka set out across the Atlantic, but his European Tour Rookie of the Year Award didn't get much attention in America. After the win in Phoenix, an injured rib suffered at Bay Hill hindered him in his first Masters, where he finished T-33. There were top-10s at the British Open and PGA Championship and a T-4 at the 2014 U.S. Open, but his sprint to qualify for the Presidents Cup was hindered by a schedule built around European Tour obligations.
Koepka confesses some frustration with being overlooked but admits to being complicit. His style is no bling, no hype, all golf. He prides himself on being low maintenance, hitching rides on private planes when offered by fellow players, but usually flying commercial. He drives a late-model Chevy Tahoe, the addition of black Italian racing rims the closest thing in his life to fancy.
"I'm just really good at blending in," he says at the beach near his home in Jupiter, Fla. "If you look at how I've grown up, I wasn't the best, so hanging back comes more naturally."
In the most anti-self-promotional way imaginable, Koepka became a golfer because of his face. At 10, he was in the front seat when a car driven by a babysitter was hit at an intersection. Brooks' nose and sinus cavity were fractured on the dashboard, and for the entire summer he couldn't play any contact sports. As an alternative, he began spending his days at West Palm Beach's public Okeeheelee Golf Course, where he played in a junior program, dominated early, and never looked back.
Well, not exactly. "If I could do it over again, I'd play baseball—100 percent, no doubt," he says. When sporting a baseball cap or jersey off the course, Koepka often gets asked if he's a major-leaguer. "To be honest, I'm not a big golf nerd," he says. "Golf is kind of boring, not much action. I come from a baseball family, and it's in my blood."
His great-uncle Dick Groat is the former Pittsburgh Pirates shortstop who won two World Series and was the 1960 National League MVP. Koepka played a mean Little League shortstop but somehow wasn't much of a hitter. "Could never hit a home run as a kid," he says. "Maybe I was too small, but it drove me nuts. I kind of wish I'd stuck with it."
As it turned out, Koepka can bomb shots to straightaway center as well as any golfer in the world. His compact move is notable for the way his right shoulder "covers" through the impact area, imparting more backspin on his tee shots than other long-drive leaders. It helps his accuracy and creates that fizzing flight that Steve Williams so admired. Other peers have been impressed enough to make similar comments, including Phil Mickelson, Davis Love III and Adam Scott, the player Koepka says he has most emulated in oversized game and understated style.
Koepka's chill manner and monster skills make him easy company in the testosterone-drenched gatherings of tour players at Medalist and other Palm Beach-area strongholds of the young stars. He counts Dustin Johnson as a good friend—"huge heart"—and has a home on the water where he can Jet Ski, fish and use the paddle boards he bought from Love's shop in Sea Island, Ga. Several friendships were formed in Europe. After Koepka won in Phoenix, Rory McIlroy tweeted, "Massive congrats to my boy @BKoepka on his first of many @PGATOUR wins!! See you in Jupiter soon for a celebratory drink."
"Everybody is making a boatload of money in a game they love to play, and we should feel lucky and have fun," Koepka says. But he's restless to get to the top. Not being chosen for the Presidents Cup left a mark, activating what Koepka's agent, Blake Smith, calls "the right-size chip on his shoulder."
"I've always felt like I've had to prove something to somebody," Koepka says. "I feel I'm in that group of 10 guys around my age who at any moment could legitimately end up as No. 1. You see them winning, and when you tee it up, you see yourself winning. And when it doesn't come true, you do get a little jealous, but not in a bad way. We've turned into motivators for each other. I'm happy for them, but at the same time, I want to kick their butt."
"Brooks has a fearlessness when he goes against someone," says his younger brother, Chase, a promising golfer at the University of South Florida. "He's super aggressive and really confident. Just all you want in an athlete."
"Life can go pretty quickly, so enjoy it. ... maybe not take things as seriously."
In Koepka's first three seasons at Florida State, he had problems controlling anger. "Brooks had so much self-belief—which is maybe his greatest strength—but he'd get frustrated because his game wasn't as good as his vision of it," says FSU coach Trey Jones. "It's an old story with a lot of players who end up great. Once he learned some patience and to not force things, all that talent started to flow."
After working with a sport psychologist, Koepka began to win. He also gained perspective in college, watching his mother, Denise Jakows, beat breast cancer. "It made me figure out that life can go pretty quickly, so enjoy it," he says. "Make people laugh, make the best of things. Maybe not take things as seriously."
There was some culture shock and funny moments on the Challenge Tour—an order for a pepperoni pizza in Germany came back as a pie with peppers only. But Koepka calls it "the coolest experience of my life. I wasn't homesick. I don't mind being by myself, even in a foreign country. I was so focused on golf, nothing else mattered. I want to be the best in the world, and nothing—hanging out, sightseeing, whatever—was going to get in my way."
Koepka's swing instructor since 2013, Claude Harmon III, had seen Adam Scott take a similar route out of college. "The Challenge Tour especially made Brooks better as a golfer and a person," Harmon says. "You're catching buses and trains, dealing with foreign languages, playing bad courses, and you learn to find a way. He really learned how to improve, which is so important." Technically, the crucial improvement Koepka made under Harmon was with the driver. Koepka favored a draw, but too many two-way misses led to Harmon cultivating a grooved power fade. "Claude turned what I have naturally into something that's very repeatable," Koepka says.
"Everybody is making a boatload of money in a game they love to play, and we should feel lucky and have fun."
Like many players whose strength through the ball allows them to play with a lot of shaft lean, Koepka's pitching and chipping techniques were flawed. But under renowned short-game guru Pete Cowen, he's strengthening his weakness.
In terms of improvement, Koepka is most interested in the mental side. He calls Kobe Bryant his favorite athlete because of the NBA star's mental toughness and work ethic: "I'm really big into the mind-set thing. Kobe, M.J., Tiger—they'll sacrifice anything to be great, do anything to win, and it really, really bothers them to lose. It's actually quite amazing to see." He recounts a match with Michael Jordan at the Bear's Club. "I was 1 up on the 17th tee and called out the score. Michael looks at me says, 'Fourth quarter, baby.' I was like, 'Really?' Then, with strokes, he wins the last two holes. How he did that? That's what I'm after."
Koepka was resolute amid high winds during the second round of the 2015 Open at St. Andrews. His ball was moving on the 11th green, and his refusal to putt—despite an official's urging—was one of the factors that forced the round to be suspended. And in October, after a run of 13 tournaments in 16 weeks that left him exhausted, he chose not to defend at the Turkish Airlines Open, forfeiting his European Tour membership.
"I've learned that I have to be true to who I am and what's best for my goals," he says. "If that means saying no, I will."
However, Koepka has been swayed by his inner circle not to let an aversion to attention impede his progress. That has included the perspective of his girlfriend, professional soccer player Becky Edwards, whom he met at Florida State. "It's taken some talking to," he says. "Now I'm realizing you can't hide forever. There are some things you have to accept come with being really good at something: more attention, more eyes on you, every move you make, whether good or bad, you have to answer. If that's the price of where I want to get, it'll be worth it."
Adds his brother, Chase: "When Brooks says he wants to be the best player in the world, I don't doubt he can do it. Because everything he's said he wanted to do before—when nobody else was saying it—he's done it."
Specifically, Koepka sees major championships in his future—he believes the most difficult setups favor his game—estimating two such victories in the next five years.
"In my mind, I'm already in that group with Jordan, Rory and Jason, even though I'm not in it—nowhere near it," Koepka says. "My mind is already 10 steps ahead, which maybe it shouldn't be. But I don't want to change that, because it makes a difference—maybe all the difference. I see myself there, which makes me figure out why I'm not there, and what do I have to do to get there. I've always played catch-up that way."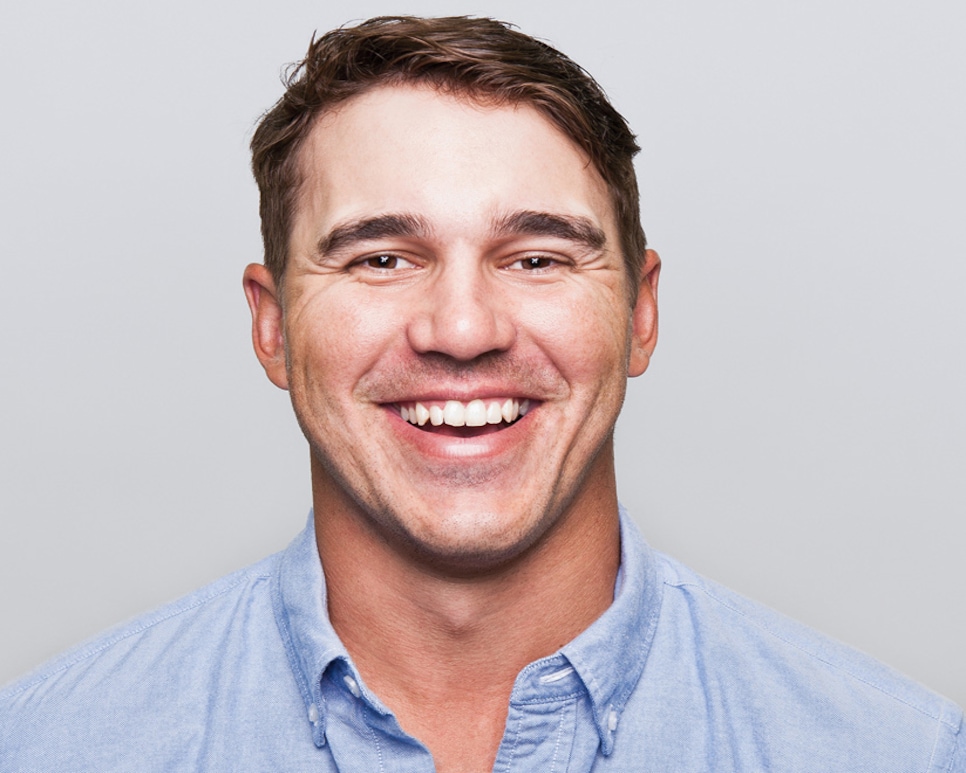 Photo by Patrick James Miller
AS A PRO: After failing to earn a PGA Tour card at the 2012 Q school—he and Jordan Spieth missed by three strokes in the second stage—Koepka won four times on the Challenge Tour to earn a place on the European Tour. ... Won the 2014 Turkish Airlines Open on the European Tour, shooting a final-round 65 to beat Ian Poulter by one stroke. ... Earned his first PGA Tour victory in 2015 at the Waste Management Phoenix Open. ... Finished T-4 in the 2014 U.S. Open at Pinehurst, T-10 in the 2015 Open at St. Andrews and T-5 in the 2015 PGA Championship at Whistling Straits. Only Masters appearance: T-33 in 2015. ... Has been as high as 12th in the World Golf Ranking (currently 14th). ... Earned $3,571,900 in 2015. 2015 PGA TOUR STATS/RANKING: Eighth in driving distance (308.2), 17th in greens in regulation (69.48 percent) and strokes gained/putting (.421), first in eagle percentage (one per 72.9 holes), 11th in scoring average (69.861), sixth in all-around ranking (323). COLLEGE: Two-time Atlantic Coast Conference Player of the Year at Florida State. PERSONAL: Turns 26 on May 3. ... Fan of baseball, basketball, table tennis, fishing, football and "proper" football (soccer). ... FAVORITE TEAMS: Manchester United and L.A. Lakers. ... Born in West Palm Beach. ... Resides in Jupiter, Fla.