News
Amid shocking flameouts in U.S. Amateur, Alabama golfer chases history and 42-year-old keeps on swinging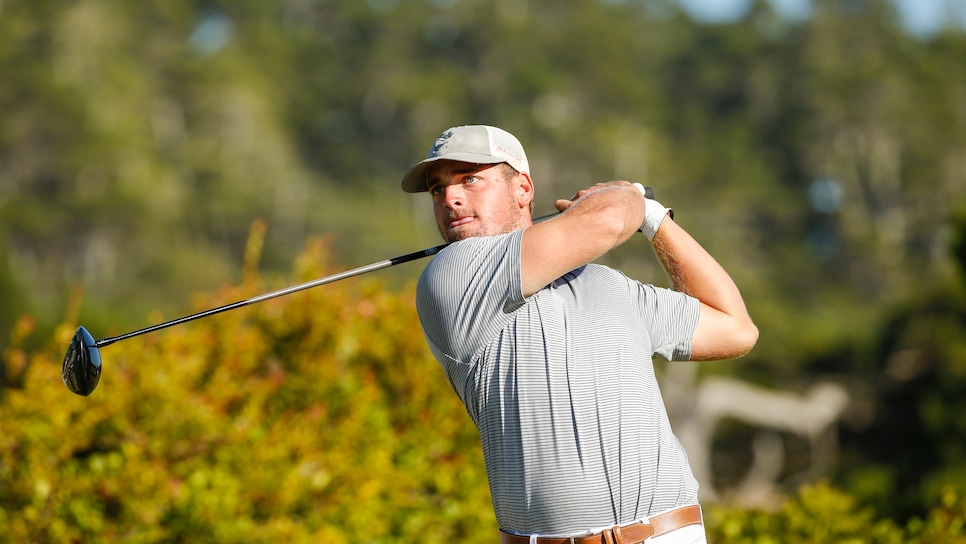 Wilson Furr made 11 birdies in shooting 62 at Bandon Trails in the second round of stroke play in the 2020 U.S. Amateur.
Steven Gibbons
BANDON, Ore. — It is remarkable enough that Scott Harvey, at 42, outplayed all but a handful of college kids and a few big names who were bounced after the stroke-play portion of the 120th U.S. Amateur.
That the career property manager secured his spot in the 64-man match-play field—and avoided a monstrous 18-man playoff for three spots—by shooting a five-under-par 67 on the wind-swept Bandon Dunes course Tuesday was a tremendous feat.
More confounding is this: Harvey hadn't played a competitive round since the U.S. Mid-Amateur Championship. That would be the 2019 Mid-Am, contested in September at Colorado Golf Club, nearly 11 months ago.
Harvey had so convinced himself that he wouldn't make it out of stroke play that he had reservations to go home to North Carolina on Wednesday morning.
"I didn't know what the hell was going to happen," Harvey, the 2014 U.S. Mid-Amateur champ, said after tying for sixth, five shots behind medalist Wilson Furr, who scorched the other stroke-play course, Bandon Trails, in the second round for a nine-under 62—tying the second-best score in tournament history.
"Honestly, just had no idea how I was going to react … but I guess golf is golf, right?" Harvey said. "And I've got some good vibes around this place. Just kind of keep feeding off those memories."
The karma certainly helps, and Harvey has enjoyed heaps of it here on the Oregon coast, where he and partner Todd Mitchell won last year's U.S. Amateur Four-Ball. Going against recent history, Harvey insisted that a mid-amateur could prevail at Bandon Dunes because shot-making prowess might counter the sheer power of the young players.
"You've got to play different shots, trajectories," he said. "You might hit 8-iron from 110 yards—not a full one, but just kind of flight it, and that kind of stuff I've done for a long time at different times. … Obviously the kids are unbelievable, I mean, without a doubt. But all I'm saying is I've done that as much as they have. Not just me, but mid-ams."
Harvey's stay here will be longer than some notable players who failed to advance—none more stunning than Andy Ogletree, the defending U.S. Am champion who was trying to become the first since Tiger Woods to win in back-to-back years. Ogletree shot a second-round 72 at Bandon Dunes after opening with a 74 at Bandon Trails. At three over, he missed the 18-man playoff for the last three match-playspots that was scheduled to begin at 7:15 a.m. PT on Wednesday. [Last year's Am runner-up, John Augenstein, sailed into match play at five under.]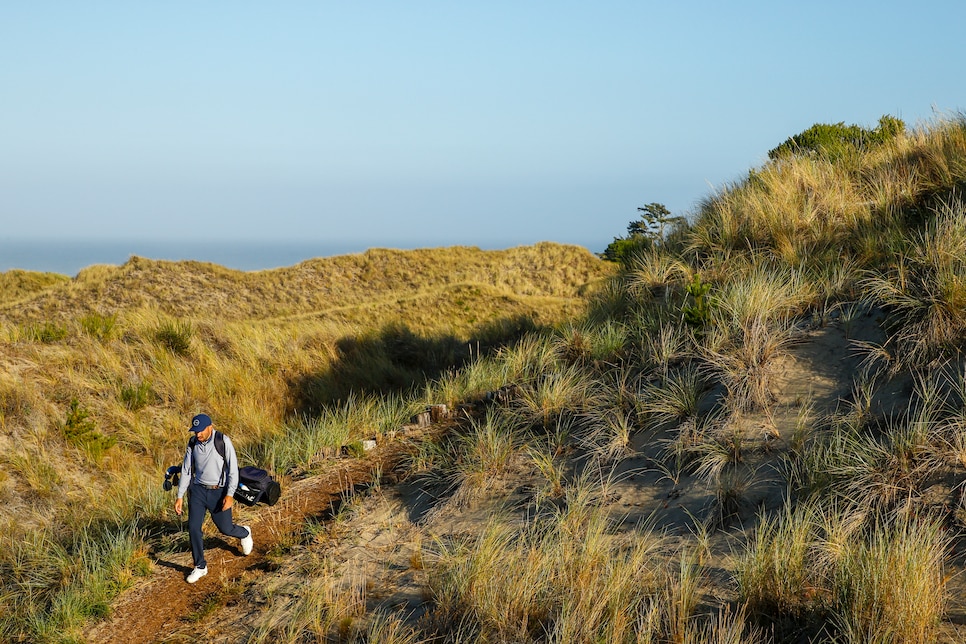 Andres Schonbaum, shown making his way to the second green at Bandon Trails, is among the mid-amateur players who made the match play of the 2020 U.S. Amateur.
Steven Gibbons
Also out at three over were Cole Hammer, a member of the 2019 U.S. Walker Cup team and a 2018 U.S. Am semifinalist, and Austin Eckroat, who reached the U.S. Am match play last year at Pinehurst and qualified for the 2019 U.S. Open at Pebble Beach.
Recent Sunnehanna Amateur champ Preston Summerhays, the 18-year-old from a notable golf family, shot 76 at Bandon Dunes and missed at four over, while 2019 U.S. Mid-Am champ Lukas Michel (73, Bandon Dunes) was five over.
The struggles of some strong sticks only made the performance of Furr all the more eye-popping. The 22-year-old, who has one career college win entering his senior year at Alabama, birdied 10 of his first 14 holes and was chasing down USGA history while beating the competitive course record by two strokes. Billy Horschel's 60 in the 2006 U.S. Am is the best stroke-play score in any USGA event, with Jeff Wilson's 62 in the 2010 ranking No. 2 in the U.S. Amateur.
Furr ended up bogeying the 17th at Bandon Trails, but bounced back with a birdie at the last.
"Obviously it's a huge confidence booster," Furr said. "Success breeds success, so we were just trying to make more birdies, more birdies. … Being medalist gives me a lot of confidence going into match play. Never been to match play before in the U.S. Am, so super excited about that. That was my big goal coming into the day."
Furr's 11-under total was two shots better than James Piot, a Michigan State senior who made a pair of eagles on par 5s at Bandon Dunes in shooting 65.
Beyond Harvey, a small handful of surviving players were well past their college years—former U.S. Mid-Am champ and Walker Cup stalwart Stewart Hagestad, 29, Andres Schonbaum, 29, and Kevin O'Connell, 32.
There were three sets of twins in the field, and among them, one reached match play—17-year-old David Ford, of Peach Corners, Ga., who shot two rounds in the 60s (68-69) to finish at six under.