News
Career path changed by virus, Andy Ogletree gets unexpected shot to repeat as U.S. Amateur champ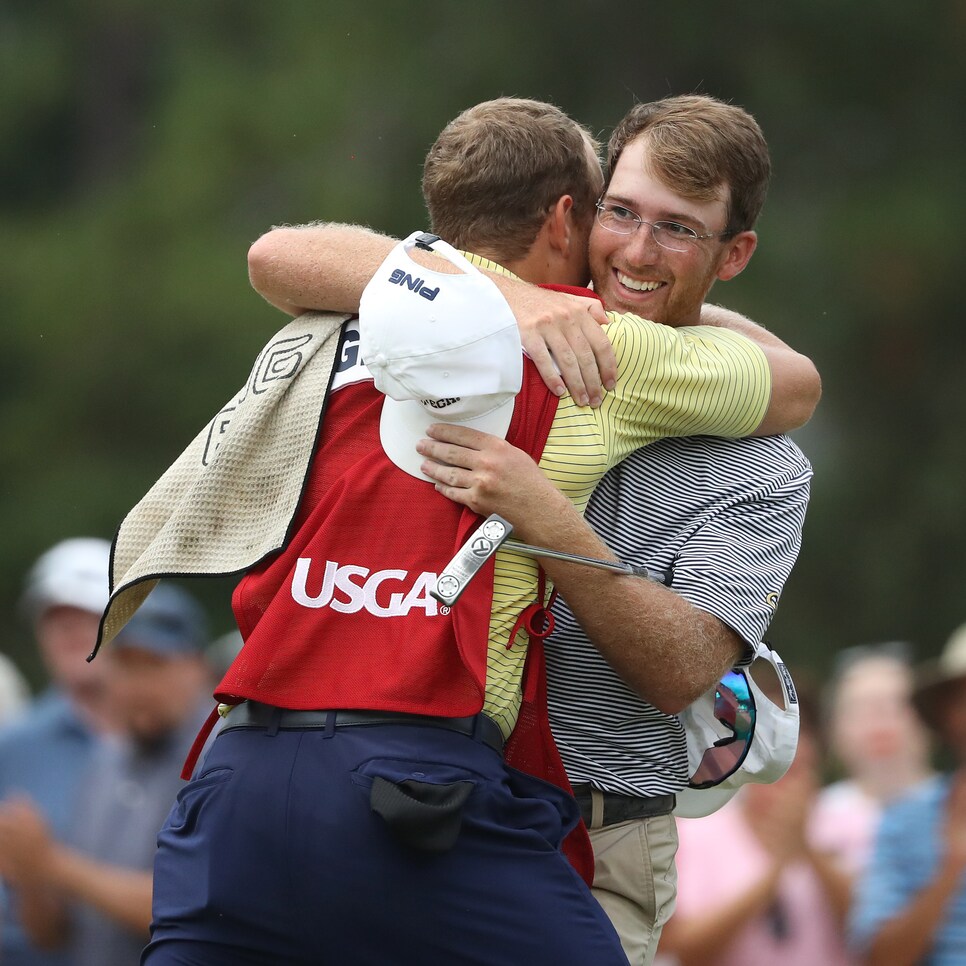 Andy Ogletree celebrates with his caddie, Devin Stanton, after defeating John Augenstein, 2 and 1, to win the 2019 U.S. Amateur.
SL
It was a gorgeous evening for golf. Clear, just a light breeze, and the bright orange sun was beginning to set on the Pacific Ocean. It was the kind of day golfers pray for when they make a pilgrimage to one of America's golf meccas, Bandon Dunes.
"Beautiful," Andy Ogletree said.
Ogletree walked the back nine holes of the Bandon Dunes Golf Course without a club in hand. It was a scouting trip of a layout he'd never seen, but on which he'll compete starting Monday when he begins defense of the U.S. Amateur Championship title he captured last year at Pinehurst.
Six months ago, Ogletree, 22, could not have imagined he'd be marveling at sunsets on the Oregon coast. With this U.S. Am win, he earned playing spots in the Masters, U.S. Open and Open Championship. Finishing up his senior year at Georgia Tech, he was looking forward to all of them. But now in August, none of them have been played. Due to the coronavirus pandemic, the U.S. Open was moved to September, the Masters to November and the Open Championship canceled.
It all turned Ogletree's life and career plans completely upside down. The Union, Miss., native hoped to be playing professionally by late summer, but instead remains an amateur, and thus has the opportunity to be the first golfer to repeat as the U.S. Am champion since Tiger Woods won three straight from 1994-'96. Back for another Am, too, is last year's other finalist, John Augenstein, who decided to return to Vanderbilt for a fifth year instead of turning pro.
A golfer even attempting to win the Havemeyer Trophy for a second straight year is a rare occurrence. Not since Gunn Yang, who won the 2014 U.S. Am at age 20, has a winner returned the following year. The last four champions—Bryson DeChambeau, Curtis Luck, Doc Redman and Viktor Hovland—all turned pro in the year after their Am triumph.
Ogletree's defense comes against a smaller but arguably stronger field that includes 98 golfers who played in last year's championship. The pandemic made it impossible for the USGA to hold qualifiers, and just as with its other top championships, including the U.S. Open, the governing body created an all-exempt field of 264, down from the usual 312. The format remains the same: 36 holes of stroke play on the Bandon Dunes and Bandon Trails courses, followed by the top 64 from medal play advancing to match play at Bandon Dunes, building up to the 36-hole final on Sunday.
The unpredictable nature of match play would seemingly make it more difficult to repeat in the format, but Ogletree shrugged that theory off in a phone conversation last week.
"Good golf is good golf," he said. "If you play better than anyone else, you're going to win. I'm looking forward to the week. Last year, I didn't come in thinking I could win. I didn't have a lot of expectations. I definitely have a lot more confidence this year that I can win, that I can handle the pressure and everything that goes with winning the tournament."
The perks for winning the Am go far beyond getting into the three majors and the hero's welcome Ogletree got in his hometown. Victory makes you a prime candidate for the U.S. Walker Cup team, and Ogletree contributed to the Americans' win at Royal Liverpool last September. It also sends you to the top of the sponsor's exemption list of some PGA Tour tournament directors. In Ogletree's case, he got three invites—for the Charles Schwab Challenge at Colonial, where the tour returned to play after its hiatus, the RBC Heritage at Harbour Town and the Memorial at Muirfield Village.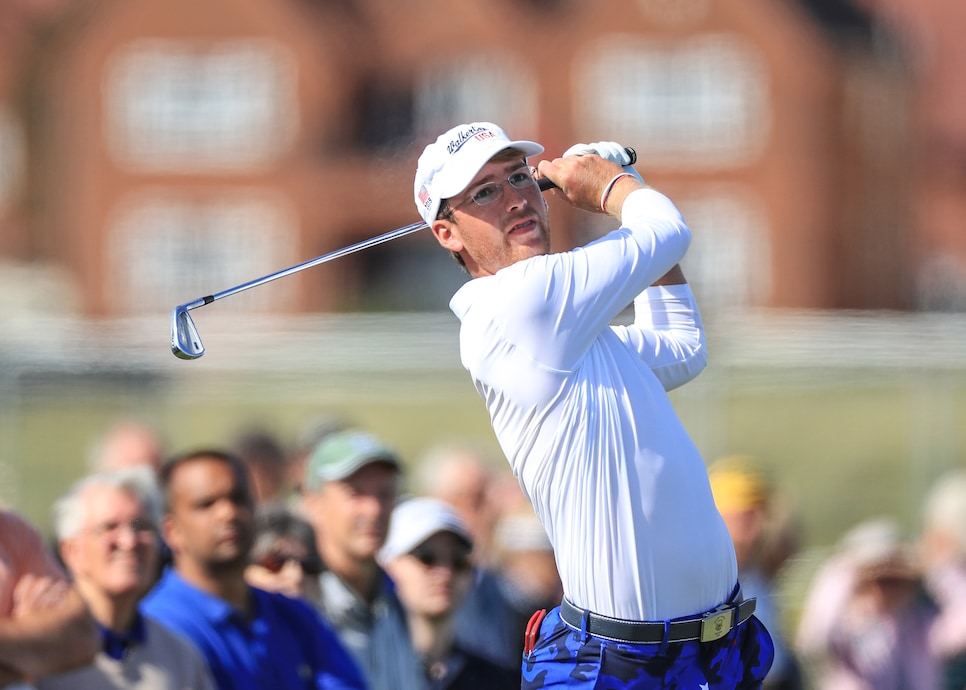 Andy Ogletree hits a shot during the 2019 Walker Cup Match at Royal Liverpool.
DC
The Memorial, originally scheduled the week before the U.S. Open, was always a given for Ogletree, but after he had to turn down exemptions earlier in the year due to college conflicts, he was thrilled to get into the other two events in the early summer. The opportunities somewhat softened the disappointment when another week rolled around and Ogletree saw the social-media posts about "This would have been Masters week or U.S. Open week."
Weighing the pros and cons of his situation, Ogletree said, "Honestly, everyone has missed out on a lot of stuff. There's been a lot of cons for the whole world. But the pros for me is that I get to play these events as an amateur without it being my job."
Ogletree missed the cut in all three, shooting respectable scores in the Schwab (73-69) and Heritage (73-70) before struggling in the almost major-like conditions of the Memorial (77-81).
Deeply disappointed about his play at Muirfield Village, Ogletree was cleaning out his locker on Friday when he heard a distinctly recognizable voice. "It was Mr. [Jack] Nicklaus," said Ogletree, who made it a point to introduce himself. "We talked about the U.S. Am and my future plans. He told me to keep getting better and don't worry about the week. He said it's a long career."
Meeting Nicklaus was among the many highlights of being out on tour. Ogletree played practice rounds with Bill Haas and Lucas Glover—the trio share the same coach—as well as Phil Mickelson, Ryan Palmer, Keegan Bradley and Brendan Steele. There were two others who stood out: He practiced with Webb Simpson before he won the RBC and Jon Rahm before he captured the Memorial.
"I'm going to try to play the next one by myself," Ogletree joked. "I'm not trying to say it was me, but …"
In November, as would have been the case in April, Ogletree will be paired in the first two rounds of the Masters with reigning champion Tiger Woods. They still have not officially met; Ogletree said Woods waved at him with a "hey" when they walked by each other at Muirfield Village.
"Tiger big-leagued me, but that's OK," Ogletree said with a laugh.
More seriously he said, "To get to play with Tiger will be the coolest. I have to pinch myself about it. That's going to be a special week."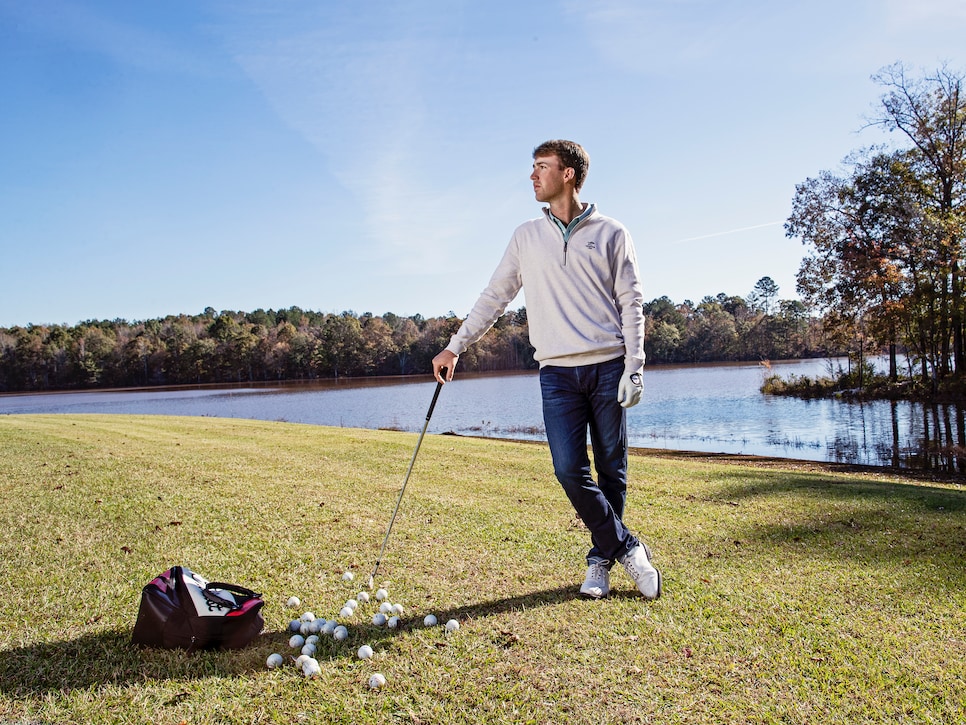 Andy Ogletree stands "on the tee" in the backyard hole his dad built at their family home in Union, Miss., when his oldest son first starting playing golf.
Rob Tringali
Ogletree, currently ranked ninth in the World Amateur Golf Ranking, enters the U.S. Amateur coming off reaching the quarterfinals of the Western Amateur that was held at Crooked Stick in Indiana. He will have his dad, Jim, as his one designated supporter on the grounds and Georgia Tech assistant coach Devin Stanton returns to the bag after last year's triumph. With the three PGA Tour events under his belt, Ogleetree contends those experiences are extremely valuable when going against the amateurs.
"I feel like my game is in a good spot," he said. "I'm in a good spot, mentally. Everything has come together."
Or at least the best it could under the bizarre nature of our current circumstances. Ogletree has the good fortune of being able to look forward to some extraordinary experiences coming up. Beyond that horizon, though, his future isn't nearly as clear as the skies that day in Oregon.
"I'm weighing my options," Ogletree said. "I could turn pro after the Masters or I could even go back to school. The Walker Cup is at Seminole in May. That was one of the coolest weeks of my life. I'm just going to have to figure out what works best for me."