News
An 18-man playoff in U.S. Am?! That's a lot, but doesn't come close to record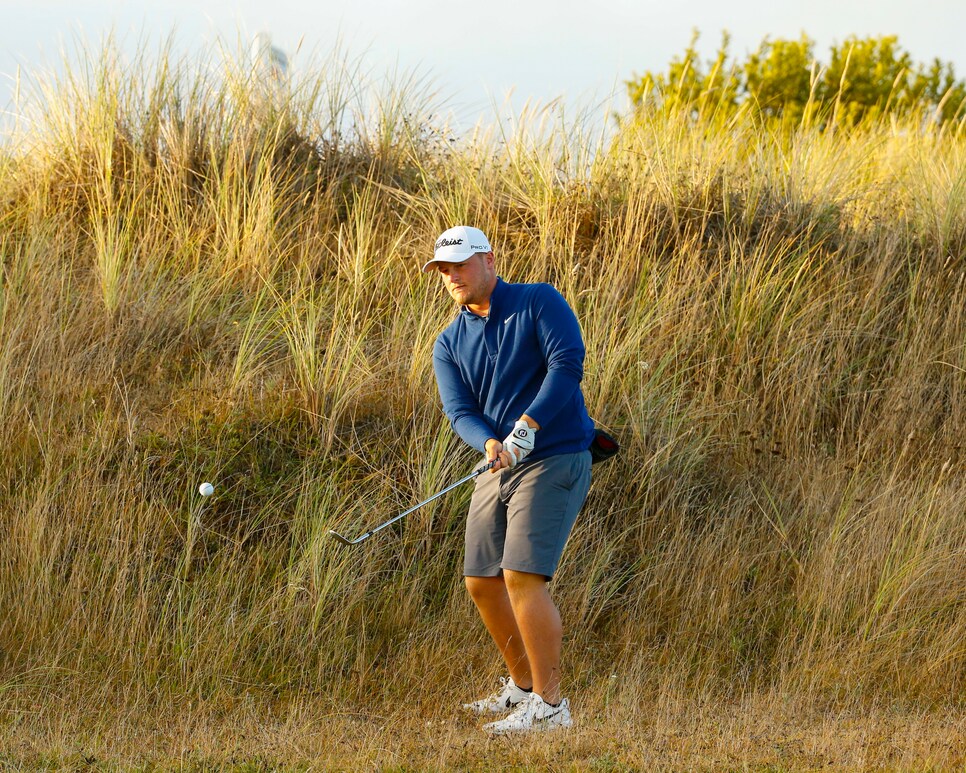 Alex Schaake play his third shot at the first hole at Bandon Trails on Tuesday.
Steven Gibbons
BANDON, Ore. — Put together 264 golfers of closely matched skill sets. Have them play 36 holes to whittle the collection to just 64. Both the odds and logic say you're going to get a bunch of them trying to squeeze through a bottleneck to safety. It's the beauty of the USGA's format for the U.S. Amateur, creating more drama for those on the bubble than the contenders for medalist honors.
It can also be a royal pain, especially when there are too many stubborn golfers who won't go away. For Wednesday morning, it looked like a charge to the hills for the Gold Rush up here when 18 men, having tied at two over par, took to the 10th tee in three groups omn the Bandon Dunes course to battle for a mere three spots in the match play that begins later in the day.
The competition lasted all of two holes, with Cameron Sisk, a soon-to-be junior at Arizona State and Evan Katz (senior, Duke) scoring birdies on the first hole. Aaron Du, originally from China and set to begin college at Cal, notched the lone birdie on the second hole to complete the match-play field of 64.
Du had a wild finish on Tuesday to making the playoff, going triple bogey, birdie, birdie, bogey, birdie.
Eighteen people—one for each hole if they went out in singles in a shotgun start—seems particularly onerous and complicated to manage, but the USGA has been doing this a long time and has seen far bigger traffic jams. In fact, 18 gets kind of an indifferent shrug. The record is 33 playoff contenders for 10 places in 1988 at Virginia Hot Springs. On four other occasions there have been at least 25 contestants, and it could be argued that the most sinister playoff came at Pinehurst just last year, when 27 poor souls were scratching for three spots—a nearly four-hour ordeal well documented by Golf Digest.
Four hopefuls bogeyed their final hole Tuesday on either Bandon Dunes or Bandon Trails and none of them ended up reaching match play.
Seven players clutched up and birdied their final holes, including Sisk.