News
U.S. Open conditions at Olympia Fields, Tiger's rough finish and three other Thursday takeaways at the BMW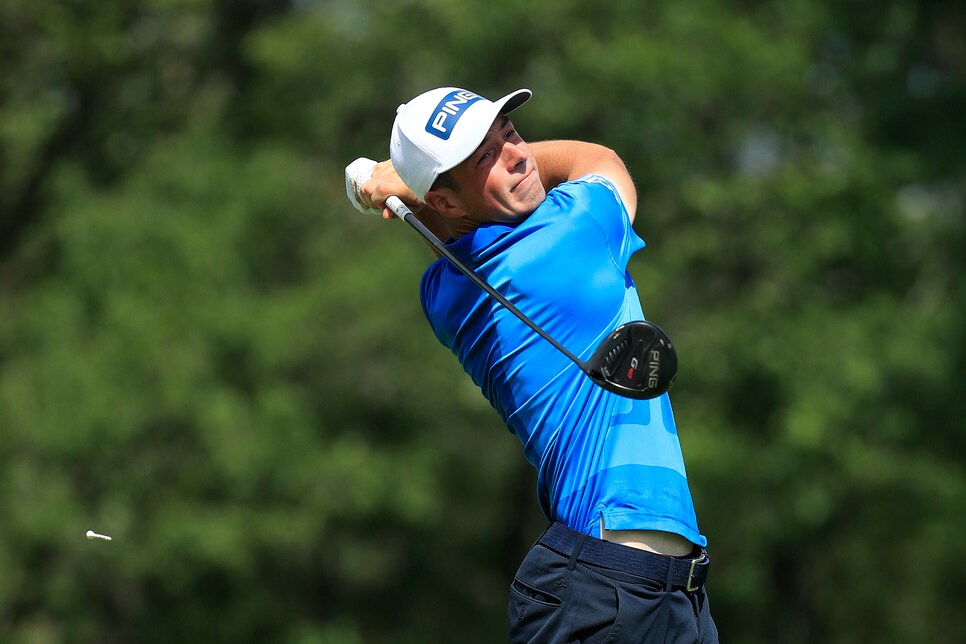 They were supposedly playing the BMW Championship at Olympia Fields on Thursday. The proceedings, however, came a lot closer to resembling a U.S. Open, with the world's best, at times, looking like average hacks, and "good bogey" being said in all seriousness. For golf fans hoping for a little less red on the leader board compared to recent weeks, it was water in the desert.
"Yeah, it was getting close," Adam Scott said about the U.S. Open comparisons. "If they could narrow the fairways another five yards, we'd be there. But I'm glad we're not because I wasn't hitting enough fairways."
More on Olympia Fields and four other takeaways from Day 1 at the BMW Championship.
Dustin Johnson deep-sixed TPC Boston with a 30-under total last week. While record-breaking, it was not an aberration. Rather, it was the sixth time since the PGA Tour's restart that the winning score was 19 under or lower. Yes, these guys are good … but when every week resembles the Bob Hope Classic, the fireworks lose their luster.
Thankfully, at least for one day, Olympia Fields doused the flames.
With #FirmAndFast conditions and rough thicker than deep dish pizza, Olympia Fields did not relent. Only three players broke par, the fewest in a PGA Tour event since the opening round of the 2018 U.S. Open at Shinnecock Hills. Hideki Matsuyama finished the low man on Thursday after posting a three-under 67. For context, 24 players were under par after Round 1 at the 2003 U.S. Open at Olympia Fields. Keeping it out of the long stuff was imperative, but with greens discarding anything less than true, a premium was put on angles, a sentiment usually seen at majors.
"I just mentioned that talking to a couple guys, and even yesterday, I felt like I was preparing for a major championship, namely the U.S. Open," said Tony Finau, who shot an opening-round 70 to sit tied for fourth after Day 1. "I love the way the golf course is playing, extremely tough."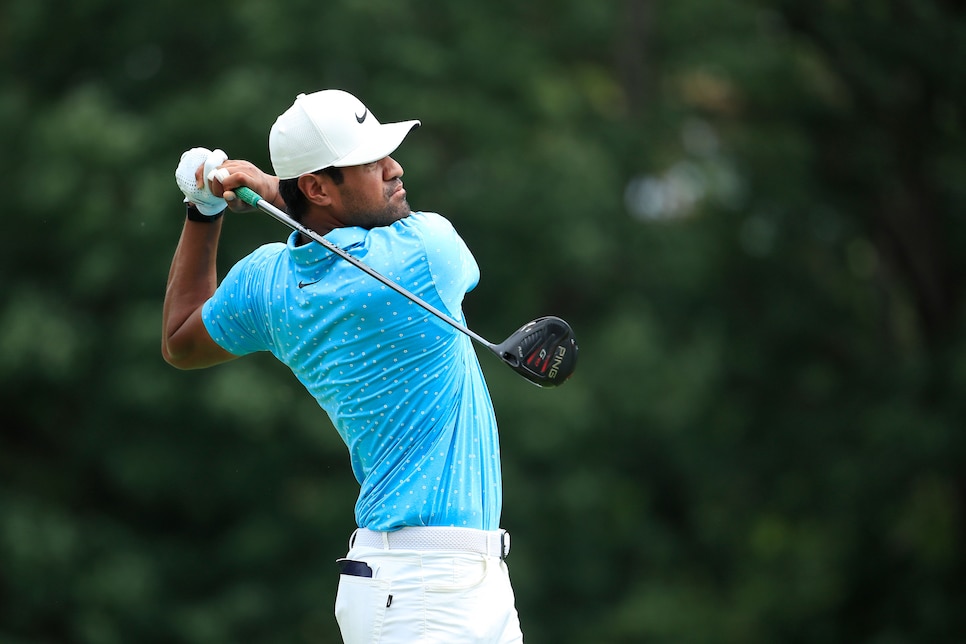 Tony Finau compared preparations at Olympia Fields to what it's like getting ready for a major championship.
Andy Lyons
Added Alex Noren after his two-over 72: "It's the firmest and fastest I've ever played it, I think, yeah. I mean, it's fun. It's good. It's just you've got to just hit the fairways, hit the greens, otherwise it's tricky."
Perhaps the pins become more accessible or someone on the grounds crew leaves the sprinklers on overnight. Yet if Thursday's test holds true, the week will revive a style of play long thought to be gone at the tour level.
Of course, the upshot to this setup was …
Traffic on the leader board
It's only Thursday, so one can't get too invested in leaderboard gazing. In that same breath, Day 1 felt less like a tournament, and more like a tryout.
By nightfall, the question wasn't who is in the mix but who isn't, as 44 players are within six shots of the lead. Even that warrants a caveat, as the BMW has no cut thus offering a bounce-back route for guys like Jon Rahm (five over) and Collin Morikawa (six over).
Which is not a bad thing! Weekend golf has a little less punch when only half a dozen players are in the hunt. However, it didn't feel like much happened on Thursday, either. There was a lot of defensive middle-of-the-green approaches and sensible lag putts, if you catch our drift. And yes, we realize the hypocrisy between this section and the proceeding one. Guess you can't have your cake and eat it too. (Awful phrase, by the way. Why would you want cake if you can't eat it? We digress.)
My 34th birthday is next week, and I can now check off "See a UFO" from the bucket list.
How else would you classify this driver-off-the-deck delight from Viktor Hovland, reaching the green from 312 yards out:
That, my friends, is not of this world.
Hovland struggled at the end, but still finished with a one-over 71.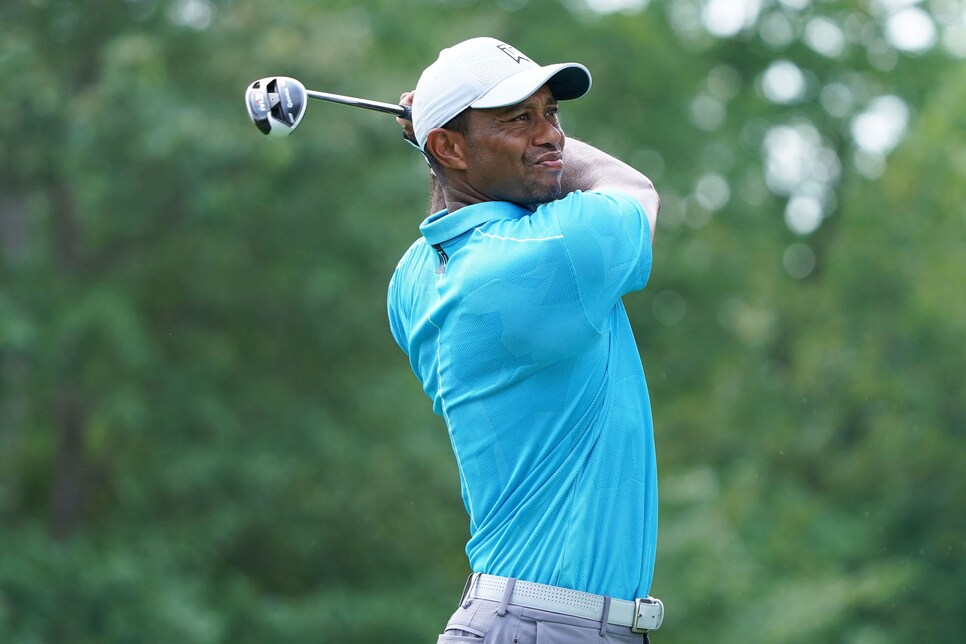 Tiger Woods had a solid round going until bogeys on his last three holes resulted in a three-over 73.
Stacy Revere
Through 15 holes Woods was rolling, boasting an even round with two birdies and two bogeys. Unfortunately for the 15-time major winner, his prospects for a solid BMW finish that could help him advance to the Tour Championship took a hit after a bogey-bogey-bogey finish left Woods with a three-over 73.
"Not the way I wanted to finish," Woods said afterwards, "but the golf course is playing difficult for sure."
The short game again plagued Woods, ranking 51st in sg/around-the-green and 50th in sg/putting. But the driving wasn't much better, missing 8 of 14 fairways on the afternoon.
Beginning the week at No. 57 in the FedEx Cup standings, Woods likely needs a T-4 finish or better to advance to the season-finale at East Lake next week. Again, he's only six strokes back of the lead, but he's also T-35. In short, he'll need something special over the next three days to punch his Tour Championship ticket.
Finau, Woods speak on player protests
For the second straight day NBA players sat out playoff games in the wake of the police shooting of Jacob Blake on Sunday. Blake, a Black man, was shot seven times in Kenosha, Wis., as he attempted to enter a vehicle with his children in the car. Athletes from the MLB, NHL, MLS and professional tennis joined the NBA by sitting out their respective contests.
"I understood the magnitude of what the NBA was doing and what they were boycotting for, and I know the PGA Tour is in full support of that, and again, it's a conversation that's uncomfortable, sensitive for our country, but if we're not willing to have those, I don't think we can move forward as a country," Finau said. "I'm open to having a conversation with anybody on the issue, and again, I think we're in full support of what the NBA has done."
Woods also said he never thought about sitting. "No, I talked to the commissioner, and they were on board. Obviously he released his statement, and all the guys were on board," Woods said. "So no, obviously there was talk about it because of obviously what happened, but we're all on board, on the same page."
"Sports have always had the power to inspire and unify," a tour statement read, "and we remain hopeful that together, we will achieve change."