News
When Dustin Johnson is at his best, it looks better than the rest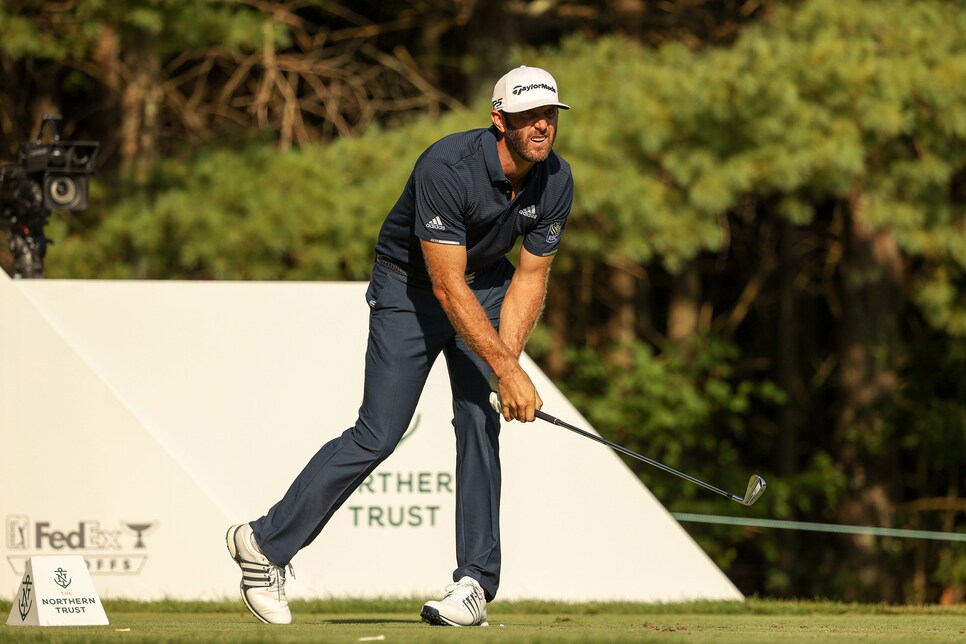 NORTON, Mass. — Shortcomings are part of the Dustin Johnson experience, the near-misses especially. There was a rather notable one only two weeks ago, in Johnson's last start of the 2019-'20 PGA Tour regular season, when he slept on a 54-hole lead at the PGA Championship, shot 68 and lost.
Still, if disappointment can come with the territory for DJ, so do weeks like these—when he makes this most difficult game look astonishingly easy and steamrolls a field of the world's best players.
Johnson capped off one of the better tournaments in golf history on Sunday, running away with The Northern Trust. In the first FedEx Cup Playoff event of 2020, the 36-year-old shot a final-round 63 to finish a jaw-dropping 30 under par. A special note of condolence to runner-up Harris English, who went 19 under for the week and finished 11 shots back. DJ's triumph came with the largest margin of victory on tour since Phil Mickelson won by 13 at the 2006 BellSouth Classic.
"Obviously this was a really good week. My ball-striking was unbelievable," he said. The numbers back it up. Johnson picked up a staggering 18.14 shots on the field tee-to-green over 72 holes at TPC Boston, and hit 65 of 72 greens, including all 18 on Sunday.
"I found something on Wednesday," Johnson said. "Felt like I was swinging really good but something clicked on Wednesday. I really, really hit it well on Thursday. I didn't make a lot of putts, but I really went and worked hard on my putting on Thursday afternoon, and it paid off."
By Sunday, only Mother Nature could stall Johnson's march—a malicious storm raced through the area, halting play for roughly an hour before Johnson and English finished their last two holes. When Johnson returned to the course, he birdied the 18th to become the first player in tour history to shoot 30 under par in a 72-hole stroke-play event at a venue other than Kapalua (a par 73 layout with five par 5s). Johnson finished one shot short of both the tour's 72-hole scoring record and the scoring record in relation to par. Didn't bother him a smidge, though. He had "no idea" what either record was.
Justin Thomas, who finished 23 shots back at seven under, took to Twitter to summarize the feelings of the other 124 golfers who teed it up this week with this question: "What course did you just play???"
Harry Higgs, who finished tied for 11th at 15 under, saw the humor in it. "He's doubled my score. … My goal today was to go out and try to win the B Flight, because the A Flight was taken care of. It's unbelievable."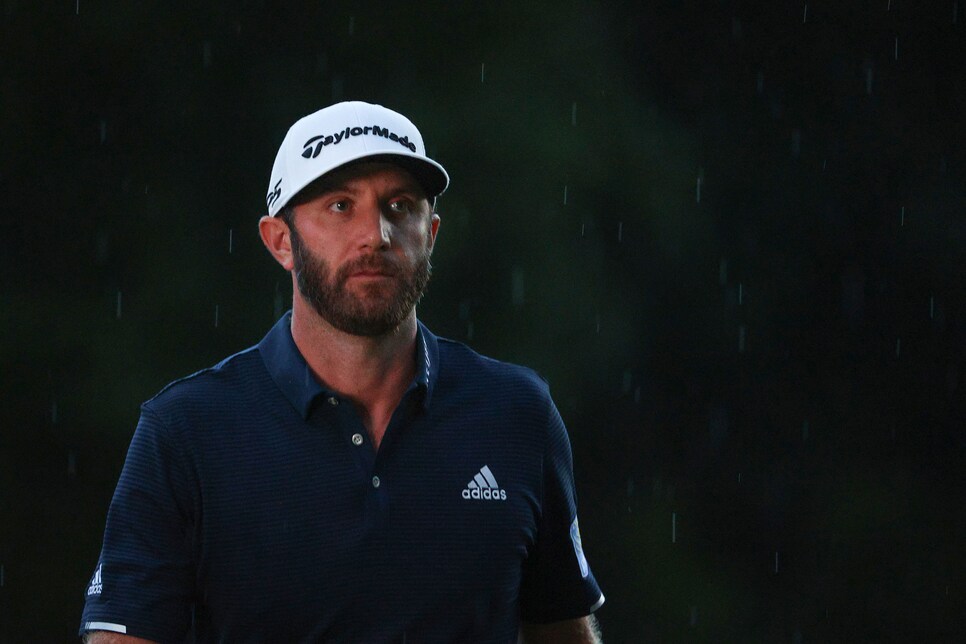 On Sunday, Johnson climbed to World No. 1 for the sixth different time in his career.
Maddie Meyer
Johnson's victory—the 22nd of his PGA Tour career—moves him back to No. 1 in the World Rankings. If you saw him play this week, that feels like something of a no-brainer. Only it's not. He's now the fifth man to hold that spot in 2020, the most in a single calendar year since the ranking began in 1986. It's also the sixth time in his career that Johnson has taken over the top spot. It's part of what makes him something of an enigma in golf circles.
When Johnson's engaged, there is no one better in the sport. The guy was 11 under par through 11 holes during his second round on Friday, by his own admission the best golf of his life. And yet when he stepped to the reachable par-5 18th, the easiest hole on the course, needing just a birdie to shoot 59, he promptly pulled driver for no apparent reason, hit a good one and watched as it bounded through the fairway into fescue.
When he parred the last hole to shoot "only" 60, everyone not named Dustin Johnson was legitimately disappointed. Dustin Johnson simply does not get disappointed very often, and certainly not after a round that saw him take a two-shot lead. He stretched that advantage to five after Saturday with a birdie-eagle finish for a 64­. On Sunday, the outcome was never in doubt after he made eagle on the second hole, his fifth of the week, which ties the tour record for a 72-hole stroke-play event.
"I felt good every day, obviously, and played good golf. But I was doing the same things, going to the range, all the time, hitting the same shots, and I just felt like I was really controlling the golf ball very well."
This is Johnson's fifth win of at least five shots since the beginning of 2017. That's Tiger territory. But Tiger paired his top-gear brilliance with ruthless consistency. With Johnson, you never know what exactly you're in for.
After finishing second at the 2019 PGA Championship at Bethpage, Johnson had just two top-10 finishes in his next 14 PGA Tour starts. He seemed to fade from relevance, from the best-in-the-world conversation, until he popped up out of nowhere to win the Travelers Championship in June. In his next competitive round, at the Memorial, he shot 80. Then he did it again. Then he headed to Minnesota for the 3M Open, shot 78 and withdrew with a bad back. Yup—the guy who shot 30 under par at TPC Boston played a three-round stretch in 23 over par four weeks ago.
Thus, Johnson was something of an afterthought heading into this year's PGA Championship, but shot 65 on Saturday at TPC Harding Park to carry a two-shot lead into the final round. That's when his former buddy—or, at bare minimum, one-time workout partner—Brooks Koepka took a thinly veiled shot at him. You remember it. Something about only one major.
The ultimate response to that comment would have been winning that second major. It wasn't to be—a precocious Collin Morikawa made sure of that—but Johnson did not show the slightest bit of disappointment. Because in his mind, there was no controversy to respond to. It may be physically impossible to upset this man.
Koepka withdrew from The Northern Trust before it began, ending his 2019-'20 PGA Tour season. Johnson then turned the tournament it into a personal talent show. He made a 7,300-yard, par-71 layout look like a toothless pitch-and-putt. The ball-striking was equal parts automatic and rhythmic. Automatic, because he hit power fade after power fade down the center of the fairway, then hit virtually every approach pin high.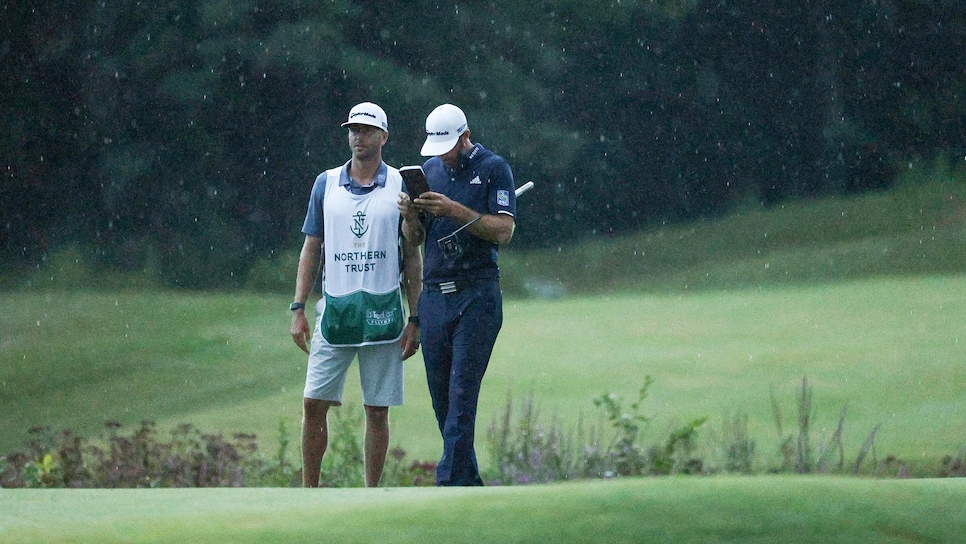 Aided by his brother/caddie, Austin, DJ has become a more reliable putter in recent years.
Maddie Meyer
Rhythmic, because Johnson plays refreshingly fast even as most of his peers seem keen on going the other way. That is, until he gets to the green, where Johnson's cadence changes entirely. He brings in his caddie/brother, Austin, who does his aimpoint express to help find the line. Johnson walks around all sides of the hole, looking at the putt from every angle, before pulling the putter back. That putter this week, coincidentally, was the same TaylorMade Spider Itsy Bitsy model that he used to reach World No. 1 for the first time back in February 2017. Since then, it's been a revolving door. He used three different flatsticks in three weeks before finally returning to the Spider just ahead of the PGA. In San Francisco, Austin joked that he would break every other putter Dustin has to leave him no choice but to stick with Ol' Faithful.
"Sometimes, you just need … the [putter] you're using, you just need to put it in time-out for a minute or two, and then it starts working again."
Will Johnson heed his brother's advice? Who knows. Will he finally win a second major? Perhaps, although time is marching on. Will he fade from relevance again with a inexplicably barren stretch of play? Could happen, too. Will he make more puzzling decisions, like that driver on 18 on Friday? Have to think so.
Will he win a bunch more golf tournaments, periodically reminding the world of his generational talent? That's for sure.