News
Dustin Johnson makes seven straight pars to close out 11-under 60 in Northern Trust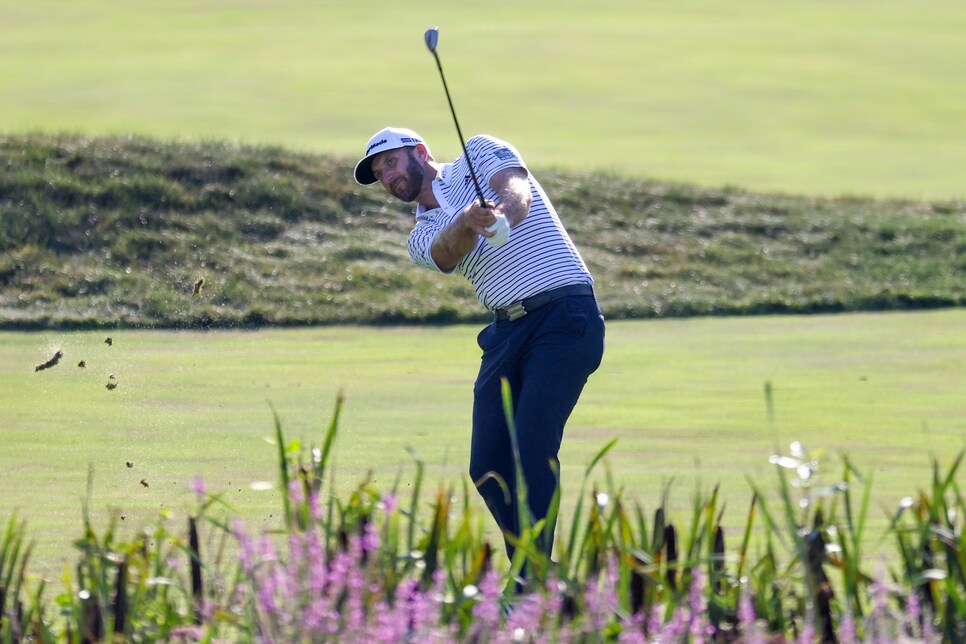 Dustin Johnson hits his wedge shot to the 18th green, but couldn't make birdie in shooting 60 on TPC Boston in the Northern Trust.
Rob Carr
Eleven holes into his round on Friday in the Northern Trust, Dustin Johnson was eyeing territory never before seen on the PGA Tour. He was 11 under through 11 holes at par-71 TPC Boston, and an incredible score seemed possible. 56? 57? 58? Even a 59 would make it a historic day on tour, with Scott Scheffler having shot 59 in the morning wave. Two 59s had never come close to happening twice in a single round.
But it was not to be, with Johson making seven straight pars to end his round and second-guessing himself on his final tee shot at the par-5 18th. Johnson used a driver on the last hole, his ball going through the fairway and onto a sidehill lie in the rough. After laying up his third shot, he came up 20 feet short of the hole, and his birdie effort for 59 drifted to the left.
Johnson shot 11-under 60 to hold the lead at 15 under, two shots ahead of Scheffler and Camerson Davis.
"Anytime you shoot a number like that, you're never going to be disappointed," Johnson said. "I'm definitely not. I feel like the game is in good form. I need to come out [Saturday] and do the same thing."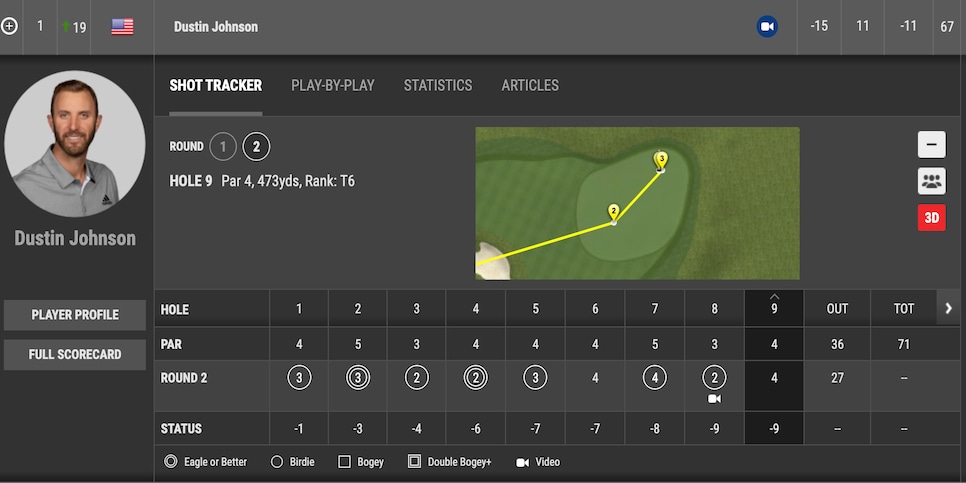 Along with the television commentators, Johnson said he probably should have used a 3-wood on the 18th tee.
"It is what it is," he said. "I was trying to get up there and get a short iron in my hand. Unfortunately, if [the drive] had been down in the flat of the rough I would have been fine and could have knocked it on. To be below my feet was a tough shot."
At the par-4 17th, Johnson had a 10-foot birdie putt that wobbled left and right before rolling over the cup's right edge.
Soon after Scheffler signed for the 11th 59 in PGA Tour history, Johnson was beginning to explode. He opened his second round on the front nine by going birdie-eagle-birdie-eagle-birdie before finally cooling off with a ho-hum par at the par-4 sixth. His response? Back-to-back birdies at the seventh and eighth holes, setting up a chance to shoot a front-nine, 10-under 26.
Johnson's drive at the ninth found the right rough, but he did knock his second on the green, leaving him with a 51-footer. He two-putted for par and an opening-nine of nine-under 27, which was enough to clip Scheffler's stellar front nine by three strokes.
Per stats guru Justin Ray, Johnson's 27 is just the sixth nine-hole score of nine under in PGA Tour history.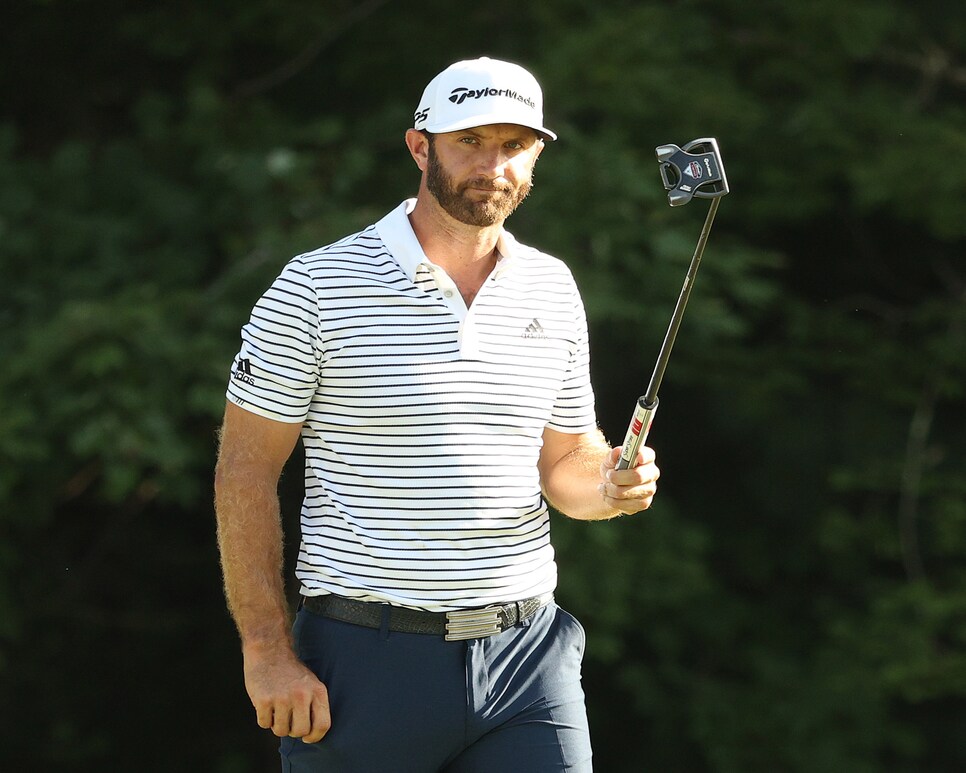 Dustin Johnson waves his putter after shooting 11-under 60 on Friday in the Northern Trust.
Maddie Meyer
The 21-time tour winner kept it rolling on the back nine, making birdies at the 10th and the 11th holes to reach 11 under through 11 holes. According to Ray, that had never been done in tour history.
Johnson was seeking to become the second player to shoot 58, with Jim Furyk having done so in the final round of the 2016 Travelers Championship.