News
Tour pros play on at the BMW, offer thoughts on racial injustice in nearby Wisconsin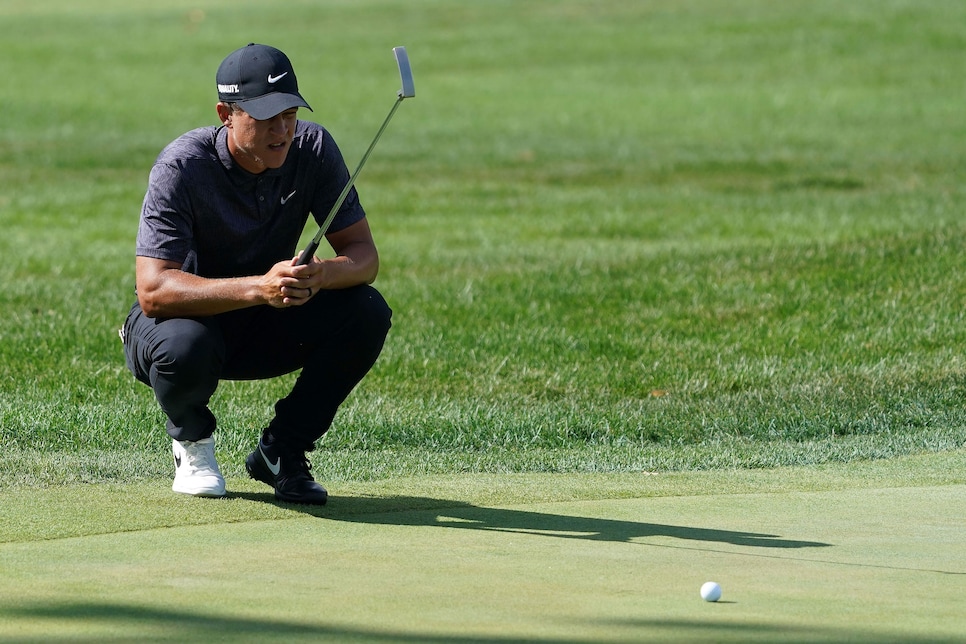 Cameron Champ wore a black and a white shoe during Thursday's first round of the BMW Championship in a statement against racial injustice.
Stacy Revere
OLYMPIA FIELDS, Ill. — The latest flashpoint in this summer of civil unrest lies just 90 miles north of Olympia Fields.
Kenosha, Wis., is a city of nearly 100,000 people, on the southwestern shore of Lake Michigan, a manageable drive up I-94 from the host course for this week's BMW Championship. It's where Jacob Blake was shot multiple times in the back by police on Sunday. The altercation was caught on cellphone video, and people have taken to the streets to demand change.
Some of the loudest, boldest calls have come from professional athletes. On Wednesday, the Milwaukee Bucks decided against taking the floor for their playoff basketball game, and shortly thereafter the entire NBA had called off a full day of postseason action. The WNBA, NHL and some MLB teams followed suit.
The PGA Tour went ahead with the first round at Olympia Fields on Thursday, shortly after issuing a statement supporting the efforts of the other sports leagues, and any of its tour members, for "standing up for issues they believe in."
As the 69-man field played on, there was a notable gesture of solidarity from Cameron Champ. One of four players on the PGA Tour with Black heritage, Champ wore one black shoe and one white, and wrote "Jacob Blake", "Breonna Taylor" and "Black Lives Matter" on them.
After the round, other players shared their thoughts on what is happening in Kenosha, and in America.
"Anyone that's willing to have the uncomfortable conversation about systemic racism, and just that in general in our country, I think it's a healthy thing for all of us," said Tony Finau, whose cousin, Jabari Parker, plays in the NBA. "We continue to learn from each other in a positive way, [and] I think is the most important thing. We all have different perspectives as we go through our life. Listening to each other I think is a big deal … and as a society I think it's our responsibility to just listen and pay attention to what's going on around us,"
But was there any thought of following the lead of the other leagues and not playing at Olympia Fields? Champ said he considered it.
"I definitely thought about it for sure, but obviously I feel like I can do a lot more playing, and again, showing my support and expressing myself," he said after shooting 77.
"I think that's great for the NBA," Champ said. "I mean, all the guys sticking together, which again, the NBA is—I don't know the exact numbers, but it's probably around 90 percent are African-Americans, so that's their whole organization. So just to see them come together and talk about it and obviously they ended up … they're going to continue the season, but just to boycott their last few games, again, I think that's a huge step in all of sports."
Finau, who is of Tongan descent, said he did not consider sitting out on Thursday, but did reinforce his previous calls on the need for change.
"No, it didn't really cross my mind," Finau said of a potential withdrawal. "But I understood the magnitude of what the NBA was doing and what they were boycotting for, and I know the PGA Tour is in full support of that. And again, it's a conversation that's uncomfortable, sensitive for our country, but if we're not willing to have those, I don't think we can move forward as a country. I'm open to having a conversation with anybody on the issue, and again, I think we're in full support of what the NBA has done."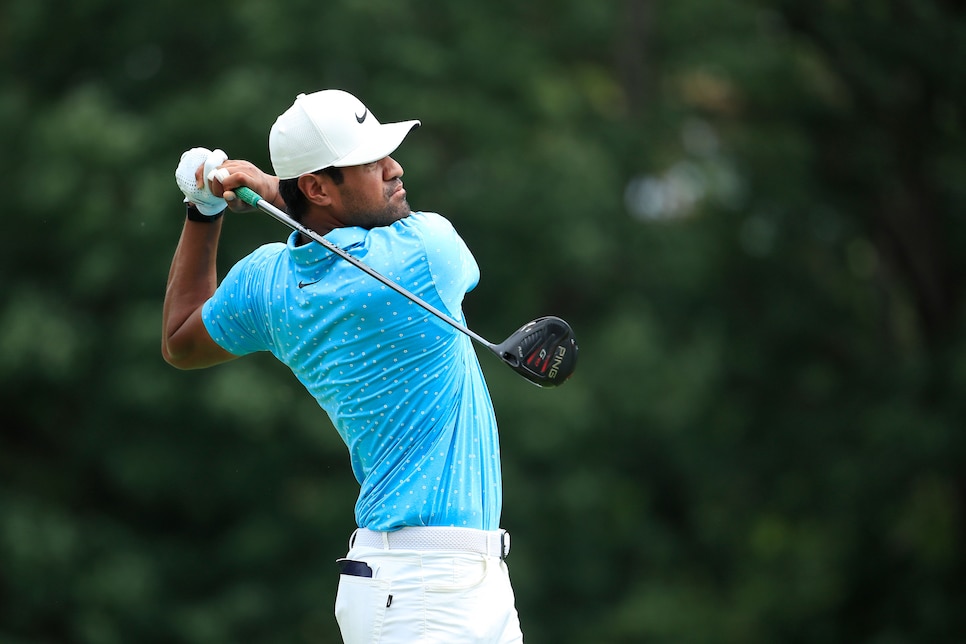 After his round, Tony Finau spoke of the need to continue to have "uncomfortable conversations about systemic racism."
Andy Lyons
Tiger Woods, who opened with 73, said he spoke to PGA Tour commissioner Jay Monahan after seeing what was happening across other sports leagues.
"I talked to the commissioner and they were on board [supporting the other leagues]," Woods said. "Obviously, he released his statement, and all the guys were on board. Obviously, there was talk about it because of what happened, but we're all on board, on the same page."
Mackenzie Hughes, who is white and from Canada, was asked his thoughts.
"That's tough. It's a very difficult topic, one that's been talked about a lot," Hughes said. "I think there's no question that there's a problem, and I hear both sides. I do a good job of trying to listen to both sides and hear both sides. We need to come to a solution for sure. There's no reason for that much force to be used in that kind of situation. I think we can all agree on that. Yeah, it's just unfortunate that we're dealing with this in this day and age."