Breakfast for Dinner
Trevor Lawrence's post-Wild Card Waffle House order is the stuff of legend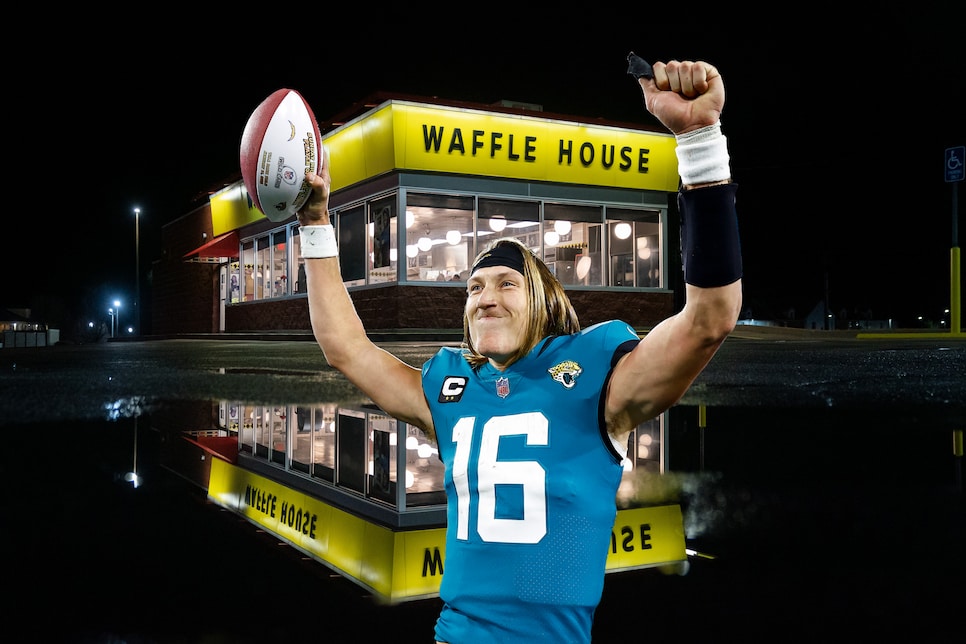 On Saturday night, the Jacksonville Jaguars stormed back from 27 down to beat the Los Angeles Chargers, the third-largest playoff comeback in NFL history. The Jags were all but kitty litter after four Trevor Lawrence interceptions in the first 20 minutes, but the former Heisman winner caught fire in the second half, rallying the team to its first postseason win of the post-Urban era. It was a playoff performance for the ages, matched in epicness only by Lawrence's celebratory Waffle House order after the game. Dig in.
There's so many incredible, ahem, nuggets in here. First of all, Lawrence's wife trying to make a reservation at Waffle House is an all-timer. If the Jaguars go on to win the Super Bowl, give this woman a ring. Then you have the mental image of the Jaguars rolling up 20 deep for a family-style dinner at 2 a.m. Finally, there's Lawrence's order—one Texas bacon cheesesteak, hash browns (smothered, of course), and a pecan waffle. Enjoy it while you're young, kid. You won't get away with that forever.
The fully-refueled Jaguars now head to Kansas City to take on the number-one seed Chiefs. If they somehow pull out an upset as 8.5-point dogs, then another fast-food celebration will surely be in order. We're not sure if they have Waffle Houses in Kansas City, but if not, Patrick Mahomes' personal favorite, Whataburger, should do nicely.