As we speak, the traveling circus that is the PGA Tour is packing its bags and setting a course for points eastward, bound for Florida, the second swing of the calendar year as men's pro golf marches on toward April and Augusta. For now, while we have a second to reflect on 2023 so far, let's look back at Hawaii and California and pick out the highlights from what has already been a monster year on tour. Through seven events, five unique winners, and an unquantifiable amount of drama, these were the most memorable takeaways from the West Coast Swing.
The "designated" events really, really worked
Humor us and look at the year 2023 in golf as an important transitional moment that will be judged largely by what choices the PGA Tour makes. And whether you think the tour's new system of "designated" events was a response to LIV Golf or just a natural evolution of the game (at the very least, it doesn't seem like it would have happened this quickly without LIV), and that this shift was tested for the first time over the past two months, you'd be hard pressed to find anyone this side of Greg Norman who would deny that the first three—Sentry Tournament of Champions, WM Phoenix Open and last week's Genesis Invitational—have all been, to mix sports metaphors, home runs.
There's a great moment in the new Netflix documentary "Full Swing" when Rory McIlroy recounts what he said at the players' meeting regarding the mandatory nature of the events—eligible players must participate in 12 of the 13 non-major tournaments the tour has branded with the "designated" label. Essentially, McIlroy argued, no other athletes get to choose where and when they play, and it was going to be a necessary "sacrifice" for players who like to make their own schedule. It was a major point of contention, but seemingly the top players on tour have bought in for now, and the results have already been tremendous. These fields have been outrageously good, the leaderboards equally stellar and, if you count the majors, it means we get to see the world's absolute best (save for Cameron Smith and a few of the other still in their prime LIV Golf defectors) go at each other 17 times per year. We're getting into subjective territory here, but take the pulse of the golf world, from media to fans, and you'll see the same reaction—this has already been the most fun January and February we've seen in ages, if not ever.
We'll get into the specifics as we go along here, but if the goal of designated events was to mitigate the pain of losing some of the world's best or most famous figures to LIV by ensuring top-notch fields, you have to say it's already Mission Accomplished.
La Furia Rahmbo esta aqui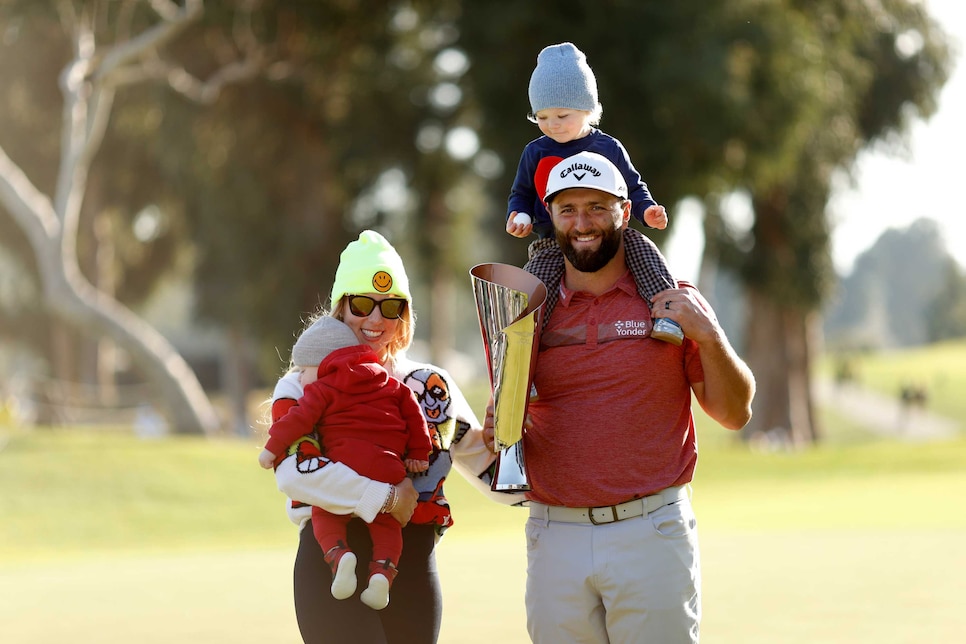 Jon Rahm celebrates with his wife, Kelley, and their two sons, Eneko and Kepa, on the 18th green after winning the Genesis Invitational and returning to World No. 1.
Cliff Hawkins
"La Furia Roja" is a nickname of the Spanish national soccer team, derived from its direct, aggressive style when the game first came to Spain in the 1920s, and we can think of no better way to describe what Jon Rahm has accomplished by winning three of the seven West Coast tournaments, including two of the three designated events. Using what looks like the most basic swing in the game, an adaptation to his clubbed right foot, Rahm bludgeoned his way to a hot streak that is not quite Tiger-esque, but might be as close as we've come since the great man's heyday. (It's at least on par with Scheffler in 2022 or Rory in 2014, at this point.)
Unlike Tiger, though, Rahm's wins have been more dramatic, starting with the great Sunday rally to catch Collin Morikawa at the Sentry TOC and continuing through the decimation at La Quinta at the American Express. The climax, with Rahm chasing down and beating Max Homa, the world's other hottest player on Sunday at Riviera, just served as confirmation that when it comes to the game's hierarchy, the top of the food chain is very much occupied by the man from Basque Country. (Oh, and now the world ranking finally says it again, too.)
Max Homa and the ascent that won't stop
For a long time, Homa seemed like the kind of player for whom actually winning an event, as he did in 2019 at the Wells Fargo Championship, would end up seeming like a nice lifetime achievement award … as in, "hey, the funny guy we all love from Twitter got hot at the right time and held on! Pretty cool!" For almost two years, you could nearly believe it. Then, he won the 2021 Genesis and Fortinet, repeated at the Wells Fargo and Fortinet in '22 before emerging as an absolute killer at the 2022 Presidents Cup, and then—only then!—seems to have turned on the gas, grabbing a win at Torrey Pines last month and giving Rahm everything he could handle at Riviera. His emotion afterward, from admitting the pain he felt to vowing to win again, was spectacular:
The gift of watching Tiger play golf
The party at Phoenix still works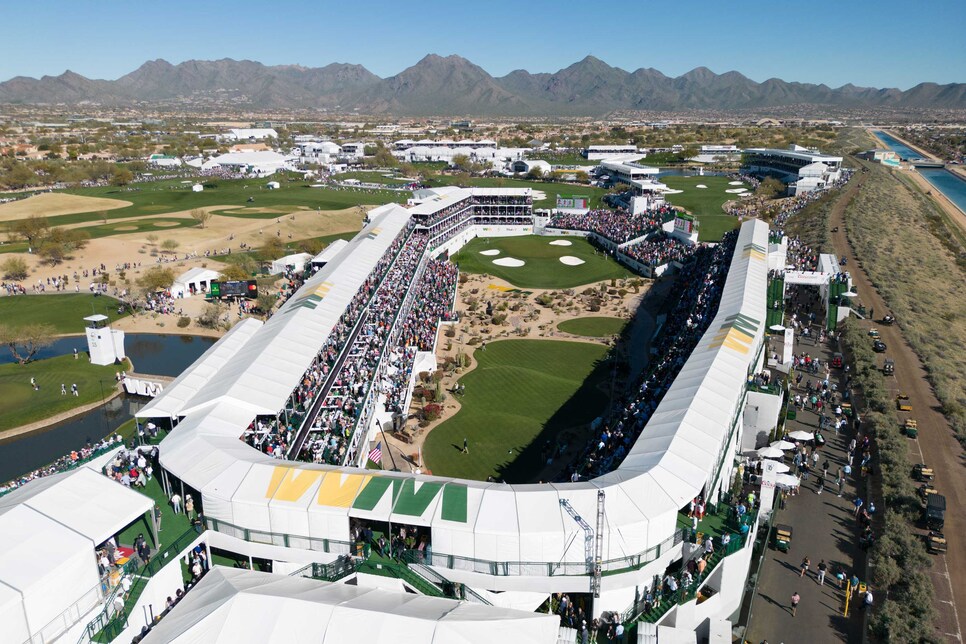 The 16th hole at the WM Phoenix Open is its own kind of crazy.
Ben Jared
Ask a dozen golf writers if they actually like the atmosphere at Phoenix, and you'll probably get a dozen different answers, ranging from "hell yes" to "send everyone involved to prison" to "can we just stop talking about it? Please?" Nevertheless, for one stop each year, having a raucous environment at a PGA Tour stop, with "raucous" turning to "bedlam" on the 16th hole, is a terrific change of pace. The story is done to death each year, and that will not change, but frankly, give me the drunkards and streakers of the 16th hole over the chirpy isolated hecklers at every other tour stop.
Have you noticed who's back?
We've already mentioned his name, and you may remember him from winning two majors at an absurdly young age. Yes, it's Morikawa. He played four of the seven West Coast events, and his finishes were 2, 3, MC, and T-6. He had six top-10s in all of 2022, and he's already up to half that number in February. At times, it seems like the world of professional golf moves so ridiculously fast that you forget players who thrived in very recent memory, and Morikawa definitely fits the bill after a year outside the winner's circle. But though he didn't pull out a victory in his promising early start to 2023, it was nevertheless a clear announcement for anyone paying attention; the wunderkind is back.
Seamus Power takes the consistency prize
There were a few guys who made five cuts on the swing, and one who made six, but Power was the most unblinkingly consistent of those, packing in five straight finishes between T-14 and T-25. Never inside the top-10, and never outside the top 25? That's impressive, in an almost unimpressive way. Slainte, Seamus.
Shhhhh … RickieFowlerMightBeBackToo … shhhhh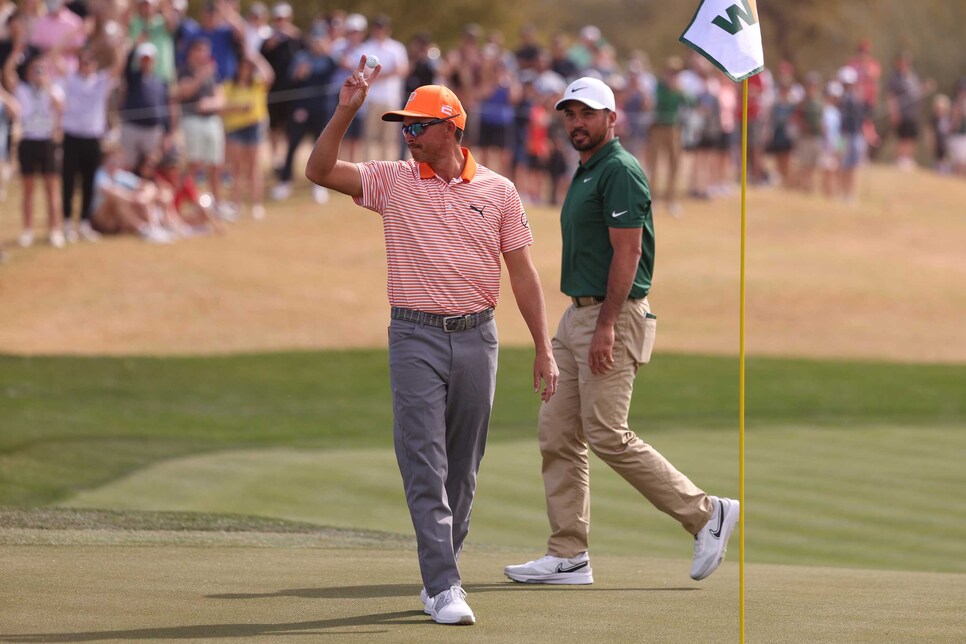 Rickie Fowler waves to the crowd after making a hole-in-one on Sunday at the WM Phoenix Open.
Maddie Meyer
It would have almost been too much to take in an otherwise action-packed two months of golf to contemplate the grand return of one Rick Yutaka Fowler to the upper echelons of the professional game, so we're not going to say a word. We're not going to say that he went 4-4 on cuts and is on a streak of three straight top-20 finishes. That he's already moved up 31 spots in the world ranking so far this year, with the top 50 a goal between now and the Masters. We're not going to say it. We're NOT. Shhhhh …
Don't sleep on Scottie Scheffler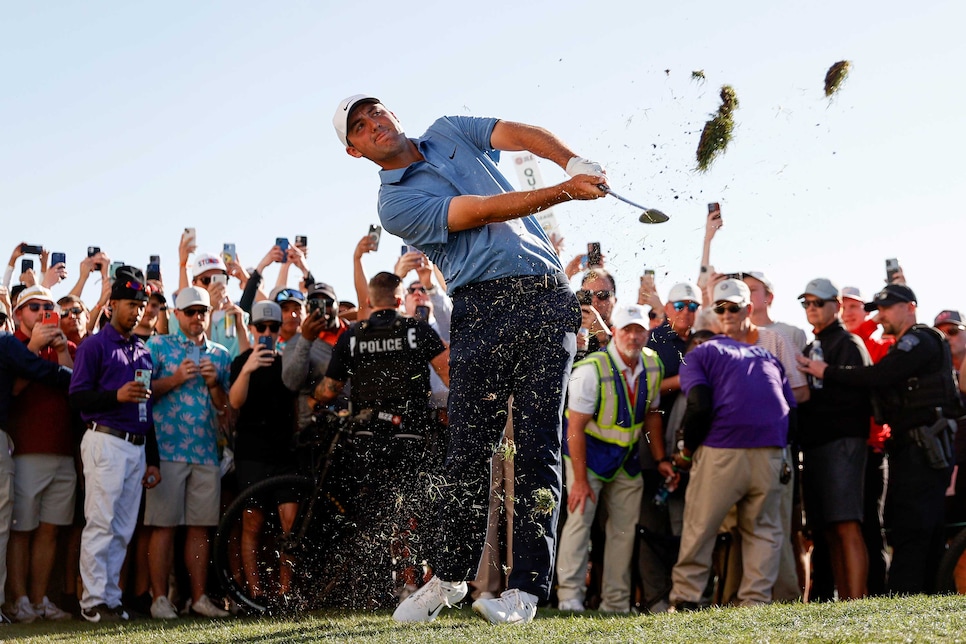 Scottie Scheffler repeated as the winner at the WM Phoenix Open and showed he still has plenty of game after a monster 2022 season.
Steph Chambers
Remember him? The guy who rose to World No. 1 on the strength of taking a blowtorch to the entire golf world for an entire spring less than one year ago? He's still around! And he won at Phoenix again! Yeah, he had the No. 1 ranking forcibly ripped from his grasp by Rory and then La Furia, but he held out as long as humanly possible, and the man is still out there playing elite golf, and after a couple close calls, he got his first win since the Masters while proving he can beat the world's best players at an elevated event. If the golf gods are good, we will get a Scheffler-Rahm showdown at Augusta.
Outside the ropes, a big moment in LIV v. PGA Tour
Unless you have a law degree, it's been hard to keep track of all the legal maneuvering that lawyers for both LIV Golf and the PGA Tour have been undergoing in the court room in recent months. But a decision by a magistrate judge in California last week that states that Saudi Arabia's Public Investment Fund must present documents in discovery and that its governor, Yasir Al-Rumayyan, must sit for deposition with PGA Tour lawyers is big one in the on-going saga between the two rivals. The LIV backers had hoped sovereign immunity would shield them from subpoenas. They will certainly appeal the ruling, which will drag out the case more, but if compelled eventually to handover the documents, it would be an extraordinary look at the wealth fund. So extraordinary that some legal experts wonder if it might just cause LIV to drop its suit rather than hand over the materials.