Tiger Watch
Tiger Woods flashed one of the all-time greatest grins at Justin Thomas after topping his birdie at Riviera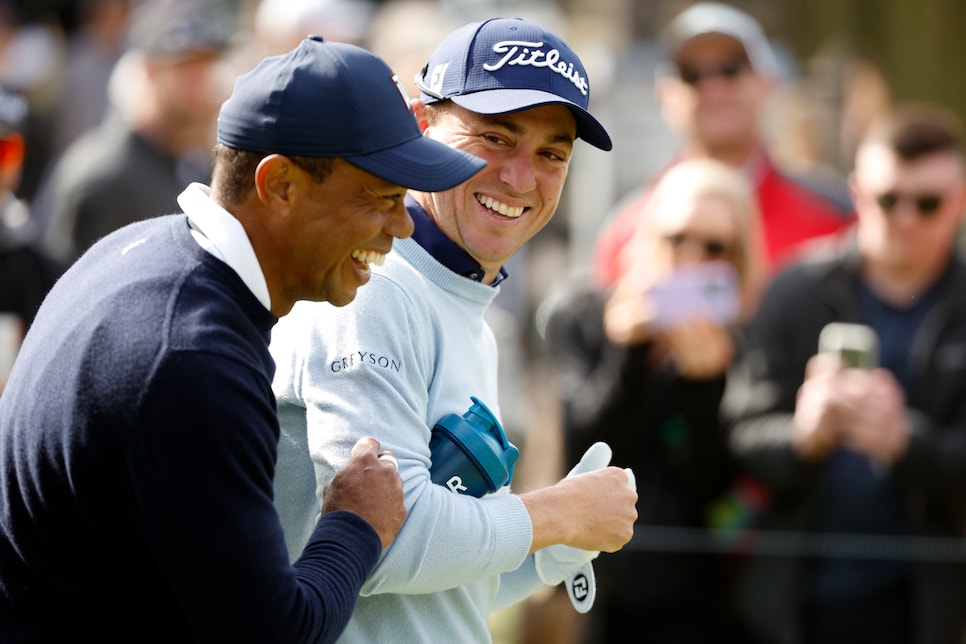 PACIFIC PALISADES, Calif. — The "look" was absolutely priceless. Anybody who's ever topped a buddy's birdie with their own to win a buck or two would recognize the pure joy in the slightest of smiles. That was the silent exchange that took place between Tiger Woods and Justin Thomas on the 18th green Thursday at Riviera.
The setting was this: Woods, Thomas and Rory McIlroy arrived at the closing hole of their first round in the Genesis Invitational, all at under par for the day and grinding to finish as high as they could on the board. Woods was coming off two straight birdies; Thomas had birdied 17; and McIlroy had the best score at three under, even after burning the edge with his birdie putt on the previous hole.
As they approached Riviera's famous last green and sunlit clubhouse in the background, Thomas missed the green in the right fringe, while McIlroy and Woods drew roars with approaches to makeable birdie range.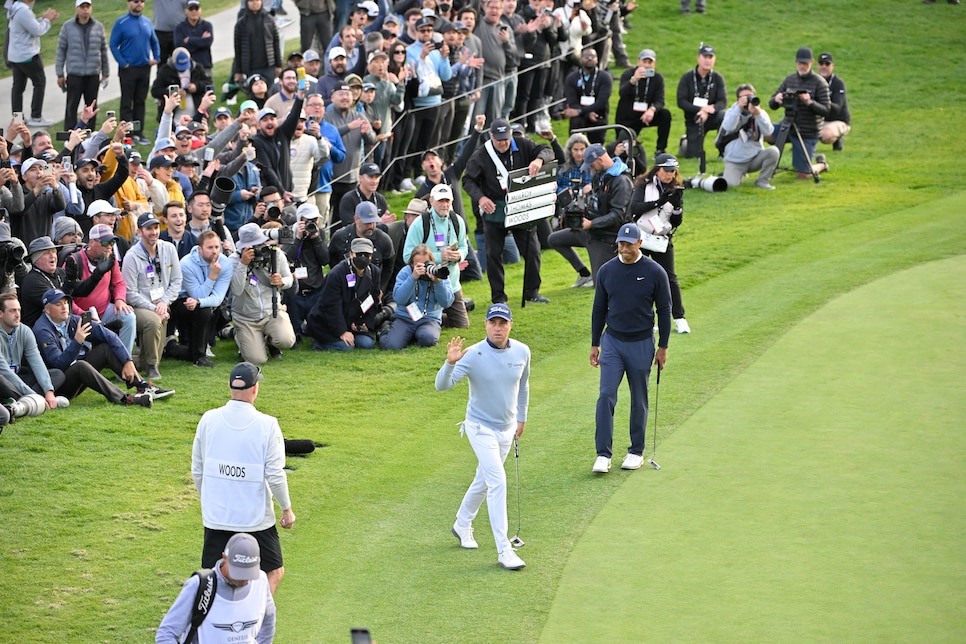 Justin Thomas after making a birdie putt on the 18th hole.
Ben Jared
Thomas played first, and he watched intently as his 28-foot putt rolled in for a 3 that finished off a three-under 68. Badly wanting to match, Woods carefully stalked his 7½-footer and his roll found the heart of the cup to complete his rally to a 69. The crowd burst into cheers and Tiger offered a small fist pump. But the classic moment came when Woods sidled up near JT at the side of the green and flashed him the "look."
It was one of those athlete-to-athlete moments that will make us smile for a long time.
Fittingly, the fun wasn't over. McIlroy produced the best approach to six feet, and though he let a few strokes get away on the greens, he had no trouble making it a trifecta of birds for the group.
"JT hoops one in there and Rory's been beating us all day," Woods recounted later. "He's nervous as can be because he didn't want to be the one to miss on 18. I didn't want to be the idiot host to miss it right in front of everybody after I just went birdie-birdie."
For the day's Super Group, it was a super satisfying ending.