TAKEAWAYS
Homa's 'very good' hole-out, the Kuchars are everywhere and Rory doesn't love Tiger hitting it by him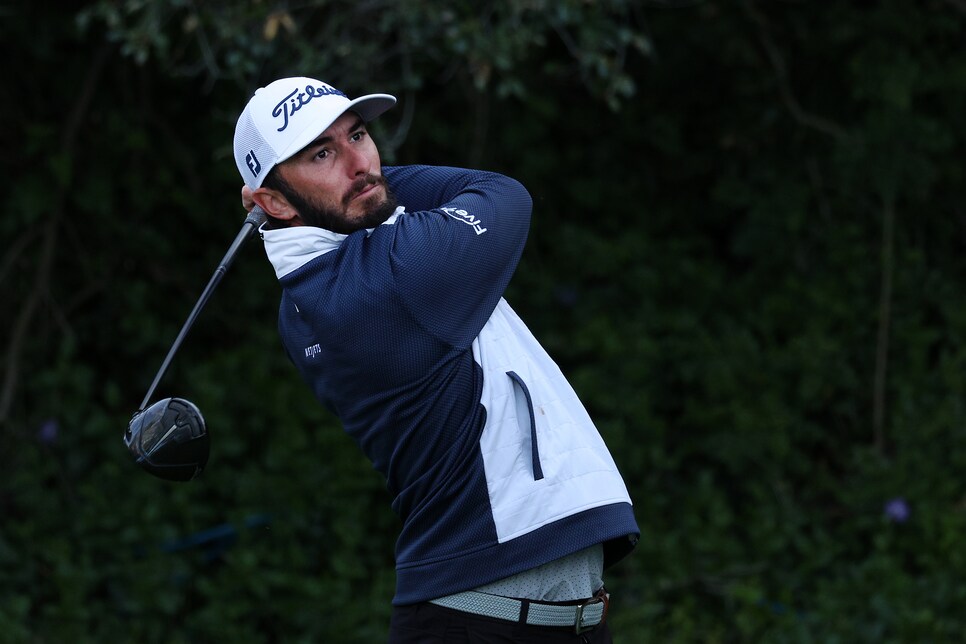 PACIFIC PALISADES, Calif. — Max Homa called his thrilling hole-out from a greenside bunker at Riviera Country Club's par-4 10th the "coolest way" he's ever started a round of golf. His overall start to the tournament was pretty cool, too. A seven-under 64 catapulted one of the PGA Tour's hottest players to the top of the Genesis Invitational leaderboard alongside Keith Mitchell after Round 1 in Los Angeles.
Play was suspended due to darkness with nine players still on the course.
Homa knew the round was going to be a good one from the beginning; after leaving himself in a tough spot for his second shot at the iconic 10th at Riviera (Homa's first hole), he misjudged a flop shot that landed short and rolled into the bunker. But the World No. 12 holed the shot for birdie en route to becoming the co-leader at the event he won in 2021.
Jon Rahm is one back after a 65.
"I would have taken par after my tee shot," Homa said. "I would have taken par on the tee [even before his drive]. That was cool. I told [my caddie] that was probably the coolest way I ever started a round because I hit a good drive and we were kind of praying. I had a not-so- good lie in a not-so-great spot and I hit a pretty good flop shot, but it came up a step or two short and now I'm staring bogey or worse in the face. I collected myself. I knew I hadn't done a whole lot wrong so I trusted my bunker game. I hit a very good bunker shot, I will say, but that was a nice boost."
A nice boost, alright. Homa added seven more birdies, and only one bogey at the par-4 15th.
The 64 came after the L.A. native thought his hot streak was over when he carded a poor round of one-over on Sunday at last week's WM Phoenix Open. But the six-time PGA Tour winner stayed cool, because he knew he has been playing great golf. He resisted the urge to change anything in his swing or game and the patience paid off.
"Seven under is hard to ever predict, but I knew I was feeling great and I should play well," he said. "I had a not-so-fun Sunday at [Phoenix], but my game didn't feel awful. I feel like old me might have went looking for something. But I knew it wasn't that far off. So I guess I would say I did see a good week coming.
"I've been [getting] close to not needing to see results to know how good I am, I think that's important," he said. "That fear of losing it is also why I get so excited when I get to the golf course every day and I hit my first iron shot and [think] … I've still got it."
Here are three other takeaways from Round 1 at the $20 million Genesis Invitational.
Keith Mitchell cooking and scrambling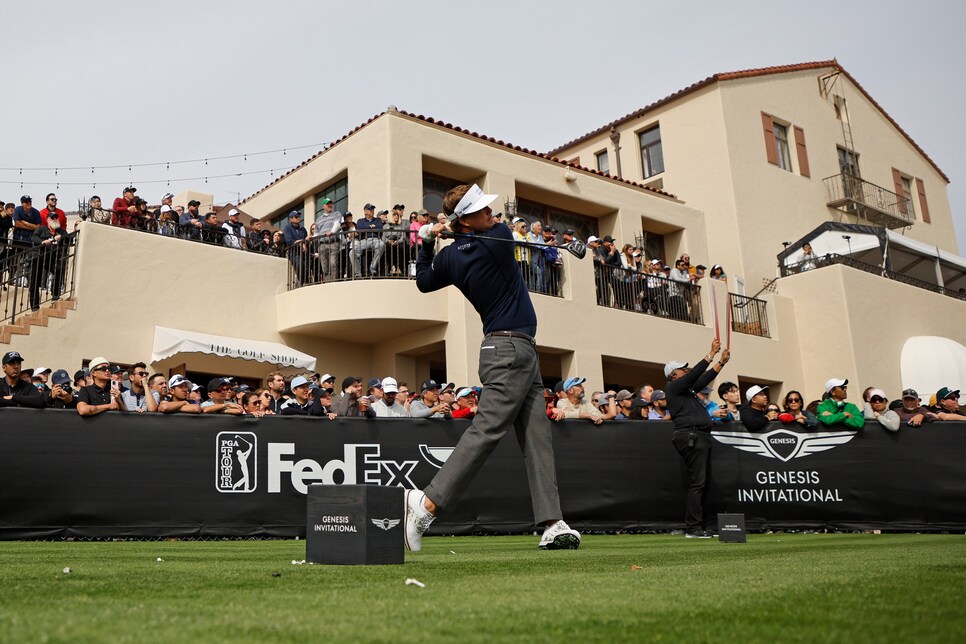 Keith Mitchell plays his shot from the first tee during the first round of The Genesis Invitational.
Cliff Hawkins
In search of his second career PGA Tour win, World No. 56 Keith Mitchell sought the help of noted short game whisperer, Parker McLachlin. The Hawaii native and a PGA Tour winner turned short-game coach helps several of his fellow PGA Tour pros around the greens, including Mitchell. It's been paying off, including a recent T-4 at Pebble Beach for Mitchell, but particularly at Riviera on Thursday when Mitchell (64) saved par on all five of the greens that he missed. Two of those were bunker shots.
"It was about a year ago I would say … I was just practicing on the range at Phoenix and I just met up with Parker and he just taught me a few things that I didn't really understand," Mitchell said. "From there I've just been able to take it and just understand my feels versus the physics of how chipping works. He taught me that really more than anything.
"My short game's definitely improved a lot [since then]. To match it up with my driving and ball-striking is something I've been working on for my whole life really and I feel like recently it started to click a little bit more. Just a different understanding of how the loft and the bounce in the club and the shaft all work through the ball, something I never really was a student of the game of. Recently I dug my head pretty deep into that and been able to use it on the golf course now."
A reminder the Kuchars are a sporting family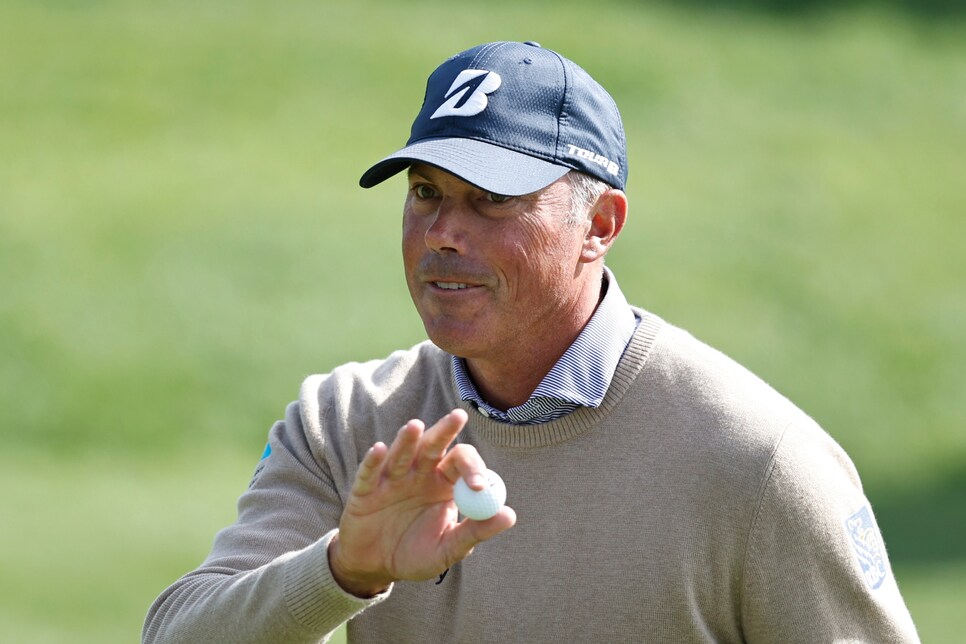 Matt Kuchar reacts after making birdie on the ninth green during the first round of The Genesis Invitational.
Michael Owens
Matt Kuchar shot a 66 on Day 1 at Riviera to sit five under and just two back of the lead and is tied with two-time major winner Collin Morikawa and Harris English. On the other side of the country, his son, Cameron, tried to pre-qualify for the PGA Tour's Honda Classic.
He's only 15, so his three-over 75 was very respectable. Kuchar and his wife, Sybi, who was a college tennis player at Georgia Tech, have another son, Carson, who is competing in a tennis tournament on the weekend.
"Yeah, they finally hit that age [when they can't travel to PGA Tour with dad]; I knew it was coming," Kuchar said Thursday. "The youngest has a tennis tournament this weekend. My oldest is trying to pre-qual right now for Honda. I'm excited for him. He's turned into my little training buddy at home. Doing great, playing really good golf, has all sorts of potential, seen him shoot really low scores."
Tiger Woods outdriving Rory McIlroy?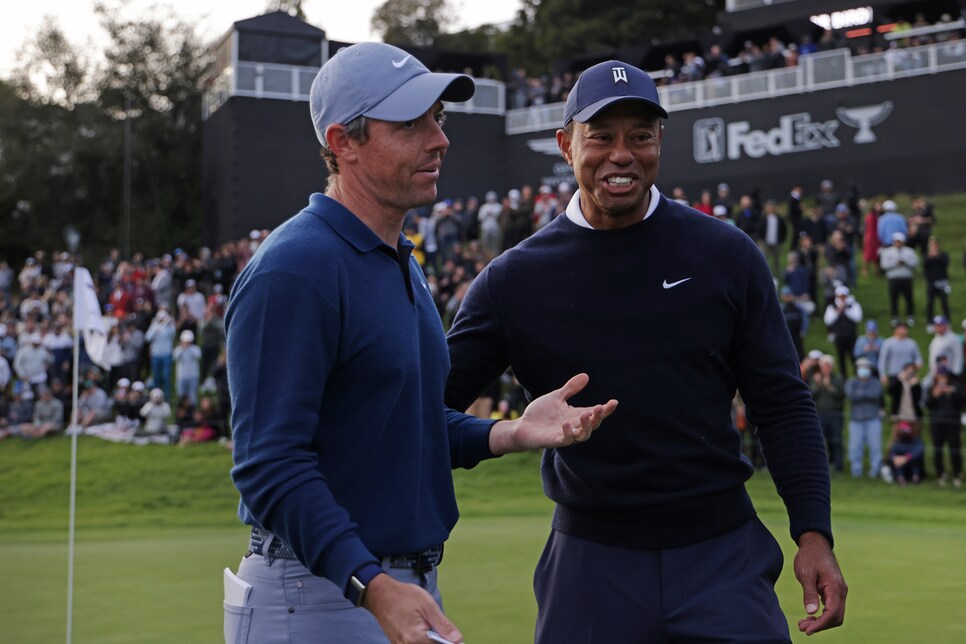 Rory McIlroy and Tiger Woods both make birdie and walk off the 18th green Thursday after the first round of The Genesis Invitational.
Harry How
The golf world was thrilled to see 15-time major winner and tournament host, Tiger Woods, tee it up in an official PGA Tour event for the first time since the Open Championship last July, after a seven-month break due to a chronic ankle injury.
Woods, doubling as the Genesis Invitational tournament host, wowed the crowds with a spirited, two-under 69 that featured three closing birdies. What was also impressive was the fact the 47-year-old, often-injured Woods still gets the ball out there. So much so that he outdrove playing partner, Rory McIlroy, several times at Riviera. Among those were the par-5 11th (Woods drove it 338 yards to McIlroy's 337), No. 15 (331 yds to 326 yds); and then on No. 18 when Woods clipped McIlroy by two yards.
McIlroy joked that he would hit the range to fix that deficit.
"I know, I'm going to go work on the range," McIlroy said after his 67 put him at four under.
"I put my driver up a click in loft at the start of the week, I might have to turn it back down again. I don't like him hitting it by me."