Rules
Jon Rahm made no apologies for TIO relief that riled up Golf Twitter on Saturday at Riviera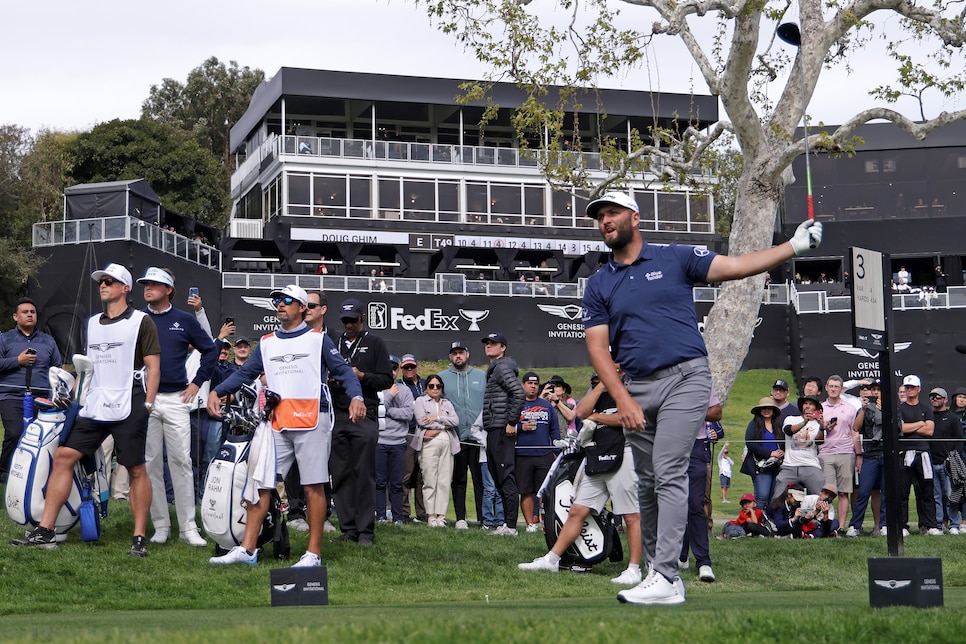 PACIFIC PALISADES, Calif. — There are two things guaranteed to send Golf Twitter into a tizzy every week: 1) Too many commercials/not enough golf shots being shown during a broadcast window, and 2) An iffy rules situation that involves a player "taking advantage" of the rules and escaping with minimal, and sometimes zero, damage. Given that the former situation has already improved dramatically in 2023, the latter situation(s) get a little extra attention, particularly when it's a top player on television.
Last week, it was Xander Schauffele who had social media all hopped up on Mountain Dew when he was granted a free drop despite his ball being up against a tree in the third round of the WM Phoenix Open. On Saturday at the Genesis Invitational, it was Jon Rahm, the 54-hole leader at 15 under, who had Golf Twitter breaking out their collective magnifying glass and searching for clues.
The situation: at the par-4 third, the Spaniard badly pulled his tee shot into the trees left of the fairway. His ball actually came to rest in some sort of fenced area that some were referring to as a parking lot, which was not the case. It was more of a staging area for equipment, one that is referred to as a TIO (temporary immovable obstruction). Grandstands and tents are the most typical TIOs, but this was neither. The shot was so wayward that Rahm wound up hitting a provisional, though he was almost positive it was a TIO, which he would be granted free relief from.
"I was 99.9 percent sure it was TIO," Rahm said afterward. "But take advantage of the rules and hit a provisional at least. If I hit it good I have a different visual in mind going through the round. And that .9 percent is just in case. I don't want to be walking back up to the tee and if I can, just saving time as well."
Rahm took serious advantage, as this nice graphic from CBS Sports' Kyle Porter shows:
Of course, the thought amongst golf fans with a seriously watchful eye is that wayward shots should be punished more harshly than this. Here, Rahm got a free drop back in play with an unobstructed look at the green, leading to a par save. This comes one day after Rahm got an all-time lucky bounce off a grandstand right of the 17th green, which resulted in a kick-in eagle. Considering he is currently leading Max Homa by three shots, these are two moments that could loom very large on Sunday evening.
As Rahm explained, what he did was completely within the rules, no matter what anyone thinks of it. He's certainly not the first to take advantage, and he won't be the last. There's no telling how many times stuff like this happens with players who aren't the focal point of the broadcast, either.
When asked if he felt he should be punished more harshly for a poor drive, Rahm simply replied "no."
"They needed that for the tournament," Rahm said of the TIO. "On a regular day, there's nothing there and I would be able to play my golf ball from where it was. So no."