Those are the breaks
Jon Rahm 'embarrassed' by what he called the luckiest bounce of his career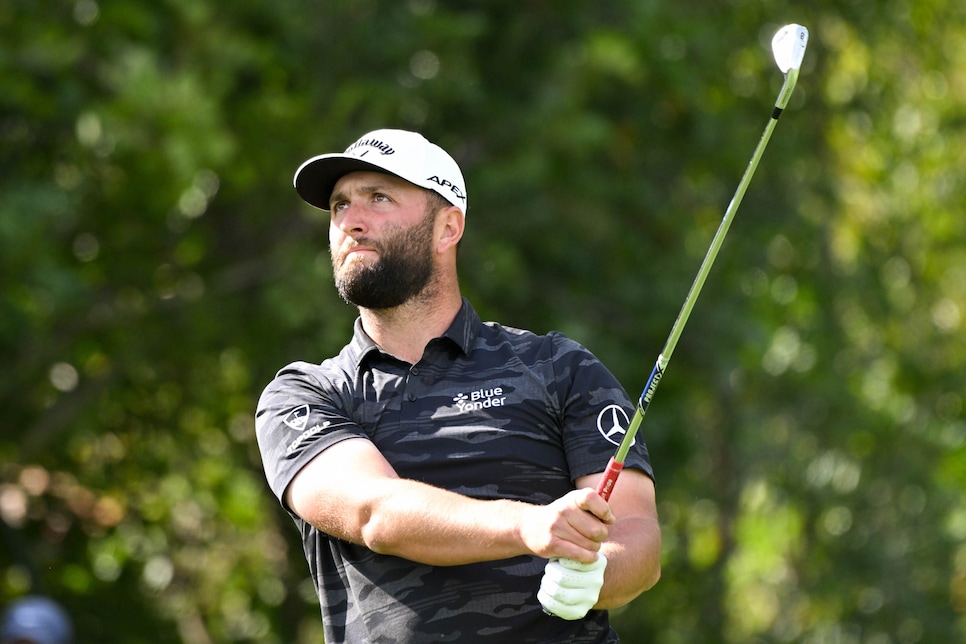 Jon Rahm tees off on the sixth hole at the Genesis Invitational.
MediaNews Group/Los Angeles Daily News via Getty Images
PACIFIC PALISADES, Calif. — Jon Rahm is enough of a sports fan that he came up with a tremendous comparison to what he called the luckiest break of his career during the second round of the Genesis Invitational on Friday.
The subject was fortunate bounces, and Rahm, while waiting to do a television interview, conjured from his brain an interception that Georgia got against LSU this past season when the ball caromed off the helmet of a Tigers receiver. "Embarrassing," Rahm said with a smile.
He used the same word numerous times to describe his break on Riviera's par-5 17th hole that led to an eagle and gave him a tie for the lead—before the Spaniard bogeyed the 18th to be in a three-way tie for second behind Max Homa.
In shooting three-under-par 68 late in the day, Rahm made two eagles in a round for only the third time in his career. The first one on Friday was fairly routine when he rolled in an 18-foot putt after a 6-iron approach from the rough at No. 1, which plays as the easiest hole at Riviera. The second one … well, he couldn't believe his good fortune.
The 604-yard 17th had a tough back-right placement that yielded only three birdies on the day, and Rahm was trying for a soft cut. He said he would have been fine with leaving it in the greenside bunker. Instead, his overcooked 5-wood hit into the soft facing of the grandstand and seemingly had eyes as it rolled around the bunker, onto the shorter grass and trickled like a chip to three feet, eight inches below the hole.
Rahm saw it all and put his hands to his face as if he'd gotten a terrible break.
"Obviously, I got very fortunate to get that bounce not only to go on the green, but to have basically three feet straight up the hill," Rahm said. "That's arguably the best bounce I've seen in person my whole golf career and it would be hard to beat in the future. For those wondering, no, did I not call bank. I don't think anybody calls bank in that situation."
"There's almost a little hint of embarrassment because come on, that is very, very lucky," Rahm later added. "But I feel like as a golfers we get plenty of bad breaks in our lifetime, to get one of those we should cherish it because I won't see something like this in a long time."
Rahm said he's watched compilations on YouTube of lucky golf shots, and he recalled one shot going in off a tree and another by European Tour player Robert Rock, who ricocheted an approach off a Roman bridge and made eagle.
It was suggested to Rahm that he now will be included in that reel.
"I hope it's in it," he said. "If anything beats that, I'll be very surprised."