PGA Tour
Max Homa, fighting back tears, says he will win again at Riviera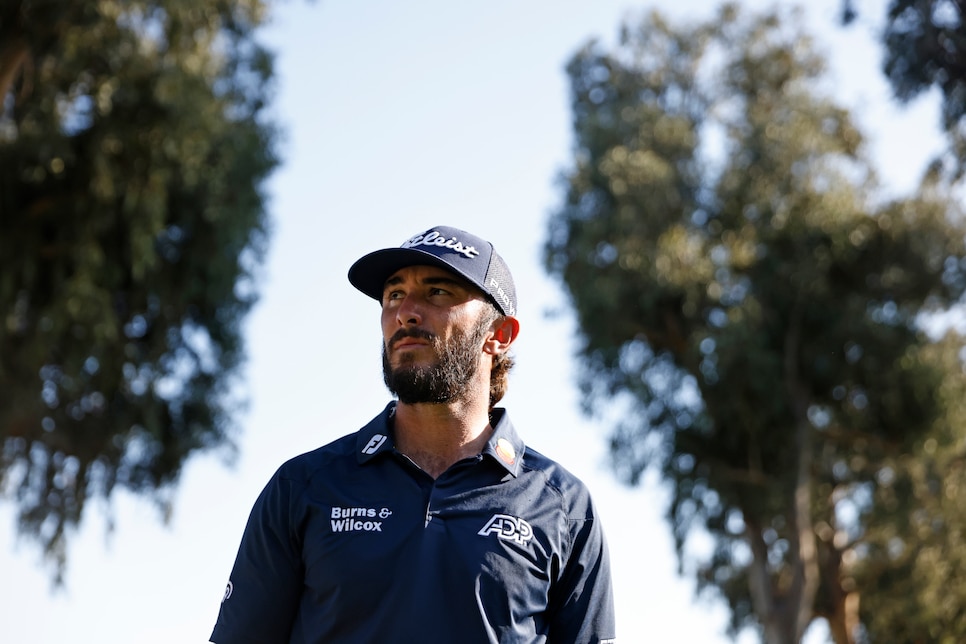 PACIFIC PALISADES, Calif. — Max Homa was struggling. He couldn't even get the words out to answer the first question of his post-round presser. He was fighting back tears, the type you should just let flow to avoid giving yourself a head cold.
Two years ago, the tears did flow for Homa, though they were of the happy variety. He picked up his second PGA Tour win at the 2021 Genesis Invitational, his hometown event. Homa grew up coming to Riviera, dreaming of winning there himself. When it happened, crying afterward was the easy part.
But this Sunday at Riviera was different. Homa didn't win his hometown event, though he gave it a hell of an effort. His final-round three-under 68 got him to 15 under overall, a 72-hole total good enough to win or force a playoff 10 of the last 12 years in this tournament. Unfortunately, it wasn't enough in 2023, Homa coming up two shots shy of the hottest golfer on the planet, Jon Rahm.
As gutted as he was, Homa knew he did all he could.
"I'm very proud," Homa said, choking back tears. "I did not have it off the tee today, but man, I fought. I really just wanted to push him."
Homa pushed the Spaniard to the end, most notably at the 18th hole. After missing in the right rough off the tee, Homa's caddie, Joe Greiner, knowing the gravity of the moment and how much money was on the line, asked the boss man, "are we trying to make 3 here?" Homa did not hesitate, going for the hero shot, which wound up coming up just short and left of the green. What followed was a nearly stunning birdie chip-in that rattled the pin, and had it fallen would have added all kinds of pressure to Rahm's next two putts.
"He is a spectacular golfer," Homa said of Rahm. "I would say other than Tiger and I don't even know, he's the most consistent player I've seen. I've known him since college and he's been like this since then, No. 1 amateur in the world, No. 1 player in the world, all the accolades.
"I wanted to make him beat me, and I think I did that. I let him off the hook on 13, but man, it was cool to see myself push him and not feel like I had 100 percent of my game. I played great everywhere but off the tee on that back nine, but it is what it is. I was going to have to put up a pretty remarkable score. I think it's pretty amazing going against someone like Jon. You know he's going to play well so it's almost comforting knowing you're just going to have to play better, he's not going to fold. So, I'm not disappointed in my golf, I'm just disappointed in the ending."
Making it extra-disappointing for Homa was the fact he had a large group of family and friends on hand, not to mention the way the fans were firmly in his corner for the entire week. That was not the case during his win in 2021, when the event was played without spectators due to COVID.
"When I won in 2021, nobody was here and it hurts me not to be able to do that with everyone here, my family and friends. But I tried, man," he said, getting choked up again. "Sorry, this tournament just means a lot to me. It's like an emotional release."
It's not all bad. Thanks to the Genesis' new elevated event status, Homa's runner-up finish netted him an absurd $2.1 million, which is more than $500,000 more than he made for actually winning the tournament two years ago. The pain worn across Homa's face as he answered questions afterward indicated this week is about much more than money for Homa, though. He's as hungry as ever to get back next year.
"The support I get here is so cool," he said, adding, "I'm going to win it again and be able to do it in front of all these people. Yeah, that's that."