The Loop
The Super Bowl of celebrity golf will be played this year with Tony Romo looking to three-peat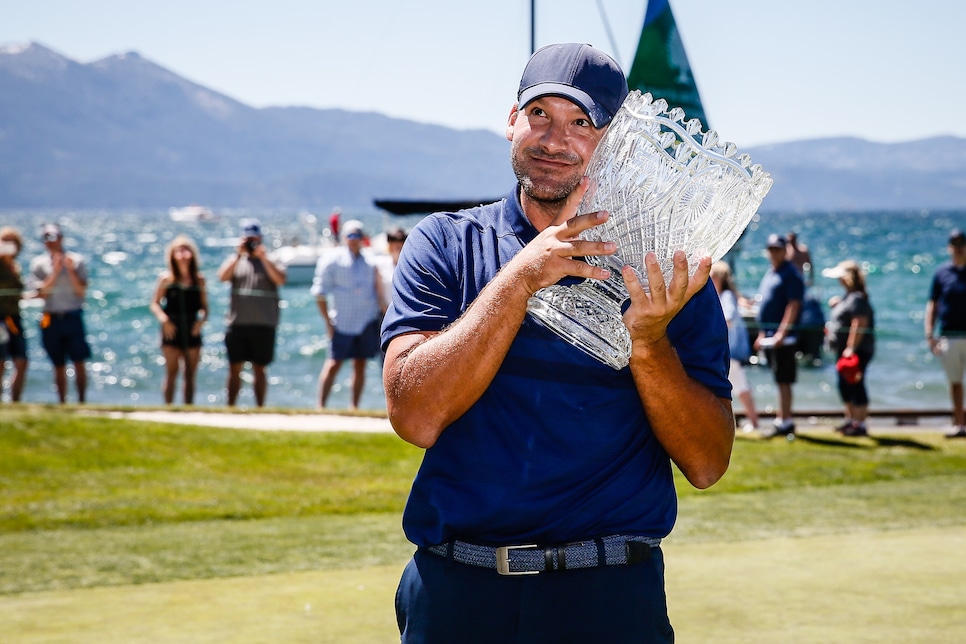 Tony Romo didn't win any Super Bowl rings as a member of the Dallas Cowboys. And as a New York Giants fan, I'm required by law to remind everyone that Eli Manning won two. But when it comes to the Super Bowl of celebrity golf, the former QB turned soothsaying CBS analyst is an absolute jugernaut.
Romo has won the past two American Century Championships in Lake Tahoe, and it turns out he'll have a chance at his three-peat this year after all. On Thursday, the event announced it will be played for a 31st time July 8-12 at Edgewood Tahoe Country Club.
Also announced is that all the prize money—and it's pretty substantial with a $125,000 winner's check—will be donated to COVID-19 relief and area non-profits. This doesn't affect Romo since he's maintained his amateur status throughout and doesn't collect any checks for golf. Unless you're counting side bets. Oh, and who needs money when you make about $1 million per game as an analyst?
As usual, the event will be televised by NBC so we'll get so see plenty of golf—and shenanigans—from a star-studded field. Like when T.J. Oshie funneled a beer or when Aaron Rodgers and Steph Curry connected on a deep pass or Alfonso Ribeiro does "The Carlton" dance. At this point, he is basically required to do the dance like I am required to remind you that Eli won two more RINGZ than Romo. Sorry, that's the last time. I promise. Well, for today.
Speaking of Curry, he is listed as being in the field thanks to his Golden State Warriors not being one of the 22 NBA teams being invited to resume play this season. For the first time in five years he also has his June free with no NBA Finals appearance. In other words, Romo better watch his back.