Finau on fire
The 4 best shots from Tony Finau's birdie rampage, ranked by stats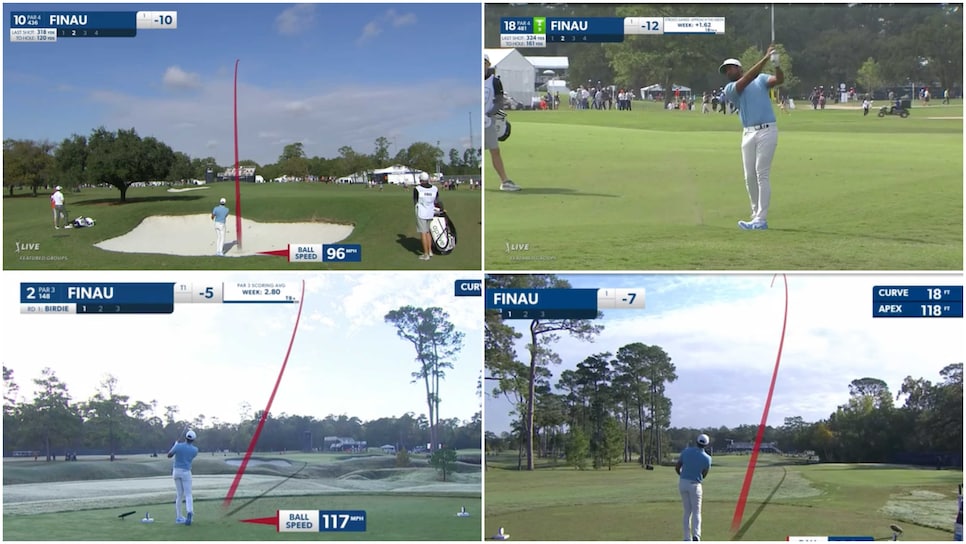 Tony Finau raced into the lead early during the second round of the Cadence Bank Houston Open, courtesy of an eight-under-par 62 that included run that saw him birdie seven of 10 holes and four straight between the seventh and 10th.
It's always fun when an elite-level talent like Finau gets hot. Usually, during a second round tour event, the aim of the game is simple: slow and steady, picking of birdies where you can but not forcing it, especially on tricky Memorial Park Golf Course.
But apparently Finau didn't get the memo. He went pin seeking at various points during his second round, and it worked gloriously.
"It's not a golf course where we're playing rounds and we're like, 'we're gonna light this place up,'" Finau said after his round. "I feel like I was in the zone and able to execute golf shots. At the end of the day it rounded up to 62."
According to ShotLink data from his second round, these four iron shots were statistically Finau's best of the day anywhere from tee-to-green. With these four swings, he gained 3.4 shots on the field, each leading to a birdie.
Let's take a closer look at each of them.
10th hole, 2nd shot (SG: +0.68)
After driving his ball 320 yards into the bunker left of the fairway, hit a spinny wedge from 120 yards that jumped past the hole, and sucked back to inside eight feet, leading to birdie. He gained more than half a shot on the field with this swing. It's a testament to Finau's overall play that this truly marvelous shot wasn't—statistically speaking—his best of the day.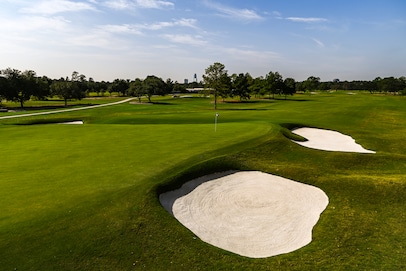 A significant renovation was completed by Tom Doak (in collaboration with Brooks Koepka) to transform the old municipal course at Memorial Park—which hosted the first Houston Open in 1947 and then again from 1951 through 1965—into a layout worthy of being a PGA Tour venue. Originally built in 1912 at a hospital near Camp Logan for recovering soldiers to use, architect John Bredemus redesigned the course in 1935 and added a second nine. Now with signature Doak green complexes and tour-level conditioning, Memorial Park is once again a must-play in the state and averages 60,000 rounds a year.
View Course
18th hole, 2nd shot (SG: +0.84)
After four straight birdies in the middle of his round, Finau's round could have stalled slightly before closing out with three consecutive birdies. His best shot during that stretch—his third-best of the day, according to ShotLink—was his approach. At 161 yards coming from the rough, Finau threw a dart that stopped dead four feet from the hole, leaving him an easy look for his 10th birdie of the day.
2nd hole, 1st shot (SG: +0.92)
The second hole, playing 148 yards on the day, was the site of Finau's first birdie of the day. With the pin tucked back-left, the natural fader hit a towering 10-yard draw to within two feet. He executed a specific shot to perfection, and it set a good tone for the day ahead.
"I almost made a hole-in-one on No. 2," Finau said. "I was just kind of cruising after that. It was a really nice round of golf."
7th hole, 1st shot (SG: +0.94)
It was Finau's second par 3 of the day which kickstarted Finau's birdie run. He essentially hit the same shot as he did on his second hole, but with a longer club (the hole played 216 yards). Pulling what appeared to be a mid-iron, his 20-yard draw ended just four feet from the hole.