The Grind
Tony Finau's finest moment, Bryson DeChambeau's next experiment, and the shank heard round the world
Welcome to another edition of The Grind, where we went from contemplating our mortality last week thanks to the USGA announcing tournament sites 30 years in advance to nearly facing our mortality this week thanks to the swirling winds at Liberty National. I was nearly hit by a tee shot four times in about an hour during the first round of the Northern Trust, and not exactly by four choppers either in Brooks Koepka, Jordan Spieth, Hideki Matsuyama, and Cam Smith. OK, so after seeing Smith's playoff tee shots four days later, that one makes a bit more sense. In any event, I survived and advanced, which is all you're really looking for in the playoffs. Here's what else has us (thankfully, still) talking.
Tony Finau: It took 1,975 days, including a Monday finish, but Finau is finally a PGA Tour winner again after a Playoffs playoff victory at the Northern Trust. What a finish, with a back-nine 30 to overtake the World No. 1 as well as Mullet Man. Hit it!
On top of the leader board! And now that he's gotten another victory since that 2016 Puerto Rico Open (The Curse of Coco Beach is dead, by the way), hopefully, one of the most mystifying resumes in golf will start to even out. Seriously, look at these eye-popping stats:
And that graphic doesn't mention the approximately 378,000 questions he's had to (graciously) answer about his winless drought in between. Big congrats to Tony, although now he'll be constantly facing a variation of a different question: "Why haven't you won a major yet?"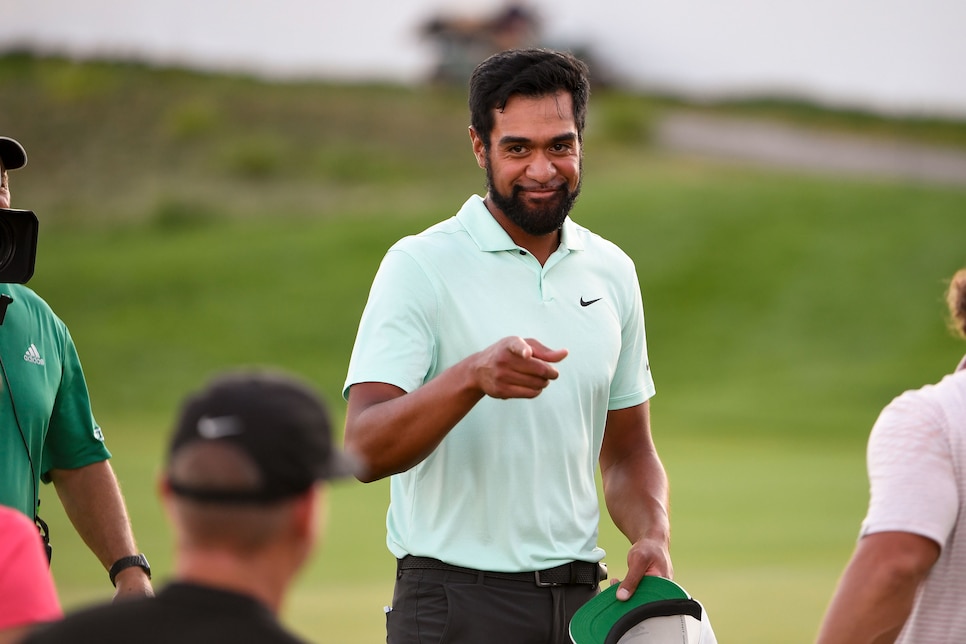 Anna Nordqvist: Speaking of winning majors, the Swede earned the third of her career at the AIG Women's Open. And she took home the biggest check of her career ($870K) for her efforts.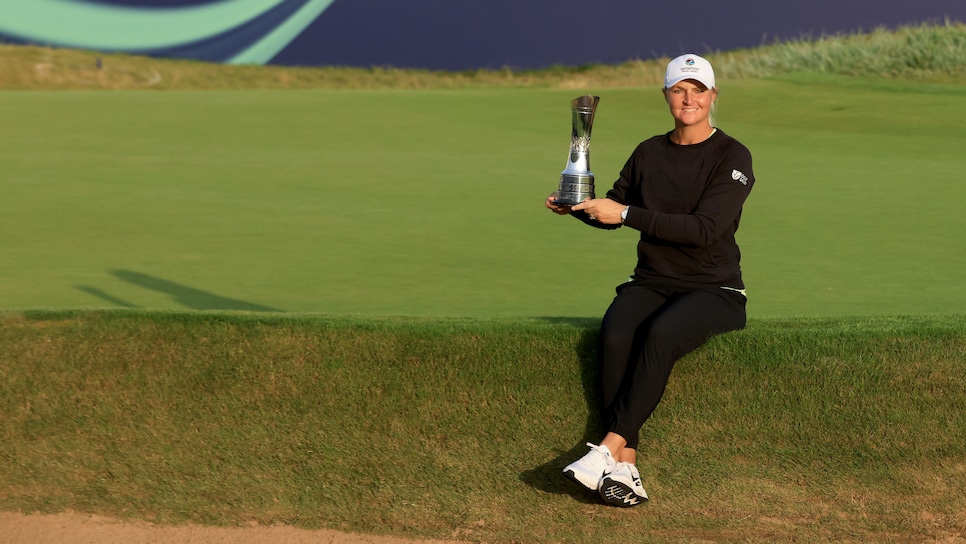 Nice job, AIG, putting up all that prize money. It's still not what the men make, but we're getting there.
Bryson DeChambeau's next experiment: The eight-time PGA Tour winner will compete in the 2021 World Long Drive Championship, which starts Monday, Sept. 27. It's awesome Bryson is putting himself out there like this in a competition he has no chance of winning (oddsmakers list him at -10000 that he won't win), and it will certainly do wonders for that sport. Of course, he's also setting himself up for some serious criticism if he doesn't play well at the Ryder Cup the week and (gulp) day before. Grab your popcorn and tune into Golf Twitter, folks!
Golf-loving judges: Hank Haney had his lawsuit against the PGA Tour over losing his SiriusXM Radio job dismissed, but I'm not weighing in on that decision. I'm weighing in on how the weighing in on that decision went down. Here's what U.S. District Court Judge Rodolfo Ruiz wrote in his golf-themed ruling:
"As the Court remarked at the outset of this matter, the allegations teed up in this case -- like a well-hit drive on the golf course -- [have] avoided pleading hazards . . . remained in bounds, and left Plaintiffs with an opportunity to take their next shot. However, Plaintiffs' next shot has not fared as well as their opening drive. In an effort to reach the green and get this matter to trial, Plaintiffs' approach has found the water. And the Federal Rules of Civil Procedure do not provide for mulligans. ... Plaintiffs' round has come to an end."
OK, there are a couple, um, shanks there, but we love the effort. Speaking of shanks . . .
Nanna Koerstz Madsen's shank: That's right, I said it. Shank. It's amazing how many people tip-toe around using this word (and "yips" for that matter), but I've got no fear. Shank. This was a SHANK:
Probably the worst sound in the world. And what a brutal time to do it when you're tied for the lead on the 72nd hole at a major championship. To be fair, it was a tricky downhill lie in the bunker, but there's nothing fair about golf. We're sorry, Nanna, it's a cruel game. But not acknowledging what this was isn't going to help anything. And hey, that's still two top-five finishes in majors this year. Look on the bright side! Also, does any hole in the world create as much carnage as Carnoustie's 18th? What a spot to finish a golf tournament. At least Nanna didn't have to take off her shoes and climb into the burn.
54-hole leaders: Tony Finau's win continued a streak of 54-hole leaders/co-leaders not winning. As pointed out by 15th Club's Justin Ray, it's an astonishing 14 weeks in a row the person on top after three days (or in this case, four days) has failed to close the deal dating back to Phil Mickelson's win at the PGA Championship. In other words, these leaders have had about the same results as those attempting that ridiculous milk crate challenge:
Anyway, just something for those with the lead late on Saturday this week to think about . . .
The scorecard rule: I know I've touched on this before, but the fact that you're still responsible for signing a perfect scorecard—especially at a PGA Tour event in 2021 where an army of volunteers are lasering your every move—is absurd. And last week, arguably the second-most famous victim of this rule behind Roberto De Vicenzo, passed away at 50. That would be Jaxon Brigman, who missed out on his PGA Tour card by a stroke at the 1999 Q-School Finals—because he signed for a stroke higher than what he shot.
The PGA Tour heads to Baltimore's Caves Valley Golf Club for the first time for the BMW Championship, AKA that one before the Tour Championship. This is the last chance to get into the top 30 of the FedEx Cup standings and advance to Atlanta next week. In other words, this is what separates the millionaires from the multi-millionaires. Thanks in large part to Tiger Woods. And as we celebrate the 25th(!) anniversary of Tiger turning pro, our latest Local Knowledge looks at what a Woods-less world would look like. Thank goodness we don't live in a Woods-less world.
Random tournament fact: The record for largest margin of victory in this event is eight by, you guessed it, Tiger Woods. That was back in 2009 when he was on his way to winning the FedEx Cup for the second time in its first three years.
RANDOM PROP BETS OF THE WEEK
—A PGA Tour pro will attempt the milk crate challenge: Even odds (Harry Higgs probably the favorite after jumping on the "Dreams Challenge" last year)
—A PGA Tour pro will attempt the milk crate challenge before playing in the Tour Championship: 15 MILLION-to-1 odds
—I will not be attempting the milk crate challenge: LOCK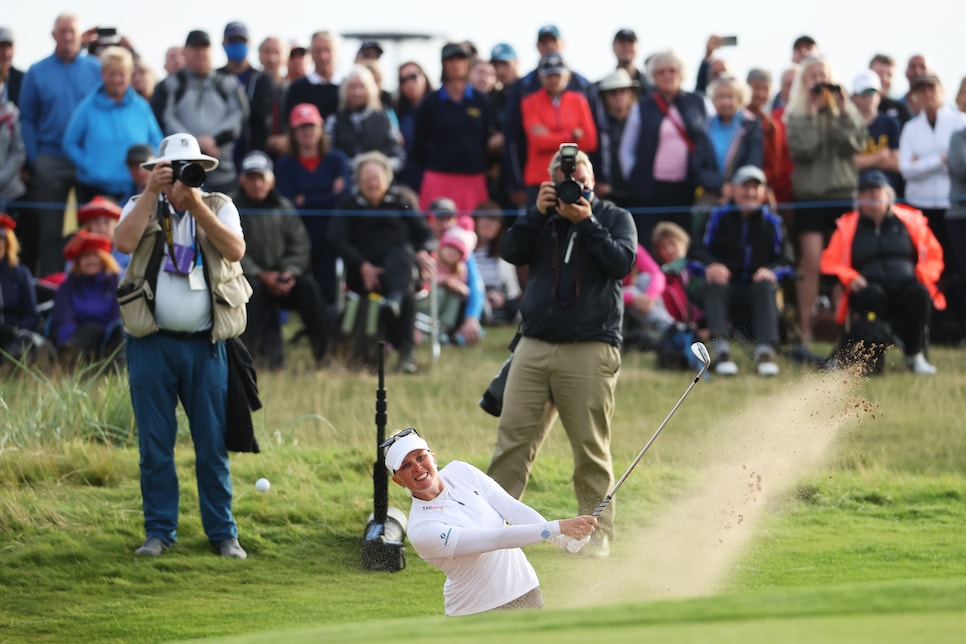 SHANK! Man, that's horrifying. Still better than hearing that noise, though.
PHOTO OF THE WEEK (SHIRTLESS DIVISION)
If you didn't know by now, Stefan Schauffele is a legend. He'd probably crush the milk crate challenge no problem. On second thought, let's not and say we did, Stefan.
VIRAL VIDEO(S) OF THE WEEK
This is how Ian Poulter kept his short game sharp in his hotel room during Hurricane Henri:
We could have also titled this "This week in these guys are good," because, well, these guys are good.
VIRAL VIDEO OF THE WEEK (CELEBRITY DIVISION)
Some of these celebrity golfers are pretty darn good, too. Check out Cody Bellinger winning a closest-to-the-pin competition. From home plate.
Props to Cody. And even more props to the Dodgers for having a closest-to-the-pin contest in their ballpark to determine who gets first pick in their fantasy football draft. Their upper management deserves a raise for that level of team building.
"If you'd seen me play yesterday, you would have said this was impossible."—Cam Smith after firing a Saturday 60. People also would have said Cam shooting 60 was impossible after seeing his slice into the New York Harbor in that playoff.
THIS WEEK IN PUBLIC DISPLAYS OF AFFECTION
Try not to smile while watching this young Justin Thomas fan get a pair of Justin Thomas golf shoes from Justin Thomas:
Congrats to Greyson Sigg on winning the Korn Ferry Tour's Albertsons Boise Open. Looks like he put that trophy to good use:
According to a new study, every hot dog consumed shortens your life expectancy by 36 minutes. But according to another study, playing golf extends your life expectancy. Let's call it a push. . . . Celebrity Greens is teaming up with Folds of Honor to build backyard golf areas for members of the military and their families. Now that's a proper way to thank someone for their service. . . . Sending good vibes to Patrick Reed, who is battling bilateral pneumonia. Get well soon, Captain America, because your country may need you at next month's Ryder Cup. . . . And finally, this is what happens when Costco starts selling Halloween costumes in August: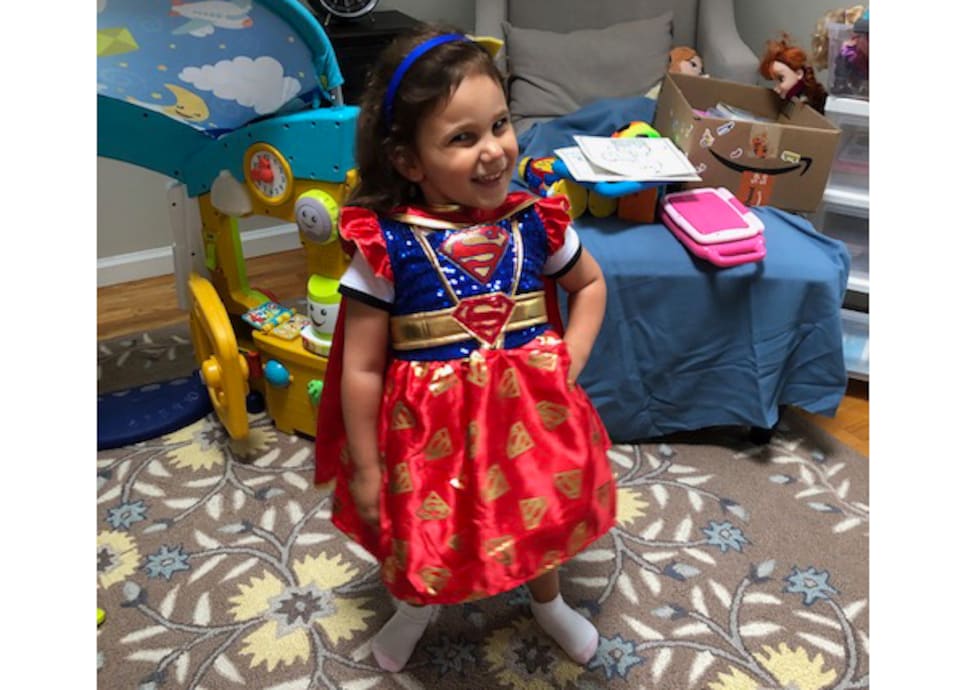 Thanks a lot, Costco. Between all the extra things I got roped into buying and the hot dog, I probably took a full day off of my life.
RANDOM QUESTIONS TO PONDER
How many costumes am I going to have to buy this year?
How many hot dogs have I eaten in my life?
Should golf fans wear helmets?