AIG Women's Open
Anna Nordqvist, now a three-time major winner, is an older, wiser and more humble champion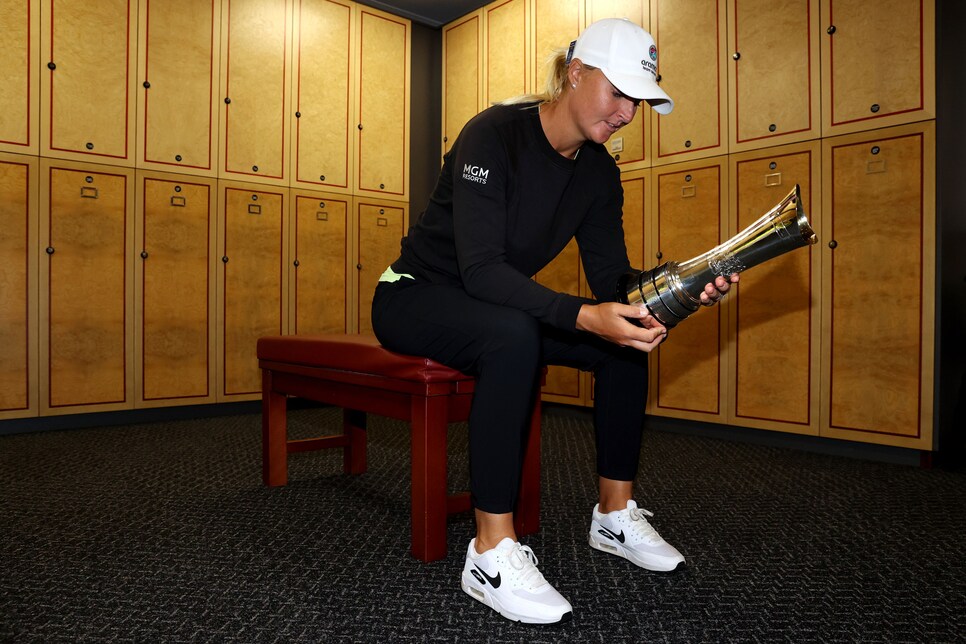 Photo By: Warren Little/R&A
There was nothing minor about this major, the AIG Women's Open, that had it all on Sunday, including a worthy champion on a historic links and 72nd-hole drama that delivered agony and ecstasy and a euphoric native Swede who had become a hometown favorite on the eastern shore of Scotland.
Anna Nordqvist, 34, a Scottish caddie at her side and a Scottish husband and crowd in her corner, ended a four-year victory drought by winning the third major championship of a career defined by majors.
"I think this is the most special one," Nordqvist said, "just because it's taken me a couple years and I've fought so hard and questioned whether I was doing the right things. Also, my caddie [Paul Cormack], he's been working so hard and I really wanted to do it for him, too. My husband [Kevin McAlpine] has been supporting me so much, too, and all friends and family, and having spectators back and feeling that adrenaline kicking again, I think this is definitely my most special win."
Nordqvist arrived at the 18th hole of the Carnoustie Golf Links tied with Nanna Koerstz Madsen of Denmark. Nordqvist prevailed with a textbook par while Carnoustie claimed another victim of a calamitous close.
Koerstz Madsen made double bogey that included a shanked bunker shot, which brought to mind Jean Van de Velde, the Frenchman who kicked away a claret jug there in the 1999 Open Championship. The difference was that it was Van de Velde's claret jug to lose and he lost it. This time, the likelihood of Koerstz Madsen making par and forcing a playoff was remote, given the difficulty quotient of her bunker shot.
"Nanna played really well," Nordqvist said. "She made a lot of great up-and-downs, a great up-and-down on 17 and a couple good ones in the beginning. She's a great player. She's going to play well in the future. It's tough to see that, finishing with a double."
Nordqvist closed with a near-flawless three-under-par 69 for a 72-hole score of 12-under-par 276 that earned her $870,000 from the largest purse in women's golf history, $5.8 million, while pushing her career earnings past $10 million. Georgia Hall, Madelene Sagstrom and Lizette Salas tied for second. Koerstz Madsen, as a result of her final-hole misadventure, finished in a tie for fifth.
"I was nervous all day," Koerstz Madsen said. "Did really well in trying to still hit good shots, trying not to make mistakes, and on 18, I tried to not make a mistake and that was the only thing I shouldn't do."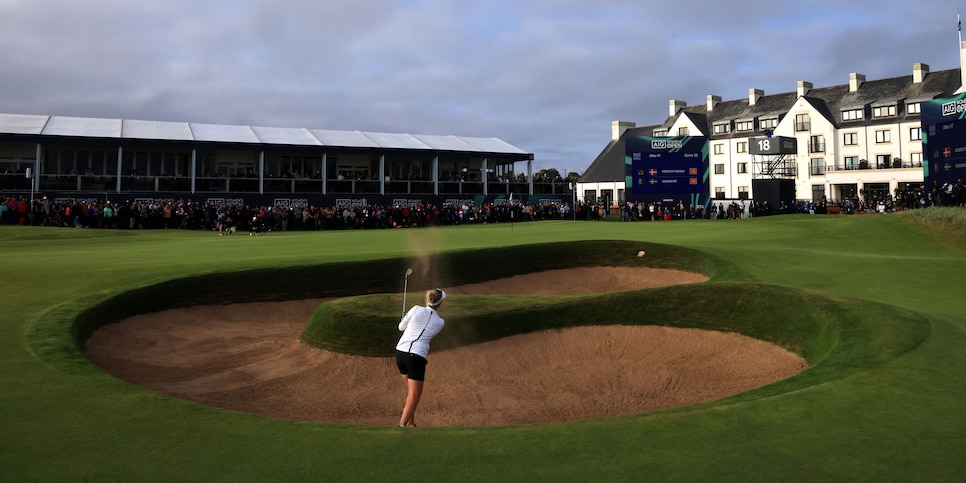 Needing to get up-and-down from the bunker on the 18th to save par and hopefully force a playoof, Nanna Koerstz Madsen hit the hosel with her third and wound up making a double bogey.
David Cannon/R&A
The victory was the ninth of Nordqvist's LPGA career, precisely a third of them coming in majors, including her last win, in 2017, at the Evian Championship. She also lost a playoff to Brittany Lang in the 2016 U.S. Women's Open when on the second of three playoff holes she unknowingly touched the sand with her club resulting in a penalty stroke.
"There's just something about golf that keeps driving me," Nordqvist said. "I hate losing probably more than I like winning. I think all the controversy and all the downs, and having my caddie and husband there pushing me every day being a rock, I hate to give up.
"I feel like things have been coming together, and I saw a lot of good things coming last year and a lot of good things happening this year. To be able to get things clicking, I felt like last week at the Scottish Open, I played really well. I hit the ball really well in that wind. So I think that was a confidence boost for me."
Nordqvist was honest about her drought and what it did to her psychologically. "There were times I doubted if I ever would win again," she said. "And you know, for it being quite a few years in between victories, sitting here now, winning the British Open is a dream. It was definitely worth the wait, and definitely worth a lot of those struggles and being able to push through. But it's been a lot of hard work to get here, too."
Nordqvist's husband, Kevin McAlpine, a native of Scotland, was there to congratulate his wife on the 18th hole.
David Cannon/R&A
Victory on Sunday was never a foregone conclusion until her long lag putt at 18 stopped on the edge of the hole. Early in the round, six players were tied for the lead, and in the end, the three who tied for second were all standing by in the event the 18th hole derailed Nordqvist, too.
Instead, she hit her drive in the fairway and her second shot, a 4-hybrid, onto the green, 35 feet from the hole. One of the best lag putters in the game, Nordqvist finished it up with a perfect lag and a tap-in par.
"I worked a lot on speed control this week," she said. "My speed was a little bit off today on some of the birdie putts. But I think when you're out of position, I just feel like I need to get myself back in position and give myself a par putt. Sixteen was such a hard hole, you're basically just trying to play for that front portion and give yourself a long putt. The one on 16 was really sweet.
"But I would say the best lag putt of the day was the one on 18 when it mattered the most."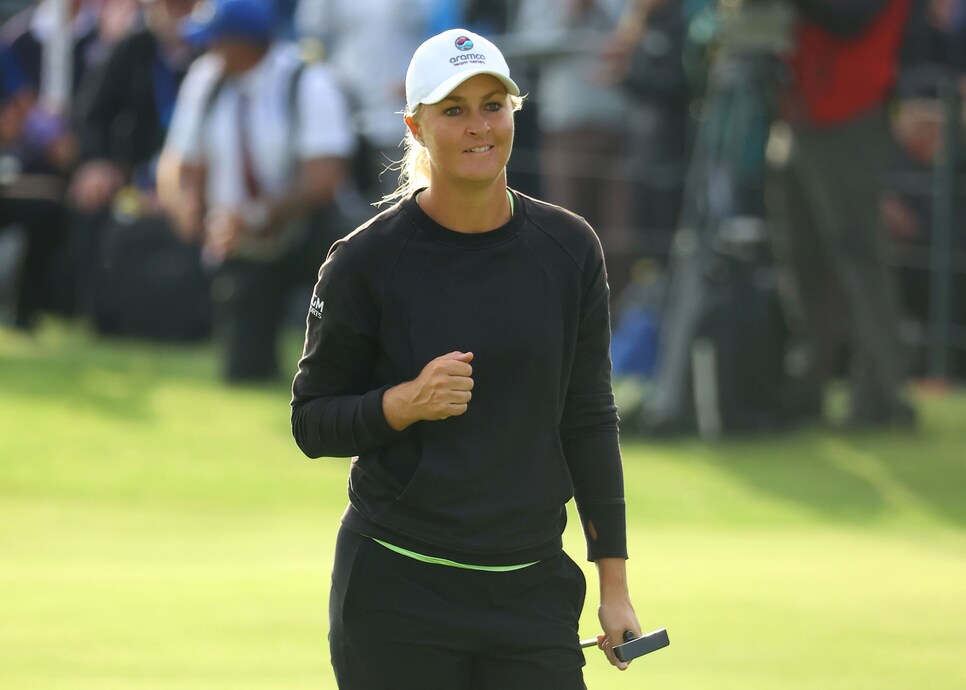 Nordqvist called this major win 'the most special one' given that it came after a four-year winless drought.
Andrew Redington