OUCH!
British Open 2023: Tom Kim suffers injury, still manages to shoot 68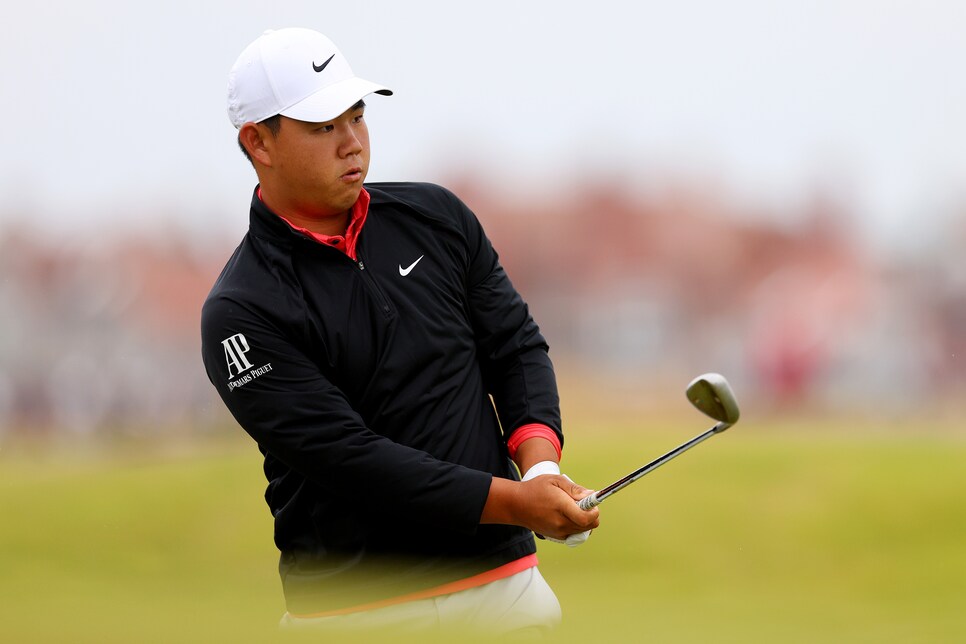 HOYLAKE, England — Tom Kim is playing through injury after suffering a grade-1 ankle sprain at the Open Championship.
Speaking to the media on Friday afternoon at Royal Liverpool, Kim said he suffered the injury at Thursday evening at his residence this week.
"Where I'm staying, there is like this patio and it drops down to the grass. There is like half a yard of mud and my foot got caught and slipped and popped," Kim explained. "I'm barely walking, but it's cool how I got away with it.
"It's pretty bruised. I can't take off my shoe really. I don't know how I really walked. But once the adrenaline popped in I got away with it. Now I'm surviving."
Kim did more than survive. After an uneven three-over 74 on Thursday, Kim opened with a 31 on the outward nine and finished with a three-under 68, a two-day total that will keep him around for the weekend.
Amazingly, he did it without treatment from the medical staff due to lack of time before teeing off. As for what got him through, it was some tough love from his family and friends.
"I was told to suck it up," Kim said with a laugh. "I certainly did that and played well today."
Kim admitted he was in discomfort after the round, but said he doesn't expect to give up or withdraw. He said he planned on putting the ankle on ice and resting for the rest of the afternoon, although acknowledged he may need some help getting off the course.
"I do need a wheelchair going to the clubhouse," Kim said.
Is it the British Open or the Open Championship? The name of the final men's major of the golf season is a subject of continued discussion. The event's official name, as explained in this op-ed by former R&A chairman Ian Pattinson, is the Open Championship. But since many United States golf fans continue to refer to it as the British Open, and search news around the event accordingly, Golf Digest continues to utilize both names in its coverage.
MORE FROM GOLF DIGEST @ THE OPEN