The Grind
Tom Kim teaches us an important lesson, Dustin Johnson plays boat bartender, and Nick Faldo's (surprisingly) emotional farewell
Welcome to another edition of The Grind, where we've really got our hands full on a 24/7 basis these days. There's just so much going on all over, and another bombshell could drop at any moment, so you have to be on your toes at all times. Yep, potty training is tough. And nope, it doesn't get any easier with kid No. 2—especially when kid No. 1 decides it's time to try ditching the diapers at night. What? You thought I was talking about all the golf drama these days? Well, there's plenty of that going around as well, so let's get to it. We should have a few minutes in the clear. I think.
Joohyung "Tom" Kim: Glad I "bought" this guy last week! For once, I was ahead of the game! Of course, I didn't bet on him, but it was still great to see my new favorite player (Don't worry, Xander Schauffele, I still love you too!) win his first PGA Tour title at the Wyndham Championship. And in such spectacular fashion.
A Sunday 61? With a front-nine 27?! Are you kidding me? And as if I didn't feel old enough, the 20-year-old Kim became the first PGA Tour winner born in the 2000s. Yep, he was BORN in this millennium. Unreal. Only Jordan Spieth is a younger PGA Tour winner in the past 90 years, so, yeah, Tom is the real deal. And how can you not love this guy? He might actually love Tiger Woods and fast food more than I do!
Oh, yeah, the best part is that he started the tournament with a quadruple bogey. A freaking snowman. And he went on to win by five shots. Meaning he could have made another quad on the final hole at Sedgefield Country Club and still won! What a stud. And what a grinder. His namesake, the plucky Thomas the Train, would certainly be proud.
Ashleigh Buhai: Another tour, another lesson in grit. While Tom Kim overcame an opening quadruple bogey, Buhai battled back from a back-nine triple bogey on Sunday to win the AIG Women's Open in a playoff over In Gee Chun. And the 33-year-old couldn't have picked a better time to hit the best bunker shot of her life than on the fourth hole of sudden-death:
What a moment—especially considering the stage and Muirfield's history of shunning women. I'm also stunned she's the first South African woman to win a major since 1988 and just the second overall considering all the great golfers that country has produced. Anyway, it wasn't as easy as it could have been with a five-shot lead through 54 holes, but Buhai got the job done.
Andrew Kozan: What a difference a week makes, huh? After 11 consecutive missed cuts, this Korn Ferry Tour rookie didn't just make the weekend at the Utah Championship, he fired a Sunday 63 for his first win. Now instead of going back to Q School, he could be going to the PGA Tour next season with one more big week. Not to go all LIV-bashing here, but these are the kind of cool stories you won't see on that circuit. Ever.
Losing your tour card on a three-putt: Sorry, Justin Lower. Not that that's much better than losing your card by double bogeying the final hole of the second round to miss the cut. Sorry, Austin Smotherman. Or better than losing your card and Korn Ferry Tour status because a non-member came out of seemingly nowhere to win the final regular-season event of the season. Sorry to a few guys on that one. So it's a pick-your-poison situation, really. Losing your PGA Tour card sucks. And those stories aren't as fun as Andrew Kozan's, but they're still pretty darn compelling.
Nick Faldo's farewell: Admittedly, I did not expect this to be such an emotional event, but wow. There were tributes throughout Sunday's final round, but nothing topped the final sign-off from Faldo in which the loquacious broadcaster literally couldn't talk:
Amazing. And amazing that Jim Nantz didn't cry. Talk about a pro's pro! But seriously, Faldo wasn't perfect, but he was a huge part of golf TV for 16 years. And like when a TV show I watch airs its series finale, it's sad, because, well, it just marks the end of an era. I cried like a baby when "The Office" ended and it wasn't even that good those last two seasons without Michael Scott. And in this case, it was a long era. Anyway, enjoy retirement, Nick! Sorry, Sir Nick.
Player family drama: First, there was the whole Wayne Player mess with that sketchy plug for golf balls during the Lee Elder ceremonial Masters tee shot last year. Well, actually, there are several Wayne Player messes. But now another Player son, Marc, is involved in a mess of his own:
Jeez. At this point, the Players should have their own reality TV show.
The PGA Tour heads to the FedEx St. Jude Championship, AKA the old FedEx St. Jude Classic, AKA the less old FedEx St. Jude Invitational, AKA the new first event of the FedEx Cup Playoffs, AKA the time when these guys get PAID. Well PAID even more than usual. In fact, the winner of the postseason will get a whopping $18 million now, up from $15 million last year and the measly $10 million they played for beginning in 2007. It's no wonder so many guys are leaving for LIV!
Random tournament fact: Two of the last three winners at TPC Southwind, Brooks Koepka and Abraham Ancer, don't play on the PGA Tour anymore. Strange times, indeed.
RANDOM PROP BETS OF THE WEEK
—Tom Kim will never win again: 1 MILLION-to-1 odds
—Tom Kim will win again this week: 40-to-1 odds (Actual odds)
—Tom Kim celebrated with a fast food feast: LOCK
Joel Dahmen with a not-so-subtle dagger at Bryson DeChambeau for his odd LIV-PGA Tour-pizza analogy last week on Tucker Carlson:
PHOTO OF THE WEEK (BAD VIBES DIVISION)
Talk about a nightmare for Collin Morikawa:
Fortunately, there was a happy ending:
Phew. This man has more than $20 million on the line over the next few weeks!
PHOTO OF THE WEEK (GOOD VIBES DIVISION)
Meanwhile, there's no end to the good times in Jupiter, where Dustin Johnson played boat bartender for Daniel Berger with neither player heading to Memphis for this week's FedEx St. Jude Classic: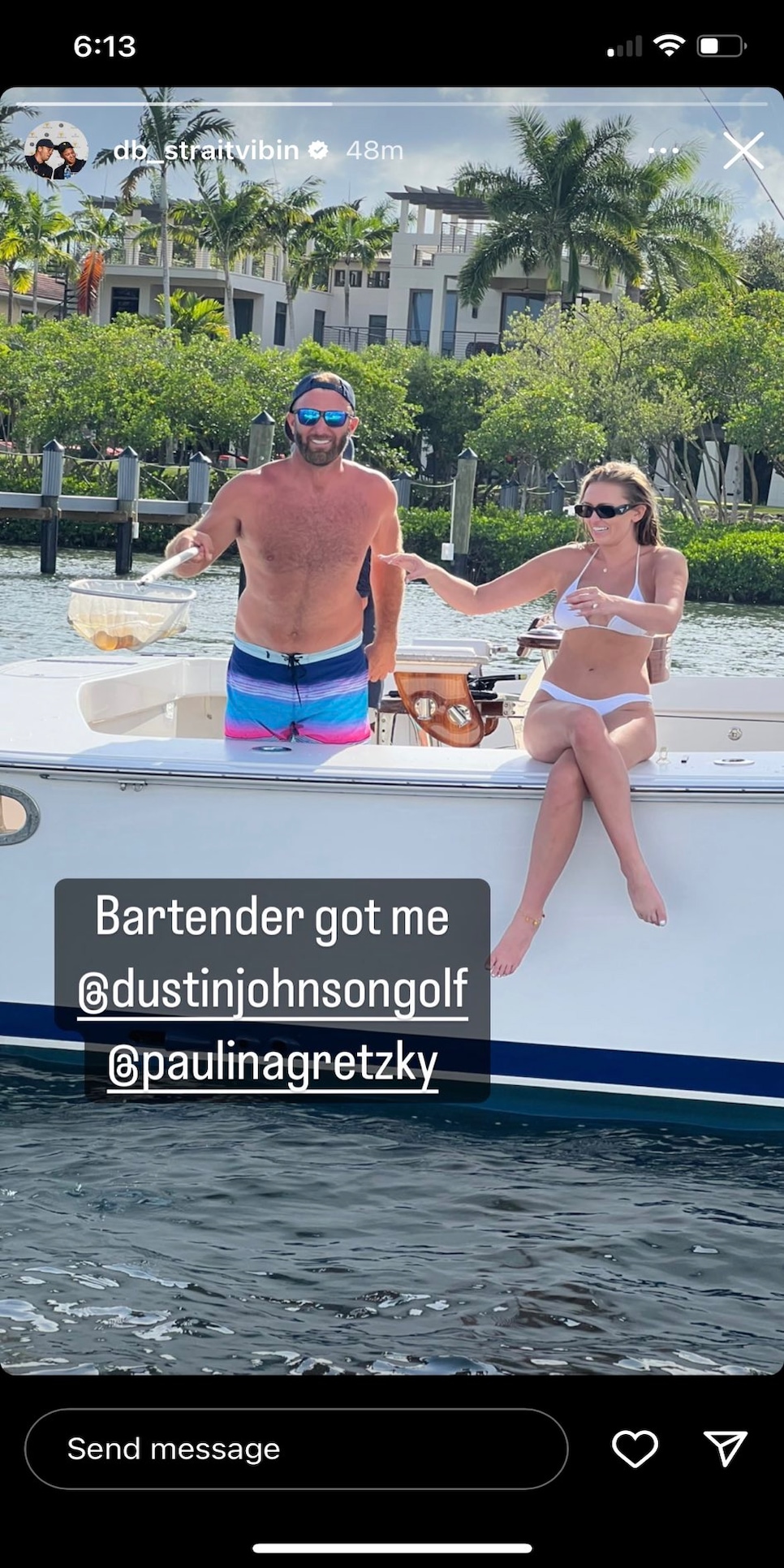 DJ, of course, is LIVing it up these days, and Berger hasn't played since the U.S. Open due to a back injury. Looks like he's getting some good rest.
VIRAL VIDEO OF THE WEEK (AWW DIVISION)
VIRAL VIDEO OF THE WEEK (WELL PLAYED DIVISION)
Alex Smalley's "first pitch" at a Burlington Sockpuppets game was a thing of beauty:
Assuming no fans—or parked cars–were hurt.
VIRAL VIDEO OF THE WEEK (ARCHIVE DIVISION)
In case you didn't know, Vin Scully wasn't just a legendary play-by-play man for baseball:
RIP Vin Scully. What a legend.
THIS WEEK IN PUBLIC DISPLAYS OF AFFECTION
Jessica Hadwin shared this funny story about husband Adam that had married men everywhere cringing:
"I was actually, I wanted to go home next week, I was looking forward to that. I've been home two weeks this year, so I was like, you know what, secure my PGA Tour card for next season, I can go back and relax for a week, but I guess that's not going to happen." —Tom Kim. No it's not, Tom. But as a 20-year-old, I think you'll be OK.
Congrats to Nolan Haynes for breaking Justin Thomas' course record at Harmony Landing Country Club by two shots with a 60 during an AJGA event. These young guns just keep coming. . . . And not just on the men's side. How about 13-year-old Alice Ziyi Zhao firing a six-under 67 at Chambers Bay in the opening round of the U.S. Women's Amateur? Unreal. . . . Congrats to Robbie Herzig, younger brother of Golf Digest writer Gabby Herzig, for making it all the way to the finals of the Met Am. He's 19, though, so basically an old man. Oh, and congrats to Sleepy Hollow legend Brad Tilley as well for winning the event. . . . Will Zalatoris parted ways with his caddie just weeks after Cameron Young broke up with his looper. Apparently, like me with that whole 12-week program ahead of my golf trip, my fellow Demon Deacons are tired of finishing in second place! . . . And, finally, as more proof of how old I am, the most exciting part of my weekend was putting together this shoe rack and reorganizing my closet: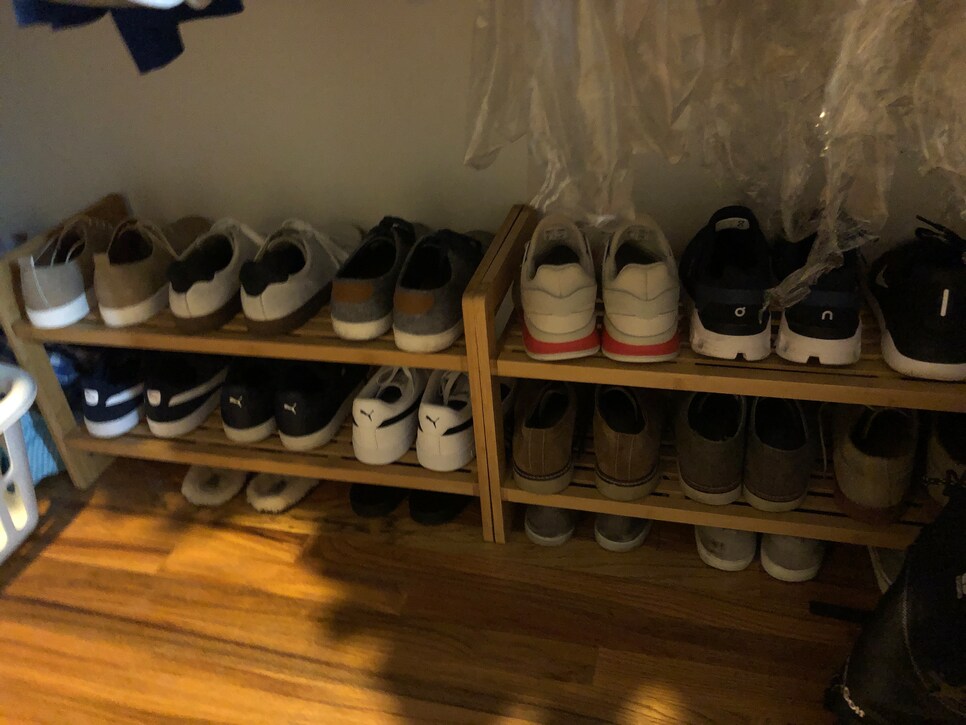 But, c'mon, how good does that look?!
RANDOM QUESTIONS TO PONDER
What's Bryson DeChambeau's favorite pizza place?
What does Bryson DeChambeau's shoe rack look like?
When will potty training be over?