AIG Women's Open
An out-of-nowhere win that nearly became a devastating loss leaves Ashleigh Buhai feeling joy and relief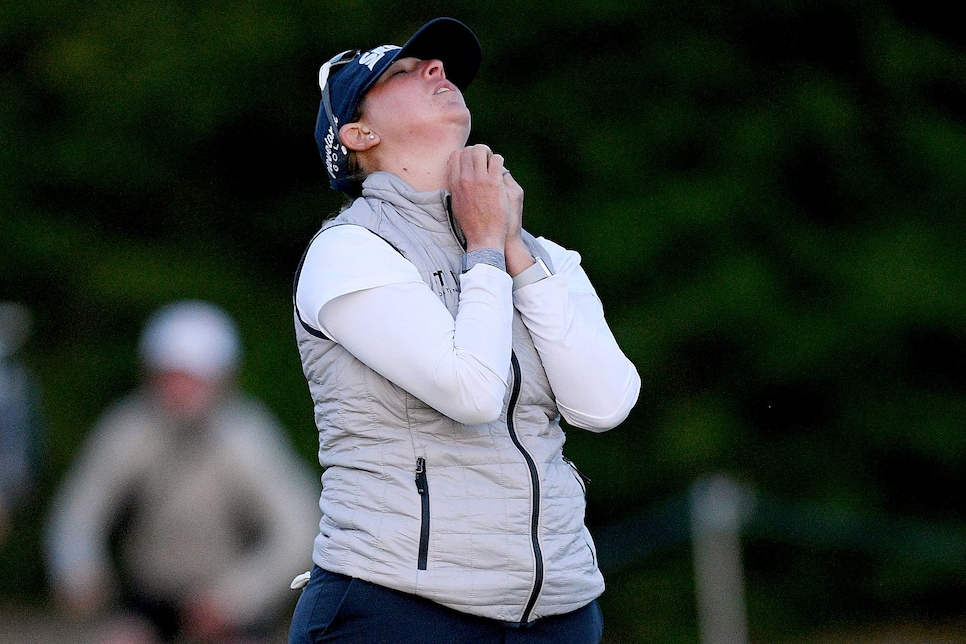 GULLANE, Scotland — It's a fact of golf life. There have always been major championships where the runner-up rather than the winner is the story. Doug Sanders missing from three feet to win the 1970 Open at St. Andrews is one example. Nick Price's sad deterioration over the last six holes at Royal Troon to lose the 1982 Open is another. A dozen shots clear during the third round of the 1990 U.S. Women's Open at the Atlanta Athletic Club, Patty Sheehan somehow contrived to lose by one. And no one who saw the triple bogey Jean Van de Velde made on the 72nd hole at Carnoustie in 1999 will ever forget that he did not win that Open.
There are others, but you get the picture.
Happily—at least for her—Ashleigh Buhai has avoided adding her name to that list. But only just.
The AIG Women's Open record book will tell us that the 33-year-old South African shot a closing round of 75 at Muirfield to tie In Gee Chun on 10-under 274, then made a par at the fourth extra hole to deny the South Korean what would have been a career Grand Slam.
But that rather pedestrian description doesn't begin to tell the tale that has to be told. Or the one that was nearly told. With four holes to play, all seemed to be proceeding to the plan just about everyone had in place. Armed with a five-shot overnight lead, Buhai wasn't exactly burning up the course as she had en route to 64 on Saturday. But she was doing enough. Still three shots clear, she appeared to have things well in hand.
Off the 15th tee, the South African made the error you just can't make at Muirfield—home of 147 bunkers, most of them deep. After blasting out into heavy rough with her second shot, Buhai mucked about for three more shots before finally making the putting surface on the par 4. It all added up to a triple-bogey 7 and the complete disappearance of the aforementioned lead.
It didn't get much better either. Not immediately. After Chun had failed to make birdie at the downwind 17th, Buhai did the same, missing from four feet or so. Two pars later we had our playoff, one that would only just beat the rapidly descending darkness and spare the championship organizers, the R&A, much embarrassment.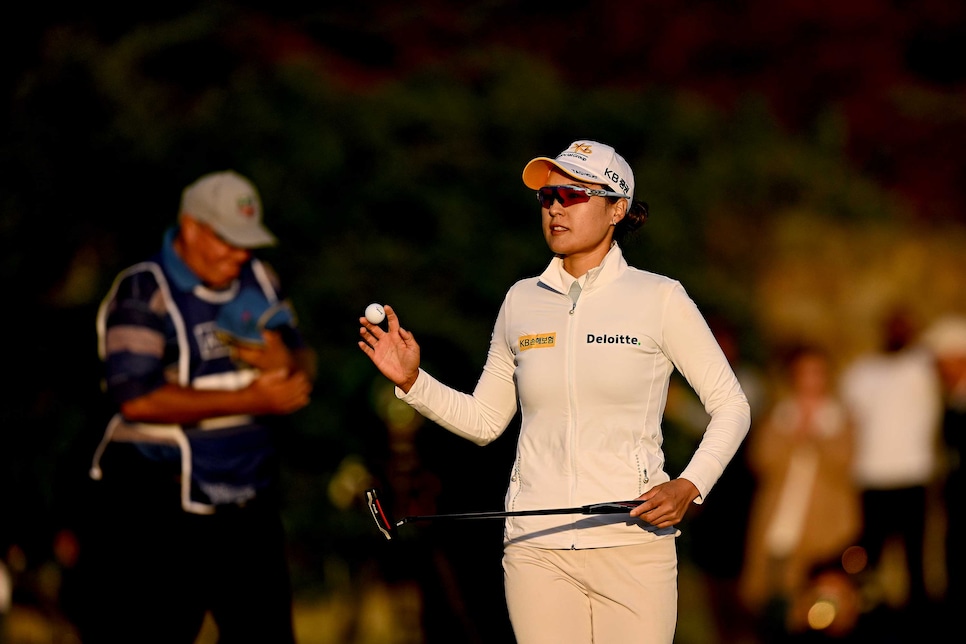 Chun, just a four-time winner on the LPGA Tour, did already have three major titles to her credit and was looking to close out a career Grand Slam at Muirfield.
Octavio Passos
In the end, those bunkers decided things. Chun drove into sand on the now more than familiar 18th hole and was always making bogey; Buhai got up-and-down from the "island" bunker right of the green for par to secure the biggest victory of her career.
"I can't really put this into words," Buhai said. "This is the result of many years of hard work. And I'm sure there are many people in South Africa right now with more grey hairs after watching me on that 15th hole. I love this course though. It's a true test. My caddie, Tanya, gave me the confidence for the bunker shot on the last hole. She told me to show everyone why I'm No. 1 in bunkers. And now I'm a major champion. It's life-changing."
Still, for all her heroics, Buhai must go down as something of an unlikely champion, albeit there were more than high hopes for her as a teenager. Winner of her national Open at the age of only 14, one of four professional events the Johannesburg-native would win as an amateur, she was seen as the classic "can't miss kid." For long enough though, things didn't quite work out as widely predicted. Before this week in what is now a 15-year professional career Buhai had just three Ladies European Tour wins to her name and only one top-10 finish (alongside 20 missed cuts) in 42 major championship starts, a T-5 in the Women's Open Championship at Woburn three years ago.
This season too, Buhai had been struggling more than prospering. Prior to arriving at Muirfield for a 15th attempt to win the AIG Women's Open, Buhai had played well enough to finish in the top 10 only twice in 15 LPGA Tour starts. Seven times she failed to qualify for the weekend, most recently one week earlier at the Trust Golf Women's Scottish Open. A lowly 84th on the Rolex World Rankings, she was a relatively unheralded 50th on the LPGA's Race to CME Globe points list.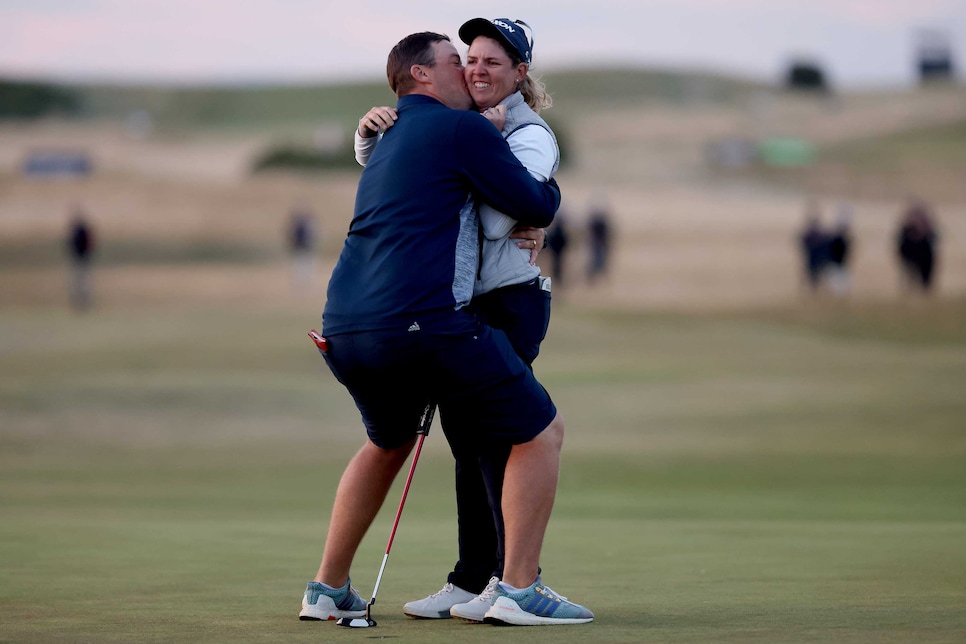 Buhai's husband, David, who caddies for LPGA pro Jeongeun Lee 6, embraces the South African after she closes out the victory on the fourth extra hole.
Charlie Crowhurst
Things are different now, of course. Today, Buhai is the AIG Women's Open champion, a first-time winner on the LPGA Tour and $1,095,000 richer after she followed her compatriots, Open champions Gary Player and Ernie Els, in claiming a major title over the peerless East Lothian links. She is also the first female South African to win a major since Sally Little claimed the LPGA Championship in 1980, nine years before Buhai was born.
That's a lot to take in. But four months into her work with a sports psychologist, Buhai stayed calm, even on the walk between 15th green and 16th tee.
"I wasn't thinking of too much there, to be honest," she said. "The drive on 15 was probably the worst swing I made all week. But it doesn't often happened that a ball pulls in a bunker off a drive. Then I compounded the mistake. But I didn't panic, which was huge. It would have been easy to pain and come home in an ambulance. I just tried to keep making good swings. Which I did in the play-off. I'm proud of the fact that I hit that fairway every time."
Indeed, on what at first appeared to be her metronomic way to victory, the smoothness of Buhai's technique (with one notable exception) was the most striking feature of her victory. Only once on that almost fateful 15th tee did she succumb to the fault strong wind most commonly causes—the shorter than normal backswing that leads to a loss of timing and less than satisfactory impact conditions.
"I have a couple of different thoughts," she explained. "I've kind of got it down to where if I swing 40 percent up and I lock it in at the top, then my tempo is good. Or I count 'one, two, three.' All I'm trying to do is remind myself on every shot, '40 percent up, 40 percent up.' That's my only focus. After that, wherever the ball goes, it goes."
And this week, that was nearly always where she meant it to go.