Butterfly Effect
Why Joohyung Kim winning the Wyndham just broke the hearts of four Korn Ferry Tour pros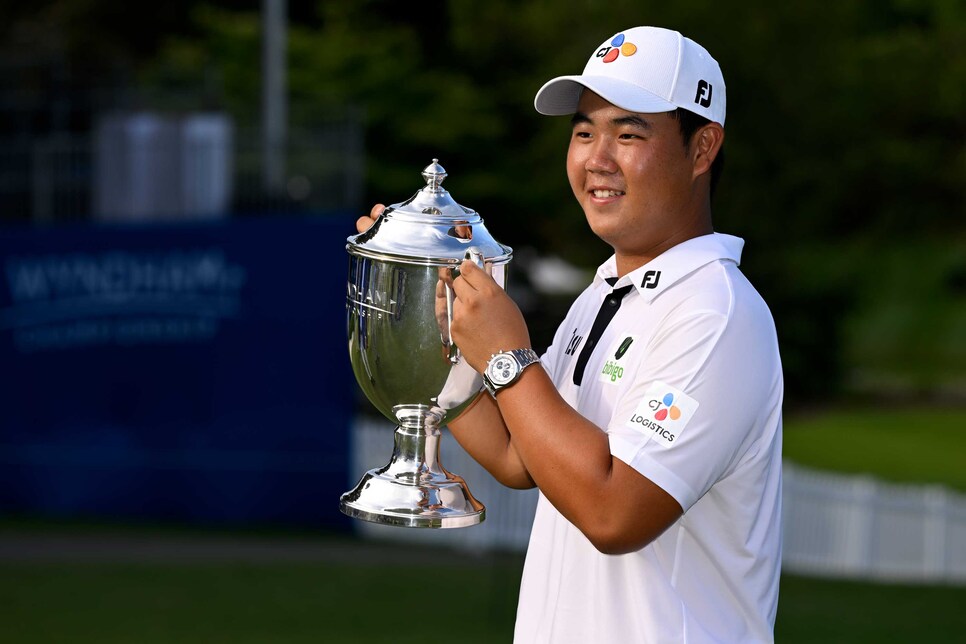 Joohyung Kim with the trophy after winning the Wyndham Championship with a closing 61 on Sunday.
Eakin Howard
GREENSBORO, N.C. — There were plenty of wild scenarios playing out on the last day of the Wyndham Championship, and many had climactic finishes, like Justin Lower's devastating three-putt on the 18th green that cost him his PGA Tour card for next season. Other dramas, though, were far more subtle, and played out far away from Sedgefield Country Club. One of far-afield dominos toppled the hopes of four players whose names you may not know … and may not have ever known, if you hadn't clicked this link.
Let's start with a little math: Non-PGA Tour members who earn FedEx Cup points, by hook or by crook, can qualify for certain statuses for the next season. Joohyung "Tom" Kim is a good example of that, actually; even if he hadn't won the Wyndham, he had accumulated enough points as a special temporary member to be inside the top 125, which meant that he was getting full status next season no matter what happened on Sunday at Sedgefield. Further down that leader board, any player who earns more points than the 200th-place finisher on the FedEx Cup standings gets automatic entry into the Korn Ferry Tour finals, where they can fight for KFT or even PGA Tour status. That's quite important for those players, many of whom won't have full KFT status without it.
Such was the case, according to KFT correspondent Kevin Prise, for Anthony Quayle, Chris Naegel, Rick Lamb and Matti Schmid. Each of them between 50 and 56 points as non-members. Quayle got his points solely from a T-15 finish at the Open Championship; Naegel earned his through three made cuts on the PGA Tour; Lamb is a KFT player who also managed three PGA Tour cuts; and Schmid only played in two tour events, but made the cut in both. For the longest time, it looked like the points they'd accumulated would be sufficient to get into the KFT Finals, since Jonas Blixt was looking to be the likeliest to fall on the 200 number on the actual FedEx Cup standings, and he only had 49.679 points. Jason Dufner, playing in the Wyndham, and making the cut, was likely to have around 58 after a tough weekend and occupy spot No. 199, ahead of the quartet mentioned above. That wouldn't matter, as long as there wasn't a non-member who literally went and won the Wyndham Championship, earned automatic full membership, plus a spot in the playoffs, and knocked everyone else down one spot.
Well … Tom Kim won. That means Dufner moved to No. 200, and Quayle, Naegel, Lamb and Schmid watched their berths into the KFT Finals go up in smoke, thanks to an incredibly unlikely scenario that happened to play out in Greensboro.