The Loop
Todd Gurley one-ups Andy Reid and the rest of the weekend's sickening bad beats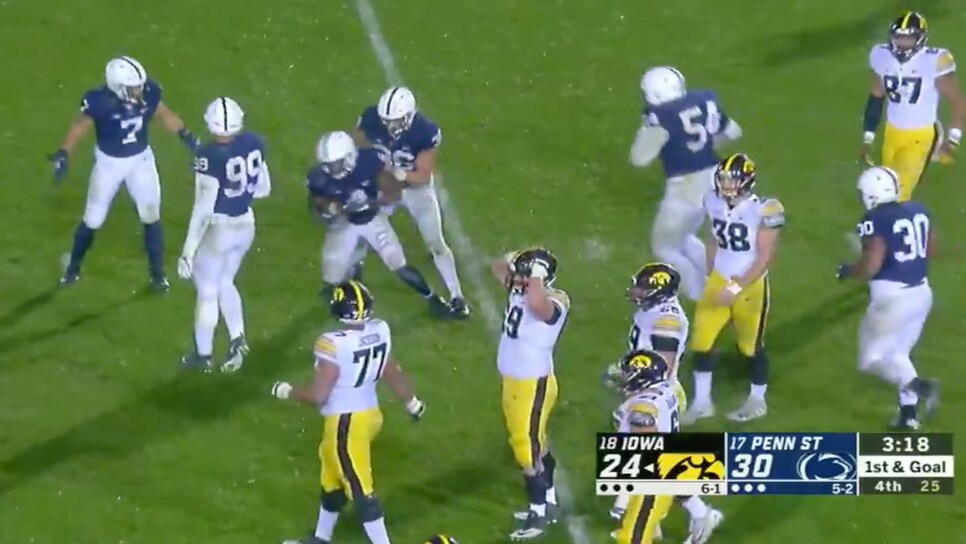 Last Sunday, Andy Reid stomped on America's neck when he decided that on 4th & 4 from inside the Bengals 10-yard line, that he was going to go for it. And not only go for it, but run for it, forgoing the chip-shot field goal that would have made the score 48-10, thus cashing the over total at 56.6 for bettors everywhere. Kansas City did not convert, meaning the game ended 45-10 for a combined total of 55, 1.5 points shy of the over. It was easily the worst bad beat of the season, one that probably couldn't be topped.
It took all of one week for someone to one-up him, and this time it was a player. Todd Gurley giving himself up before he could have crawled into the end zone on all fours blew the L.A. Rams covering -7 and the over at 57 points as the game ended 29-27. It was a rare 2-for-1 kick right below belt that made it feel like your soul had left your body.
The Gurley bad beat deserves its own place in the gambling Hall of Fame, and it makes the next four to follow feel like a mere flick on the wrist. But while some hurt more than others, they still all inflict varying amounts of pain. Here are the worst bad beats of the weekend in college and pro football.
Georgia vs. Florida under 52.5
This game is a dogfight every year no matter where either team sits in the standings, which always makes the under an intriguing play. It's the type of game you could flip on in the third quarter, see that the score is 7-6 and feel really good about your bet. At halftime, Georgia led 13-7, but both teams quickly scored in the second half to make the score 20-14. Then, a Florida fumble from their own one-yard line put the under in big-time danger, with the Bulldogs taking over in easy TD territory. But the Gators stood tall:
A ridiculous stand by the elite Florida defense forced Georgia to kick a field goal, giving them a 23-14 lead at the end of three quarters. At 37 combined points, each team could have scored another TD and the under would still hit. Florida kicked a field goal on its next drive, and Georgia promptly answered with a TD to go up 29-17. Florida's next drive went negative five yards, and Georgia took over with a chance to run some clock. Facing a 3rd & 5 at the Gators 33-yard line with under five minutes to play, a few first downs would seal the deal, or a Florida stop would force Georgia to kick a field goal and keep the under alive. Instead, D'Andre Swift daggered the Florida faithful and under 52.5 backers with this sick run:
The extra point made it 36-17 for a combined total of 53. Ouch.
Rice @ North Texas Over 58.5
North Texas' passing offense (12th in the NCAA in passing yards, 22nd in points for) makes them a great over bet every week. Put them against a 1-7 Rice team and it's fair to expect at least a 50-point outing, meaning you just need a small contribution from the Owls to hit this over. With over five minutes to play, North Texas lead 41-17, putting the over a half of a point away from hitting. If Rice could muster up one garbage time drive, you were a winner. Ten plays and 61 yards later, you could taste victory, with Rice facing a 1st and goal at the North Texas eight-yard line. Yeah, nope:

Iowa getting points was a great play this week, and many folks liked them to win the game outright. The Hawkeyes had everything to play for, while Penn State's season ended a few weeks ago and it showed in an uninspiring performance on the road against Indiana last week. Trailing 14-7 early, Penn State fought back, eventually taking a 27-17 lead in the fourth quarter. At their own eight with 10 minutes remaining, Trace McSorley threw a pick six, putting the Hawkeyes back within the number and giving them a great chance to win outright. The Nittany Lions were able to tack on a huge insurance field goal on their next drive, making Iowa's deficit six points and Iowa +5 backers very nervous. But the Hawkeyes got all the way to the Penn State three-yard line on their next drive with 1st and goal to go. Three run plays would get it done, right? How about this absolute mess of a play instead:
What in the hell? One of the best ground and pound teams in the country opted to throw it on 1st & goal, and the worst part is, amidst all the confusion, they had three timeouts! If everyone's not on the same page there, just burn one of those and regroup. It's the biggest play of the game and your junior quarterback is just chucking it up into coverage. Iowa did get one more crack, but the offense couldn't muster up much of anything, and Penn State won 30-24.
Seattle Seahawks @ Detroit Lions Over 48
With Seattle taking a 21-7 lead into halftime, over bettors were probably banking on the Lions to come out strong in the second half and have Matt Stafford sling it all over the place. That didn't really happen, but Detroit was able to score early in the fourth to make it 28-14, meaning just one more TD would cash the over. With 4:44 to go, Detroit took over on offense and from their own nine-yard line marched down to the Seahawks four-yard line in just six plays. Pop that champagne baby because we are ....... dead:
Sick throw Matty! Guess he didn't see the guy in the white jersey DIRECTLY IN FRONT OF HIS FACE. Even after this travesty, the Seahawks had to take over from their own one-yard line, so a quick three-and-out and a punt would put the Lions in great field position for Stafford to pad his stats with a garbage time TD. They did get that three-and-out, and Pete Carroll sent out his punt team with 2:18 left. Standing in his own end zone, Seattle punter Michael Dickson put the team on his back like Greggggg Jenninggggs:
A fake punt from your own end zone is quite possibly the most Pete Carroll thing in the history of Pete Carroll things. If they don't get it, the Lions easily punch it in and cash the over. Nah. This is why you should just burn your money instead of betting it. Same result.