The Loop
The 7 worst, Andy-Reid-hates-us-all bad beats of the weekend in college and pro football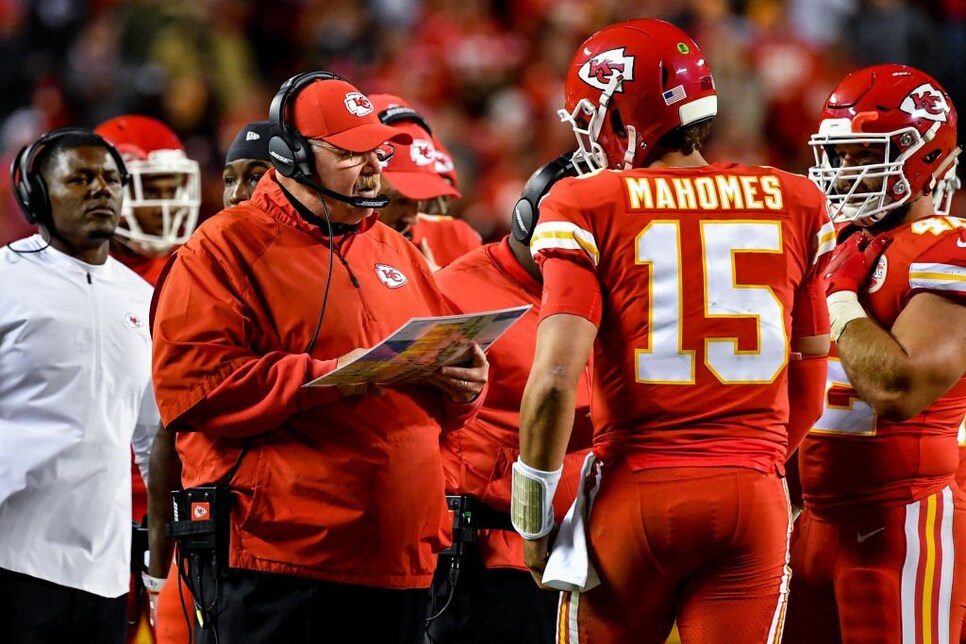 Judging by the reaction on social media, and the fact the Kansas City Chiefs offense scores every time they touch the ball, just about everyone had the over on Sunday Night Football. With that being the case, let's just get right into the bad beats this week, because I'm sure no one is any mood to exchange pleasantries. F--- everything, specifically Andy Reid.
Cincinnati (Money Line) @ Temple
We begin with one that may have slipped through the cracks over the weekend in this Cincy-Temple game. The 6-0 Bearcats were catching 3.5 points on the road, and checked in right around +160 to win the game outright, which is too good too resist. Cincy was sitting pretty at halftime, tied 10-10 with the Owls after trailing 10-0 early. Another touchdown halfway through the third gave the Bearcats a 17-10 lead, and their defense continued to dominate the game. Just look at Temple's 11 drives following their first touchdown of the game that gave them a 10-0 lead: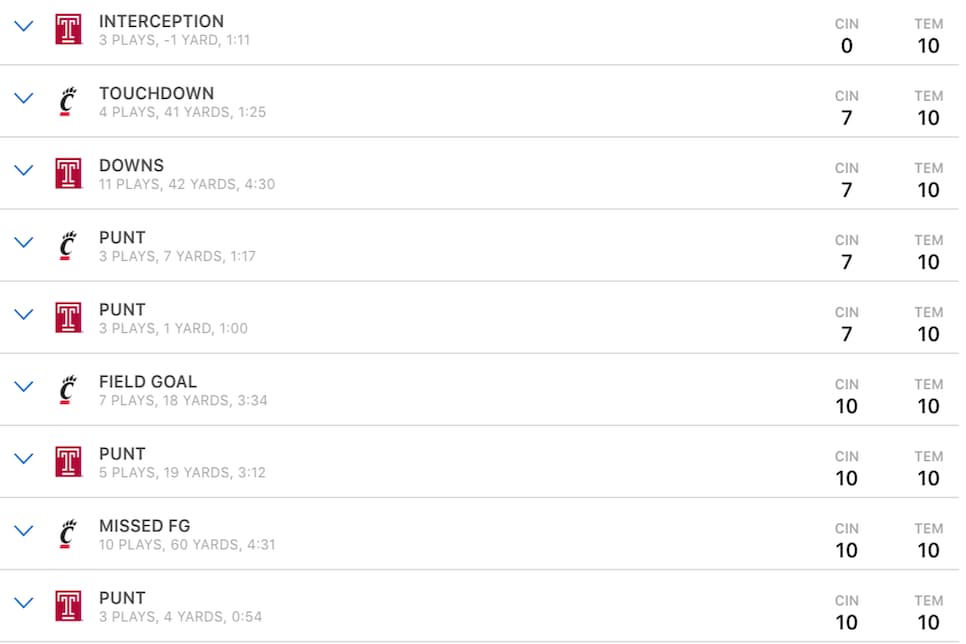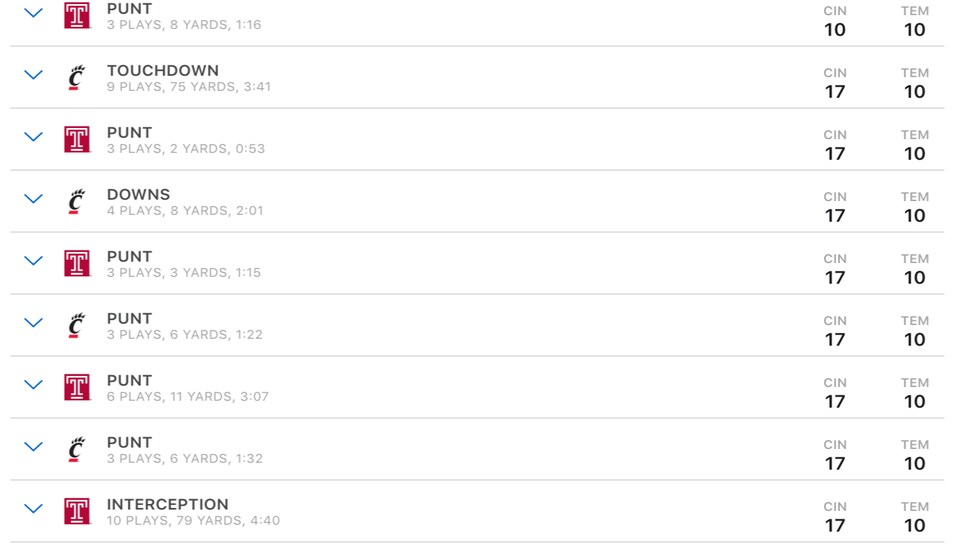 The Bearcats forced seven punts, had three picks and turned them over on downs once. Temple had just 176 total yards during that 11 drive span, going for 11 or less on eight (!) of those possessions. This was a stretch the '85 Bears couldn't have dreamed of, but there was one problem: Cincy's offense wasn't applying the dagger, instead allowing the Owls to hang around. Naturally, Temple was able to miraculously put it all together on its final drive, going seven plays for 75 yards and finding the end zone on 3rd and 10 at the Cincy 20 yard line with 49 seconds to go. Temple struck first in OT, and then the Bearcats took over and went NEGATIVE 15 yards in four plays, including this atrocious last gasp of a pass:
North Carolina @ Syracuse Under 66.5
Cuse has a surprisingly good offense this year, scoring 42-plus per game, which ranks 10th in the country. But North Carolina's offense has been pretty pathetic, so maniacs under bettors may have been enticed by a potential one-sided blowout that only the Orange would score in. Instead, it had all the makings of an upset, as the Tar Heels led 27-20 with possession and just 2:29 left in the game. At this point, the under is going to hit by nearly 20 points, and one UNC first down would seal it up. But a quick three-and-out gave Syracuse the ball back, and quarterback Tommy Devito promptly tied the game three plays later:
This left 1:39 on the clock, meaning OT was far from certain at this point. But once again UNC's offense stalled, giving the ball back to Syracuse with 1:14 to go. A field goal or even another quick TD would still hit the under, but Devito threw a pick on his own 41!!
Hold up! We're back! UNC is merely yards away from field goal range, and they've got a whole 50 seconds to get this done. Let's see how their drive went.

Efficient ! That sent it into OT, and we all know how that story ends:

Akron @ Kent State Over 49.5
This is the perfect game to follow up the Cuse game with, because it illustrates the pain college OT can cause for both sides of the aisle. I won't bore you with the details of a low-level MAC game, because all you need to know is that it went to OT tied 17-17. A touchdown from each team all but guarantees the over, and Akron did its job first, taking a 24-17 lead. Then Kent State answered, but soon made everyone's worst nightmare come true by going for two and the win. Even if they converted, over bettors would lose by a half a point. They didn't, but that didn't matter anyway. Nothing matters in this thing we call life.
Ohio State @ Purdue U 65.5
In the stunner of the weekend, Purdue crushed Ohio State outright, making a previously electric offense look pedestrian. If you liked Purdue prior to kickoff, and checked the weather forecast, then you probably liked the under too. With the Boilermakers leading 21-6 at the end of the third quarter, this one was locked up. Then, shit hit the fan in a BIG way.

Even after all that chaos, you were still WELL inside the number, needing to fend off only an Ohio State score-for-our-own pride TD with 3:37 to go. Or, even scarier, the most heart-attack-inducing play in college football, the desperation heave that leads to an easy pick six DEAR GOD NO IT'S HAPPENING!!!!
For every bad beat, there's a euphoric victory, and I think that's more the case with this one. It's so sickeningly miraculous that you can't help but tip your cap to the winning side while also wanting to murder them in cold blood.
New Orleans Saints @ Baltimore Ravens Over 49
One of the NFL's best offenses against one of it's best defenses screams under, right? Well, with the Saints defense being as bad as it is, over 49 may have been the play, especially considering the explosion of offense this season. It took some late-game heroics from both teams, but the over appeared to be a winner when Joe Flacco connected with John Brown with 24 seconds remaining to cut the Saints lead to 24-23. An extra point would send it to OT and barring a tie, just about guarantee the over to hit. In came Justin Tucker, who legitimately could be the GOAT when it's all said and done. Previously 222-for-222 on extra points, Tucker hit a nice block fade O.B.:
Final: 24-23, New Orleans.
Dallas Cowboys @ Washington Redskins Over 40.5
Even for a heated NFC East battle, this is a total so low you can't help but smash the over and hope for 24-20, 24-17 or 23-20 slugfest. That did not look promising with Dallas trailing 13-10 with under 10 minutes to play, but things got semi-interesting when the Redskins strip sacked Dak Prescott in his own endzone and recovered to go up 20-10. A 12-play, 74-yard drive by the Cowboys made it 20-17 with 1:37 to go, and with all three timeouts, they made the stop they needed to get the ball back and incredibly bring the over back into play. Some terrible coaching by Jason Garrett and another botched kick killed that dream real quick:
Cincinnati Bengals @ Kansas City Chiefs Over 56.5
After those miserable afternoon games, this was time to save face. Break even. Wipe the slate clean. Take the over, save the weekend, hit the big shot, get the girl, etc. etc. Not on Andy Reid's watch!

Final: 45-10, Kansas City