The Loop
To the surprise of no one, the Swedes dominate Canadian Open hockey net challenge
It's Canadian Open week, which means plenty of Happy Gilmore references, DJ crushing tee shots in Gretzky jerseys, and the creative minds at Loop HQ helping Rickie's mullet reach its final, glorious form. While the promotional theme of the week could just as easily be maple syrup or Nickelback, it's mercifully our second favorite stick sport, which has given way to content gold like this: Five tour pros trying to smash 285-yard stingers from the blue tees line into a hockey net propped up in the center of the fairway. Let 'em rip, fellas.
OK, so pretty average effort across the board, except of course for the two big Swedes, Alex Noren and Henrik Stenson, who, governed by the inert goalmouth GPS in their DNA, both smoked their drives straight between the pipes. Noren, impressively, flew his straight in while Stenson took the pucks-in-deep approach, letting his drive carom off the boards or fairway or whatever.
While certainly impressive, if the other King Henrik were patrolling the crease, neither of these fine Scandinavian gentlemen would have stood a chance...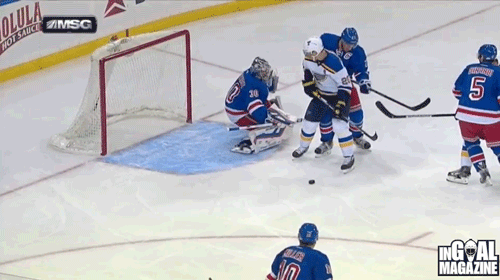 Elsewhere in the wild, log-tossing world of Canadian sports, the Raptors defeated Warriors 123-109 in Game 3 of the NBA Finals to take a 2-1 series lead on Wednesday night, while the Stanley Cup Finals rage on without our neighbors to the north for the seventh season running. Throw in a Mike Weir home-turf title this weekend and it may finally be time for hockey to pass the national pastime baton.