The Grind
Tiger Woods' big week continues, Sahith Theegala's overdue lucky bounce and a (not-so) important golf anniversary
Welcome to another edition of The Grind, where we are stunned, thankful, happy (but somewhat sad) and, yes, proud to be putting a 10th year in the books. That's right, it's been an entire decade of doing, well, whatever it is we do here. Time really does fly when you're having fun. I started this weekly column, coincidentally, less than two months after I met my future wife. It was not a coincidence, however, that the first edition included a picture of an M&M/Kit-Kat cake she showed me and that I hoped she'd make for me. It worked. And she has made it many times since.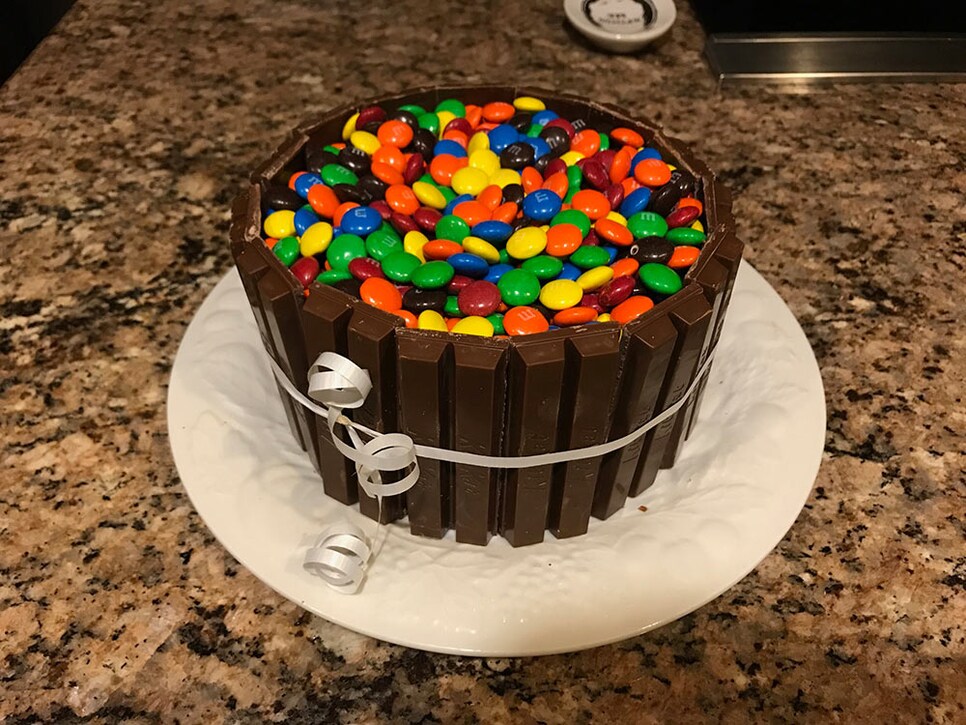 Mmm … that looks good. Anyway, think about all that has transpired and all we've talked about—AKA I've rambled about—approximately 500 times in this weekly space since. Getting engaged. Getting married. Getting a house. Having house problems. Having a kid. Having more house problems (Why do we buy houses?). Having another kid (Why do we have so many kids? Kidding!). A bunch of people winning green jackets. Tiger Woods(!) winning a green jacket. Me winning green jackets on my annual golf trip. Me choking away green jackets on my annual golf trip. All the trips to Costco. All the cakes and other snacks. Oh, and yes, all the golf. We've talked a lot of freaking golf. It's been a heckuva run (so far), and I'm extremely grateful for this gig and for those who have put up with me for this long. So let's take one final spin through the golf world in 2022 before we shut it down for the holidays. Thanks as always for following along.
The Match: Tiger Woods didn't look great, but this was still a lot of fun. A foursome of superstars? Check. Primetime golf? Check. Played under the lights? Check. Charles Barkley? Check. The seventh edition of this thing may have been the best one yet. We just wish it had gone more than 10 holes.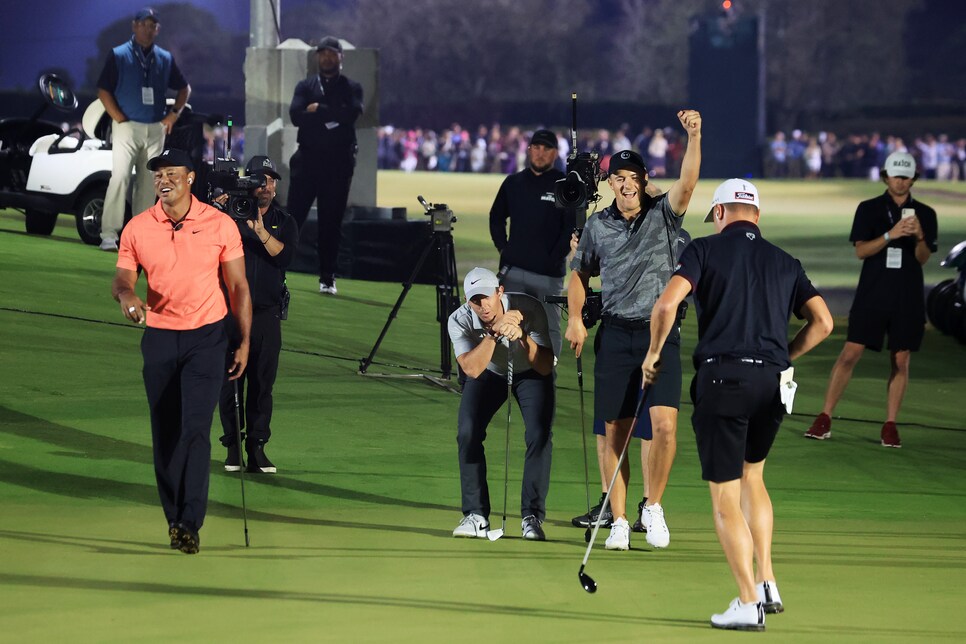 David Cannon/Getty Images for The Match
Congrats to Justin Thomas and Jordan Spieth for taking down Tiger and Rory. But the real winners were all the Florida residents who benefitted from the money raised by the event. Oh, and the game of golf was a winner as well.
Sahith Theegala/Tom Hoge: Speaking of team golf, congrats to these guys, too, but especially Sahith, who finally won after a rookie season of close calls, including even a close call in the Rookie of the Year voting. But while you could argue a bad bounce cost him a trophy at the Waste Management, you could also say this good—and crazy—bounce led to victory at the QBE Shootout:
You love to see the golf gods trying to make things right. Anyway, it was Theegala's birdie putt on the final hole that wrapped up the title. And we're pretty sure this won't be the last time he hoists a trophy—with or without a teammate.
Feel-good qualifying stories: These never get old, but there were two particularly good ones this past week. First, Bailey Tardy earning her LPGA card for 2023 after coming painfully close the past three years: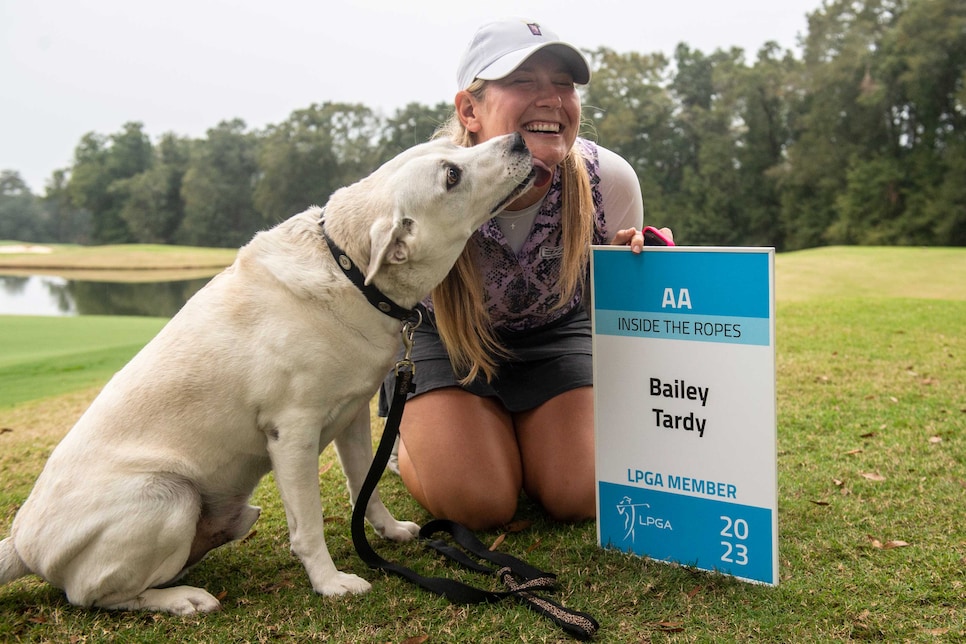 And how about Brian Cooper playing his way onto the PGA Tour Champions for next season and promptly giving us the best reaction video of the year:
It's getting dusty in here!
LIV's initial "plans": Thanks to a New York Times report we know LIV hired consulting firm McKinsey, which laid forth a rather delusional ambitious plan that included signing the top 12 players in the world and getting people like Michael Jordan and Condoleezza Rice on their advisory board, all while not being challenged by the PGA Tour. No big deal. While LIV has made huge strides in its inaugural season, it hasn't gone quite that way. And they could have paid me a much smaller consulting fee to tell them that.
Louis Oosthuizen's wet finish: The South African seemed like he had a top-five finish locked up at the Alfred Dunhill Championship, and more importantly, a top-50 spot in the Official World Golf Ranking. But then he dunked his approach shot in the water on the final hole. Not clutch. According to Twitter OWGR guru Nosferatu, though, Oosthuizen should still end the year in the top 50—likely giving him a spot in the Masters—so long as Dean Burmester doesn't win this week's AfrAsia Bank Mauritius Open. For Louie, that would be like getting a big lump of coal in his stocking.
This rattlesnake: What an absolutely terrifying sight:
Unfortunately, that entire golf course has to be burned to the ground now. Those are the rules.
Tiger Woods will play again! And this time for more than 10 holes! (We hope.) (Fingers crossed.) Tiger will once again team up with son Charlie for the PNC Championship. And yes, defending champs John Daly and "Little" John Daly will be back as well. And thanks in large part to those two teams, it's honestly turned into one of the most electric events on the golf calendar.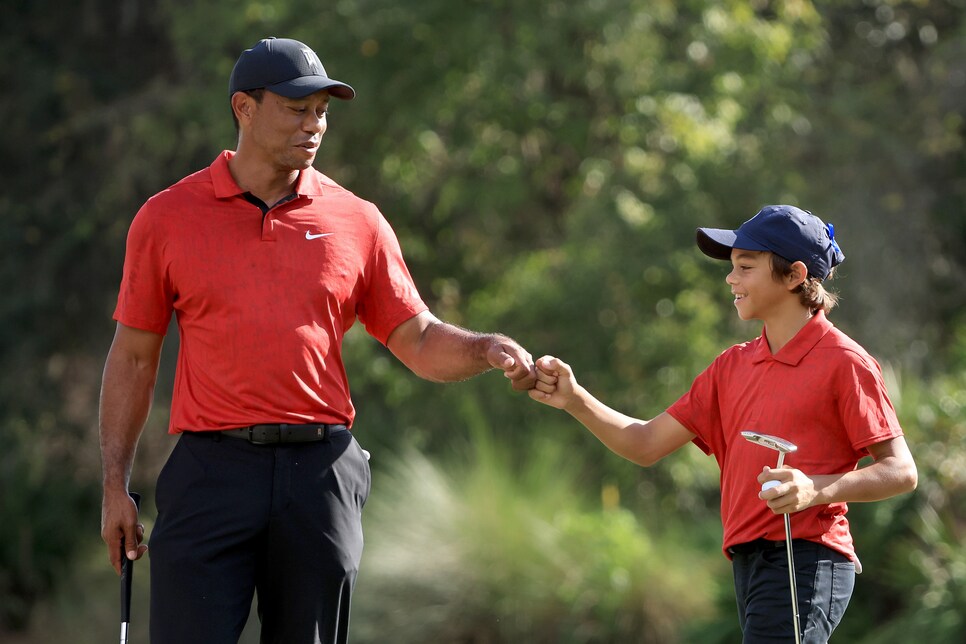 Random tournament fact: Charlie Woods is 13, which means he was only 3 when The Grind first started. Think about that. Charlie Woods might have still been in diapers when he first started reading this column. Well, looking at the photos, that is. (And no, we have no evidence that Charlie Woods even knows what The Grind is, but let me dream, OK?)
RANDOM PROP BETS OF THE WEEK
—Tiger Woods has ever read The Grind: 1 MILLION-to-1 odds
—Tiger Woods and Charlie Woods will win this week: 10-to-1 odds
—Tiger and Charlie will wear matching red shirts on Sunday again: LOCK
Fantastic. And speaking of fantastic, how about "The White Lotus" Season 2 finale? I was on the edge of my seat more than the final round of the Open Championship! What a finish! What a show!
The Old Course in the snow is always a beautiful sight:
Although, it doesn't look like it would be a great place for sledding.
VIRAL VIDEO OF THE WEEK (HOLE-IN-ONE DIVISION)
The latest edition of the DP World Tour's "Chase The Ace" challenge might be the best yet. Kudos to Robert MacIntyre for actually making a hole-in-one, and then providing the perfect—and yes, NSFW—reaction:
VIRAL VIDEO OF THE WEEK (CELEBRITY HOLE-IN-ONE DIVISION)
Check out John Key, the former Prime Minister of New Zealand and an avid golfer, making an ace with the cameras rolling at a charity golf event:
And with a freaking fairway wood no less! What a legend. If he decided to run again, all he'd have to show is that video.
VIRAL VIDEO OF THE WEEK (NEAR-HOLE-IN-ONE DIVISION)
How about this guy having to hit driver on Pebble Beach's famed pint-sized seventh hole? And then hitting that driver to about three feet?!
Good for him. Although, I'd rather make a snowman there in perfect conditions than have to bare with what he and his playing partners encountered. Plus given that wind, there's no guarantee he converted that birdie putt!
THIS WEEK IN PUBLIC DISPLAYS OF "AFFECTION"
You do not want to play against these guys. And you really, really don't want to lose to them.
THIS WEEK IN PUBLIC DISPLAYS OF ATTIRE
We get on Jordan Spieth and Under Armour enough throughout the year that it's only fair to give props when appropriate. And Jordan Spieth wearing the best-looking shirt (by far) at The Match might be the upset of the year: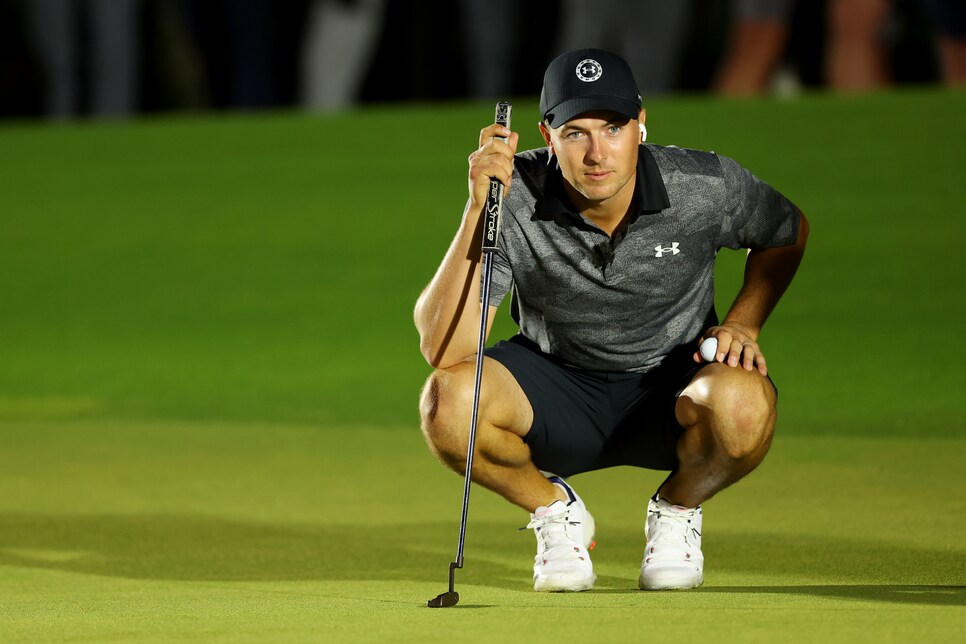 "Chuck's looking at the moon like it's an Oreo." —Justin Thomas has jokes!
RIP to college football coach Mike Leach, who was not a golfer, but still managed to give us one of the great golf rants of all time:
Classic. … Colin Montgomerie said Tiger should have retired from competitive golf in July at St. Andrews during the 150th Open Championship. I love Monty, but that's a no from me, Dawg. … Gary Koch and Roger Maltbie told our Dave Shedloski "it hurts" in regards to being let go by NBC. It hurts us golf fans, too. … And, finally, congrats to Charlie Weinman, my boss' son, on being accepted to Bates College.
This dude was 7 years old when The Grind first came out and now he's about to be a college golfer. Crazy.
RANDOM QUESTIONS TO PONDER
Who will be in Season 3 of "The White Lotus"?
What's going to go wrong with my house next?
Can we (please) do The Grind for another 10 years?