PGA Tour
A preview of 2023? Sahith Theegala sure hopes so after pulling out the QBE Shootout title with Tom Hoge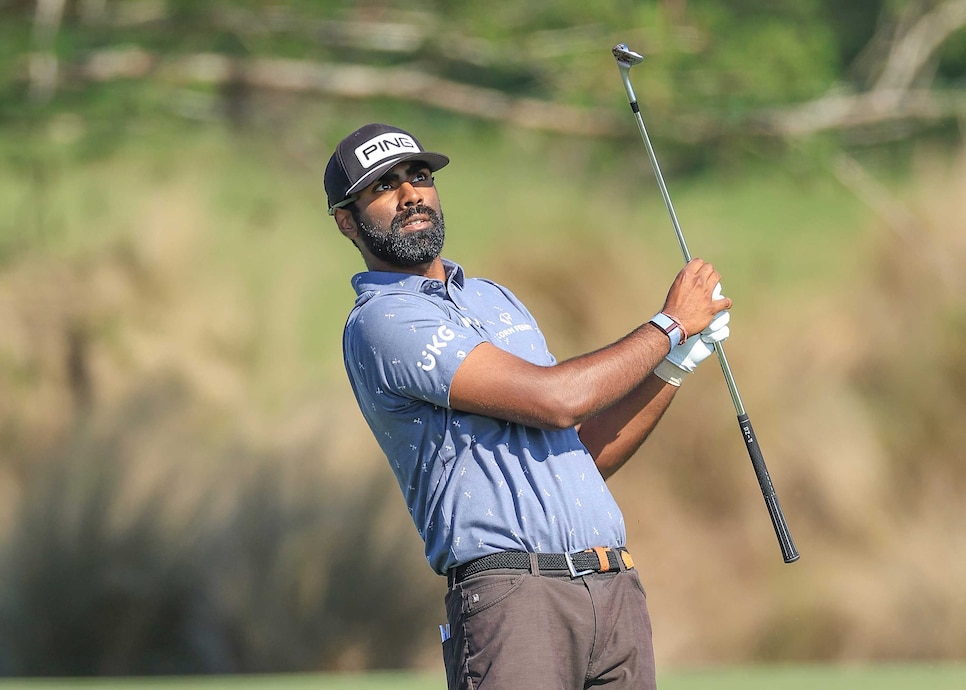 Sahith Theegala swears he had just one goal for 2022 as he played his rookie season on the PGA Tour—keep his card. No more, no less.
The 25-year-old former national college player of the year at Pepperdine assured himself of that early in the year as he contended late into Sunday at the Waste Management Phoenix Open in February, finishing T-3. Another near miss at the Travelers Championship in June (T-2) propelled him into the FedEx Cup Playoffs, where he was one of just two rookies to advance to the Tour Championship in August.
Theegala continued his solid play when the 2022-23 season began in September, rattling off three top-six finishes this fall to put himself in 13th place on the FedEx Cup points list as the tour entered its winter break. "I'd be lying if I said I didn't exceed my own expectations," Theegala said.
For 2023, we're guessing the goal with be a little more lofty, as in winning on the PGA Tour. Particularly after getting his first taste of a tour victory on Sunday at the QBE Shootout, where he partnered with Tom Hoge to claim the title in the unofficial tour stop.
The final round at Tiburon Golf Club in Naples, Fla., didn't exactly get off to the start Theegala was hoping. On the first swing of the first hole, the Chico Hills, Calif., native tweaked a muscle on his left side.
"It's funny," Theegala said afterward, "I was just telling my mom at breakfast, knocked on wood, how healthy I've been for the last four, five years, and testament to my trainer, Iliterally have played every tournament seemingly 100 percent."
So it was that Theegala leaned on his partner for much of the front nine as the pair played best ball. And Hoge obliged, making birdies on the first, fourth and eighth.
As Theegala loosened up, he got into the act, too, making a long birdie putt on the ninth hole to tie the duo of Charley Hoffman and Ryan Palmer, the overnight leaders. Over the final nine holes, Hoge and Theegala made six more birdies en route to a closing 62 to pass, hold off and then final beat Hoffman and Palmer by one stroke with a 34-under total.
"It was an interesting day because I don't think either one of us played our best for 18 holes, but we kind of timed it right," said Hoge, 33, who earned his first PGA Tour title in February at the AT&T Pebble Beach Pro-Am. "I got off to some good starts to both nines and then Sahith kind of brought me home. You know, kind of the ham and egg worked really well for us and holed the timely putts when we needed to, for sure.
While Hoge and Theegala were playing in the event for the first time—and became the first rookie winners since 2011—Hoffman, 45, and Palmer, 46, were QBE veterans. This was Hoffman's ninth start and Palmer is his sixth different partner. The duo set the 36-hole scoring record, with an opening-round 56 in scramble format and a second-round 62 in modified alternate shot. But on Sunday as they tried ot become the fifth wire-to-wire winner's in tournament history, they did what you just can't do in this tournament—make a bogey—that killed their momentum.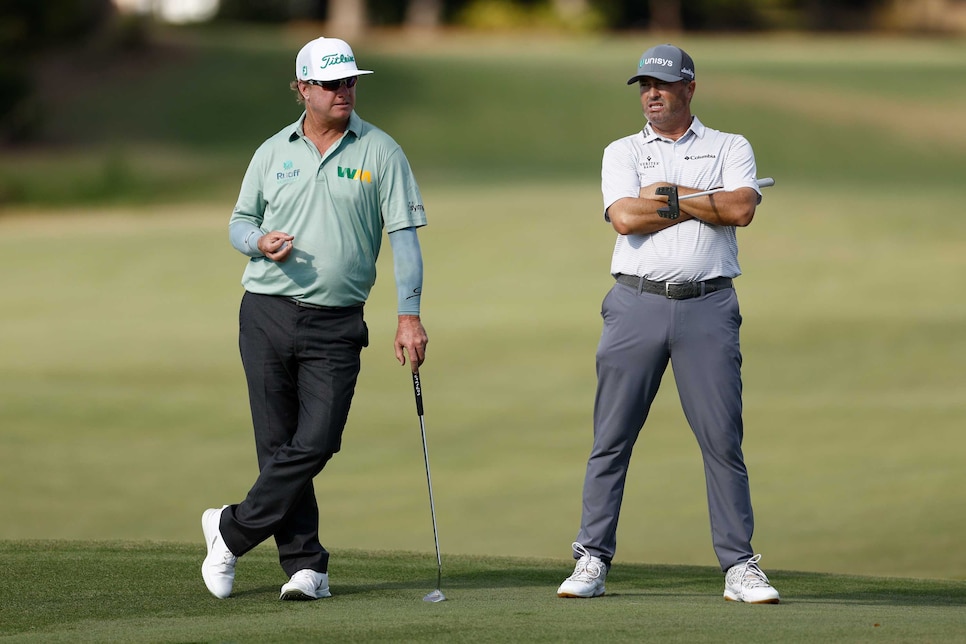 Charley Hoffman and Ryan Palmer set the 36-hole scoring mark but couldn't close things out on Sunday.
Douglas P. DeFelice
But if it looked like the veterans were fading, Palmer turned things around with a lucky (?) birdie chip in on 17. Palmer was left of the green on the par-5 hole in two then flubbed a chip, the ball not reaching the putting surface and rolling back to Palmer's feet. The do-over found the hole and tied he and Hoffman back up with Hoge and Theegala going to the 18th.
"It's crazy the luck you need every now and then and the bounces," Palmer said. "After that, of course I started thinking 'OK, we're going to have a chance to win for sure now.' "
All four players found the fairway on the par-4 home hole and had birdie looks inside 20 feet after their approach shots. Theegala went first and proceeded to roll his ball in the hole, putting the pressure on his opponents. Hoffman and Palmer couldn't follow up.
Tom Hoge and Sahith Theegala became the first QBE rookies to claim the title since 2011.
David Cannon
"It's pretty special. It's nice to get a little taste of competition and taste of victory because it's so hard out here," said Theegala said. "So many great players. So it's nice to get a little taste of that."
A taste that no doubt will be leaving him wanting more.