Editor's Note: This article originally appeared as a newsletter to Golf Digest+ subscribers. To subscribe to Golf Digest+ for exclusive content and more, click here.
Full disclosure: I missed the aces at 16. Both of them. This was my first pilgrimage to the desert to take in (and cover) the spectacle that is the WM Phoenix Open, and I spent plenty of time inside the friendly confines of the Coliseum, as they'd like you to call it, but I happened to be elsewhere when Sam Ryder ended a six-year hole-in-one drought on Saturday. When I heard a second ridiculous roar on Sunday, I knew I'd missed yet another ace, this one courtesy of Carlos Ortiz. I was not present for the beer showers that ensued, nor the cleanup efforts from the saintly volunteers. It's a bit like going to a Wisconsin football game and being in the concessions line during Jump Around. I'm not proud of it, but it happened.
My poor timing (and work-motivated sobriety) notwithstanding, I do indeed feel like I got the full Waste Management experience. And I loved every second of it. The tournament doubles as a week-long festival of life, where ticket-buyers of all ages, shapes, colors and sizes congregate to celebrate good weather, good friends, good golf and good beer. Ninety-nine percent of golf tournaments look and sound almost identical; spectators dressed like they themselves have an afternoon tee time gives scattered applause for a good shot, a few yells for a great one, muffled groans for a poor one. Everyone seems to be worried about standing in the wrong place or speaking too loudly. At the Waste Management, polos and visors are subbed out for Hawaiian shirts and throwback jerseys. The golf clap is replaced by the guttural yell. If you hit a poor shot, particularly on the back nine in the afternoon, you will hear about it. The silence that characterizes so many PGA Tour events gives way to a constant buzz that hums in the background—until someone does something awesome. You can always tell when someone does something awesome. Just listen.
"It almost feels like a real sport," is how Brooks Koepka, never one to lavish praise on anything golf-related, put it. "The atmosphere is unbelievable. I love it. Look, I love when people get rowdy. They're cheering you when you hit it tight, and they're booing you when you hit it bad. If you do something wrong, you deserve to get heckled. If you do something right, they will cheer for you. I think that's what makes this event so cool."
The PGA Tour threw its weight behind the WMPO hype machine. Its social media channels celebrated the chaos all week long and saw that push rewarded with huge engagement numbers. Pictures and videos from 16 went mega-viral, and the reactions were not all positive. A few skeptics posted videos of beer cans flying and littering the 16th green and wondered how that, to use an all-time cliche, "grows the game." At least one column accused fan's antics—namely tossing beers in the air indiscriminately—of crossing a line and having no place in golf. Its the type of thinking that has held our game back. Everyone claims to be pro-growing the game, but a not-small segment seems to want the game to grow only if it grows in the specific way it wants it to.
Speaking personally, I received a number of messages and texts this past week from non-golfing friends who saw the clips/pictures of the beer showers at 16 and couldn't believe their eyes. The general consensus: I had no idea golf got like that. The way to reach the new eyeballs the tour covets isn't to convince them to adopt the same product that's previously failed to garner their attention. It's to meet them where they are, to make golf approachable by showing that not every person and every event in our game takes itself so damn seriously. If this event isn't for you, fine. Don't watch. There are 40-plus other tournaments that'll be more your vibe.
This isn't to say every tournament should try to manufacture a WMPO atmosphere. Part of what makes this tournament so special is that it is such a departure from the norm. Not every week can or should aim to draw 800,000 fans. And we're not here to condone throwing anything at anyone, though it should be noted that the "what if someone got hurt?" hypothetical can be deployed to spoil just about any fun activity. It boils down to this: professional golf can tread dangerously close to vanilla, and the Waste Management serves as the perfect antidote to golf's stereotypical monotony. It is different, and golf can use different.
— Scottie Scheffler finally removed himself from the best-player-without-a-PGA-Tour-win conversation with his W in the desert, but this week belonged to Sahith Theegala. The 24-year-old rookie, playing on a sponsor's exemption, captivated audiences with his easygoing demeanor and relatable disposition. He had too many family members following him to count. He still lives with his parents. He openly admitted to being starstruck while playing alongside the guys he grew up watching. He took selfies with fans during the final round and urged on the crowd all weekend long. He teared up after getting an all-time bad bounce on 17 and eventually falling one shot short of a playoff. Nothing gold can stay, and Theegala won't always be the wide-eyed newcomer dumbfounded by his own success, but there was something distinctly refreshing about watching a young man play emotional golf—especially in an age when so many pro-golf conversations are about money.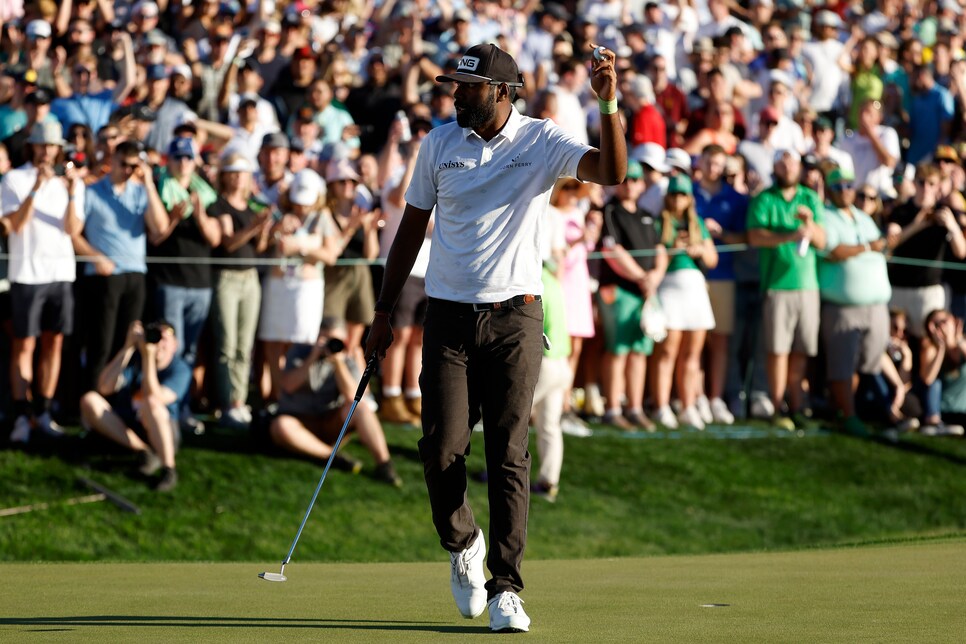 — Charley Hoffman lit into the PGA Tour on Friday night after a ruling he disagreed with. "No accountability at any level here," the 45-year-old veteran wrote on Instagram. "No protection for the players at all. You wonder why guys are wanting to jump ship and go play on another tour. Players need transparency, protection and consistency. We don't have that under the current governing bodies."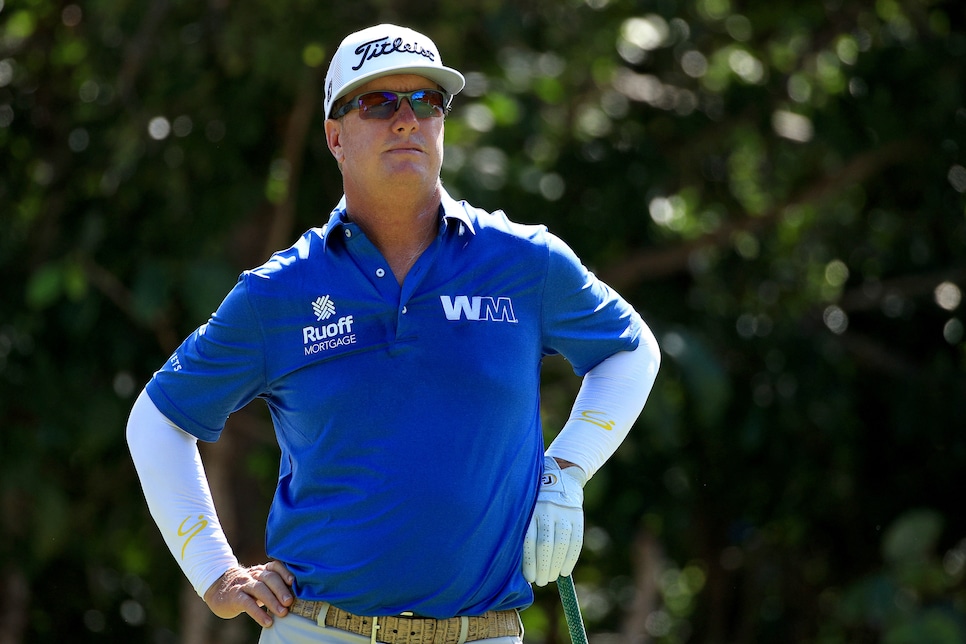 The post was remarkable for a number of reasons. First, Hoffman's chief sponsor is Waste Management, the title sponsor for the tournament he was playing in. Second, Hoffman has served in numerous leadership positions on tour and is currently a player director on the PGA Tour policy board. Third, the leap from a poor ruling to an existential threat to the PGA Tour. The reaction to the post was not positive, and Hoffman clarified on Saturday that he has no intention of leaving the Tour and invoked the Saudi issue to garner more attention and change the rule in question. Toward that end, he accomplished his mission. Hoffman has since deleted the post and on Tuesday he apologized for it during a Players Advisory Council meeting.
— Speaking of Riviera Country Club … 10 of the top 10 players in the World Ranking will tee it up there this week at the Genesis Invitational. Yup, that's all of them. The Pacific Palisades, Calif., course might be the finest on tour, and this will be the first tournament of the year that draws virtually all the big boys—except the biggest of them all. Bryson DeChambeau denied a report that he told players he's done playing PGA Tour events and instead chalked up his absence to the wrist and hip injuries that prompted him to withdraw from the Saudi International.
— Stacy Lewis will serve as captain for the U.S. Solheim Cup team for the 2023 matches in Spain. At 36, she will be the youngest American captain in Solheim Cup history. She will try to guide the Americans to their first Solheim Cup victory since 2017 against a European side led by Suzann Pettersen, who holed the winning putt at the 2019 Cup in spectacular fashion before almost immediately retiring from competition.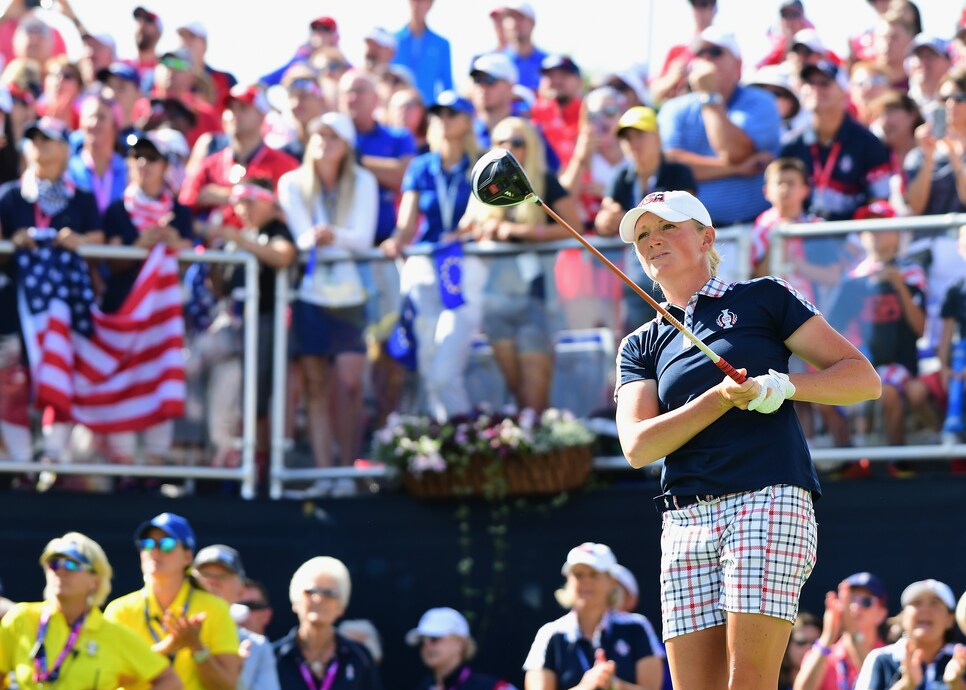 — Tiger Woods, who serves as tournament host for the Genesis, will address the media on Wednesday. He is sure to be asked about the state of his rehabilitation and when he plans to return to competition. Whether he gives any information is another question.
— The super-long hitting Brandon Matthews won the Astara Golf Championship on the Korn Ferry Tour and is now in excellent position to earn his PGA Tour card for next season. You might remember Matthews from a tricky situation in 2019, when a man with special needs distracted him while he had a putt to extend a playoff. Matthews handled the incident with kindness and grace and was given a sponsor's invite into the following Arnold Palmer Invitational at Bay Hill for the gesture. He won't need any more exemptions should he continue playing like this.
— Eduardo Romero, one of the best Argentinian golfers in history, died from complications from cancer. The man nicknamed "El Gato" won more than 80 professional events worldwide, including eight European Tour events and the 2008 U.S. Senior Open. He was 67.