Golden Age Auctions
Rare Tiger Woods' Sunday red shirt from historic Masters expected to generate record auction interest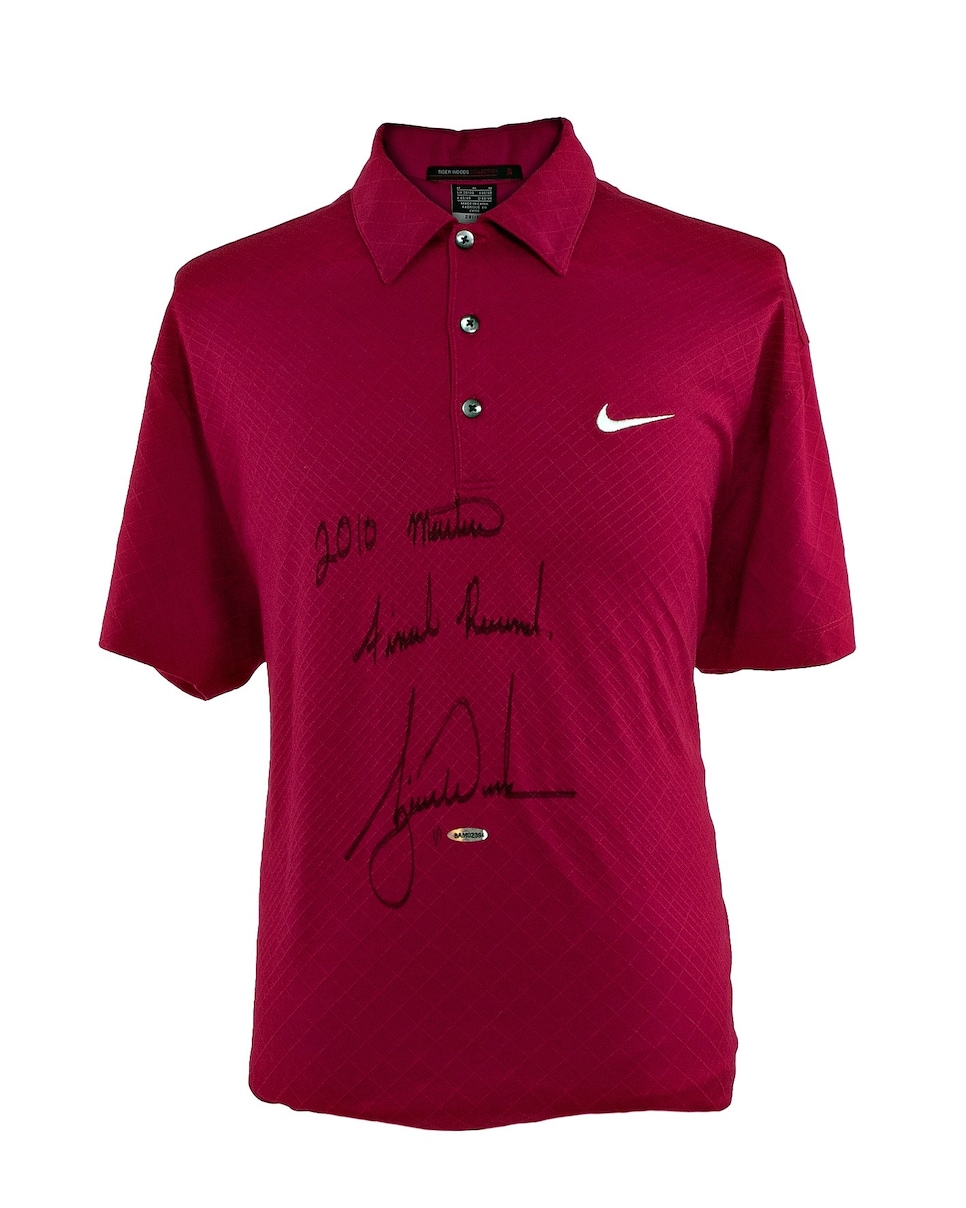 In recent years there has been a spike in interest in Tiger Woods auctioned memorabilia. Most of the items have been golf clubs used by the 15-time major champion. A new lot up for bid by Golden Age Auctions presents a different opportunity, allowing bidders to vie for a vintage Sunday red Nike shirt worn by Woods in the final round of the 2010 Masters.
The auction, which begins on Tuesday, ends on Saturday, Dec. 10 with a starting bid of $5,000, though the final price is expected to far exceed that (Editor's Note: Golf Digest has a business relationship with Golden Age Auctions).
"Game-worn sports memorabilia, especially items photo-matched to a memorable moment or historic event, are setting records all around the world this year," says Ryan Carey of Golden Age Auctions. "A Michael Jordan jersey recently sold for $10.1 million at Sotheby's, and a Diego Maradona soccer jersey recently sold for $9.3 million."
Woods' shirt from 2010 is indeed a historical piece despite Woods finishing T-4—it was his first tournament appearance since his sex scandal.
But according to Carey, it's also the scarcity that enhances its value. "We believe this is the only Sunday red from a Masters Tournament that has been auctioned, and the others might not surface," he says.
The shirt is signed by Woods. "Normally that would help the price a tiny bit, but I think it helps even more with this one," says Carey. "It has a massive inscription that says '2010 Masters Final Round,' and Tiger doesn't autograph stuff like that very often. It's a huge autograph, too. This one is special that he did that."
According to Carey, Woods memorabilia until recently was overlooked, with Carey pointing to an auction of this very shirt six years ago as a prime example. At the time the shirt brought in just $10,780. "That was crazy that it went for so little," Carey says. "This will go for much more. A Tiger Woods tournament-worn shirt has never sold for $100,000. Expect that to change with this shirt."
Since that auction in 2016 Carey has sought the shirt. After reaching several dead ends, he found the other shirts from that tournament in various collections but couldn't find the red one.
"Then I got kind of lucky," he says. "I went through a bunch of our past auctions of other Tiger shirts, and when I reached out for a shirt from Tiger's 2007 Wachovia victory, the owner said he had traded it for a different shirt, which happened to be this one.
"I spent several months trying to convince him to let me put it up for auction. I wanted to put it up with the Tiger Slam irons, but he wasn't ready. But once he saw our results with the Tiger irons [which sold for $5.156 million], he reached out almost within an hour."
As for value, Carey says this Sunday red shirt would only be exceeded by a couple others, such as Woods' final-round Masters shirt in 1997 or 2019 or perhaps the one that completed the Tiger Slam in 2001. As for other shirts Carey would like to acquire, there's one other notable one. "Man, I'd love to have Justin Leonard's 1999 Ryder Cup shirt," he says.
Given the likely success of this auction, the owner of that might just be reaching out in the future.