Collectibles
You won't believe how much these Tiger Woods cards are going for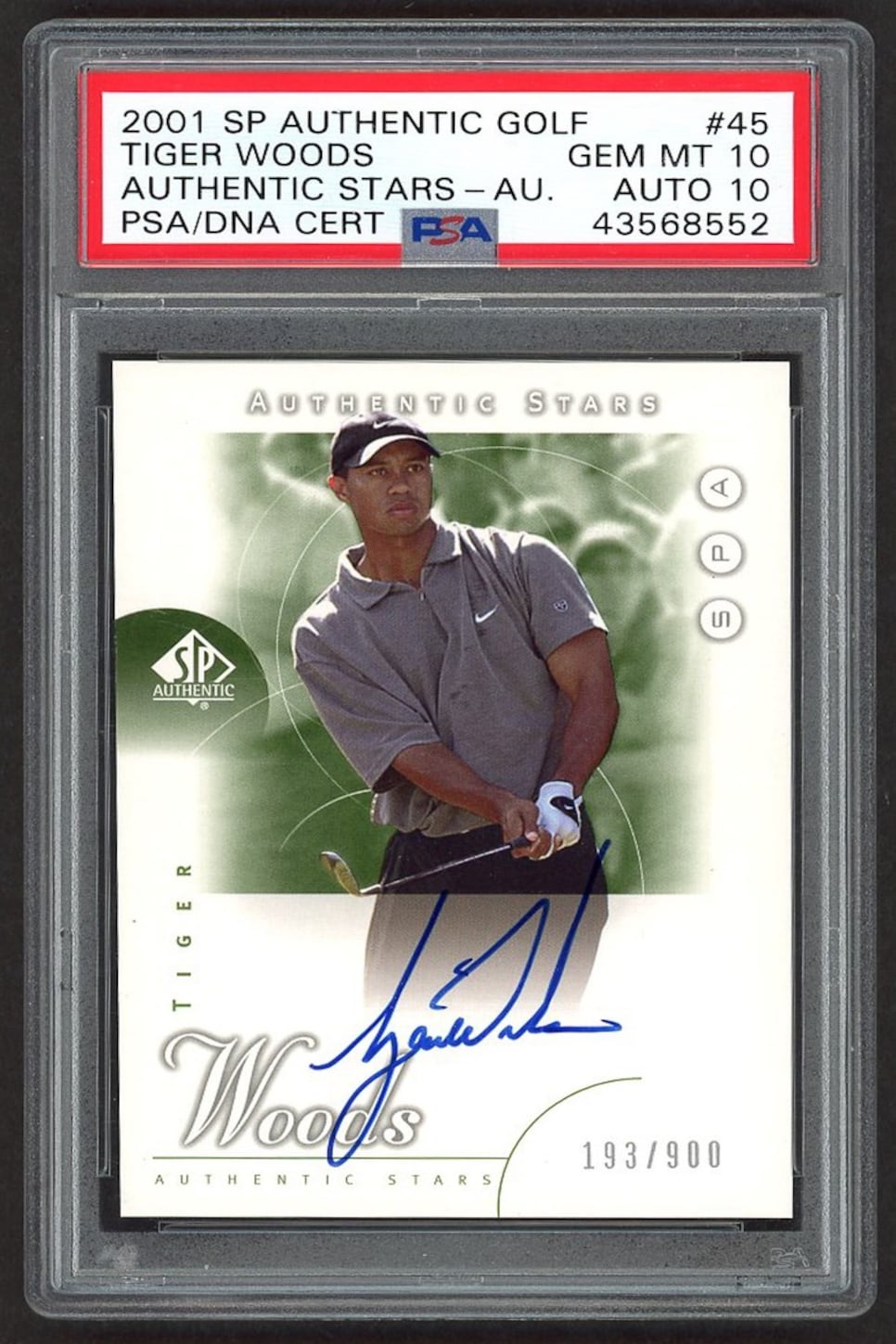 Another year and another piece of Tiger Woods memorabilia is on track to fetch an enormous sum at auction. Yet, this time the collectible isn't a ball or club that played a pivotal role in one of his historic moments. Instead, Golden Age Auctions is listing what they say are the "best of the best" Tiger golf cards.
These include the 15-time major champion's official "Rookie Cards," which Golden Age co-founder Ryan Carey says were first issued by Upper Deck in 2001. Bidding commenced this week and will continue until Jan. 28, with many of the cards already exceeding $5,000 and a couple hitting five figures.
As of this writing, a rookie card signed by Woods leads the way, rising from a starting bid of $500 to just under $25,000. The 2001 Upper Deck SP Authentic "Authentic Stars" Auto Silver (above), which Carey says is the most desirable Tiger card, is one of just 900 that were produced. The card was graded a 10—the highest possible quality score—by the Professional Sports Authenticator (PSA). Carey expects the card will sell for somewhere between $40,000 and $50,000. (Editor's Note—When the auction ended on Saturday, the card sold for $48,177.60.)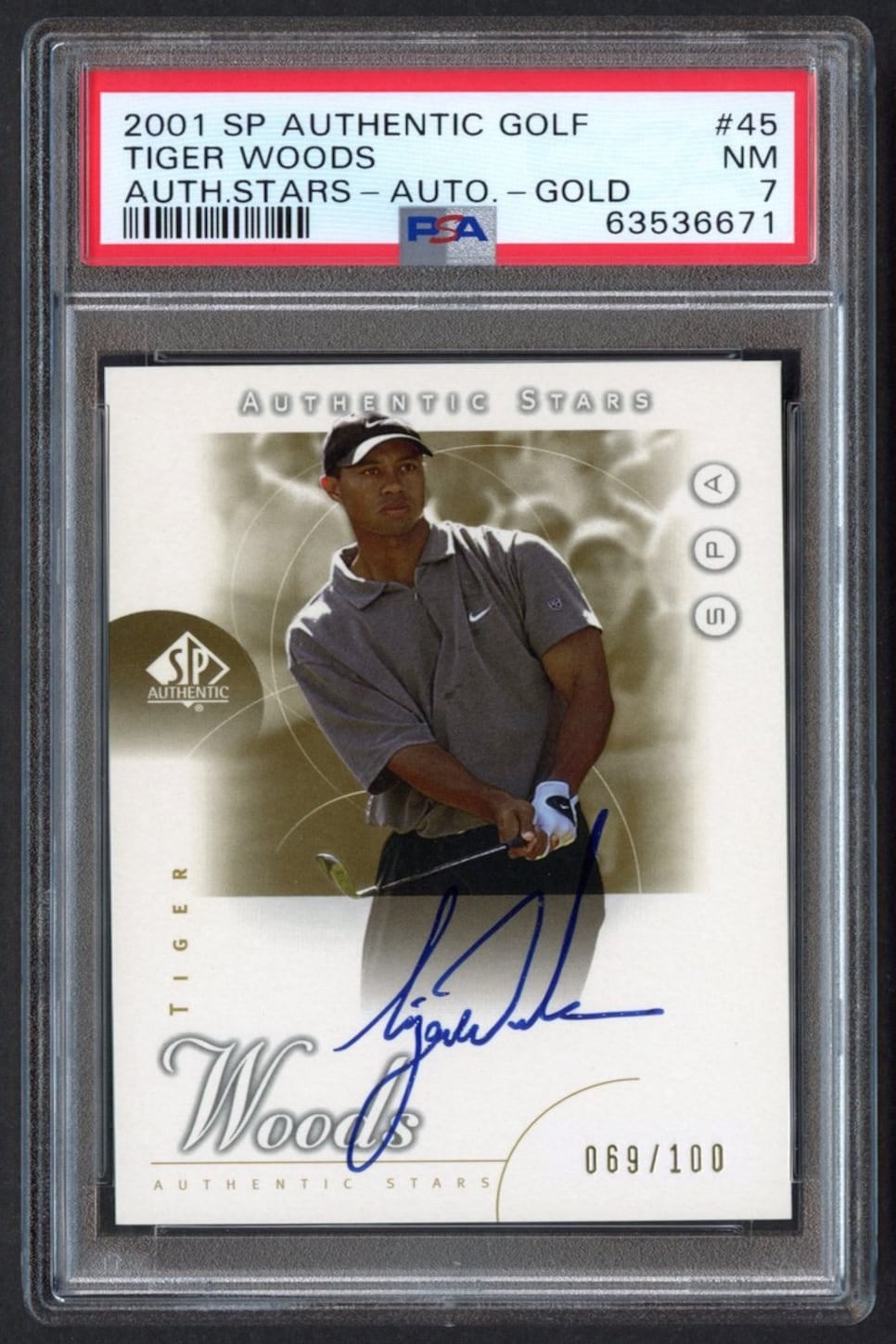 Golden Age is also selling a signed Gold version of the card, one of just 100 produced. The card (above) was given a PSA 7 quality score and is currently bidding over $18,000. The same version of the card, in PSA 10 condition, was sold by another auction company in 2021 for $369,000, which Carey says is a world record for a Tiger Woods card.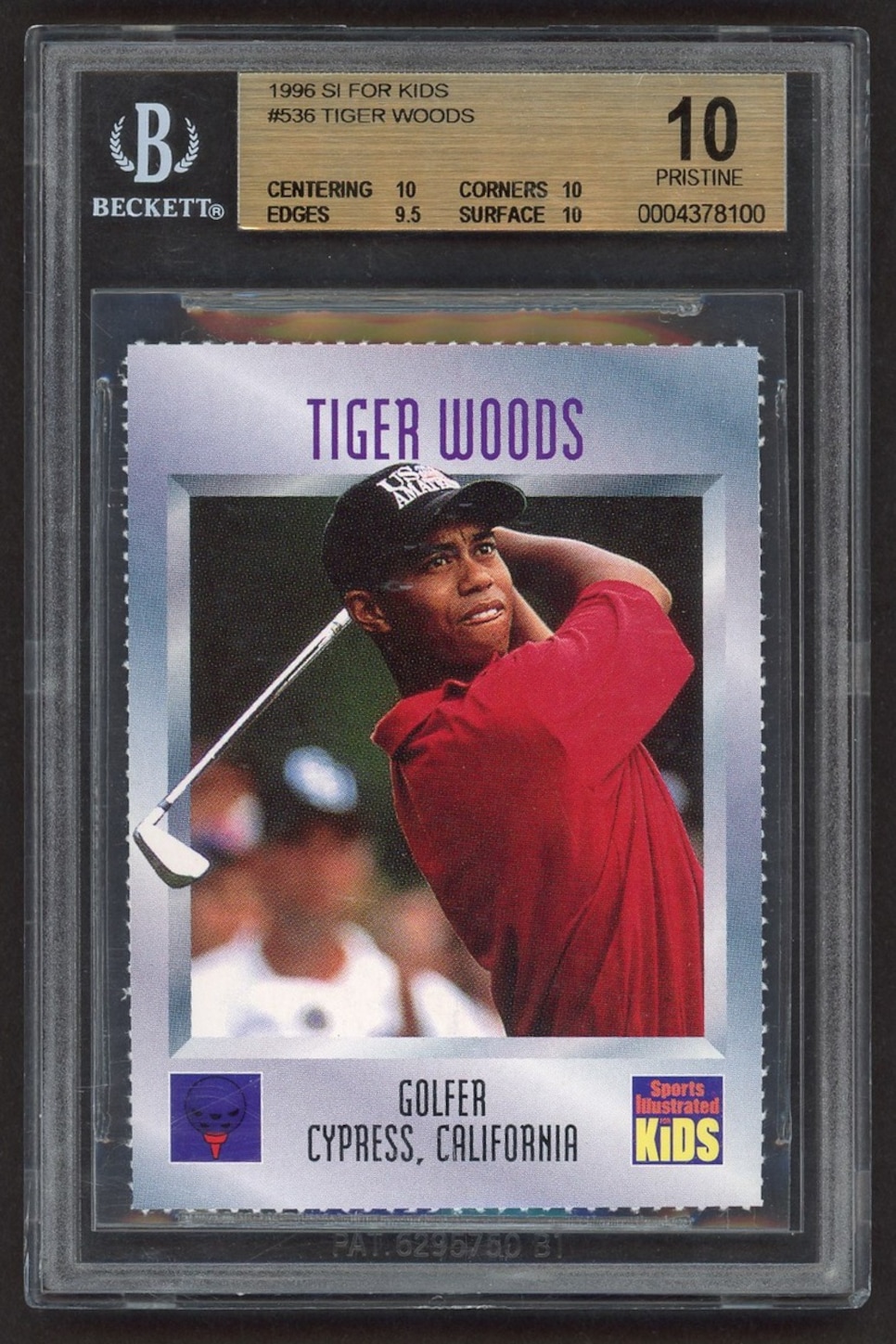 The Tiger cards are the latest example of the explosion of the sports card market in recent years. In Aug. 2022, a Mickey Mantle baseball card sold for $12.6 million, a record sale price for a piece of sports memorabilia. According to a report from ResearchAndMarkets.com, the U.S. Sports Trading Card Market—which was valued at $4.7 billion in 2019—is expected to grow to over $62 billion by 2027.
"Sports-card collecting has flourished since the beginning of COVID," Carey says. "Many—if not most—baseball and basketball cards tripled or quadrupled in value, if not more. Golf cards have always severely lagged behind other sports cards. But when prices started skyrocketing in other sports, collectors started to finally realize that golf cards, especially of Tiger Woods, may be a great investment potential."
These lucrative card sales continue a recent trend of Tiger memorabilia selling for incredible, often record-setting prices. In April 2022, the irons and wedges used by Woods during his historic 2000-2001 run sold for $5.15 million, which is believed to be the highest price for a piece of golf memorabilia acquired at auction. In 2021, one of Tiger's backup putters from the 2002 season sold for $393,000.
(Editor's note: Golf Digest has a business relationship with Golden Age Auctions.)