The Loop
Tiger Woods teams up with his son, Paulina Gretzky (and Greg Norman) turn heads and the PGA Tour's strangest sight
Welcome to another edition of The Grind where we will have more money for Christmas gifts this year after successfully refraining from buying anything from the Masters Patron Shop. Talk about DISCIPLINE. And if you're thinking, "but couldn't you have bought some nice Christmas gifts from there?" Well, believe it or not, the rest of my family isn't really into golf. I also received the only Augusta-themed merch I needed, courtesy of Chris Vernon: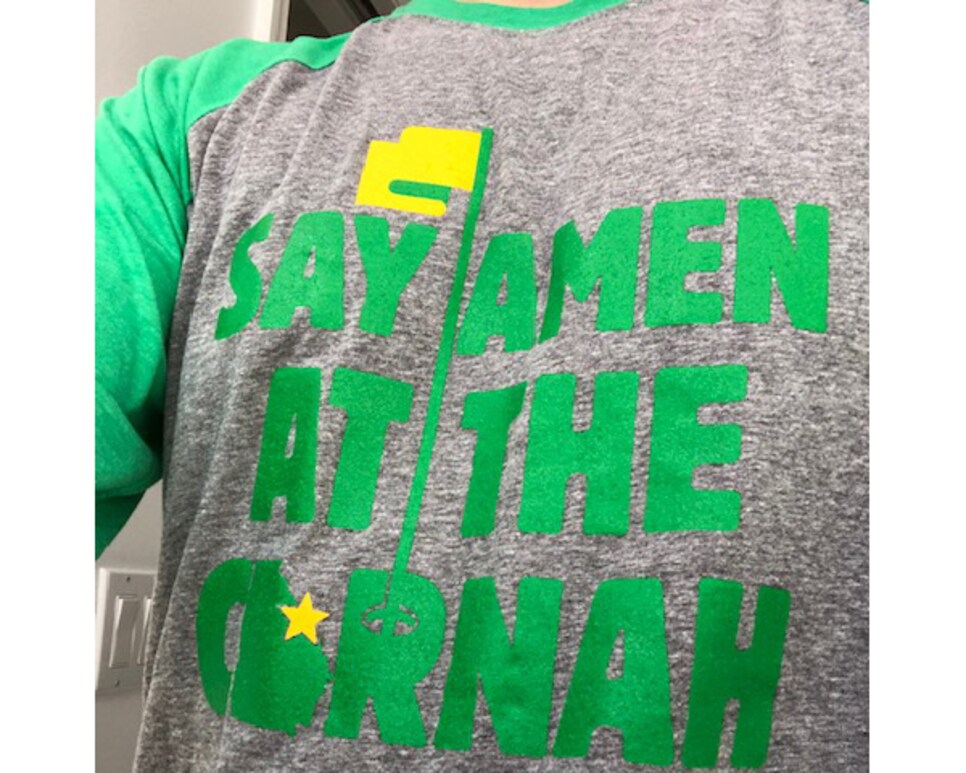 Thanks, Chris. Can't wait for April and more of those amazing Masters scoring updates. Oh, and for the Masters itself. In the meantime, here's what else has us talking.
Robert Streb: Comeback szn continued this fall with Streb's win at the RSM Classic, his second career PGA Tour title and his first since winning previously at Sea Island in 2014. Of course, the 33-year-old knows exactly why he plays so well there. "I don't know," he told Golf Channel after. "I feel like if you're playing good, you can do well here." OK, so he has no clue, either. In any event, congrats to him for the victory and for nearly pulling off a walk-off eagle:
Team Woods: In an announcement that both shocked and thrilled Golf Twitter, Tiger Woods will team up with his 11-year-old son, Charlie, for next month's PNC Championship, AKA the Father-Son Challenge. Here's a sample of what we are in store for:
Look at that swing! Sorry, Tiger, but we're talking about Charlie. The kid looks like a young Rory McIlroy! And he'll have a chance to really add to his piggy bank with a $1 million purse. So mark your calendars, folks. We're getting an early Christmas present Dec. 19-20 as Charlie Woods takes on Little John Daly (and others). Who said the Masters was the last major of 2020?!
Jim Nantz: In between working the biggest golf week of the year and calling the critical Titans-Ravens game, the CBS announcer made some random golfer's day week month year life by providing a bit of play-by-play at Pebble Beach. Have a listen:
So good. CBS better pay this guy whatever he wants in their reported upcoming contract negotiation. Of course, as someone who has been lucky enough to be on the receiving end of Nantz's play-by-play—both at his backyard par 3 and when he emceed my golf group's green jacket ceremony this summer—I'm not surprised in the least. Jim Nantz loves being Jim Nantz. And why shouldn't he? What a legend.
Wilco Nienaber: Apparently on the European Tour, Bryson is spelled W-I-L-C-O. Check out this dude's 439-yard(!) BOMB during the Joburg Open:
Good lord. Now that is "raw power" as Nantz would say. Love these commentators too, though. "That is borderline obscene." "It's offensive. It's offensive to watch if you're playing with him." Anyway, the South African is just 20 years old and he can play too as evidenced by his runner-up finish. I'd make a Wilco joke but I'm unfamiliar with the band despite my boss' suggestions through the years. I might have to give them a try, though, because this guy isn't going anywhere and I could use some new material.
Kevin Kisner in playoffs: How's this for a crazy stat? Kisner has been involved in five playoffs during his PGA Tour career—and he's lost all five. Even crazier? As 15th Club's Justin Ray points out, he's lost to an opponent making birdie every time! Talk about a tough-luck loser.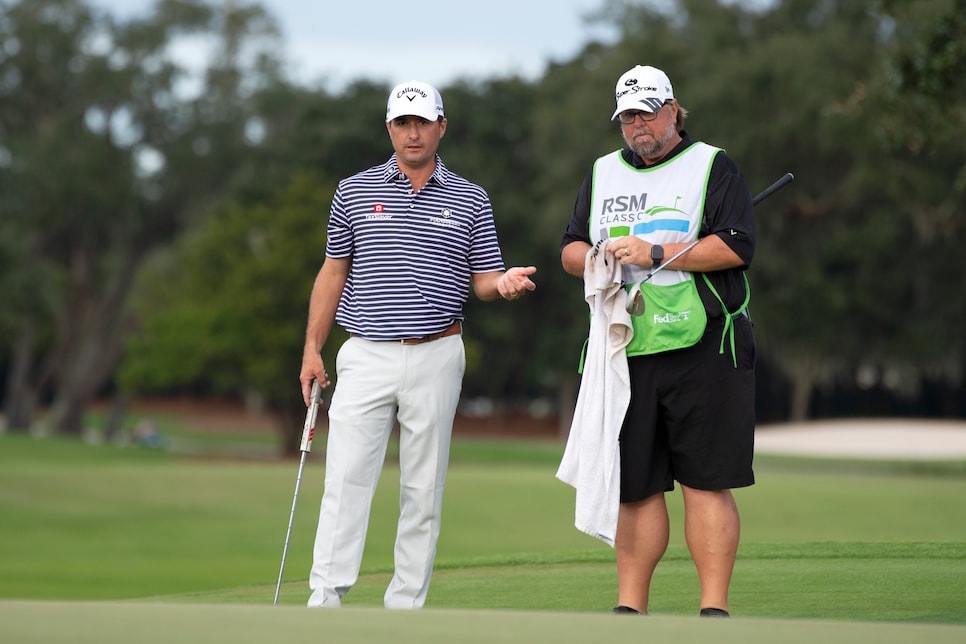 On the bright side, he's got a ways to catch Ben Crenshaw's 0-8 mark. And Kisner made more for this latest runner-up than the Hall-of-Famer ever made for an entire season on the PGA Tour. So at least Kiz has great timing for being a tough-luck loser.
Forgetting to sign your scorecard: We've seen some brutal penalties involving incorrect scorecards throughout golf history (Poor Roberto de Vicenzo), but we can't feel too sorry for this one. Yu Liu forgot to sign her card altogether and was therefore disqualified from the LPGA's inaugural Pelican Women's Championship. Ouch. At least she had shot an opening 74 and not a 64. Still, that's embarrassing.
Stealing a tour pro's golf clubs: Specifically, those belonging to Danielle Kang. After being alerted to some missing clubs popping up on eBay, the LPGA star put the culprit on blast and wound up tracking them down: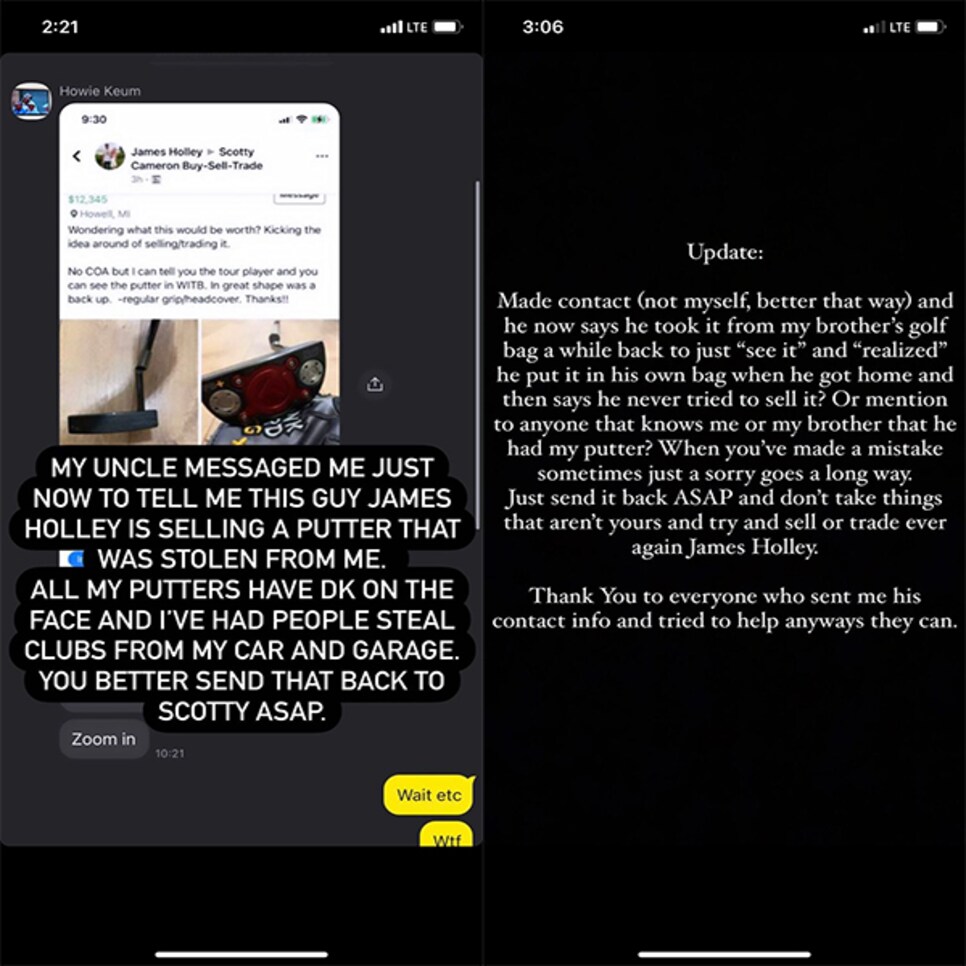 So the LPGA Tour has taught us two important lessons this week: Don't forget to sign your scorecard and, perhaps more importantly, don't mess with Danielle Kang.
The PGA Tour heads to … wait a minute … it's a rare BYE week! In fact, this is the first time since the June restart that there won't be an official PGA Tour event. But unofficially, it's time for the latest edition of THE MATCH. This time, there's no Tiger, but Phil Mickelson and Peyton Manning are back and joined by Stephen Curry and Charles Barkley. Phil will be paired with Sir Charles in the modified-alternate-shot-match-play format. Good luck, Lefty.
Random tournament fact: Charles Barkley has long been a walking golf punchline, but he was actually a decent player once. In fact, he fired a tasty little 82 at the 1995 American Century Championship at Lake Tahoe. True story. No, really. I swear! I looked it up!
RANDOM PROP BETS OF THE WEEK
—Charles Barkley will play like someone capable of shooting 82: 1 MILLION-to-1 odds
—This week's The Match won't match the TV ratings from May: LOCK (#Tiger)
—This year's PNC Championship will have its highest TV ratings ever: Also a LOCK (#Tiger)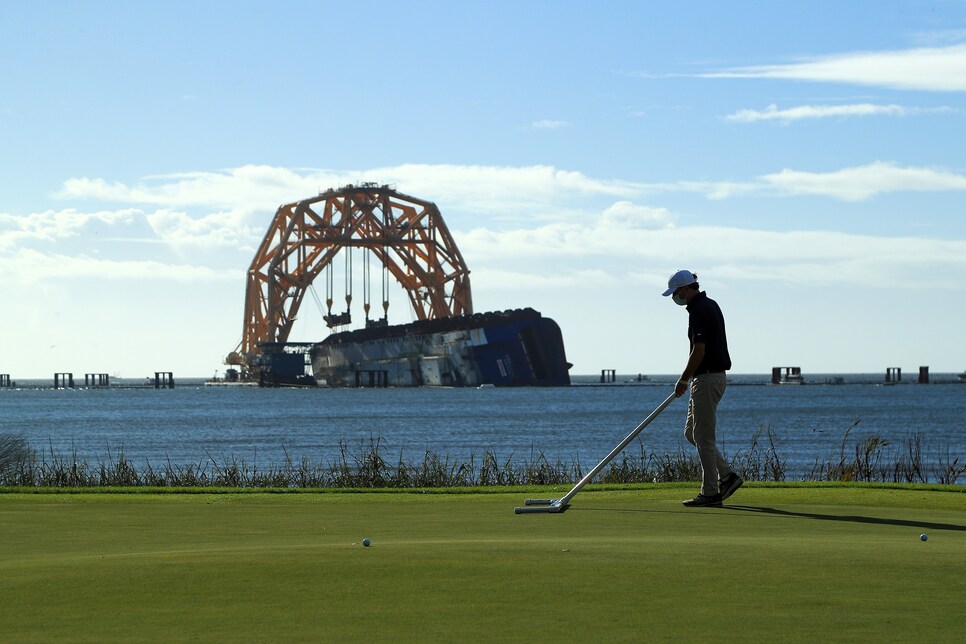 How would you like to be leaking oil on the back nine at Sea Island and see that sucker actually leaking oil? Just a wild sight. But work is finally underway to cut it into pieces and have it removed so hopefully, it's gone by next year's tournament. Or maybe it will become one of golf's great landmarks.
Caddie Aaron Flener got boss J.T. Poston a gift money just can't buy after competing in his first Masters: His own day in his hometown!
THIS WEEK IN PROS ARE JUST LIKE US! (SORT OF)
This was just your normal winning caddie video by Robert Streb's looper, Steve Catlin, until about the 1:40 mark where he shows off the trophy his 7-year-old daughter made him:
Awww. That's the good stuff.
THIS WEEK IN TOUR PRO PUBLIC DISPLAYS OF AFFECTION
From the innocent to the … well, we've got a couple borderline NSFW Instagram posts here. First, Greg Norman. And as PGA Tour pro Greg Chalmers noted, you might want to avoid zooming in …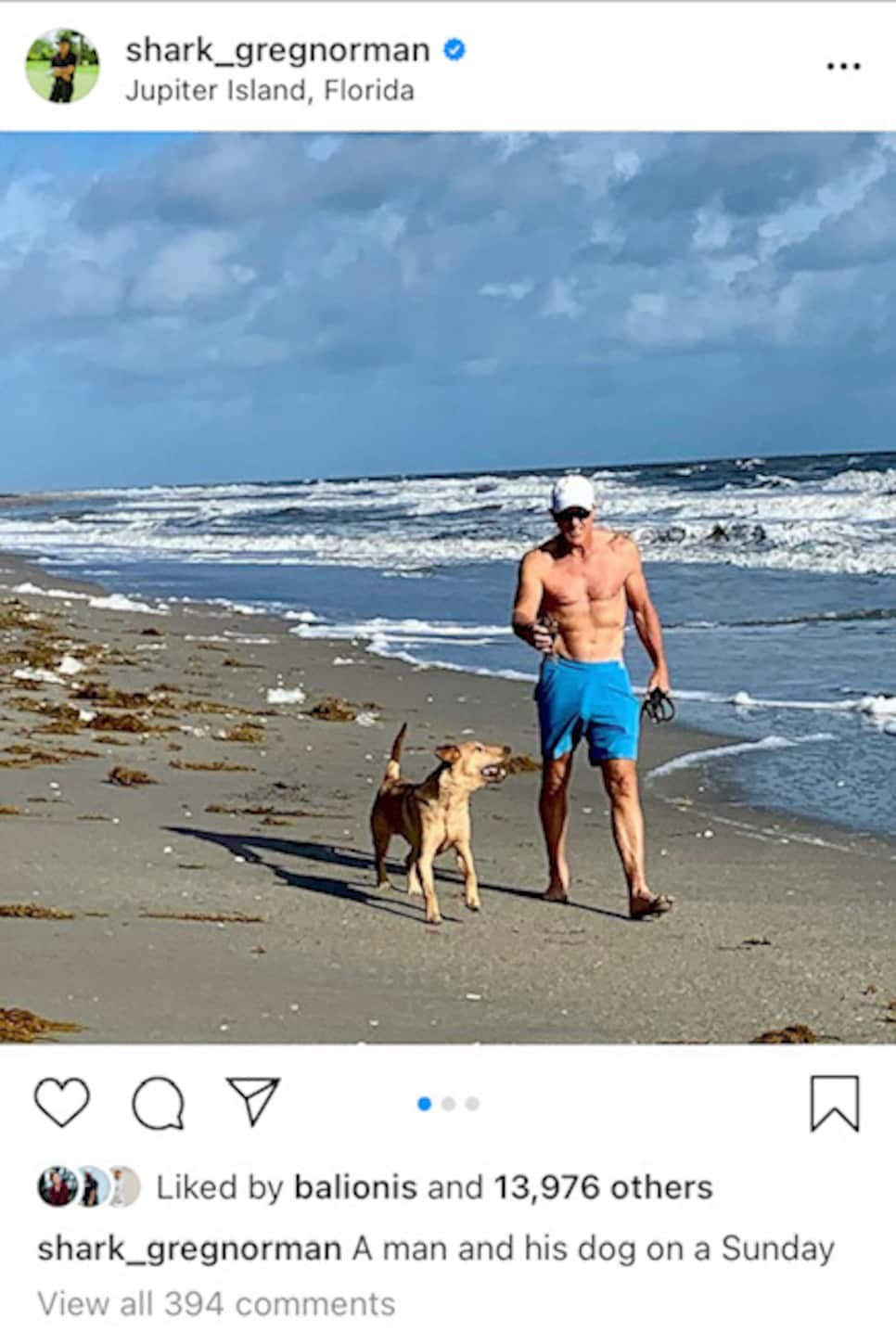 The Shark is 65, by the way. Even Gary Player is impressed. And then there was Paulina Gretzky baring it all during her Masters victory trip to St. Barths with Dustin Johnson: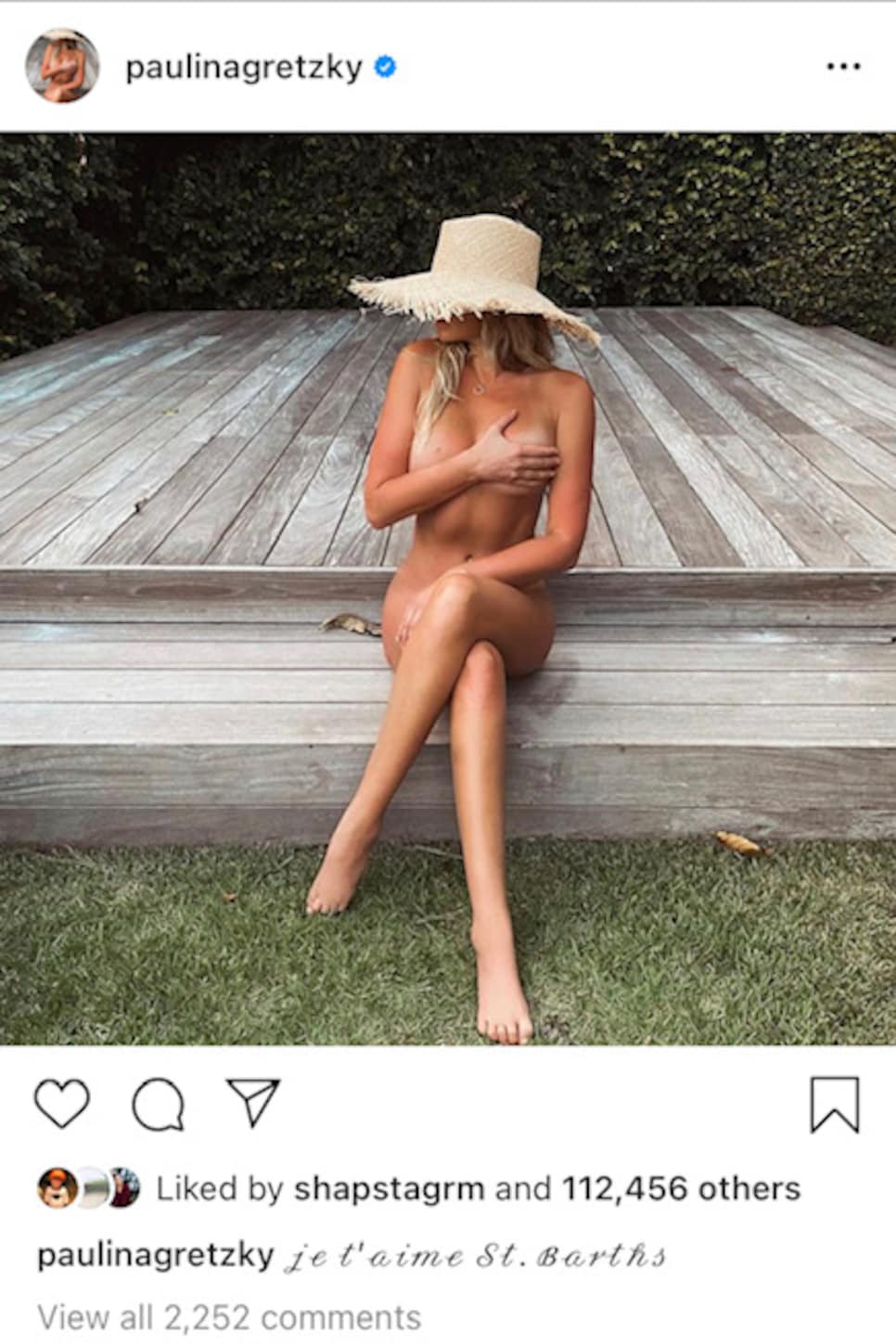 Knowing what a gentleman DJ is, we're sure he was there ready to offer his (green) jacket to her if she needed it.
"I'm not there to tell you, 'Wow, he's got an 8-iron from 180 yards.' I'm there to step into the chaos and keep it going. I can still do that. I can do that all day." —Gary McCord, who will be an on-course reporter for THE MATCH III on TNT. Why did CBS let this guy go again?
Joaquin Niemann is donating serious cash and helping raise money for his infant cousin who was diagnosed with Spinal Muscular Atrophy and needs a shot that costs more than $2 million. You can donate here. … On a much (much) less serious note, 2020's Golf Turkeys of the Year is now live. Thanks to Ben Walton for the illustration work, including this one of Bryson taking a drop with a mini-turkey: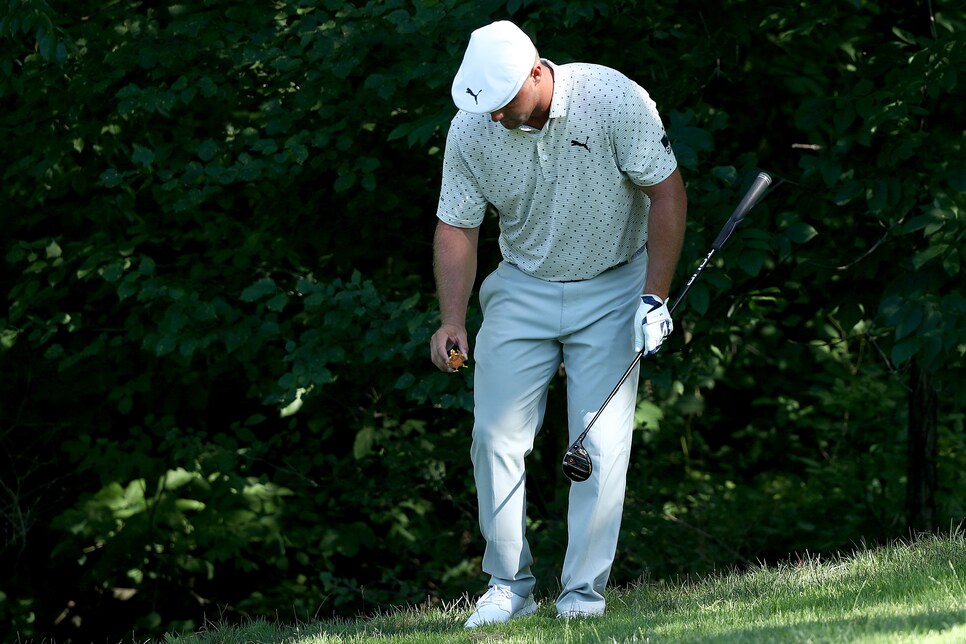 Gets me every time. … Both amateurs who made the cut at the Masters, Andy Ogletree and John Augenstein, turned pro. Makes sense because on the amateur level, it's going to be tough to top playing the weekend at Augusta National. … And finally, more free stuff for your boy, this time courtesy of a college buddy who is now the CFO of Legends clothing company. Look at this haul!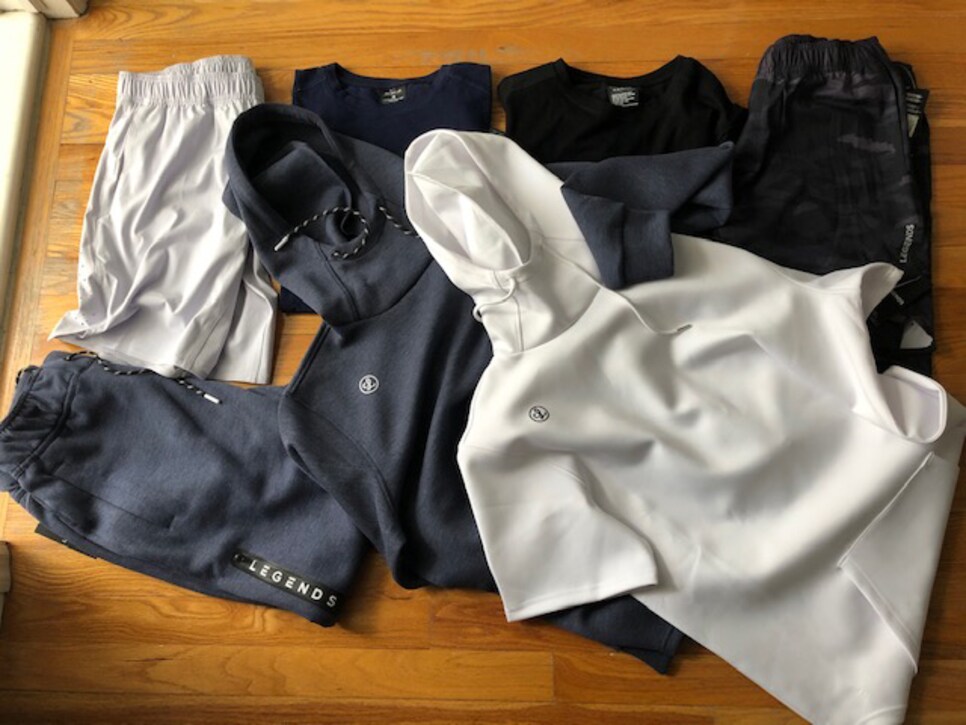 He says I'm now an ambassador for the company, but I'm not sure if he's kidding or not. In any event, thanks, Matt. And to everyone else, please don't get me clothes for Christmas.
RANDOM QUESTIONS TO PONDER
How much money will Phil and Chuck have on THE MATCH?
Will there ever be a national Tiger Woods Day?
Will my daughters make me a trophy if I ever win anything again?