News
Tiger Woods to play with his son Charlie at next month's PNC Championship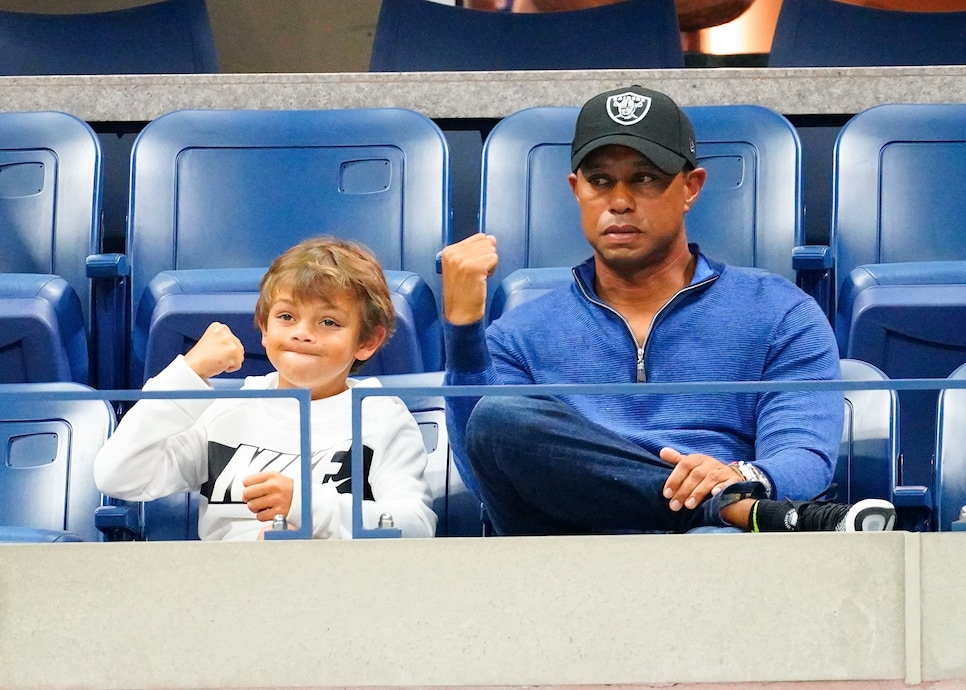 Charlie and Tiger Woods are set to compete against 19 other teams in the annual family exhibition at Ritz-Carlton Golf Club in Orlando.
Gotham
The news on Thursday wasn't so much that Tiger Woods will play one more tournament in 2020. It's who his partner will be in that event.
Woods announced that he and his 11-year-old son, Charlie, will team up in next month's PNC Championship, an exhibition that features 20 major championship-winning golfers competing alongside a family member.
Formerly known as the Father-Son Challenge, the two-day, 36-hole scramble event begins Dec. 19 at the Ritz-Carlton Golf Club in Orlando. Fans will not be permitted due to the COVID-19 pandemic, but the event will be broadcast across NBC, Golf Channel and Peacock.
"I can't tell you how excited I am to be playing with Charlie in our first official tournament together," Woods said. "It's been great watching him progress as a junior golfer, and it will be incredible playing as a team together in the PNC Championship."
The PNC will provide golf fans their first look at the son of a legend, who has drawn attention in recent months for his strong performances in junior golf events in Florida. In August, the younger Woods shot a three-under 33 to win a U.S. Kids Golf event, and in January, Tiger was photographed caddieing for his son in a tournament.
"He's starting to get into it," Woods told Golf Digest in July. "He's starting to understand how to play. He's asking me the right questions. I've kept it competitive with his par, and so it's been just an absolute blast to go out there and be there with him. It reminds me so much of me and my dad growing up.
"I wish I had his move. I analyze his swing all the time and I wish I could rotate like that and turn my head like that and do some of those positions. But those days are long, and I gotta relive it through him."
The PNC will almost certainly be Woods' last event of the year, as he is not expected to play in a competitive tournament until 2021. The Hero World Challenge, the event he hosts in the Bahamas, was originally set for Dec. 3-6 but was canceled due to the pandemic. Woods, currently ranked No. 33 in the world, is coming off a T-38 finish in his title defense at the Masters.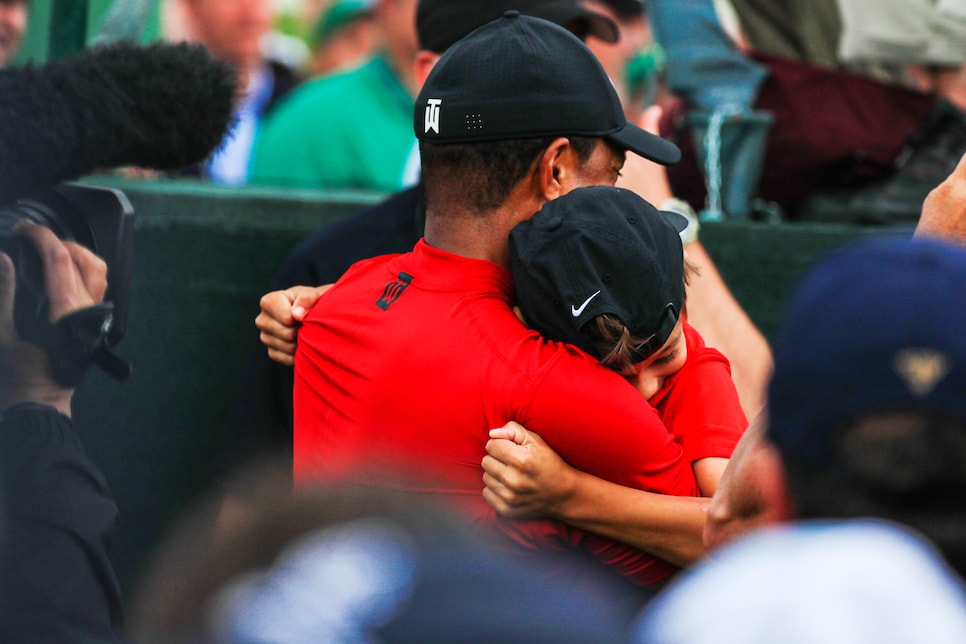 Tiger embraces Charlie after coming off the 18th green victorious at the 2019 Masters.
Christian Iooss
The executive director of the PNC is Alastair Johnston, an executive for IMG who lived next door to Woods when the 15-time major champion lived in Orlando.
"Having Tiger and his son in the field for the first time is a very special moment," Johnston said.
Bernhard Langer and his son, Jason, won last year's title—and the $200,000 winners' check—with a two-day total of 24 under. Justin Thomas and his dad, Mike, along with Annika Sorenstam and her father, Tom, are also among the teams currently committed to playing in this year's event.