Masters
Masters 2023: Tiger Woods looks gassed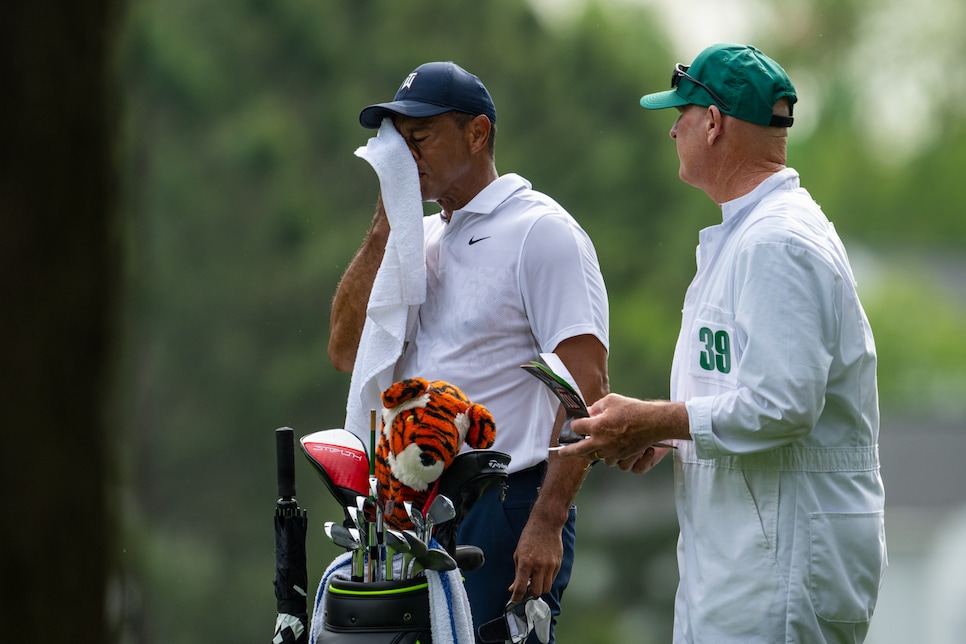 AUGUSTA, Ga. — It is hard to extrapolate too much from one hole in one round, especially when that round is Round 1, but if you're looking for an avatar of Tiger Woods' Thursday at Augusta National, the fifth would do the trick.
Woods looked gassed walking up the 495-yard brute so it was no surprise his approach fell well short of its intended destination. His birdie try from deep came nowhere close, and to be frank, neither did a par attempt from three feet. And in itself, there's no shame in 5 at the fifth, the hole that perennially ranks as one of the course's toughest. Only Woods' playing mates had no problem with the fifth; Viktor Hovland hit his approach to 12 feet while Xander Schauffele made a mean up-and-down save after flying the green. As the group walked to the next tee it seemed emblematic of what was transpiring and of what was to come: Schauffele, head down, a joke to his caddie, cool, calm and composed at the task at hand; Hovland, dressed in a floral arrangement as if he was vacationing in Boca Raton, making what is supposed to be hard seem easy; Woods, toweling himself off and in desperate need of a fresh shirt, laboring like hell to just keep up.
A rally sugarcoated the final score, but only a little, as Woods opened with a 74 on a day the rest of the Masters field did what it wanted.
"I felt like I drove it good. I just didn't do the job I need to do to get the ball close," Woods said Thursday afternoon. "Today was the opportune time to get the ball—get the round under par, and I didn't do that today. Most of the guys are going low today. This was the day to do it."
It is not the type of score you expect to see from this man at this tournament. It was a surprise, however, to only those who are prisoners to Woods' past.
To observers in the present, Thursday followed what was seen and heard earlier this week. Woods' gait has a noticeable, ever-present limp on his surgically repaired leg. Often he has to walk on the sides of Augusta National's hills to minimize the severity of the slopes' impact. When asked afterward how he felt, Woods only said he was "sore," but on Tuesday he conceded he doesn't know how many Masters he has left and expanded on the issues that are now his reality.
"I can hit a lot of shots but the difficulty for me is going to be the walking going forward," Woods said. "It is what it is. I wish it could be easier. I've got three more years [until the PGA Tour Champions], where I get the little buggy and be out there with Fred [Couples], but until then no buggy."
Woods' caddie Joe LaCava painted a similarly ominous forecast for his boss, saying earlier this week that Woods was "pretty banged up" and that if this wasn't the Masters he wouldn't be playing. "He still has the power, the swing speed, the shots and the length to contend," LaCava asserted. "The injury is devastating, but if he could take a cart he could contend tomorrow." LaCava is not prone to hyperbole, and those around Woods have always operated under a code of omerta. It was not what Woods' many fans wanted to hear, but LaCava said them because he was telling the truth.
LaCava proved prophetic. Off the tee, Woods was solid. Distance was good, accuracy got the job done. The trouble was everything else. His second shots were pretty ho-hum, hitting just 13 greens in regulation, which is a problem because Augusta National is known as a second-shot course. Around the greens wasn't pretty and the putter was straight-up poor, Woods losing almost a stroke to the field on the greens despite converting a 30-footer at the 15th.
"I didn't have very good speed early. I had two three-putts, and consequently I'm a couple over par," Woods said. "I didn't hit my irons close enough today. I didn't give myself very good looks. Need to do a better job of that going forward to hopefully get myself back in this tournament."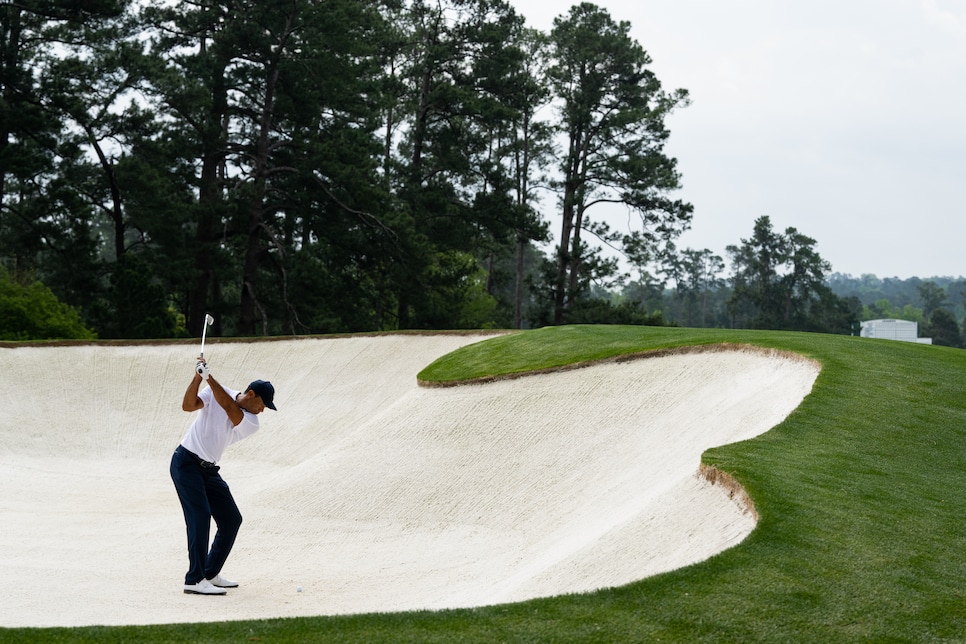 To Woods' credit it could have been worse. He was three over after 11 and a par at the par-5 13th didn't signal a turnaround was ahead, but Woods made birdies at the 15th and 16th before finishing with a bogey at the last. Not helping matters was his competition. Hovland tied for the lowest round of the morning with a seven-under 65, and Schauffele wasn't far behind with a 68.
Given the circus that usually follows Woods' every step, a tee time with Tiger usually translates to a one- to two-shot deficit for his competition. That Hovland and Schauffele were unbothered by their surroundings speaks to their disposition and temerity, sure, but also how gettable the course was. It also underlined the expanse of what will be needed to win this week considering where Woods is currently at. And at the moment, he doesn't look like a guy close to contending for a green jacket.
Which is fine. He's 47, undergone so many surgeries that the next one should be free, and is playing in just his fifth competitive tournament in the past year. Woods has done enough in this game and at this place to earn a forever victory lap should he desire. So far, he's not ready to take that ride. Woods prepares not as a ceremonial golfer but as a competitor, and any doubt to that needs only to listen to Woods on Thursday afternoon.
"Hopefully tomorrow I'll be a little bit better, a little bit sharper, and kind of inch my way through it," Woods said. "This is going to be an interesting finish to the tournament with the weather coming in. If I can just kind of hang in there, maybe kind of inch my way back, hopefully it will be positive towards the end."
In that same breath, Woods physically looks like he just finished a marathon through the sands of the Sahara, not a guy with just one tournament appearance this year and a handful of practice rounds this week. Hot and muggy conditions didn't help, but Woods also wasn't enthused about potential rain and cold. If a player's formidability is predicated on perfect weather you have to question how much formidability remains.
Woods continues to chase a demon only he sees, and that is a flame not extinguished by a bad day to two. He grinded to make sure Friday will matter. Again, you have to be careful to extrapolate too much from one round. But if today is indicative of what's on tap for tomorrow, Woods won't be around this weekend to let that fire burn.