GOAT Effect
Masters 2023: Viktor Hovland and Xander Schauffele are on their way to proving this 'Tiger curse' at Augusta doesn't actually exist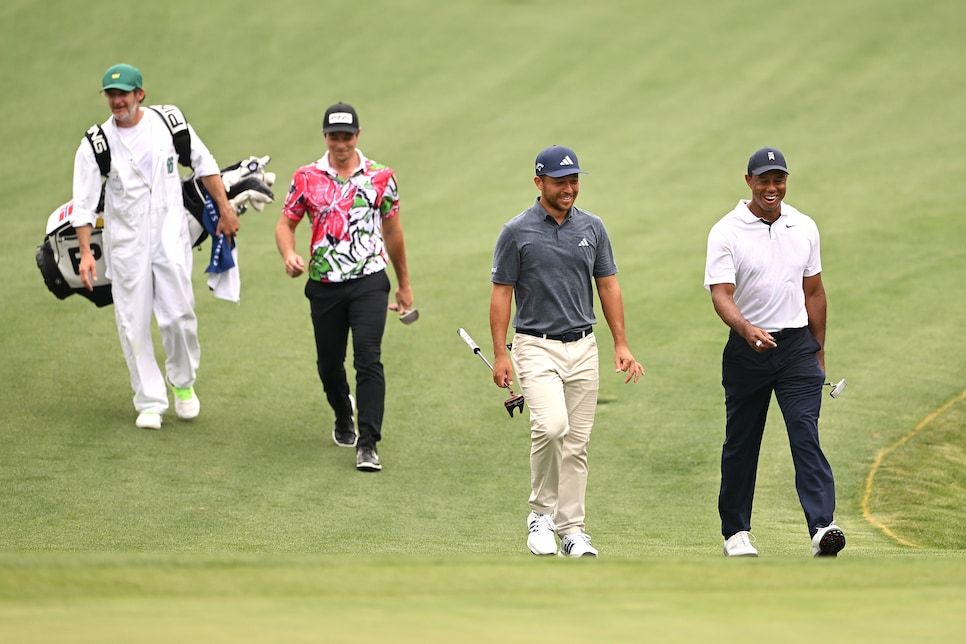 AUGUSTA, Ga. — It's a bit unusual when you think about it. Tiger Woods has been golf's biggest draw for more than two decades, and yet somehow with all of these marquee pairings, not a single competitor has won the Masters after being paired with him in the opening two rounds. How could that be?
First, there's the chaos that comes with the pairing. Rory McIlroy said even at a regular tour event, playing with Tiger might cost at least two shots. Fans who only care about watching Tiger's shots will be scurrying for their next vantage point while his competitors are playing. (Not to mention the few groups in front of him, too.) That will be less so at Augusta, where the patrons are generally more respectful of other players, but even so, it's impossible for the thousands of excited individuals to have the best etiquette.
The stat really starts to check out when you look deeper at Tiger's groupings. Since Tiger's iconic win in 1997, the five-time Masters champion has been paired with 40 fellow competitors, and six of them were amateurs, as the Masters champion is annually paired with the reigning U.S. Amateur champion. Plus, there was a stretch where Augusta National paired Tiger with some international up-and-comers, such as Finland's Mikko Ilonen, Japan's Toshi Izawa, India's Jeev Milkha Singh and Carlos Franco of Paraguay, who combined to shoot only one under-par round with him.
Tiger has probably his most star-studded group this week—Viktor Hovland and Xander Schauffele—who are attempting to prove this "curse" wrong. So far, very good: Hovland carded a seven-under 65, tying Jon Rahm for the low round of the morning (that marks his lowest round ever in a major), and Schauffele sits just three back after a 68.
According to golf stat guru Justin Ray, Hovland's round is also the lowest score carded by anyone paired with Tiger in a major. That was also the first time Hovland has been paired with Tiger.
These rounds are most impressive considering there have been only 12 rounds shot in the 60s from players who were paired with Tiger (before this week). The first of those 60s came from Tim Herron in 1999. Players have carded more than one under-par rounds while paired with him on just three occasions (K.J. Choi, 2010), Marc Leishman (2018), Jon Rahm (2019).
Here are all the results of players who were paired with Tiger in the opening two rounds at the Masters since 1997:
1997: Nick Faldo (75); Paul Azinger (73)
1998: Matt Kuchar (a) (72); Fuzzy Zoeller (74); Colin Montgomerie (75)
1999 Sergio Garcia (72-75); Tim Herron (75-69)
2000 Stewart Cink (75-72); Aaron Baddeley (77-72)
2001 Mikko Ilonen (72-79); Mike Weir (74-69)
2002 Toshi Izawa (73-76); Bubba Dickerson (a) (79-71)
2003 Ricky Barnes (a) (69-74); Angel Cabrera (76-71)
2004 Thomas Bjorn (80-77); Casey Wittenberg (a) (76-72)
2005 Darren Clarke (72-76); Carlos Franco (76-73)
2006 Robert Allenby (73-73); Edoardo Molinari (a) (80-77)
2007 Aaron Baddeley (79-72); Paul Casey (79-68)
2008 Angel Cabrera (73-72); Stuart Appleby (76-70)
2009 Stewart Cink (69-78); Jeev Milkha Singh (71-75)
2010 K.J. Choi (67-71); Matt Kuchar (70-73)
2011 Graeme McDowell (70-73); Robert Allenby (75-71)
2012 Miguel Angel Jimenez (69-72); Sangmoon Bae (75-71)
2013 Luke Donald (71-72); Scott Piercy (75-69)
2015 Jimmy Walker (73-72); Jamie Donaldson (74-71)
2018 Marc Leishman (70-67); Tommy Fleetwood (72-72)
2019 Jon Rahm (69-70); Haotong Li (72-74)
2020 Andy Ogletree (a) (73-70); Shane Lowry (74-69)
2022 Joaquin Niemann (69-74); Louis Oosthuizen (76)