News
Tiger Woods' PGA Championship momentum doesn't carry over during opening 71 at the Northern Trust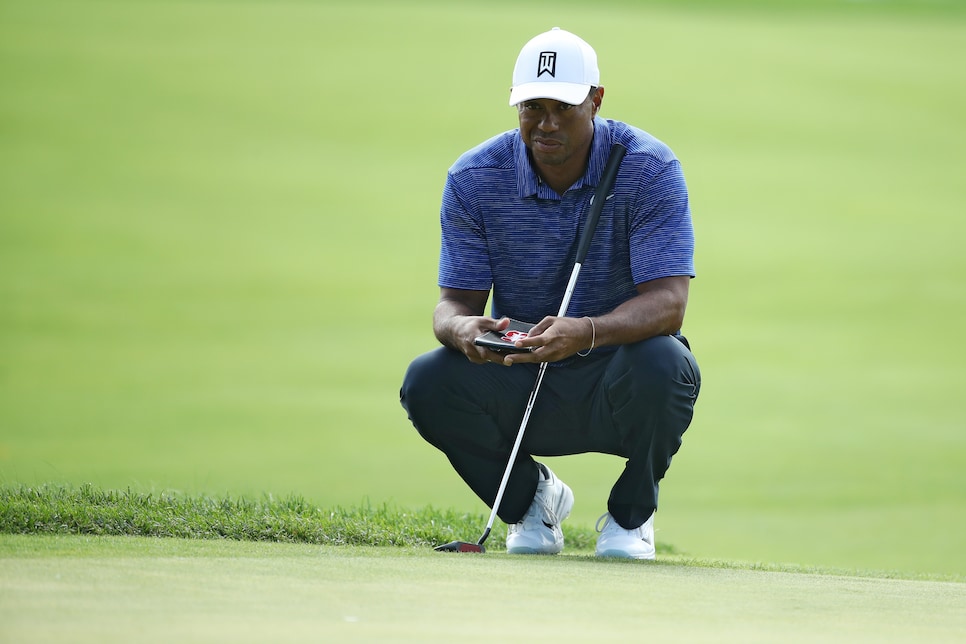 PARAMUS, N.J. — Tiger Woods watched his golf ball intently as it tracked toward the flagstick at Ridgwood's 12th hole on Thursday morning. Having laid up on the drivable par 4 after a short birdie miss on his third hole (Ridgewood's routing has players either teeing off No. 1 or No. 9 the first two rounds), Woods posed like a man confident his round was about to get going in the right direction. Until his approach came up short and spun off the front of the green.
Woods would scramble to save par, but it was destined to be a stagnant first round at the Northern Trust in which he made just two birdies to go with two bogeys. After, the 14-time major champ pinned the disappointing score more on his yardages than his play.
"Just didn't have the situations where I had the full club and I could go ahead and take a rip at it and start being aggressive and going after these flags," Woods said. "I kept having to play a little defensive because I was taking more club, trying to shape it and take spin off."
"Just one of those days. For example at the PGA on Sunday, I had the perfect full club and I could go after it. At the Open Championship on Saturday, I had, again, the perfect full clubs," Woods expanded moments later. "Those are days when you take advantage of them, and then there are days when you just don't have—you're kind of in-between clubs, and given the conditions, as soft as they are, you can't take the low club. You have to take the high one."
It was certainly a far cry from Tiger's thrilling final-round 64 at the PGA Championship 11 days before—both in performance and atmosphere. Teeing off at 7:54 a.m. on a Thursday miles from Ridgewood's clubhouse, the fans were about as subdued as a Woods crowd can be for the first couple hours. And playing partner Tommy Fleetwood provided most of the entertainment early from the group with four birdies in a five-hole stretch from 13-17 on his way to a first-round 67.
Woods also birdied 17, taking advantage of lift, clean, and place conditions that allowed him to take a better angle around a large oak tree for his second shot. He made a terrific recovery near another tree in the left rough on 18 to stay in red figures, but only added one birdie on Ridgewood's front nine/eight while bogeying No. 3 and No. 5 in the opening round of the FedEx Cup Playoffs.
Although the 71 was right in line with Woods' first-round scoring average this season of 71.07, Woods doesn't believe there's anything in particular causing him to start tournaments slowly.
"I would say early in the year because I had not played competitive golf, but midway through the year on, it hasn't been an issue, and today, pretty much since the Open Championship, I've felt pretty good about my starts," said Woods, who ranks first on tour in third-round scoring and 46th and 79th in final-round and second-round scoring, respectively. "Just right now, I think there's 40, 41 guys, I think at one under par through five under par. Just a very bunched board right now, and I think that's going to be that by the end of the week."
After the morning wave, Woods trailed Kevin Tway, Jamie Lovemark, and Vaughn Taylor by five shots. Woods also opened with even par rounds in each of the past two major championships before rallying to close calls with a T-6 at the Open Championship and a solo second at the PGA.